Each year on October 2, India celebrates the birthday of Gandhi – the Father of the Nation. Across the country, an amazing archive of Gandhi's writings, his philosophy and teachings and even his belongings have been well-preserved; several Gandhi Samaraks or Memorials and Museums have been formed for children of the post-Gandhian era to become familiar with the Mahatma.
Here's a compilation of museums that are a must-visit for anybody seeking to know more about Gandhi.
(swipe to read or press the next button)
---
Located at Rajghat (Delhi), Gandhi Smriti and Darshan Samiti was formed in September 1984 by the merger of Gandhi Darshan at Rajghat and Gandhi Smriti and was formerly known as Birla House.

The main attraction: Gandhi Smriti is one of the biggest museums of Gandhi and has a library where around 60,000 books are kept and has bookshops selling books of Gandhi. There are around 6000 original photos of Gandhi preserved here. The house treasures many memories of the last 144 days of Gandhi's life. The exhibition on the Mahatma, the room he lived in and the prayer ground where he fell a martyr with God's name on his lips attract a large number of visitors daily.
Gandhi Darshan is situated close to the Gandhi Samadhi at Rajghat on 36 acres of land. It offers a comprehensive exhibition on Gandhi spread out in four pavilions. It includes a film auditorium, conference facilities for national and international camps, a children's corner and a library.
This is an excellent place for kids and adults alike to engage and be inspired by Gandhi.
This 3-storey blue "Haveli" is where the Mahatma was born as Mohandas Karamchand Gandhi on October 2, 1869. His father, grandfather and uncle were the Ministers at that time to the Jethwa Rajput rulers of the princely state of Saurashtra.Today, Kirti Mandir is a pit stop for many travellers wishing to pay homage to the Mahatma.
It remains open for visitors on all days between 7.30 am to 1pm in the morning and 2 pm to 7 pm in the evening.
Through the Mandir's courtyard, one can enter Gandhi's ancestral home. Heavy wooden doors welcome you to this erstwhile home, which is old, but decently well-maintained. The roof is made of wooden beams and brick tiles – reminding us of the architecture of those times. On the first floor, one can see the kitchen and his parents' bedroom, and on another floor, Gandhi's study.
A total of 22 rooms make up the entire home, and you can also spot some of the Vishnu-paintings created by Gandhi's father.The Kirti Mandir displays his photographs, possessions and has a library of books written by him and about him. The library boasts of 20,000 books currently.This temple is E-shaped. It consists of terraces, balconies, domes and a shikhar that spans 33 meters in height. The interiors of the temple are of marble finish and commemorative of the Gaekwads.
Tip: Just adjacent to Kirti Mandir is Navi Khadi, which is where Kasturba Gandhi was born. The market next door does not have much, and the lead-up to the Mandir can put you off a little. Carry snacks, and take this as a learning journey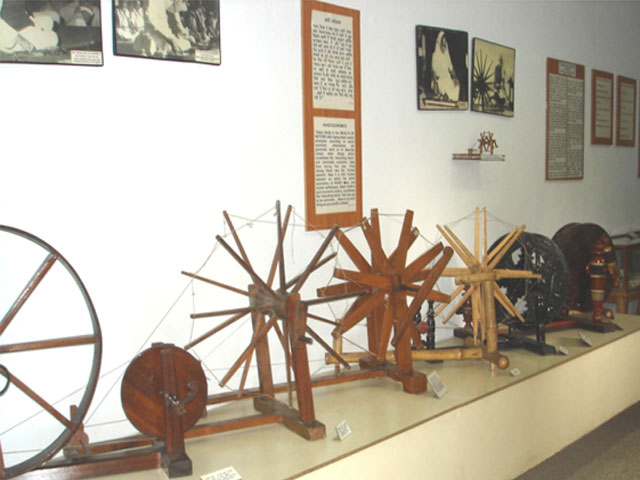 The museum section contains huge picture galleries depicting Gandhi's life, work and ideals in photographs, artworks, paintings and his relics. Also a well-maintained specialized library having nearly 40,000 books, magazines, his correspondence, books on world peace and religions.
Opening Hours: 9.30-17.30 hours (except Monday and gazetted holidays)
Featured galleries include:
Spinning Wheel Gallery : Contains 23 models of spinning wheels (charkhas) from the traditional to the portable versions like petiCharkha and the mechanized versions including Ambar Charkhas; two models of looms; samples of various components and ancillaries related to hand spinning; samples of yarn handspun by Gandhiji and other leaders; selected write-ups by Gandhiji, and photographs of Gandhiji and other leaders of Freedom Movement working on the spinning wheel
Martyrdom Gallery : Contains one of the three bullets which killed Gandhiji, urns in which his 'ashes' were carried for immersion into various rivers; the wooden frame in which the main urn was taken to Prayag (Allahabad) and the cloth bags in which the 'ashes' were kept for being carried to Prayag and Rameshwaram etc.
The Entrance Gallery : photographs of Mahatma Gandhi in a chronological order, divided under ten phases, with write-ups for each phase–from childhood upto his final arrival in Delhi in 1947; the walking stick used by Mahatma Gandhi for the Salt March from 12 March to 5 April, 1930; relics of Mahatma Gandhi (items of personal use, books, microscope used by him to study leprosy germs, rosary, pens, three wise monkeys of Bapu, sandals, watches etc.) ; family tree of Mahatma Gandhi, upto great-grand children; Khadi 'Sari' presented by Mahatma Gandhi and Kasturba to Indira Gandhi on her marriage in 1942 and more.
Art Gallery: 40 selected paintings, sketches, sculpture pieces, and special pieces of art in wood, embroidery, metal wire, groundnut shells, etc. on Mahatma Gandhi
Ashram Gallery : containing models of Gandhiji's cottages in Phoenix Settlement (South Africa), Satyagraha Ashram (Sabarmati), and Sevagram Ashram (near Wardha)
The museum showcases artefacts that are symbolic of Gandhi's relationship with Bengal and its people; and his love for them. The collections includes videos, photographs, letters, and objects used by Gandhi during his stay in Bengal. You'd also find hand-spun samples of threads by Gandhi and Kasturba. Apart from that, the Museum also has portraits of other freedom fighters.
The Museum is closed on Wednesdays.
Housed in a 17th-century Nayak queen's palace (Tamukkam Palace belonging to Rani Mangammal of built in about 1670 A.D), this excellent museum contains an impressively moving and comprehensive account of India's struggle for independence, with details ranging from the "Coming of the White Men in 1498" till 1947, with supporting illustrations.
In 1921, it was here in Madurai that Gandhi adopted the dhoti as a symbol of native pride & his preferred style of dressing; this was what gave him the moniker of 'Half Naked Fakir' around the globe. Another historic event with far-reaching consequences was when the doors of the famous Meenakshi Amman Temple were thrown open to Harijans (untouchables) – a major victory for Gandhi against the obnoxious practice of untouchability which was prevalent in India in those days. Gandhiji visited Meenakshi Temple in 1946 along with the Harijans as a victory for the cause of Harijans being allowed entry into temples.
The Gandhi Memorial Museum has an interesting collection .
The Galleries are divided into 3 major sections:
"India Fights for Freedom", "Visual Biography of Mahatma Gandhi" and "Relics and Replicas".
When you enter you can see the Special Exhibition with 265 illustrations on 'India Fights for Freedom', which portrays the history of India's Freedom Movement. Right from the "Coming of the White Men in 1498" till 1947, the illustrations explain the movement in great detail. You can then proceed to see a display of some exquisite handicrafts that have been donated from Tamilnadu, Kerala, Andhra Pradesh and Mysore.
The Visual Biography section includes photographs, quotations, paintings, a selection of photostat copies of several of Gandhiji's letters, manuscripts and sculptures. There are 124 rare photographs that take you on a journey through the Mahatma's life – from his childhood days till his last journey when his body is taken to the crematorium.
Then you enter The Hall of Relics; here you can see a few of Gandhiji's personal belongings (both originals and replicas). You can see 14 original artifacts used by Gandhiji. This is where you can see the blood stained cloth of the Mahatma, which is preserved in a glass case, which was used by him on the day of his assassination; however, some say that this is not an original but only a replica.
The library is worth a visit if you want to explore further. There are books by Mahatma Gandhi, books on him and books on Indian culture. You can also have a look at photostat copies of about 2,70,000 letters of Gandhiji and 62 reels of micro-films; these are a very important and valuable component of the library's collection. There are five study alcoves on the first floor of the Library for Research Scholars. Readers Forum and Book Review Meetings are held from time to time in the Library.
Entry is free but photography costs Rs.50.
The museum can take up to a good 2-3 hours if you are history enthusiast and keen to know what our leaders sacrificed to attain the freedom we enjoy today.
Open 10 am-1 pm & 2-5.45 pm Saturday-Thursday
The museum complex is located near Gandhi Maidan, which is a famous place located in city center.
We all know that Gandhi started his movement in Bihar, taking up the cause of farmers in Champaran.
You'd therefore expect a lot out of the Patna version of this Gandhi museum. However, this 3-room museum displays various pictures, documents and portraits on Gandhi (mostly printed on flex!). The Satyagraha Bhawan houses various kinds of charkhas and tools used by farmers. Gandhi's experience and movement in Bihar forms an important part of our history, and so this Museum becomes a must-visit just to catch on the rare pictures and a glimpse of Gandhi maidan – from where he delivered his speeches.
Like all Gandhi-museums, this one too echoes the sounds of silence and maintains the peaceful aura that engulfs all Mahatma-memorials.
This Gandhi memorial is housed in the Aga Khan Palace which is about 2 kms away from Bund Garden in Yerwada on Pune-Nagar Road. In 1972, Prince Karim Aga Khan donated the Palace to the Gandhi Samarak Samiti.
The memorial borrows its historical significance from the time Gandhi, Kasturba Gandhi, Shri Mahadeobhai Desai, Dr. Sarojini Naidu, Meera Ben, Pyarelal Nayyar, Sushila Nayyar and others were kept under imprisonment over here during the Quit India movement in 1942.
Mahatma Gandhi was kept here for 21 months. It was during this period that Shri Mahadeobhai Desai (15th August 1942) and Kasturba Gandhi (22nd February 1944) breathed their last in this Palace.
The palace was widely established in the film "Gandhi" depicting the moments of his captivity there.
Gandhi's writing desk, his bed, Kasturba's Sari, clothes and her Footwear are preserved properly in their place of use at this Palace-Memorial along with his ashes. Pictures of Indian Independence Movement beautify the walls.
Today Khadi Gramudyog Bhandar, Mahadev Chhapkhana, Rashtriya Mahila Sanstha, Stiching classes are run out of here. While economically weaker people are provided with free training in Candle and Chalk Making, Embroidery, etc, others are charged a nominal fee.
In 2003, Archaeological Survey of India (ASI) declared the place as a monument of national importance.
Aga Khan Palace bears Italian influences in its arches and spacious lawns. Here, one can also see the marble memorials of Kasturba and Mahatma designed by the famous architect Charles Correa.
It is open on all working days except national holidays.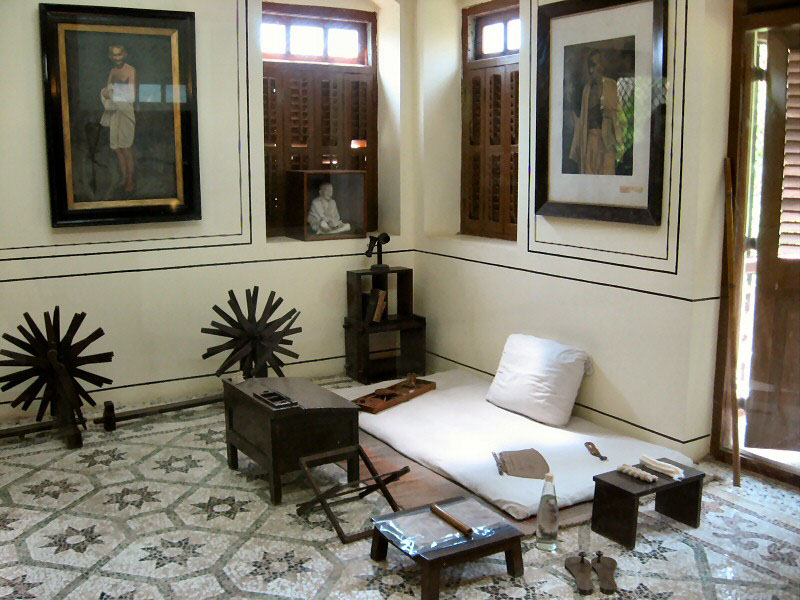 Mani Bhavan, a modest two-storied building on the Laburnum Road in the comparatively quiet locality of Gamdevi, served as Gandhi's Bombay head-quarters for about seventeen long and eventful years (1917-1934). It belonged to Shri Revashankar Jagjeevan Jhaveri, who was Gandhi's friend and a host during that period. It was from Mani Bhavan that Gandhi initiated Satyagraha against Rowlatt Act and propagated the causes of Swadeshi, Khadi and Hindu-Muslim Unity. In 1955 the building was dedicated as a memorial to Gandhiji and to the very important activities of great significance he initiated from that place.
Inside the Museum, you'd be able to find:
a Library
consisting of around 40,000 books & periodicals in reference and lending sections. It contains books on and by Gandhi, Gandhian thought, freedom movements and allied subjects.
b Auditorium
On the first floor is the auditorium where films on Gandhi are shown from time to time and recordings of his speeches are played on request. It is also used for holding meetings, seminars, discussions and various competitions for school and college students arranged by Mani Bhavan Gandhiji Sangrahalaya and Gandhiji Smarak Nidhi, Mumbai.
c Gandhi's Room
The room on the second floor which used to be the living room and working place of Gandhiji has been preserved as far as possible in its original setting.
d Glimpses of Gandhi In Mini Figures :
Adjoining Gandhi's Room is the exhibition depicting Gandhiji's life through mini figures in about twenty-eight tableaux, prepared by Smt. Sushila Gokhale-Patel.
e Picture Gallery
The rooms on either side of the exhibition have been turned into a Picture Gallery which allow a peek into Gandhi at Mani Bhavan and other important events in his life. It displays posters on important events and copies of some significant letters, articles and documents written by and about Gandhi with appropriate captions in Hindi and English. A few replicas of Gandhi's belongings and models of his birth place, Sabarmati Ashram, Sevagram Kutir, Phoenix Ashram and his prison cell are also on display.
f The Terrace
A bronze plaque with an inscription now marks the place of the tent in which Gandhiji was arrested in January, 1932. He used to sleep and hold his prayers on this terrace.
Note: The Institute of Research on Gandhian Thought and Rural Development, Mani Bhavan, is recognised as by University of Mumbai
Timings : 9.30 a.m. to 6.00 p.m. on all days
The ashram was originally established at the Kocharab Bungalow of Jivanlal Desai on 25 May 1915. The Ashram was then shifted on 17 June 1917 to a piece of open land on the banks of the river Sabarmati. Reasons for this shift included: Gandhi wanted to conduct experiments in living (e.g. farming, animal husbandry, cow breeding, khadi and related constructive activities for which he was in search of this kind of barren land.) It was believed that this was ancient ashram site of Dadhichi Rishi who had donated his bones for a righteous war, but his actual ashram lies in Naimisharanya, near Lucknow, Uttar Pradesh; it is between a jail and a crematorium, and he believed that a satyagrahi has invariably to go to either place. Mahatma Gandhi said, "This is the right place for our activities to carry on the search for truth and develop fearlessness, for on one side are the iron bolts of the foreigners, and on the other the thunderbolts of Mother Nature."
The Ashram now expands into the Gandhi Samarak Sangralaya which boasts of archives consisting of 34,065 letters to and from Gandhi both in original and in Photostats; in Hridaya Kunj (original residence of Gandhi) some of the personal relics of Gandhi are on display; a library consisting of nearly 21,500 books dealing with Gandhi's life, work and teaching and allied subjects and reading room with more than 50 periodicals in English, Hindi and Gujarati.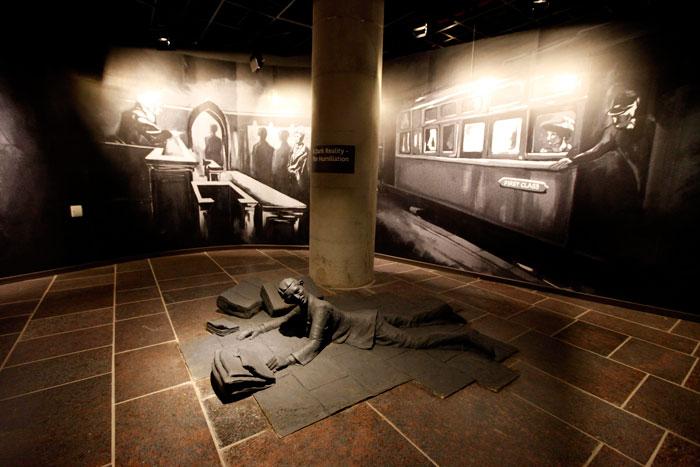 This is a state-of-the-art three-storey museum, based upon the life and works of Mahatma Gandhi which opened to the public in January 2015.
There's also a cable-stayed bridge inspired by the Charkha crowned by a windmill at the top of the bridge pylon and a Gandhi Garden commemorating Gandhiji's life through 79 iconic sculptures/artworks.
The Museum however, has no artefacts. Instead of using only exhibit artefacts and telling conventional hagiographies, Dandi Kutir uses the modern technological innovations to cultivate new dialogues around Gandhi.
The story of Gandhi is narrated using a mixture of animated short films, information panels and an audio guide. Gandhi's travels across India, after he came back from South Africa, is shown via LCD panels fitted onto a mock third-class train compartment.
Quite an engaging visit for adults and children alike!
The entry fee is Rs 10 per head. The visit starts in batches of 15-20 people so sometimes, you may have to wait. An Audio Visual aid is provided by the authorities.
—-
If you visit any of the above, do write back and let us know about your experience! We are at
[email protected]