Chances are, if you googled "women artists of India", you'd come across a series of lists, with some names being common to every compilation. Interestingly, names from 17th-19th century are often omitted, or left out and somehow have been lost in the pages of history.
Women's History Month might be coming to an end, but it is never too late to learn about 5 women artists of India along with activity suggestions for children. So let's dive right in :
1. Sahifa Banu
Unlike the Western Artists of the 17th and 18th century, we hardly have any record of women painters in India at that time.
Sahifa Banu was a princess in the court of Jahangir, and the only woman artist to gain fame in the Mughal era.
The other women artists who painted
between 1599 and 1605 were Nini, Nadira Banu, Khurshid Banu and Rabiya Banu. This leads us to believe that art lessons were common in the harems. Here's a look at one of her paintings (signed by her):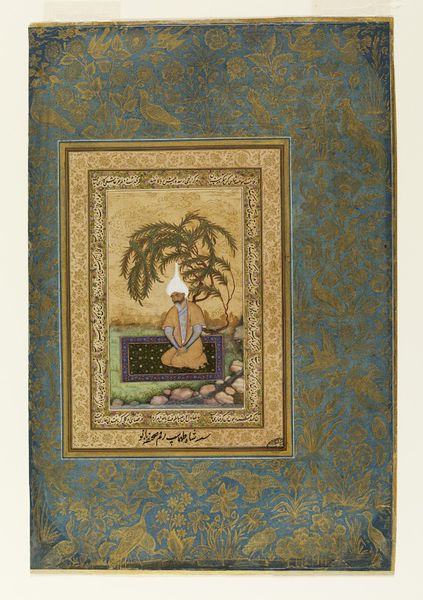 Activity Suggestion : Get your child to study an interesting pose of a foreign-politician / diplomat and create a portrait in the style of Sahifa Banu, i.e. use a big page border, and a smaller border for the actual painting. Tip: Use gold paint to make leaf & flower or even vegetable stamps.
---
2. Amrita Sher-gil
No conversation on Indian Modern Art is complete without the mention of Amrita Shergil. The nation's most celebrated woman artist, she is popularly referred to as India's Frida Kahlo. In her initial years of training in Paris, she drew inspiration from the likes of Paul Gaugin; but upon her return to India she found herself completely drawn to the murals of the Ajanta and Mughal miniatures. Her work explored the female body in a very different light and through her art she tried to capture the reality of emotion and daily life that she so keenly observed. Read more about her art here and find a lesson plan to teach about her!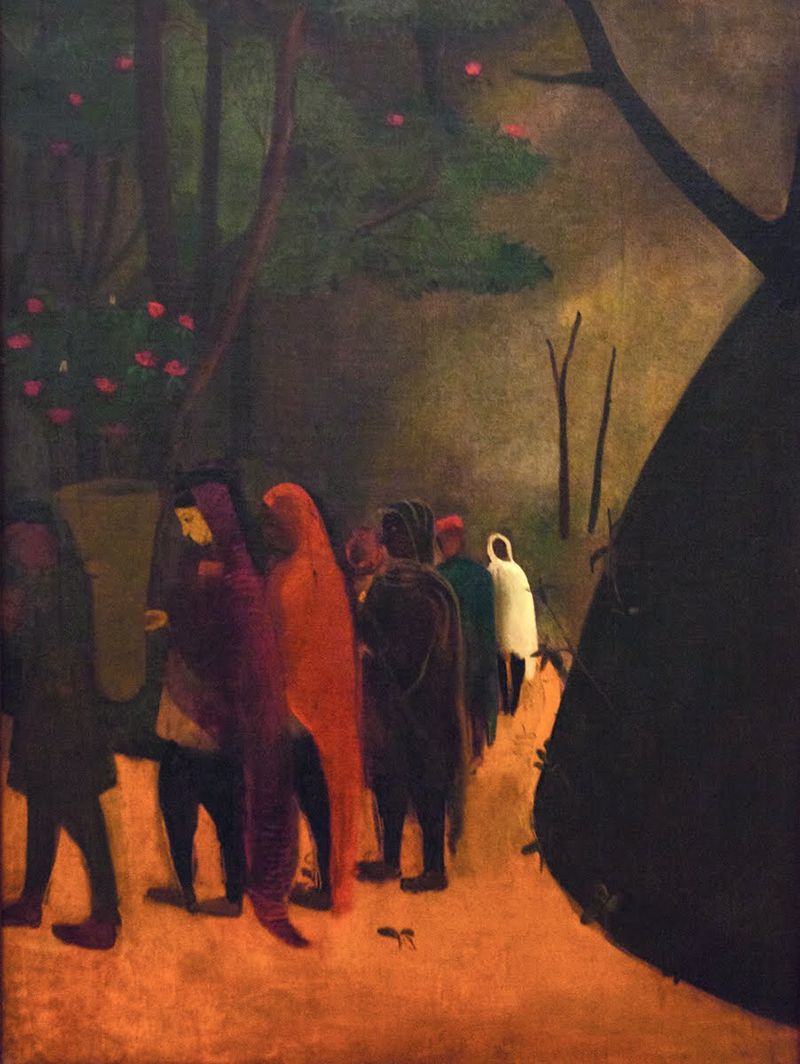 Activity Suggestion: Amrita Shergil was known for the use of the chiriascuroso technique. Get your child to make a drawing based on observation of a real-life scene and then colour it using the various shades of only two colours.
---
3. Meera Mukherjee
If Amrita Shergil found a new way of seeing and expressing after her encounter with Ajanta murals, Meera found her true calling when she saw the folk art of Bastar metal casting and Dhokra. These crafts use the lost wax casting method and Meera spent years living in the village, observing, learning and practicing this traditional folk art. The tribal artists were understandably wary of teaching her the entire process, and so she experimented till she could call the art her own. Mukherjee added to the art, her unique imagery and patterns while retaining the myth, folklore and rural-urban imagery. A popular example is the Nataraja with 3 legs. Her experiments opened up a world of possibilities and especially in terms of scale. While the artisans remain restricted to small figurines even today, Meera Mukherjee's sculptures took up the challenge of casting huge-sized figures. She is one of the most prolific
Indian sculptors
to have emerged in the post Independence era.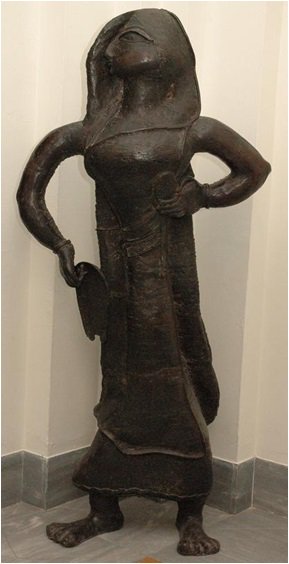 This sculpture at the NGMA represents the blend of the ordinary life and the timelessness of a traditional art. While other artisans of Bastar stuck to depiction of celebration, and tribal rituals through their work, Meera chose to depict the seemingly ordinary everyday tasks which form the backbone of any household. Household activities like separating grain from chaff and everyday activities like fishing had never been thought of as important enough to be depicted before. Meera's sculptures are big and life-size and they command attention, seeking to ignite a debate over the significance of ordinary things and tasks. Her sculptures represent a vulnerable quality and yet are celebratory and pleasant in their mood! While the subject may be ordinary people – in this case a housewife threshing rice – she uses size to show the herculean nature of the endeavours these 'ordinary people' undertake. In doing so, this sculpture celebrates the enormity of responsibility and poise in housewives – even as most of them go uncredited for their contribution.
Activity suggestion: The first step of lost wax casting is clay-moulding. Ask your child to observe something "usual" and "everyday" and sculpt it using clay.
---
4. Nasreen Mohamedi
The thing about our eyes is that we train them to see, and not observe. What happens if we stop, and take the time to look more carefully? Then the world unfolds like a flower, full of colors and shapes that we had never suspected. This is definitely true for Nasreen Mohamedi who became a beacon for Indian Abstract Art.
Her students have come on record to state how she would encourage observation of trees over time – in order to note how the shifting light would create different shapes and forms within their branches and leaves. One of her famous diary entires also records her observation of shadows. She painted for only 3 decades, but in that limited time she created a body of work that lent a new dimension to Indian Modern Art. At that time, Indian art was known for its colourful, figurative depictions – and then came Nasreen – with her plain lines and patterns in black and white.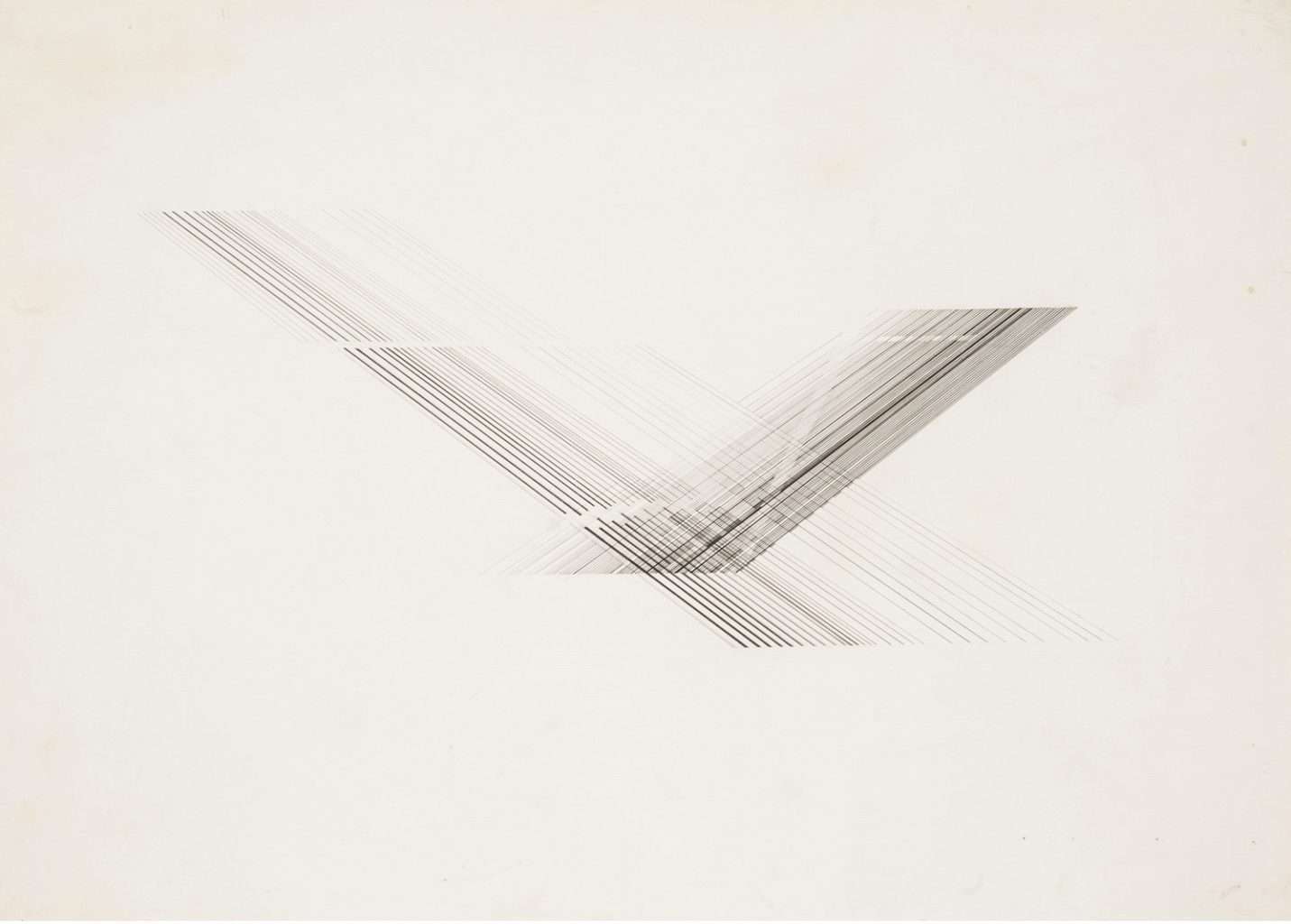 How would you depict something as complex as time, space, human life and nature through forms as simple as lines?
One of the most significant artists of her generation, Nasreen Mohamedi's work resonates simplicity and minimalism.
If you're also wondering what a bunch of lines could really mean, then you're definitely not the only one. During her time, Nasreen's contemporaries and students often wondered what she created, and she would remark "dekho dekho, ek din dikhega" [one day, you'd be able to see ]
Here's an interesting video on "Lines in art" that you could show to your students / children or simply watch to make your own meaning of Nasreen's art which she never dated.
[youtube https://www.youtube.com/watch?v=BDePyEFT1gQ ]
Activity suggestion:

Indulge in some observation-activity with your child. Let the light in through your window and ask your child to see the shadow / pattern it creates on the floor or any other surface. Draw it on a paper using just lines.
5. Arpita Singh
One of the most important painters in Indian Contemporary Art, Arpita Singh presents her women with an irony you cannot miss.
Arpita Singh's paintings are a reflection of the life of 'real' women and the emotions that she exchanges with these subjects. Her paintings are in bright appealing hues which often employs traditional Indian forms and aesthetics.
Even though the women in Arpita Singh's paintings and their activities conform to the typical Indian cultural scene, they refrain from being silent.
The artist lends voice to her paintings through introducing subtle elements. For example, look at this painting of an aged woman with roses inside her body.
What would this mean to you? The frame of the woman is old & roses usually symbolise love, desire, romance. So the message here is, age has nothing to do with desire.
And in this one, Arpita portrays the uselessness of the line – one that was made during the Partition. She portrays its unnatural character symbolising how the division was senseless . The deer crossing over the line is a reference to the Ramayana.
Arpita Singh's paintings borrow from folk roots too – the kantha-stitch-like texture or Bengali Pattachitra borders are elements that repeat themselves in her art.
Activity Suggestion: Talk to your child about contrasting situations – growing old, but retaining the innocence of a child – how can this be depicted?
---
If you enjoyed this, we are sure you'd love to discover more women artists from India with our interactive timeline
---