Nasreen Mohamedi is India's first woman abstract artist, and unrivalled at that. While she remains little known in India (her home country), her contribution to the world of modern art is celebrated proudly by Museums across the world. At a time when "figurative art" was the trend, Nasreen Mohamedi interpreted the world through shapes, and more specifically, lines.
---
Also Read: 5 women Artists of India that you must know
---
Understanding the Abstract Art of Nasreen Mohamedi
Here's an example of a photograph from her visit to Fatehpur Sikri. A normal eye would look for beauty in the arched doorways or the jaalis or dome; but Nasreen Mohamedi was different.
Mohamedi's interest in photography can be attributed to her family's photo-equipments shop in Bahrain. Incidentally, the places Nasreen travelled frequently between – Bahrain and Mumbai (the desert and the sea ) – are known for offering the sharp contrast between light and shadow.
Light plays a huge role in her works; as does complete consciousness of the self. One of our favourite classroom activities (and the most popular one too), is borrowed from Nasreen Mohamedi : she would take her students to parks and gardens and make them observe the changing light, and the resulting shadows. This would be her way of sensitising her students to the environment and make them aware of life's simple fact : it is changing every moment.
Zen and the art of Nasreen Mohamedi:
Looking at Nasreen Mohamedi's art is a spiritual exercise, and perhaps creating it was a meditative practice for her too. Those who knew her, have mentioned how much she loved the music of Pandit Bhimsen Joshi – and isn't it striking that her art too, is almost like his music? They are like visuals of musical vibrations . You can see and feel each note, and just as the minimal use of instruments highlights his voice, Nasreen Mohamedi's scanty strokes accentuate her way of life.
It is famously known of the late artist, that she was particular about her studio being clean and clutter free; that she lived a life so devoid of material possessions that all her belongings could fit into two drawers (one being only for her artwork). Her walls were barren – for in the night, the trees outside her home would cast their shadows, creating beautiful images.
This zen quality reflected in her art too – it required only a couple of pens, paper (which gradually grew smaller in size), graphite and ink to create the masterpieces she is known for today.
Mohamedi did not date or sign her work, neither did she leave orientation marks for future art-historians to decode. Instead of canvas, she chose her medium to be paper. In a way, her art was just like her – or perhaps she was just like her art; but she was hugely successful in conveying her own-self through her work. Silent, meditative, strong, different, enigmatic, reflective, soothing – you could describe Nasreen Mohamedi and her art using the exact words.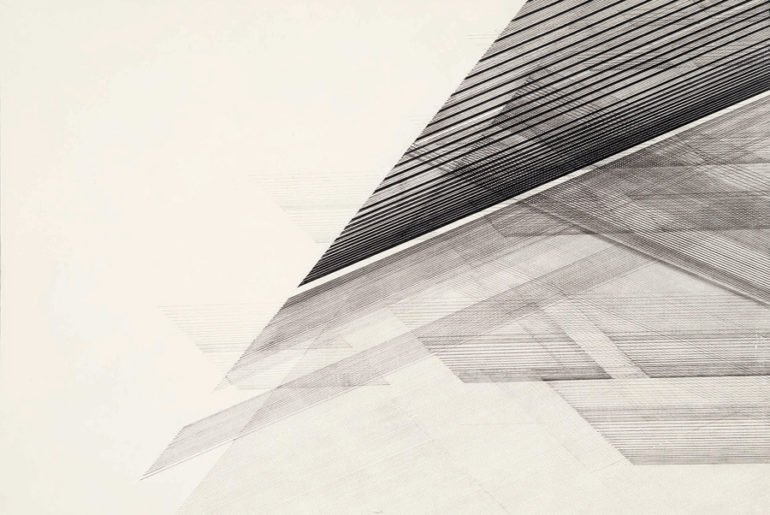 Nasreen Mohamedi created a vast body of work in the three decades she was active in; so not only is it unfair to limit her to words, but it is nearly impossible.
In these times when more is less, Nasreen Mohamedi's art celebrates the minimal and is an echo of the Sufi belief that one must empty (declutter) the self, for that is the only way to become the receptor of light and knowledge.
From Nasreen's Diary: July 17th 1973, Baroda
Break
Rest
Break the cycle of seeing
Magic and awareness arrives.

---
Suggested Activities for the Classroom
The "line" is one of the basic elements of art. By looking at various types of lines used in any painting, you can figure its mood or even movement. Like the lines of Nandalal Bose's art define the contours of his characters, giving them a soft elegance or the calligraphic lines of Jamini Roy that lend a sort of sophistication to his adaptation of rural folk art.
[bg_collapse view="link-inline" color="#ffb500″ expand_text="Show More" collapse_text="Show Less" ] The best way to introduce the abstract-art of Nasreen Mohamedi to kids is to allow them to equate emotion with shapes. We'll take the case of a line (because Nasreen-Mohamedi was known for this!).
Activity One (for the little ones):
Allow students to observe the patterns of light against different objects around them, buildings / monuments and in nature. What are the different kinds of lines they observe?
Activity Two (for the slightly older ones):
Just as Nasreen Mohamedi enjoyed Pt. Bhimsen Joshi's music, get your students to reflect on a song / instrumental piece they love! As step 1, let them list down as many adjectives as they can to describe the musical piece. Also get them to separately write down the emotions evoked by the song. Then, allow students to think of the type of line that would reflect the emotion and adjective. Let students choose between using sketch pens, markers, ink-pens, pencils etc. A good post-session activity would be to set up an exhibition and let students label their work, explain their art and medium-choices to each other.
[/bg_collapse]
---
A large part of Nasreen Mohamedi's work is part of the collection of Kiran Nadar Museum of Art, Delhi and museums abroad – such as The Met, New York. A couple of her works are also on display at the National Gallery of Modern Art, Bangalore
---
Share your reaction!