One of the first, vivid images of the early childhood of Akbar is of the young shahzaada running through the countryside of Kabul with a boisterous group of friends, chasing all the animals he encountered along the way. Akbar developed a life-long fascination for animals at this stage, and would study them intensely to understand their strengths and weaknesses, their behaviour patterns, and the lessons he could learn from them.
The largest animal he encountered in Kabul was the camel.
He spent many happy hours making the lumbering creatures race each other, leading them around with a rope, and making them eat thorns to experiment with their eating habits! Decades later, he would use camels to mount a blistering campaign against rebels in Gujarat, riding at night to avoid the scorching summer heat. The camel the Padshah rode was called Jummuza.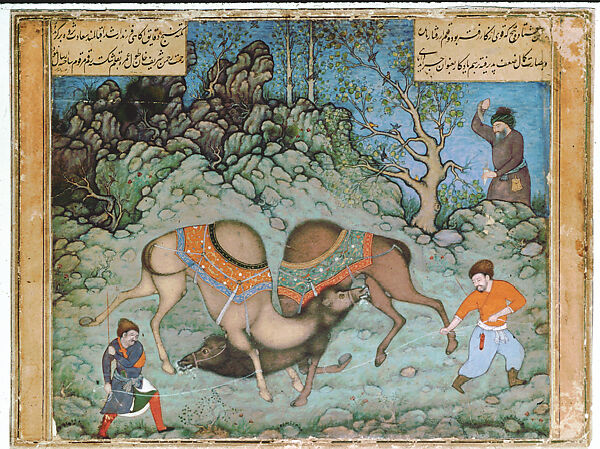 When Akbar finally rode into Hindustan at the age of twelve, he encountered what would become a veritable passion-his spirit animal, the elephant.
Akbar would make it a point of honour to learn how to ride and tame the wildest of elephants, even those in 'must', reasoning to himself that if he survived, it was the will of God. He knew the names of all his elephants and their mahouts and his very favourite animal was called Bal Sundar. When in the 1590s, the Ibrahim Adil Shah of Bijapur sent gifts to Padshah Akbar, he was wise to choose as a gift a favourite female elephant called Chanchal, who was used to a diet that included two maund of wine daily, preferably Portuguese.
Another animal of Hindustan that fascinated the emperor endlessly was the cheetah.
Whenever it was learnt that a cheetah had been trapped, Akbar would rush there himself, and learn how to calm and tame the dangerous animal. He devised ingenious new ways of trapping cheetahs so that there was no danger of them being harmed in the process. He would eventually have a thousand cheetahs of which fifty were deemed 'special' and kept at court. Akbar's favourite cheetah was called Samand Malik (like a ruby) and he wore a jewelled court and was accompanied by his own servants in full livery. When accompanying the travelling court, Samand Malik was carried in a litter, while a servant walked in front, beating a large drum.
Akbar's very first tutor when he was a child in Kabul was dismissed on the charge of being too fond of pigeon flying.
Perhaps this tutor communicated his passion to the young prince rather too well for Akbar was inordinately fond of pigeon flying, which he called ishq-baazi. He kept 20,000 special pigeons at Fatehpur Sikri, doted upon by eunuchs and maid servants. They were expertly trained to understand whistle signals and 101 pigeons were set flying at a time to perform tumbles and dips in synchrony. Akbar's favourite pigeon was called Mohan.
Unusually for a Muslim monarch, Akbar enjoyed the company of dogs and kept many of them in his private quarters.
He challenged the accepted Islamic notion that swine and dogs were unclean. The best breeds at the time were imported from Kabul, and were also used in the hunt, a favourite pastime. His favorite dog was named Mahuwa.
Akbar was so fond of observing all sorts of birds, animals and insects, that he would even crouch down to observe spiders spinning their webs, admiring the intricacy of the design and the desperate struggles of flies to escape them!
---
Enjoyed reading?
Each week, come back for more on #AkbarsFavourites!
Share your reaction!