a global initiative which addresses the gender gap on Wikipedia by improving content on 'women in the arts'
The Heritage Lab has been spearheading the campaign in India since 2017 with a two-fold aim of improving public awareness about women artists of India and increasing female editorship on Wikipedia.
To participate, you can also send us articles on women in art, history, culture - who have been under-represented online.
Till 2021, we trained 221 participants to create 44 new articles, edit 267 articles and upload 113 images on Wikipedia.

All of these articles and images are about women artists / women in history and have garnered over 2 Million views!

Some of the pages created include artists such as Sunayani Devi, Atasi Barua, Chitranibha Chowdhury and more.
Globally less than 15% of Wikipedia's editors identify as women. In India, this number is even lesser. Without enough representation from women in the preservation of their own stories, we get skewed content on Wikipedia that misses the mark on the value and existence of womens' impact on history.
The Art + Feminism India Campaign
Over the years our partners have included:

National Museum, Delhi | Piramal Museum of Art, Mumbai | Kiran Nadar Museum of Art, Delhi | Government Museum and Art Gallery, Chandigarh | Kerala Museum | Raja Dinkar Kelkar Museum, Pune | Sarmaya, Mumbai | DAG Museums, Kolkata | JNAF Mumbai.
Parallel Events & Initiatives
1. Joining an Editathon
Edit / create pages on women in Indian arts to make them more visible on the internet. Editing workshops will be conducted for beginners (online and at museums! )

All you need to have, is a laptop, a working internet connection and lots of positive vibes! This is a community effort after all. We promise a good time, coffee and food (even if you're participating online!) The best contributions get some Wiki + Art Swag !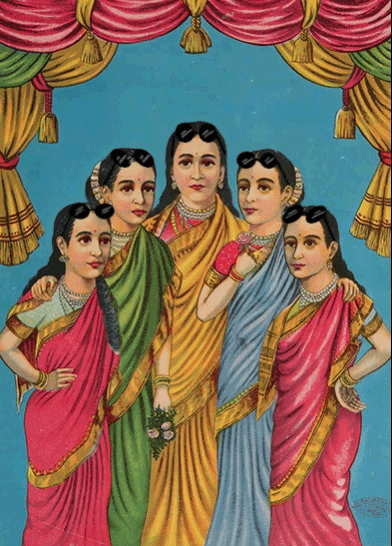 2. create an event zine
Submit a page for our event zine! If you attended an Editathon or related event, tell us what you a) liked, b) what you learnt c) what you love about the artist, etc. Represent your entry in a drawing / comic!

You can also submit an article about a female artist that you think needs to be visible on the internet!

Submit your entries by March 31, 2022.
Selected entries will be featured on The Heritage Lab website.



*The GIF was created by Sakshi Patki based on a Raja Ravi Varma oleograph in the DAG Museums collection for our gif-it-up campaign
Resources: women in art and history
find out more about women artists with this interactive timeline