In what is considered to be the Beatles' greatest album ever, there is a track composed by George Harrison that introduced Indian classical music to the world of western pop. Sgt. Pepper's Lonely Hearts Club Band was their eighth album and its release was a defining moment in the 1960s pop culture. 'Within You Without You' delved into Indian spiritual philosophy and was based on a piece by the Sitar virtuoso Ravi Shankar – under who's tutelage Harrison spent six weeks learning the Sitar.
The song uses a range of Indian instruments : the Tambura, Sitar, Tabla, Dilruba and a Swarmandal. Interestingly, Harrison developed the song as a "doodle" on a pedal harmonium during a dinner party. According to Hunter Davies' biography the tune came first, and then the first sentence – which was based on the conversations taking place that night. Harrison even wrote the music in Indian script (in case you're wondering, the notes for first line went "Ga, Ma, Pa, Ni -") to make it easier for the musicians while recording.
"We were talking
About the love we all could share
When we find it
To try our best to hold it there, with our love, with our love
We could save the world, if they only knew

Try to realize it's all within yourself, no-one else can make you change
And to see you're really only very small
And life flows on within you and without you"
The composition and the album release came in the wake of global protests against the Vietnam War. Of course, Harrison was not making a political statement, but his message of oneness and peace was in sync with the times then and continues to resonate now.
The cover for this Beatles album was equally iconic & had its own story
Designed by Jann Haworth and Peter Blake, the album won the Grammy Award for Best Album Cover, Graphic Arts. The cover features the four band members surrounded by cardboard models of global icons such as Oscar Wilde, Marilyn Monroe, David Livingstone, Sri Paramahansa Yogananda etc. in addition to several "props" that are placed in the foreground. Here's an interactive cover you can enjoy : click on each object or person to know details!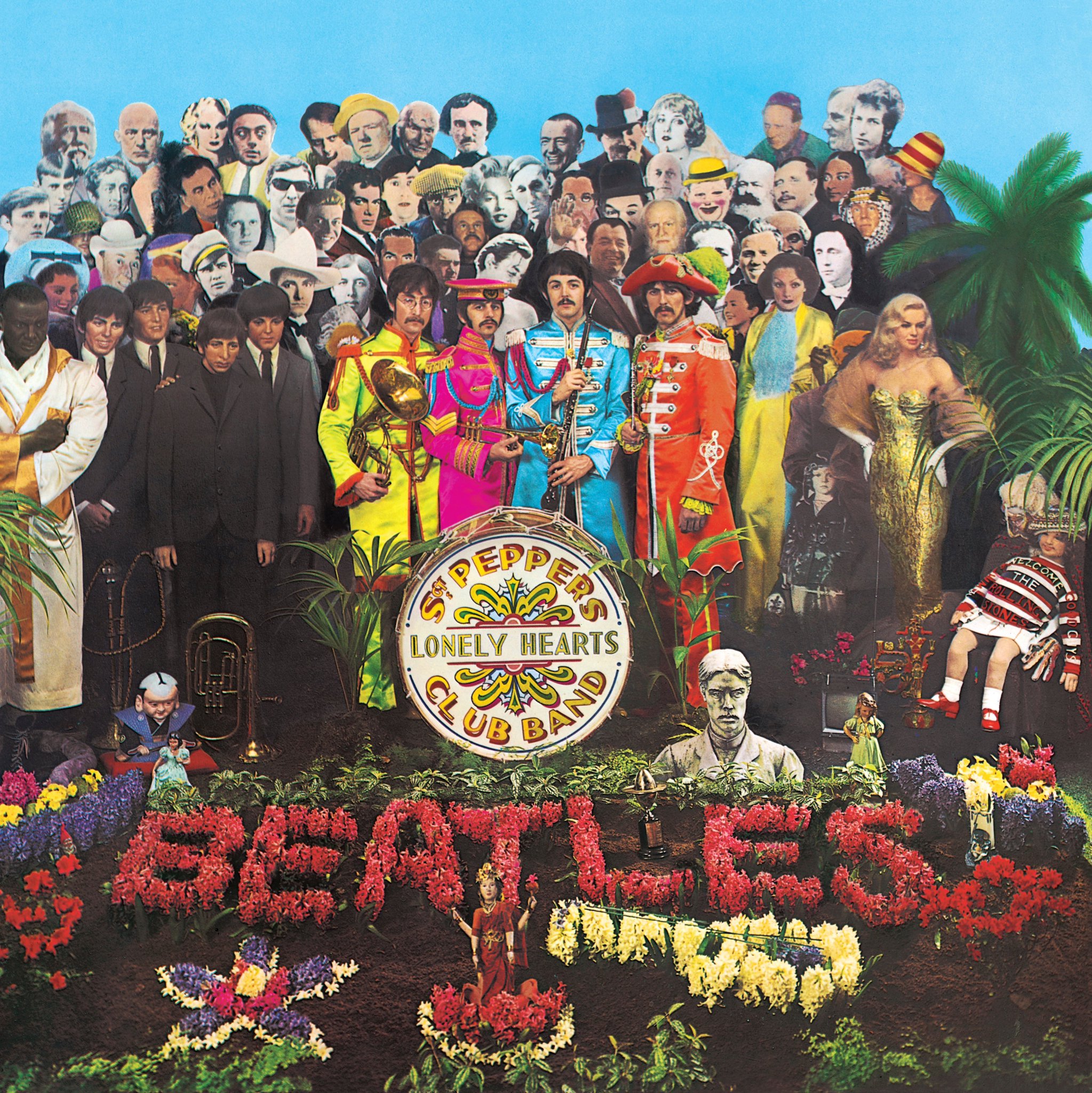 The story goes, that each Beatle shared their list of famous people – but not everyone made the cut for the cover. Mahatma Gandhi, for instance was left out fearing that the record wouldn't sell in India. An estimated 3000 pounds were spent on the production for this cover – making it the most expensive at the time!
listen (3 minutes) : Why the Sgt. Pepper's' Cover Art matters as much as the Music
watch: in this rare footage shared by the Ravi Shankar Foundation with BBC, you'll catch a glimpse of Harrison and Shankar's sessions together in Kashmir.
Though Ravi Shankar was already popular in Europe and America before his collaboration with George Harrison, this friendship definitely played a role in widening the audience for Indian classical music.
---
On another note…
Inspired by the Ragmala tradition of visualising music, we decided to sign up on Spotify to curate our own community-sourced playlists based on some of our most popular Instagram posts and reels. Here's our Mughal Lo-Fi playlist based on the wonderful paintings in a "Lounge" setting! Drop in your recommendation to us on Twitter or Instagram!
The Latest:
From Museums & Galleries
Take a look at the Museum-Talkies Film Festival hosted by Kerala Museum. The festival is open for entries till July 10, 2021.
From the Community
In this very delightful thread, music historian Katherine Schofield uses paintings to retell the story of the origin of the 7 notes (swar) of Indian classical music. Easily one of the best threads we read on Twitter!
---
Art +
Quiz: Lucila Pacheco, a Goa born Pianist introduced Bollywood to its first electronic keyboard. What was it called? If you find the answer, you cracked 2-Down on the Goa-Culture Crossword! Read more about her in this post by Naresh Fernandes.
Watch : this short video about Sharan Rani Backliwal, India's first female Sarod player.
Play: The Battle of Plassey, fought on June 23, 1757 changed the fate of India. Take this (fun) personality test to find out which side of history you'd be on!
Painting of the Week : Vina Players by Amrita Shergil from the Lahore Museum Collection
---
That's all for this week 🙂 If you spotted something fascinating from a gallery, museum, archive or library, tell us about it! Whether it is a link, image, or story, we'd love to hear from you at [email protected]. Thanks for reading!
---