Vienna is the city where Mozart, Beethoven and Strauss lived, loved, composed, and performed. So it isn't surprising that the city is famously dubbed as the Europe's capital of Music.
Beethoven, born in 1770 in Bonn (Germany) travelled twice to Vienna. At the age of 16, Beethoven travelled by carriage from Bonn for the first time to Vienna hoping to become a pupil of Mozart. Fate had other plans for him; with his mother suddenly falling ill, Beethoven had to return home. After his father's death, when he was 22, Beethoven traveled to Vienna again – this time to learn from Joseph Haydn. He stayed here for 35 years until his death.
Beethoven at the Haus Der Musik, Vienna
At the Haus Der Musik (a short walk from the Karlsplatz U), Beethoven is finally united with Mozart as part of the Great Masters galleries.
The former home of Otto Nicolai (founder of the Vienna Philharmonic), the "sound museum" is a unique experience – offering the history of Viennese classical music alongside an understanding of the science of sound. The third floor is dedicated to the "Great Masters".
The Beethoven gallery on this floor, introduces you to the gifted musician; but also the difficult tenant, the man extraordinarily unlucky-in-love; and a man with strong political opinions.
As soon as you enter the gallery, a huge map informs you of all the places in Vienna that the Great Master had once lived in.
Here are 5 things to know about Beethoven
1. Beethoven was a difficult tenant
Beethoven changed houses 68 times in the 35 years that he lived in Vienna. Sometimes, he even returned to older apartments. This wasn't unusual in those days – many people changed residences during the summer to settle in the countryside and Beethoven was not very different. However, he was no ordinary tenant. Almost always there was a complaint of being "too loud". His landlords did not take very kindly to his quirky habits : feeling exhausted and hot from his compositions, he would pour a whole bucket of water over his head in the middle of the apartment!
2. Beethoven loved bread soup, fish, and Macaroni and fussed over his coffee!
A mini-kitchen in the gallery describes Beethoven's living habits a little deeper. He was not known to be very trusting of his housekeepers and often cooked his own food. A page from a Housekeeping book on display indicates his love for fish, and the Mac'n'Cheese – except that the Macaroni wasn't the kind we get today and was three times more expensive than rice. In fact, it was one of the most expensive dishes of the time.
Beethoven favourites included 'bread soup with raw eggs', and among fish he appreciated pike the most! The gallery had these delightful take-away recipes of his favourite dishes – dating back to the 19th century!
Like many of us, Beethoven was fussy about his morning coffee. He would select precisely 60 coffee beans for his morning coffee and was so particular about this ritual, that even the presence of guests could hardly contain this queer habit.
3. Beethoven could compose music while walking!
By the age of 24, the first signs of deafness had begun to appear. Five ear trumpets hang on a wall of the gallery, demonstrating how devastating it would be – to gradually go deaf. Although Beethoven was hard of hearing for most of his life, and completely deaf for the last 9 years, he was still able to compose music. Unbelievably, his music was in his head. He loved being amidst nature and was known to take long walks (Beethovengang for example, was his favourite walkway). During these walks, he would compose music without the need for instruments, pen or paper.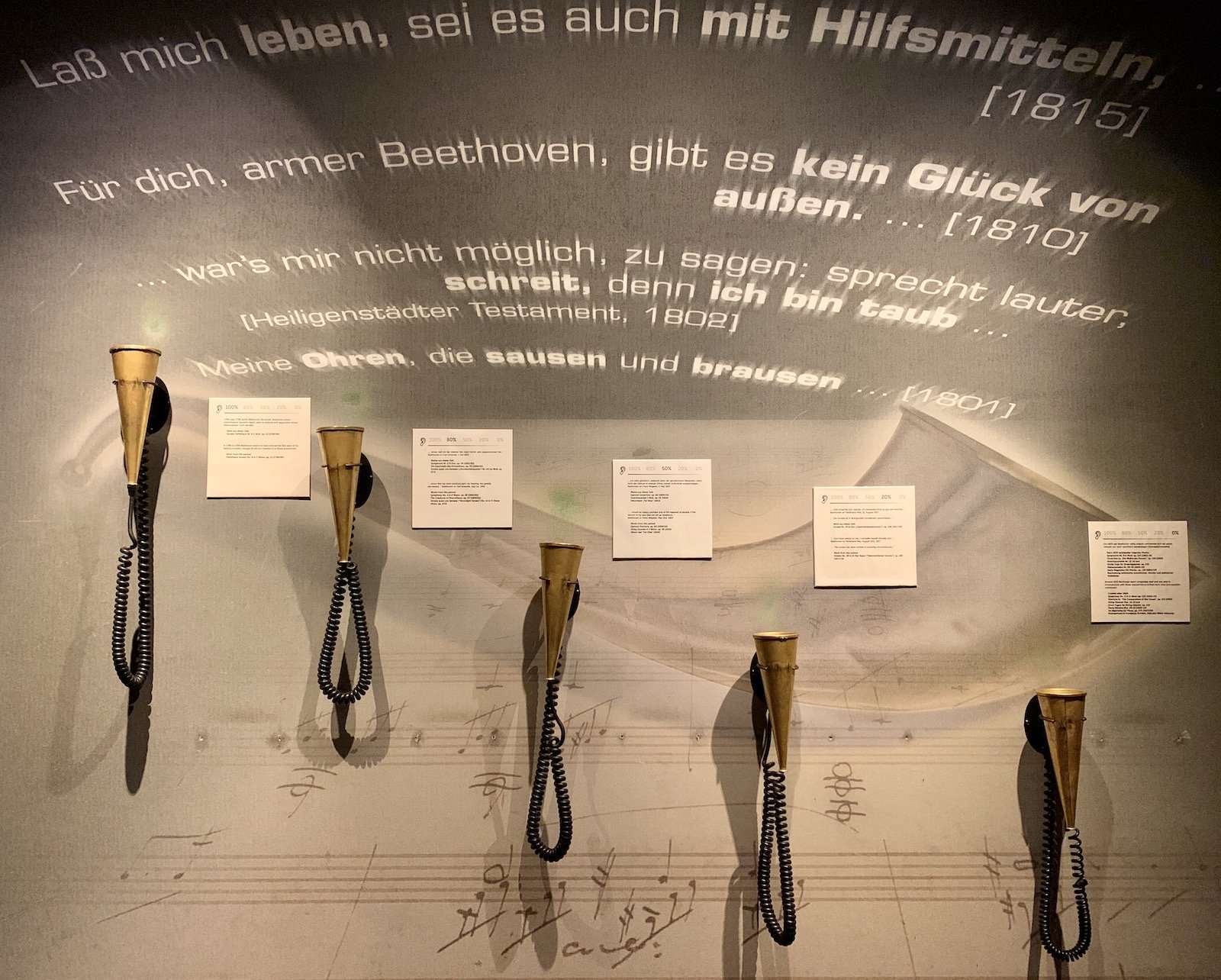 In the middle of the room, on a single wall, hangs a fascimile of the "Heiligenstädter Testament" : a self-written account of the despair Beethoven felt at not being able to hear. Undeniably, this was tragic fate for a composer as gifted as him. But his most creative period was yet to come.
As Beethoven realised he was progressively losing his hearing ability, he plunged into work. During this phase, not only did he compose the "Eroica," but also his only opera, "Fidelio."
4. From political opinion to love : The fascinating stories behind Beethoven's Masterpieces
Eroica :
Beside a portrait of Napoleon Bonaparte, hangs the first page of Beethoven's famous symphony "Eroica". Even though he was supported by the nobility, Beethoven was a strong supporter of the French Revolution, pinning his hopes on Napoleon to defend the values of Enlightenment – "Liberty, Equality and Fraternity". So Eroica was originally a dedication to Napoleon. But when Napoleon declared himself Emperor, Beethoven felt betrayed – and crossed out the dedication (with such passionate anger) that it left a hole on the sheet.
He later dedicated the symphony to Prince Lobkowitz, one of his greatest patrons [a smaller portrait hangs right next to Napoleon's]. In Eroica, the second movement is composed as a funeral march – perhaps inspired by the ceremony for the fallen heroes of the French Revolution. Some have referred to Eroica as his masterpiece; while others have also recognised the influence of Haydn and Mozart on this piece.
Fidelio
Beethoven's music reflected the times he lived in – art was shifting from nobility to the emerging wealthy middle class; a desire for liberation and the victory of love and justice over tyranny. This theme would be well reflected in Beethoven's only opera : Fidelio – the set designs for these are on display as well!
Für Elise
Perhaps one of the most widely known works of Beethoven was composed during the Romantic movement – art and music at this time celebrated an emotional understanding of the world (and not just a rational one); it embraced individual imagination in the quest for liberty and promotion of justice, and artists often turned to subjects emphasizing man's relationship with nature in a way to stem the tide of industrialization.
The mystery around Elise has baffled historians for long:
As a pianist and music teacher, Beethoven engaged with women from nobility, sometimes leading to a romantic connection. This often ended in rejection; the composer died a bachelor. This composition, discovered almost 40 years after his death only to be lost again offered two possible dedications : one being the singer Elisabeth Röckel (popularly known as Elise amidst her friends); another being Therese Malfatti.
Fidelio and Für Elise were both composed at his Pasqualatihaus apartment.
5. A Special Piano built for Beethoven!
In 1817, the only 'English' Piano arrived in Vienna. Made by Broadwood & Sons (the industrial giants of the time), the 'Pianoforte' was a gift from Thomas Broadwood to Beethoven. It is believed that Broadwood asked five of the most accomplished pianists in London to choose an instrument for Beethoven. The names of these pianists are engraved on a plaque fixed onto the Piano.
Beethoven died at his apartment in a 17th century building called the Schwarzspanierhaus (now demolished). The green coloured door to this apartment is on display at the gallery.
His death mask, moulded by the painter and sculptor Joself Danhauser is also on display. The only other time a plaster-impression of Beethoven's face was taken when he was 33. It was for a bust, commissioned by Andreas Streicher, a piano maker who wanted to display famous composers at his store. During the process, Beethoven could only breathe through two straws inserted into his nostrils.
Beethoven : the legacy continues
Beethoven, the most famous composer of all time, wrote nine symphonies in twenty five years – he was known to be meticulous often reworking his compositions. But the legacy of the great musician is far more widespread. In 2020, the world celebrates the 250th anniversary of the legendary musician Ludwig van Beethoven. At the Haus Der Musik itself, there will be two special exhibitions "Homage to Beethoven" (25 May – 20 September 2020) and "Bernstein's Beethoven" (3 October 2020 – 10 January 2021). If you're traveling to Vienna, do not miss this!
BEETHOVEN WROTE IN A LETTER TO LUIGI CHERUBINI, AN ITALIAN COMPOSER, IN ADMIRATION.
The words could as well hold true for Beethoven.
---
Enjoyed ? Follow us on Instagram for more stories of art and museums from Europe and India!