'Ghare Baire: The World, the Home and the Beyond' – a stunning museum exhibition that captures the evolution of Bengal Art, and tells multiple stories about the region. If you find yourself in Kolkata anytime soon (sounds improbable in 2020, but hey one can dream at least!), this exhibit is a must-visit!
From the homegrown Kalighat paintings to the ones by European travellers; from the almond-eyed Jamini Roys, and the scrap paper experiments of Nandalal Bose to sculptures by Meera Mukherjee and Pradosh Dasgupta; there are hidden gems and celebrated names; art that stirs curiosity, evokes nostalgia as well as art that makes your heart slightly heavy.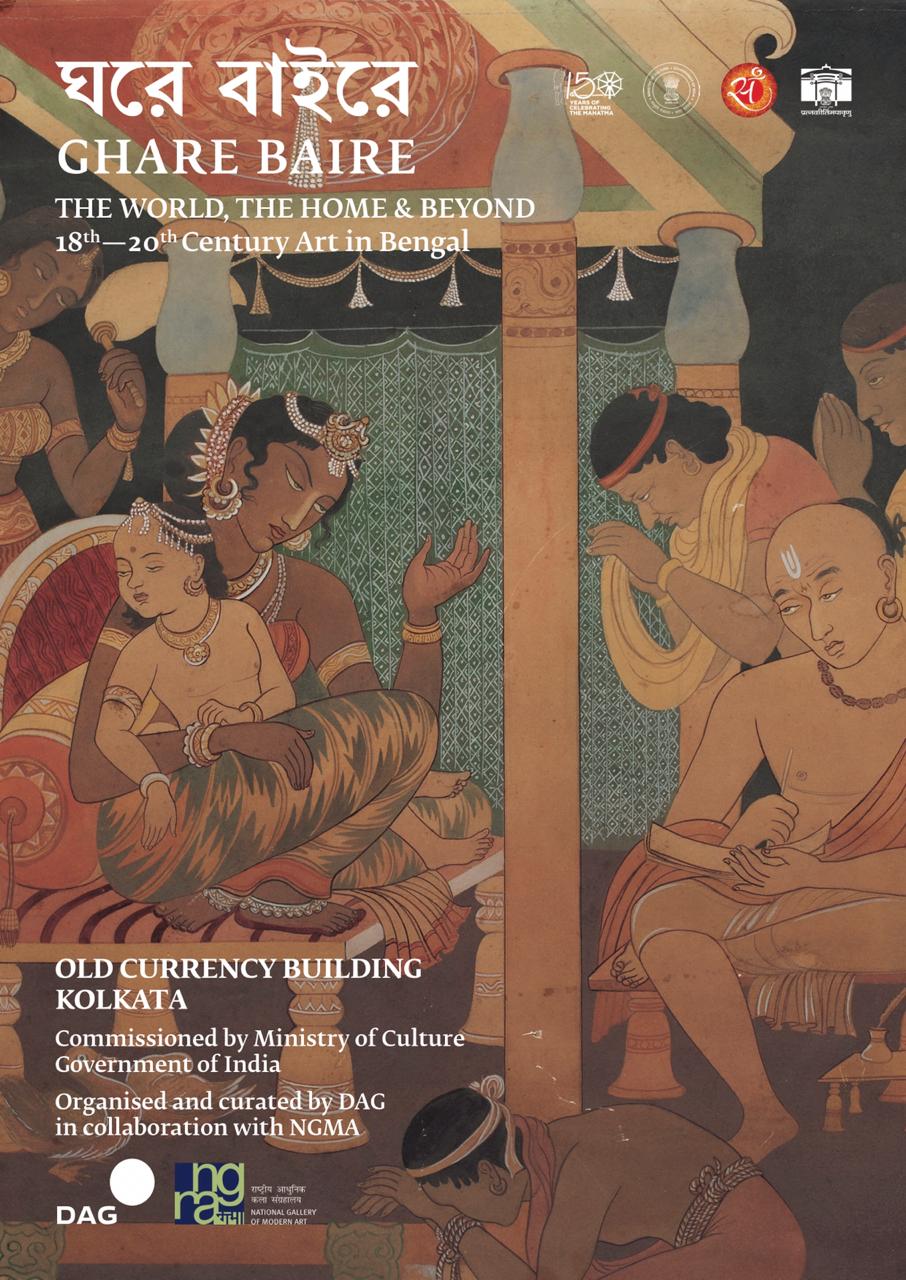 Here is why Ghare Baire should be on your bucket-list :
1. Two leading collections of India come together to put up a spectacular exhibit, so it really cannot get better than this : DAG + NGMA together make for a huge range of art : paintings, sculptures, woodblock prints, photographs and more – a treasure we all want to see!
2. The exhibit is housed in the historic Currency Building at Dalhousie, a three-story Italian style building (restored by ASI) – so it provides an added bonus for any architecture or history buff. The historic building is full of interesting nooks and corners to explore – look out for two metal lined vaults that were used for storing currency once upon a time.
3. The perfect chance to discover the lesser known – artists; as well as stories that inspired the artworks that *we think we know*
4. Bengal's art is a reflection of India as a nation that was developing it's own modern style; like in every aspect (industry, politics, etc) – even in Art, you'd see the layers: the art before the British, the art after having learnt, rejected and then adapted the style of British & western painting to develop a new visual language.
5. No matter what your interest is, this exhibit has you covered – there's mythology, travel, British Raj history, technology, Bengal's society, animals, architecture – so many stories to experience and learn about.
6. There are women artists too! Though it's a delight to see Meera Mukherjee and Sunayani Devi, our wish-list also had other 20th century women artists, like Indusudha Ghosh and Rani Chanda.
7. It's not just food for the soul, but Dalhousie is known for it's finger-licking street food! We recommend trying out the Kochuri Alur Dom, a fan favourite!
Whether you are visiting for the first time or are a seasoned museum-lover, Ghare Baire is a place to visit multiple times!
There are 12 galleries in the Museum
And 700 artworks! Here's a selection of what you absolutely must must see:
1.Early Bengal Indigenous Art
This gallery shows the impact that European styles had on the Indian art scene. The use of oil paints on canvas was introduced to Indian artists by visiting Western artists during the colonial era. The local artists adapted this style to their own tastes, borrowing elements from European art but still keeping their Indian-ness intact.
This painting, by an anonymous painter, draws upon the European tradition of painting a halo around divine figures. A long while ago, the Mughals too, had attempted their own versions of Christian themed art (especially Madonna and the Child).
Do you notice any other European influences?
Compare it with this artwork
The Kalighat-paintings are absolutely fabulous! A disrupted village economy in Bengal had pushed the patua-artists from Mednipur and nearby villages to the city. They thronged the Kalighat temple area to sell their paintings of deities to visiting-pilgrims/ devotees. Made on cheap paper using local colours, these were easily affordable and became immensely popular. The subject of the paintings soon evolved from deities to the 'Calcutta Babus', becoming an aesthetic comment on urban society [like the painting of the Amorous Couple, seen above].
2. Realism & Academic Art in Bengal
The establishment of the Calcutta School of Industrial art in 1864 (later the Government School of Art) was perhaps one of the first developments in formalising art education in India. European art techniques were embraced by a new generation of Indian artists here. Of the breathtaking works in this gallery, the works of Hemen Mazumdar draw quite the crowd.
3. Bengal School of Art
The nationalist movement in India corresponded with the development of a 'revivalist style' of art pioneered by Abanindranath Tagore and EB Havell. The Swadeshi sentiment permeated through art at this time which rejected the imposition of colonial standards in art and instead looked at traditions from the subcontinent and other parts of Asia for inspiration. This emerging style ( a mix of Ajanta, Mughal and Japanese styles) became popular as the 'Bengal school' – believed to be the first recognized art movement of modern India. Take a look at the art of Sushil Sen, Asit Haldar, Ramgopal Vijaivargiya and Kshitindranath Majumdar in this gallery amidst others.
4. National Treasure Artists from Bengal
This is one gallery that you simply can't afford to miss! This gallery is dedicated to the legends of Indian art. It features the best that came out of the Bengal art scene (six out of nine!). It includes household names like Jamini Roy, Nandalal Bose, Sailoz Mookherjea, Rabindranath Tagore, Abanindranath Tagore and Gaganendranath Tagore – the latter's work being some of the most fascinating satires on Bengali society.
These simple but evocative works by Nandalal Bose, are striking and show us how creativity is a constant process that anyone can experience. Interspersed with notes in Bose's handwriting, these are pure delight to see!
---
Take the DAG Quiz : Which National Treasure Artist are you?
---
5. Shantiniketan
Rabindranath Tagore's experimental school Shantiniketan emerged as the hub of creative genius. Under the able leadership of Nandalal Bose who aptly gained the moniker 'Mastermoshai' – the school continued to give the country some of it's best sculptors, painters, muralists, graphic artists etc. The intercultural exchange-vibe with Europe and Japan was a well balanced mix. You'd find some absolutely stunning works here by Ramkinkar Baij and Benodebehari Mukherjee. Unmissable is the fascination with Santhals that most Shantiniketan artists seem to have.
6. Printmaking : Democratizing Art
While the printmaking movement in Europe kicked off somewhere around the 15th century (credited to Johann Gutenberg of Germany), it took a while to pick up in India. European artists like Balthazar Solvyns, Thomas Daniell (also on view in the European Artists in Bengal gallery) prepared a large number of prints during their stay in India. There were etchings, lithographs, engravings on a variety of subjects – portraits, history, mythology, social life, costumes, etc. Wood-engravings and prints also developed in the north Calcutta bazaars in the mid-19th century.
As the popularity of graphic art picked up, the beginning of the 20th century witnessed a new aesthetic language. The Tagore family, one could say picked up the lead on this movement as well, forming the 'Bichitra Club'. Mukul Dey, a member of this club, was the first to travel out of the country to further his skills in printmaking. Japanese woodblock printing had a considerable influence on the printmaking form, as it developed. Keeping with 'the latest trend in art', Shantiniketan's graphic department boosted printmaking as an art. An amazing example is Ramendranath Chakravarty's prints.
The trend continued well into the 1940s, with Haren Das and Chittaprosad's works emerging to be strong visuals of a nation.
7. Visualising the Bengal Famine
The Second World War had devastating impact on India, and the Bengal Famine of 1943 saw millions die of hunger. This was enough to rouse the conscience of artists, and many stepped out of the romantic village-life landscapes and mythology to use their art for social activism. This includes the work of Chittaprosad, who actively documented the famine through prints, sketches and writings. These were later compiled and published as a book titled 'Hungry Bengal'.
6. Sculpture Gallery
Head over to the Sculpture gallery to see the works of greats like Prodosh Dasgupta, D.P. Roy Chowdhury and Meera Mukherjee. Many of you might be familiar with the famous "Gyarah Murti" sculpture in Delhi, depicting Gandhi's Dandi March – the artist behind it, D.P Roy Chowdhury is also dubbed as India's Rodin.
Don't miss his sculpture "When Winter Comes". It could be a bit tricky to photograph!
Meera Mukherjee known for her innovative use of bronze casting techniques (which uses the lost-wax method), that she learnt during her training with the Bastar tribal artisans, is a delight to find.
Accessible Art: The Inner Eye Gallery
There is a tactile gallery called "The Inner Eye', that makes art accessible to differently-abled audiences. It features a handful of art only but there is a detailed description of the each painting below in braille accompanied by an elevated relief-version of the painting.
Don't miss out :
The European artists gallery which houses paintings by the Belgian marine painter Balthazar Solvyns and others.
If you're a Satyajit Ray fan, there are Photos of Ray by Nemai Ghosh on the ground floor.
Art through books and music!
All this looking around at art is bound to get you curious! For locals, the library at the ground floor is probably an ideal place to immerse yourself in the vast collection of books on art. It is open to everyone – but for those visiting the city, perhaps a peek-in is all that you will be able to squeeze through.
And if you visit the exhibition on a Friday, do stay for the after-hour programmes that begin at 8. This way you can celebrate the end of the week with art, music, performances and more!
Don't forget to check out the collection on the DAG website!
---
Been there, seen this?
Share your experience with us using #MuseumsEveryday on Instagram or Twitter. Have your museum experience published : email us at [email protected]
---
Co authored by : Chitralekha Nair