The Second World War altered the political and social structure of the world. In 1942, just as the Quit India movement was gaining momentum, Japan conquered Burma (Myanmar); Bengal therefore, felt the impact of the War more strongly than other parts of India. In 1942, Calcutta, war-torn and famine-stricken, came to be occupied by the U.S Army soldiers or the "General Infantry". As a consequence, the city's social and cultural life, underwent a transformation over the next few years. Calcutta witnessed the emergence of Jazz music, clubs, Hollywood cinema, American books and magazines and so on.
In this gallery, we present a selection of photos taken by an American military photographer, Clyde Waddell. Before the War, he had served as the personal photographer to Lord Mountbatten. His photos of Calcutta (1945-46) take us through the streets to train stations, an opium den, and even a brothel. They also feature actresses, entertainers, and iconic buildings and places. Visuals of snake charmers, bullock carts and rickshaws reaffirm the representation of the "orient". Many of the photographs feature American soldiers stationed in Calcutta and document American military landmarks in Calcutta, such as the U.S. Army headquarters, a hotel for U.S. Army officers, and the American Red Cross, Burra Club.
The photos gained immense popularity, and Waddell eventually published them as 'A Yank's Memories of Calcutta'. The album offers a 'typical' American impression of India at this time. A post-colonial viewer though, might notice a condescendence in the photo-captions.
Here are some photos by the American military photographer, Clyde Waddell (with captions) that show life in Calcutta during the Second World War.
The album is part of the University of Pennsylvania Libraries' collection and is available under an open license (CC0).
Hit the arrow buttons to view the gallery or swipe (if viewing on a mobile device)
1
Chowringhee Street
Calcutta's main thoroughfare, an amazing parade of fascinating sights and sounds. Every soldier who has trod its length retains memories of one of the most colorful and interesting streets in the world.
2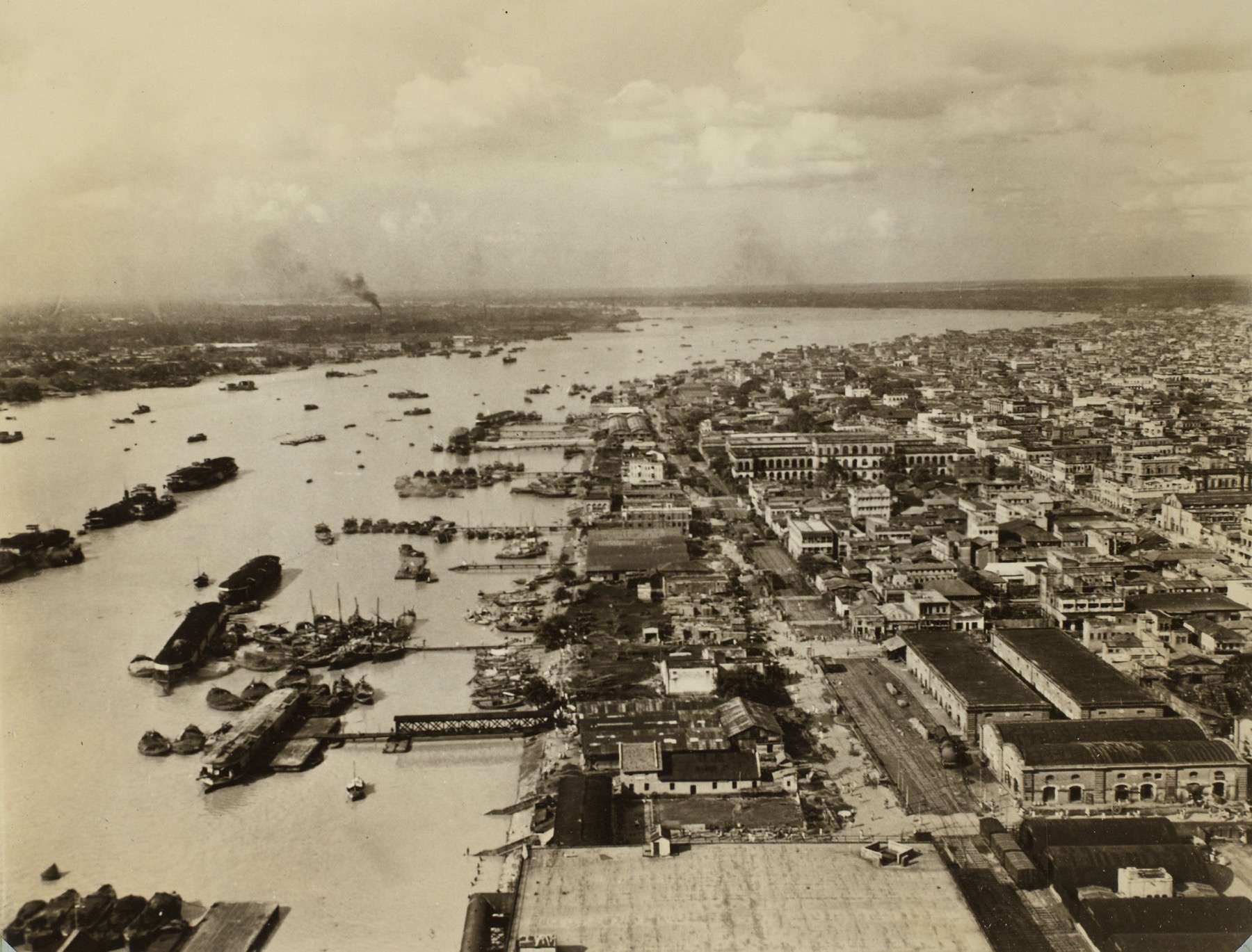 Hooghly river and part of Calcutta's east bank.
But for this giant stream Calcutta would likely never have been built and for that matter, many of us would just as soon it hadn't. Nevertheless the river affords many spectacles and has accommodated millions of tons of supplies necessary to the war effort.
3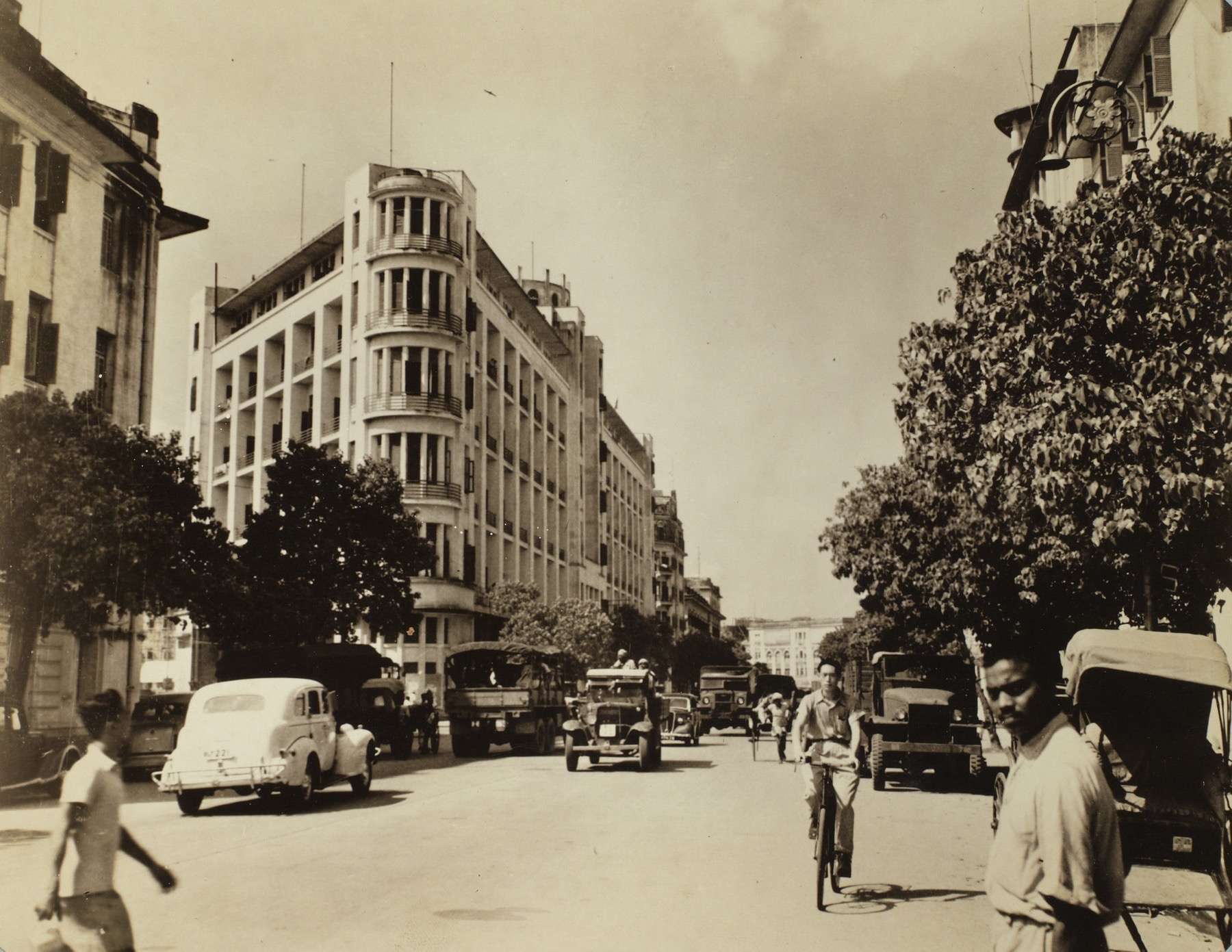 Hindustan building
One of the most modern buildings in Calcutta, was built for an Insurance company but occupied upon its completion by the U.S.Army. Located in the heart of the city, it is the nerve center of all military business, containing post office, a finance office, Base Section offices, air, rail booking offices, a radio station, giant post exchange, Officers mess and living quarters, signal offices and others.
4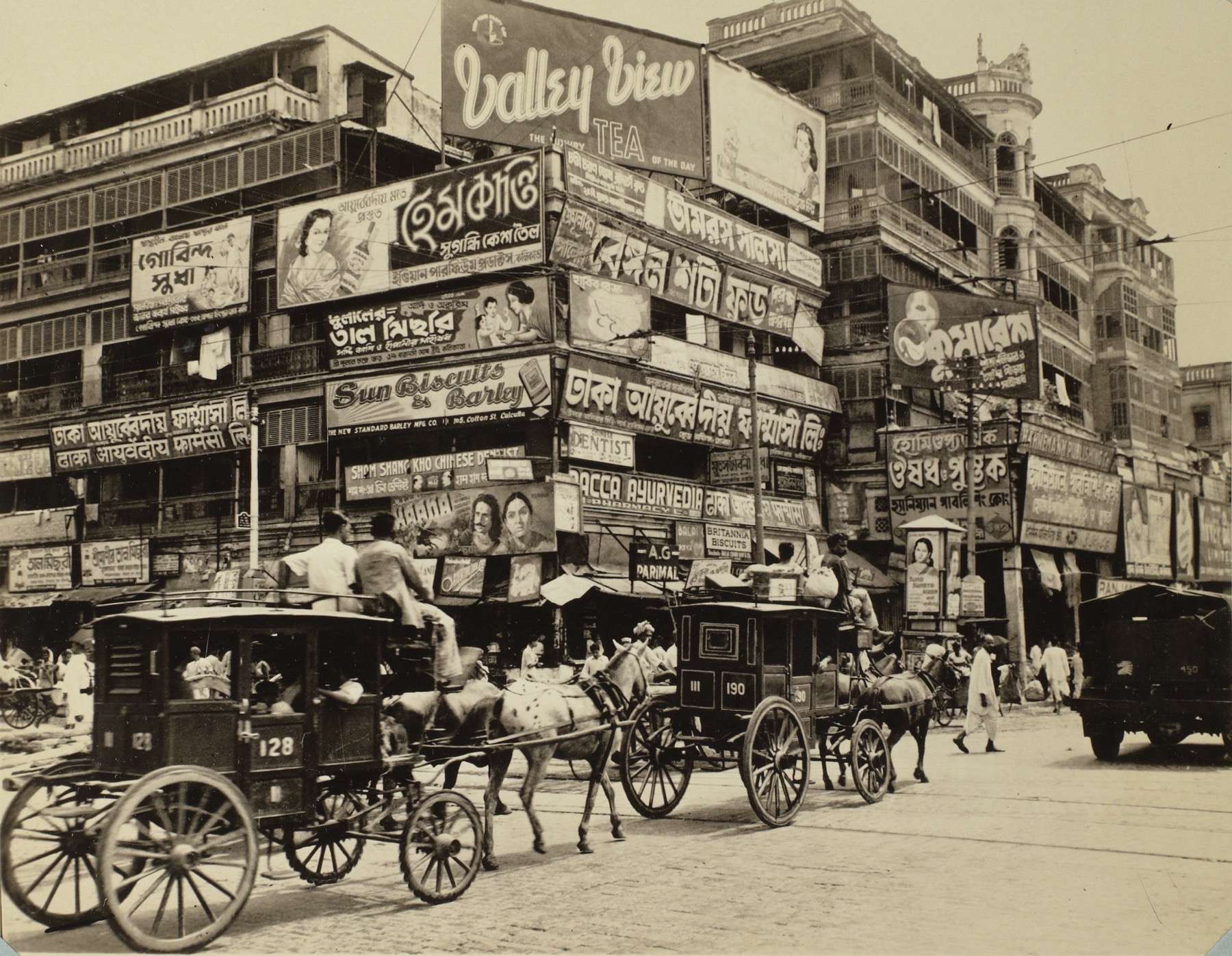 Harrison Street – Burra Bazaar
A bewildering mass of billboards at the corner of Harrison Street (Burra Bazar) and Strand Road. One of the oldest sections of Calcutta, at the foot of Howrah Bridge, it is a fine vantage point for photographing the passing parade of oddly dressed natives and curious vehicles.
5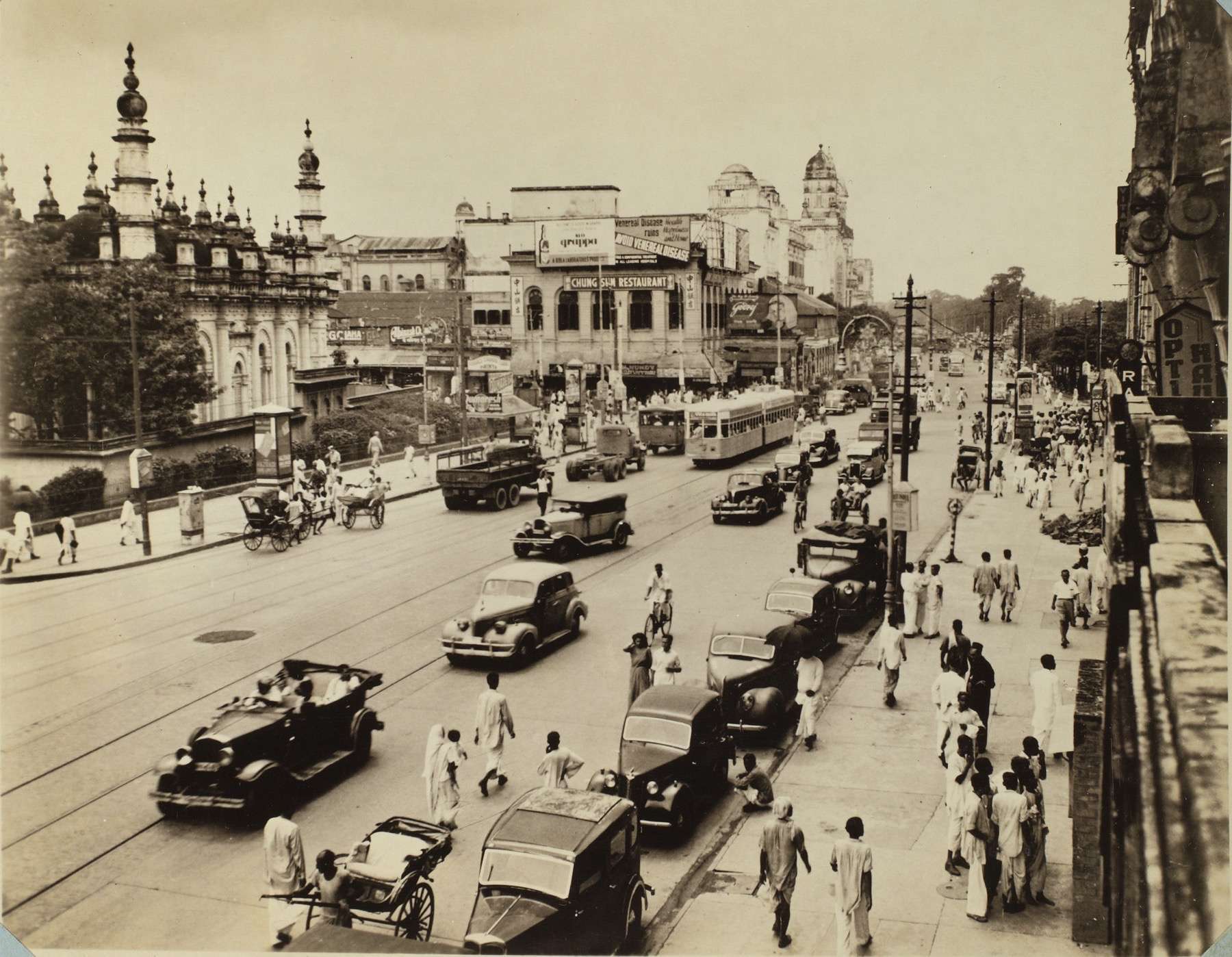 Chowringhee Square.
The Mohammedan mosque, Juma Masjid, is shown at left. This is actually one of the quiet moments when GI trucks, taxis, bicycles and other modes of transport can move with comparative freedom.
6
Karnani Estates, a mammoth apartment hotel for U.S. Army officers.
Known to the many thousands of transient and locally based officers as a social center, it has been provided with one of the most elaborately decorated bars of any Officers Club in the CBI theater.
7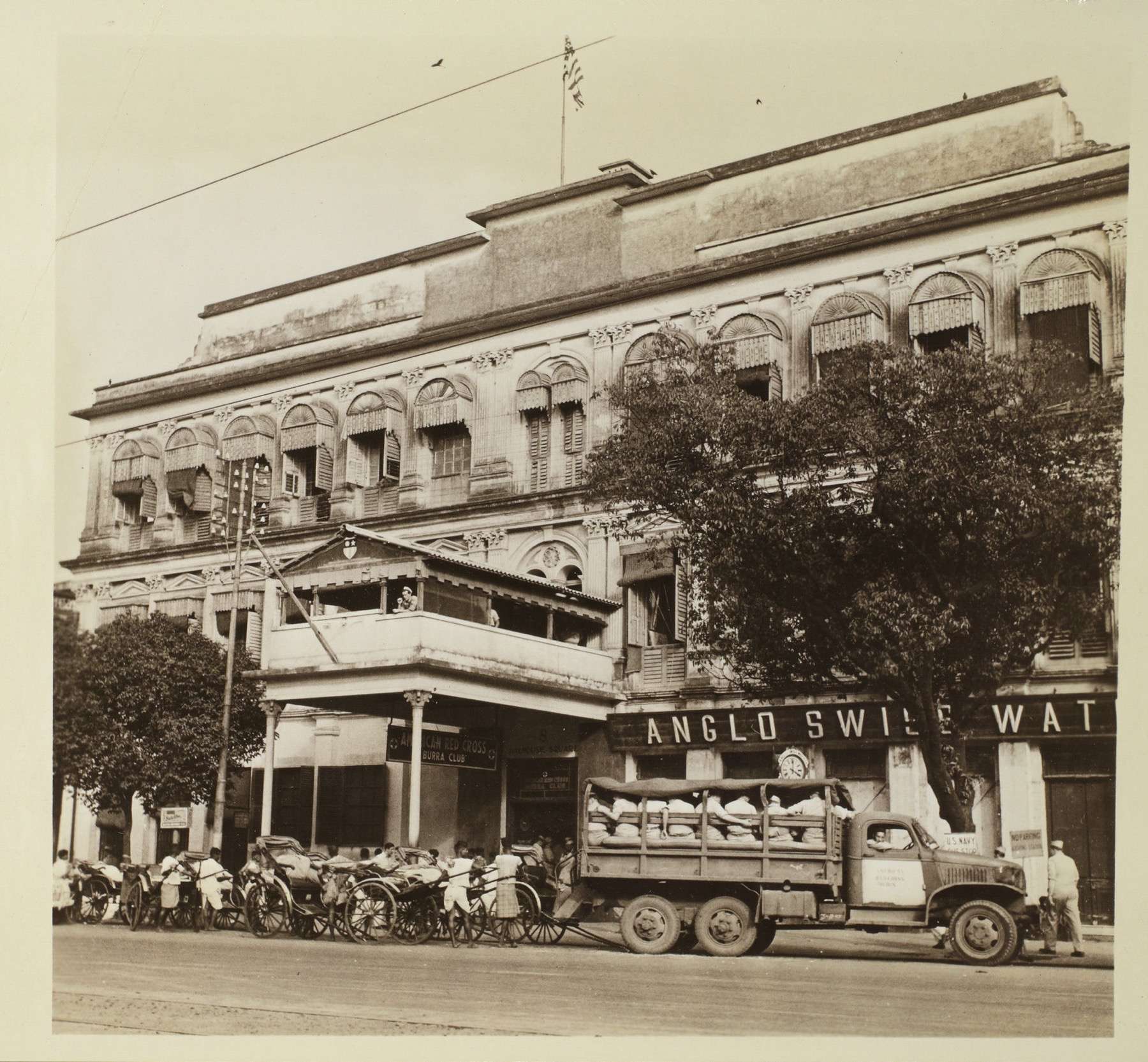 The American Red Cross Burra Club, leave center for GI's and recreation spot for all enlisted men.
The unpretentious facade belies an interior complete with dormitory, snack bar, restaurant, music room, games room, lounge, barber and tailor shops, wrapping service department and post exchange.
8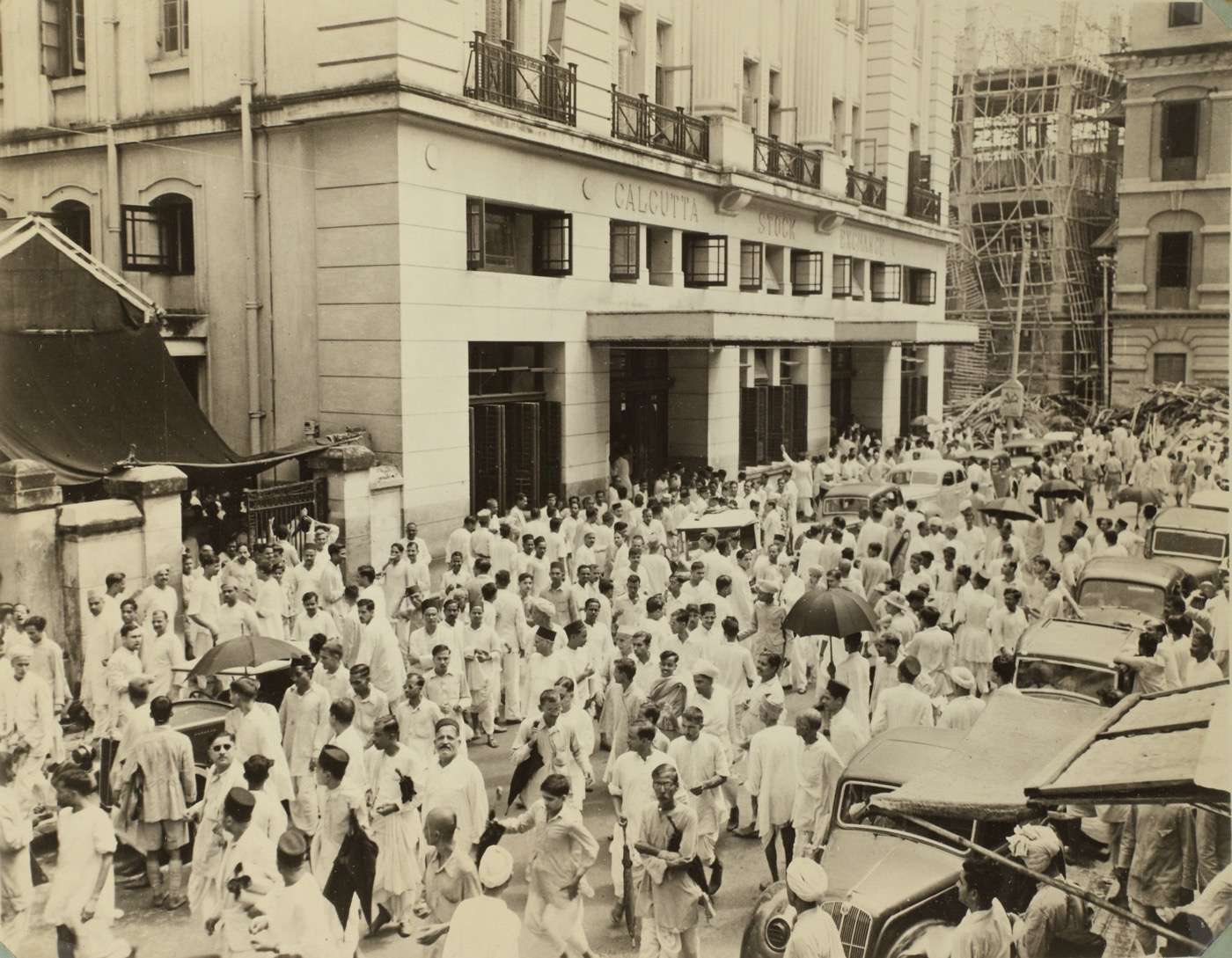 The Calcutta stock exchange
Street scene outside the Calcutta stock exchange. The noise is similar to the bedlam in all world exchanges and many transactions (unofficial) take place in the street as shown here.
9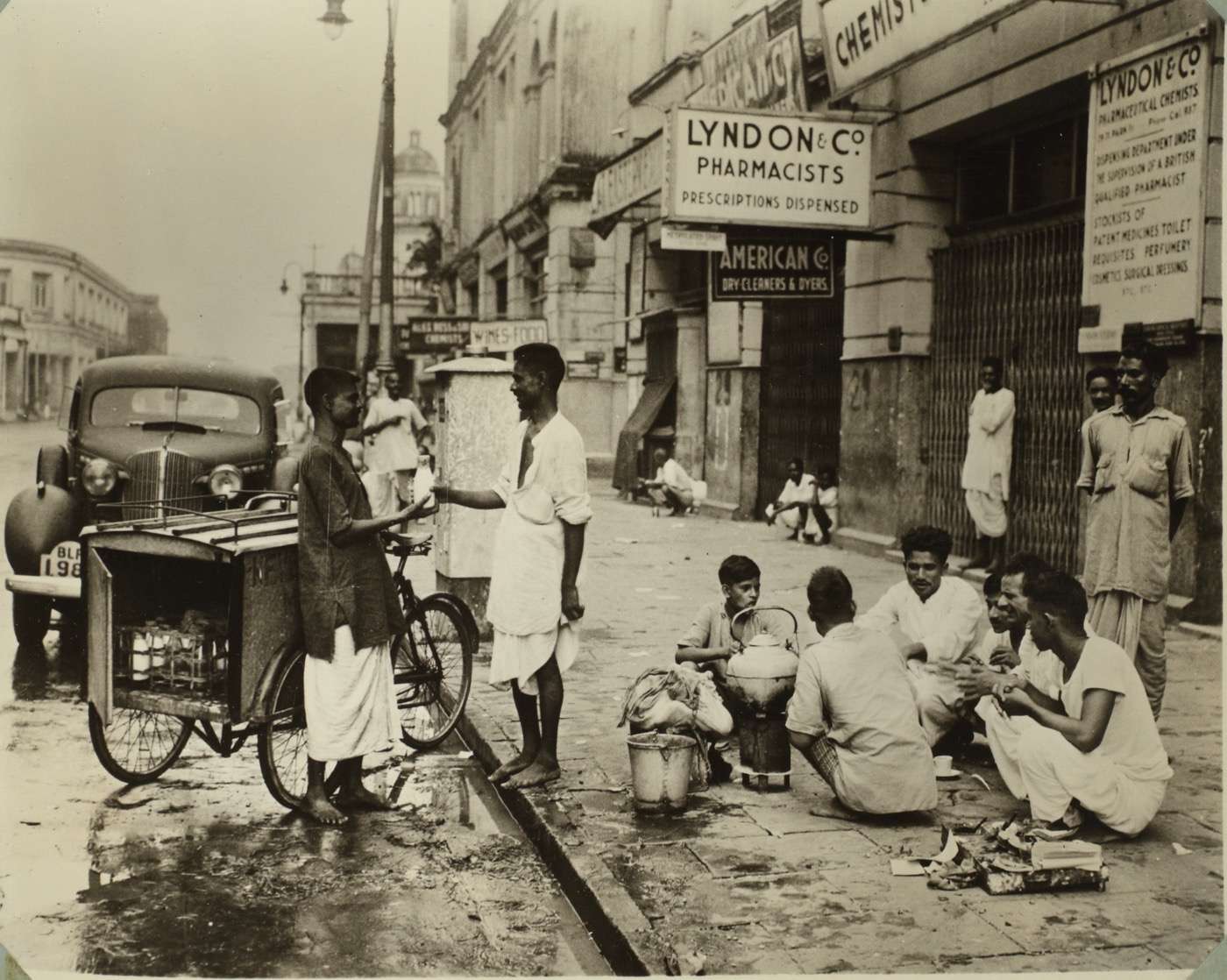 An early morning community gathering on the busy Park street
Early morning in many a Calcutta street finds natives huddled around a breakfast teapot, having risen from their sidewalk abode. The milkman makes a regular stop at this community gathering on busy Park street.
10
Traffic in Calcutta
Calcutta's traffic is usually snarled. And the reasons are clearly shown. Shuffling coolies and pedestrians with little regard for their lives seem completely oblivious to the perils of automotive traffic.
11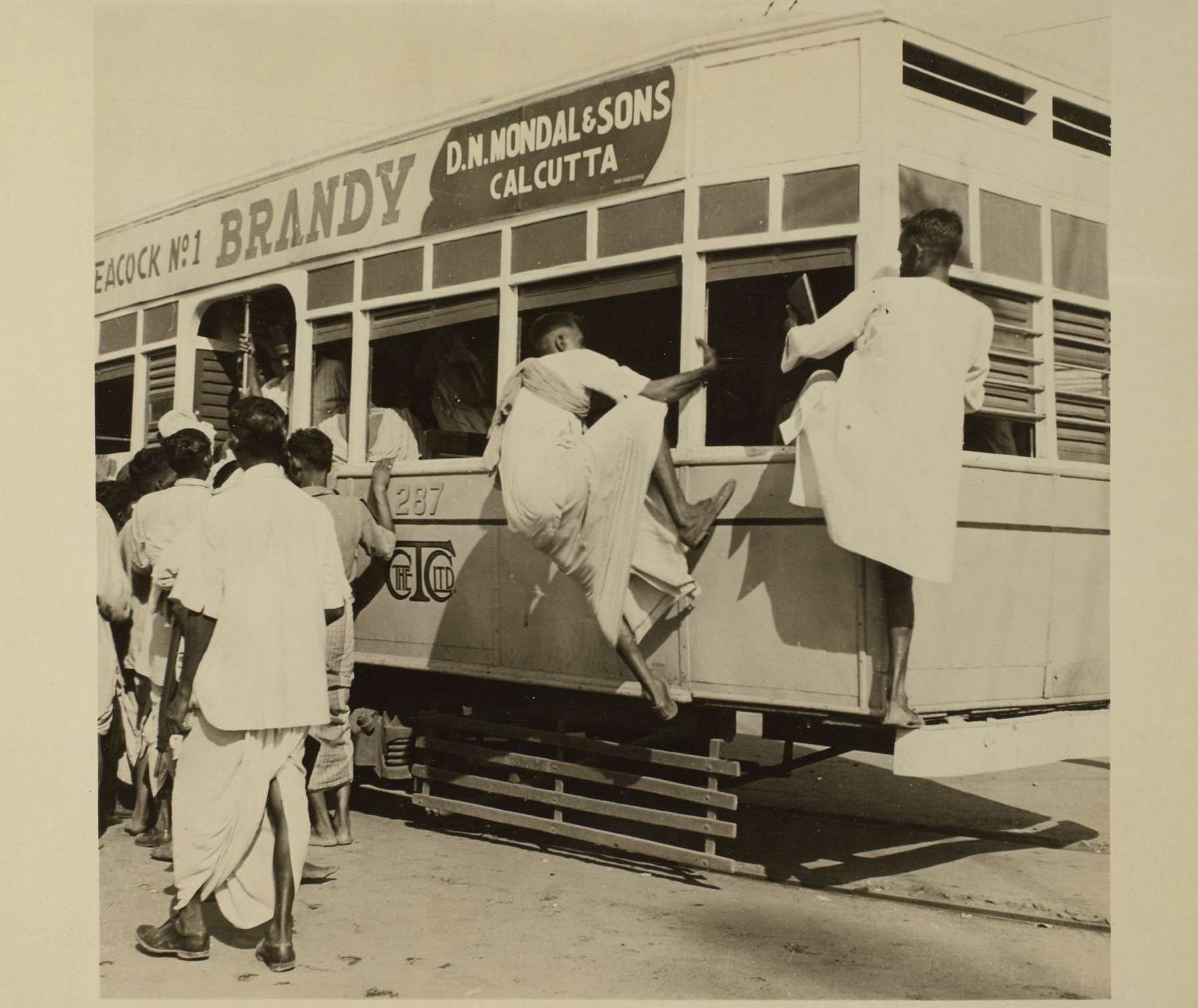 Commuting in Calcutta
Indians are the bravest commuters in the world. They hang from every handhold. The two shown here, how ever, are bent on cinching a seat before the car fills. Ancient double-decker buses sway and chug under the strain of double overloads and trams make packed New York subways seem comfortable by comparison.
12
Howrah Railway Station, Calcutta
Sacred cattle and coolies push and pull great carts to the loading platform of the Howrah railroad station in background, one of the city's two stations. Howrah is on the west bank of the river, and Sealdah, the other station, is in another section of Calcutta on the east side.
13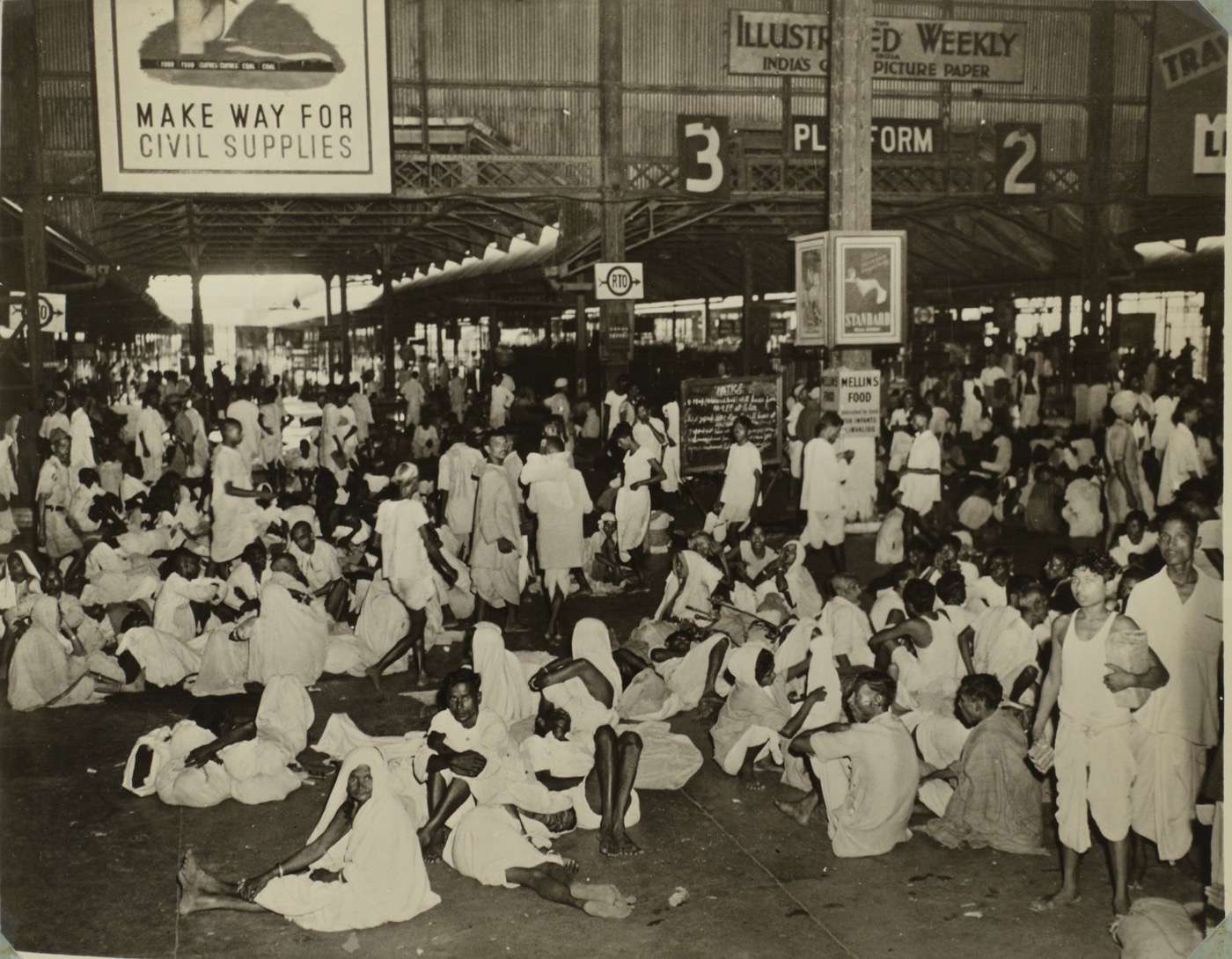 Waiting at the Railway Station
Indians seem to be great travelers. Wartime transportation priorities have forced many weary travelers to remain in stations while waiting for long periods. Because of no other means, many must set up housekeeping during the long vigil, cooking their food on the spot and sleeping on the bare floor.
14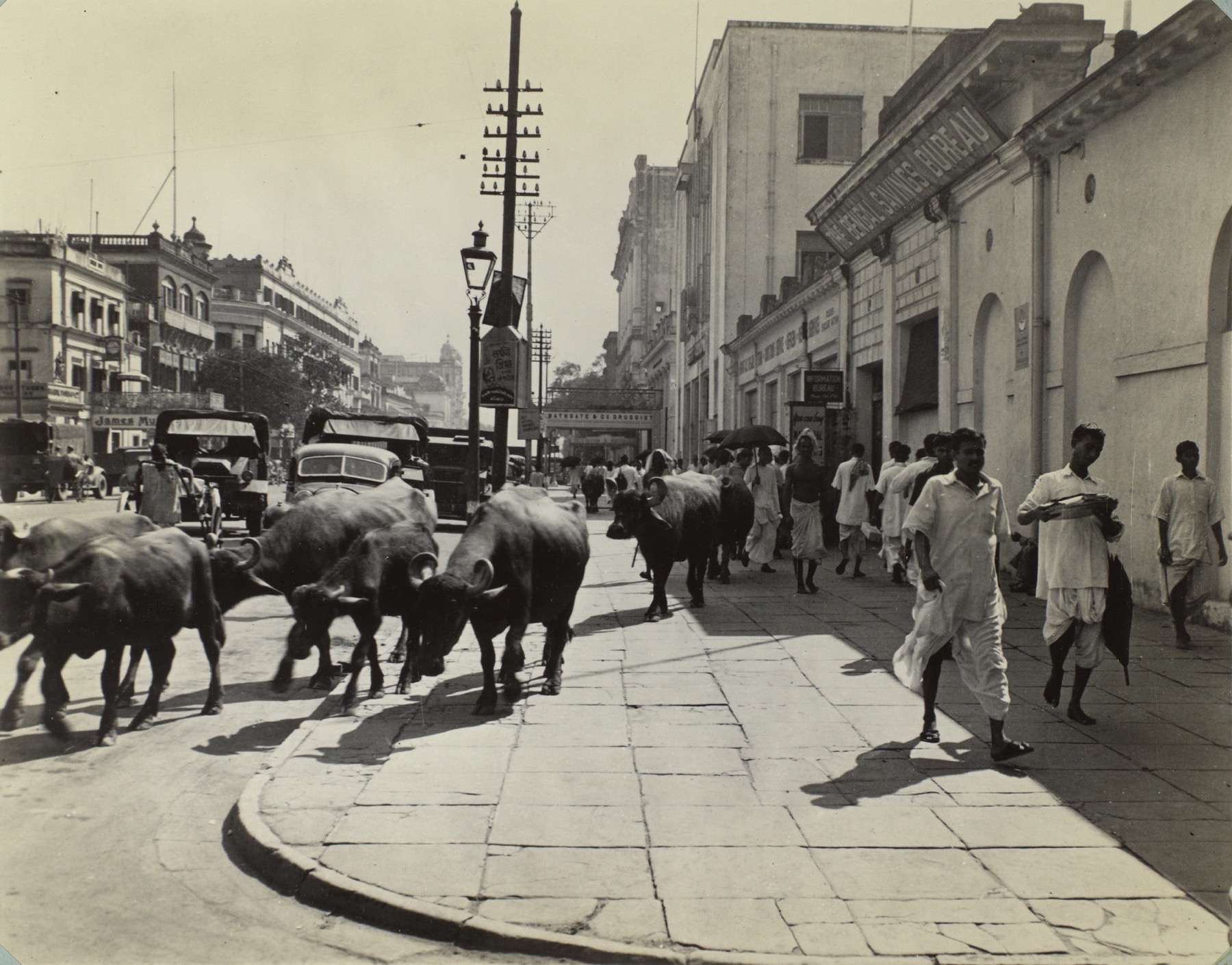 Old Court House Street, Calcutta
This buffalo herd's movements seem to be guided by whim alone and are typical of the complete indifference to traffic control by man and animal alike. This is Old Court House street, one of Calcutta's busiest. In left background is Great Eastern Hotel, Calcutta's best, used by U.S. Officers as a billet.
15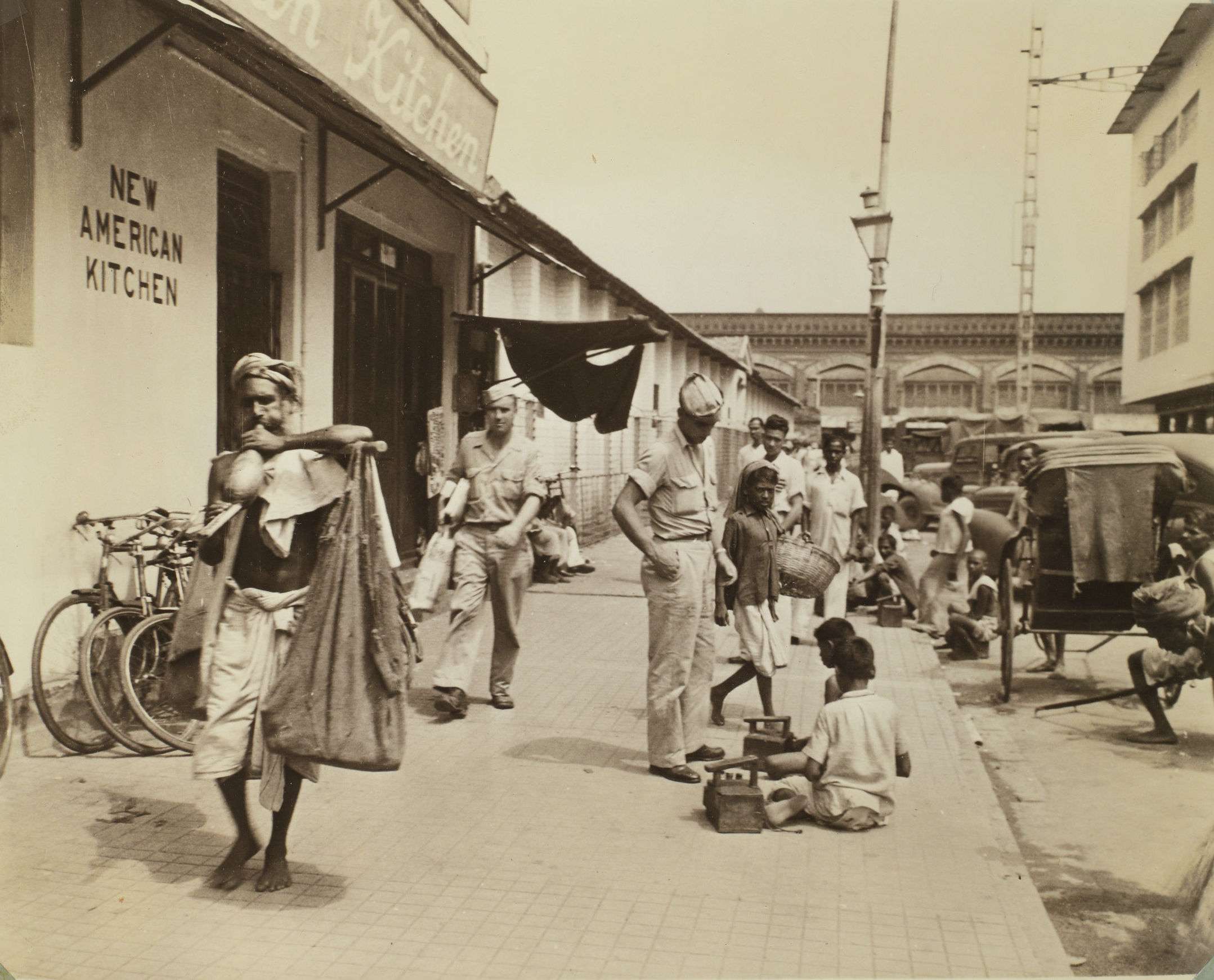 The New American Kitchen
After a couple of years in India, the bizarre aspects of street life become commonplace to the average soldier, as evidenced by the scant notice given the passing snake-walla by the GI at right bargaining for a shine from one of the city's hundreds of bootblacks. The New American Kitchen is a popular Chinese restaurant, owned by a Portuguese, and serves up a steak or chop suey before you can say "Teek hai".
16
Tram Workers on Strike
Indicative of the resumption of an age-old struggle for decent conditions is this immediate post-war picture of tram-workers on strike. The strike lasted nine days but employees won part of their demands.
17
Calcutta's Docks
GI dock workers of the Port companies created order out of chaos at Calcutta's great docks and thousands of tons of vital war suplies flowed through to China, Burma and India. The MP is on hand to see that the coolies do not pilfer from the rations they are carrying.
18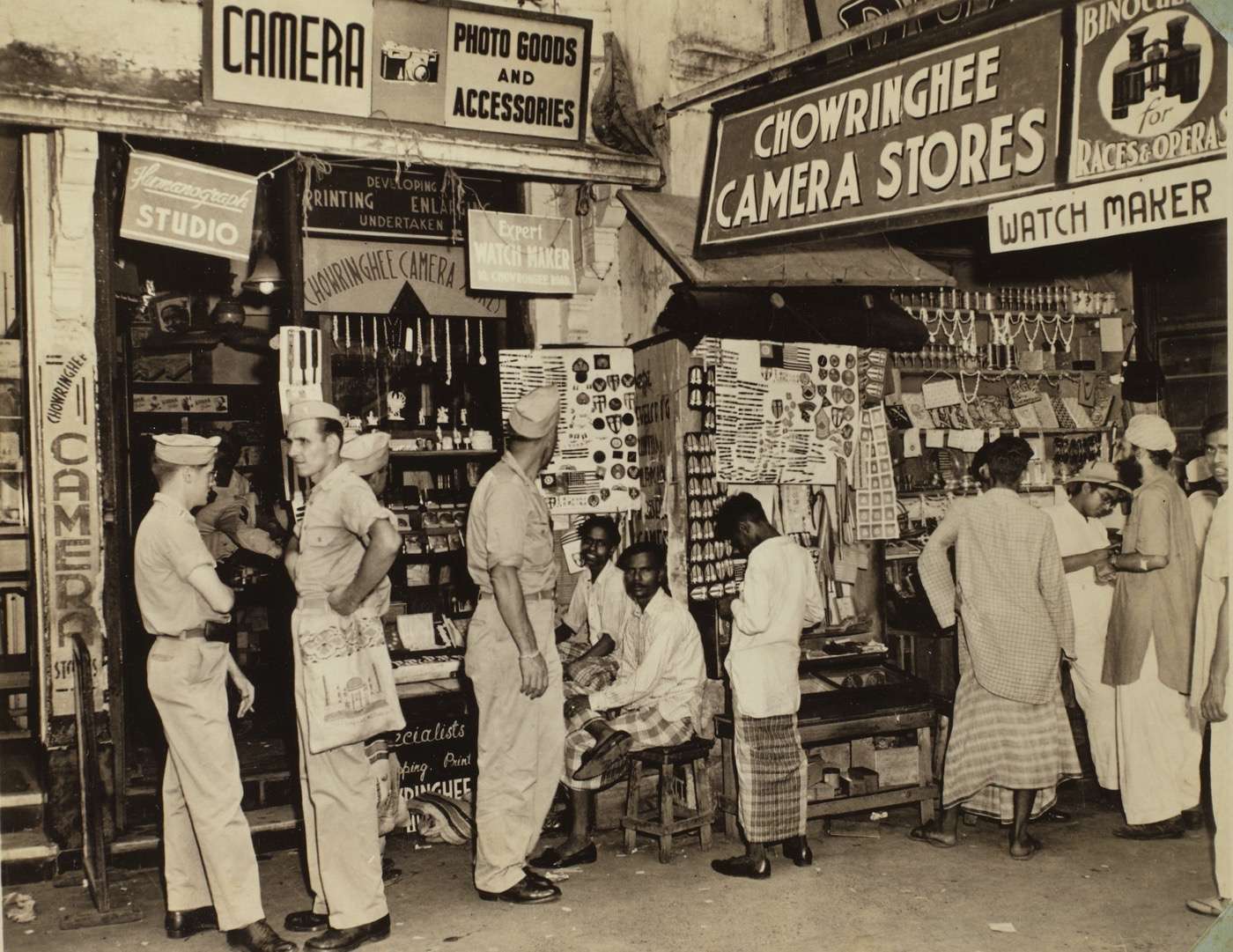 Chowringhee Camera Store
Signs notwithstanding, you can't buy cameras, binoculars, photo goods or accessories here, but the stock does include anything from a Legion of Merit ribbon to an ivory necklace, brass ashtray, ladies evening bag, shoestrings or napkin rings. Typical shoppers ponder the situation.
19
New Market in Calcutta
Probably the largest market in the East is the New Market. Covering several blocks in the downtown area, the 2,000 stalls offer most anything you could ask for, wartime shortages excepted. In addition to all the items appealing to the local and tourist trade, the market contains giant food departments.
20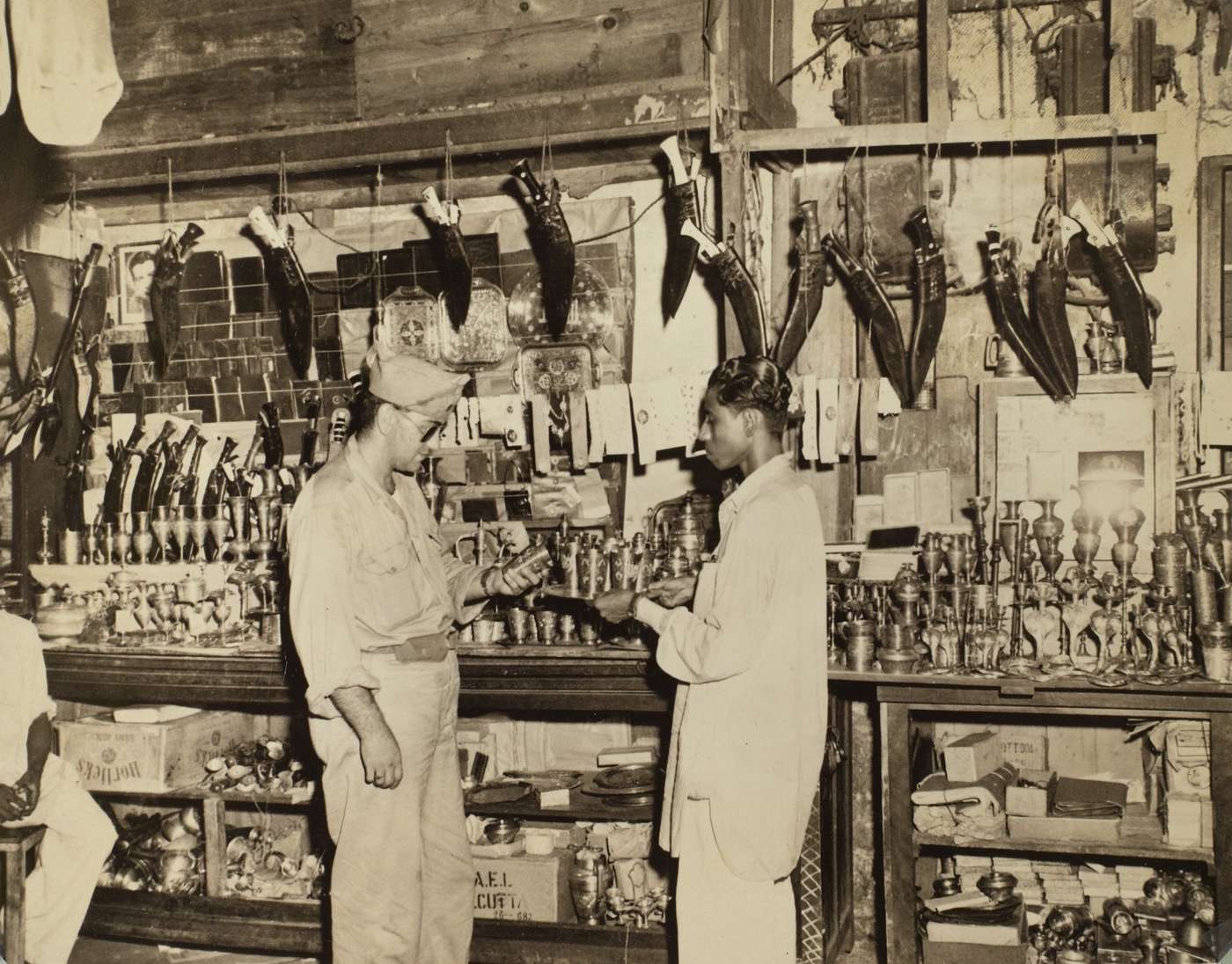 Bargaining at New Market
Brassware and Gurkha knives are two of the most popular souvenir purchases made by soldiers. Bargaining is the rule and only the sucker pays the first price asked. The New Market is alive with stalls like this.
21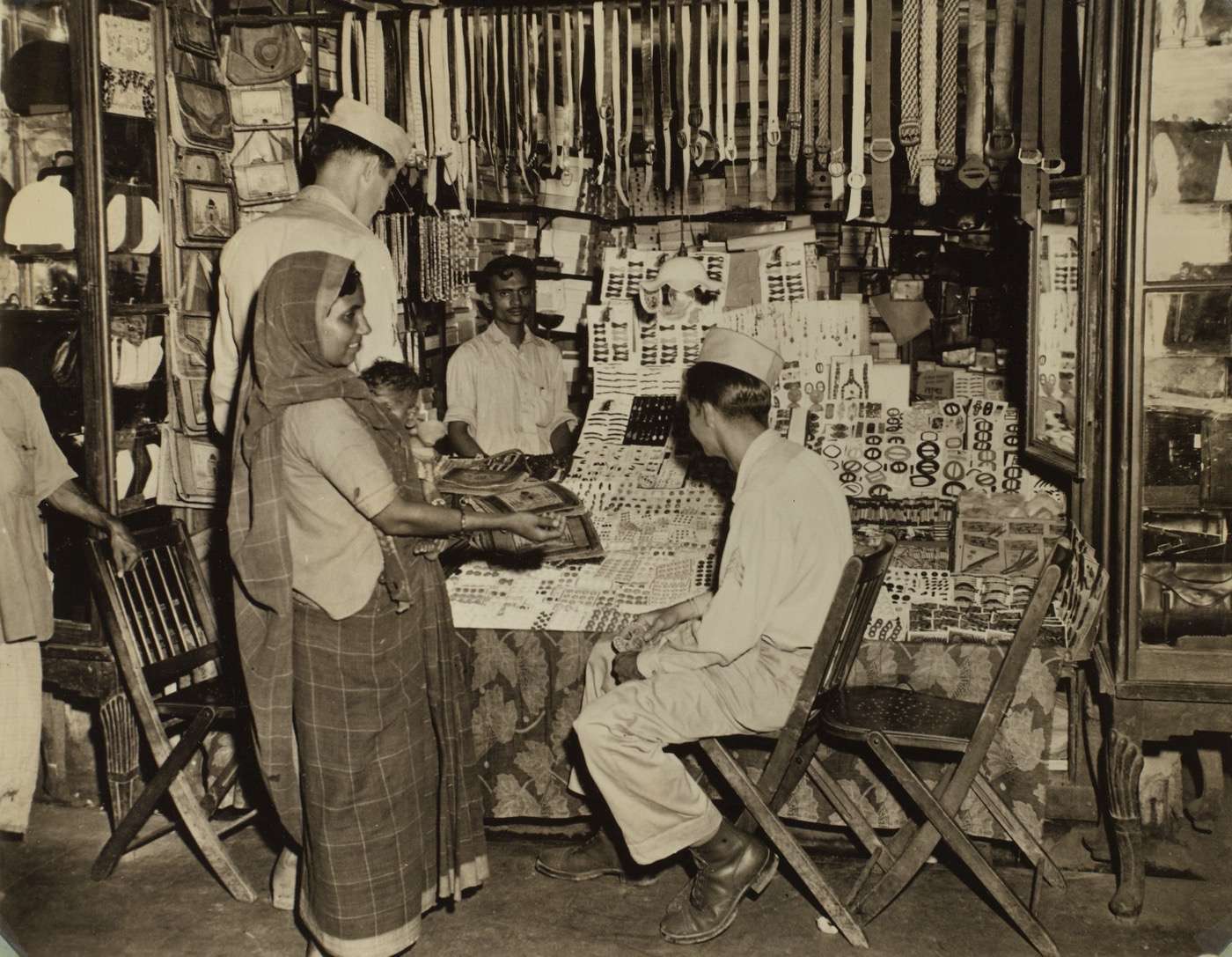 Shopping at New Market
A couple of GI's consider the purchase of trinkets for the girl friend, harassed by the ever-present plea for "Baksheesh, Sahib, "You American Rajah", "No food, no money, no poppa"
22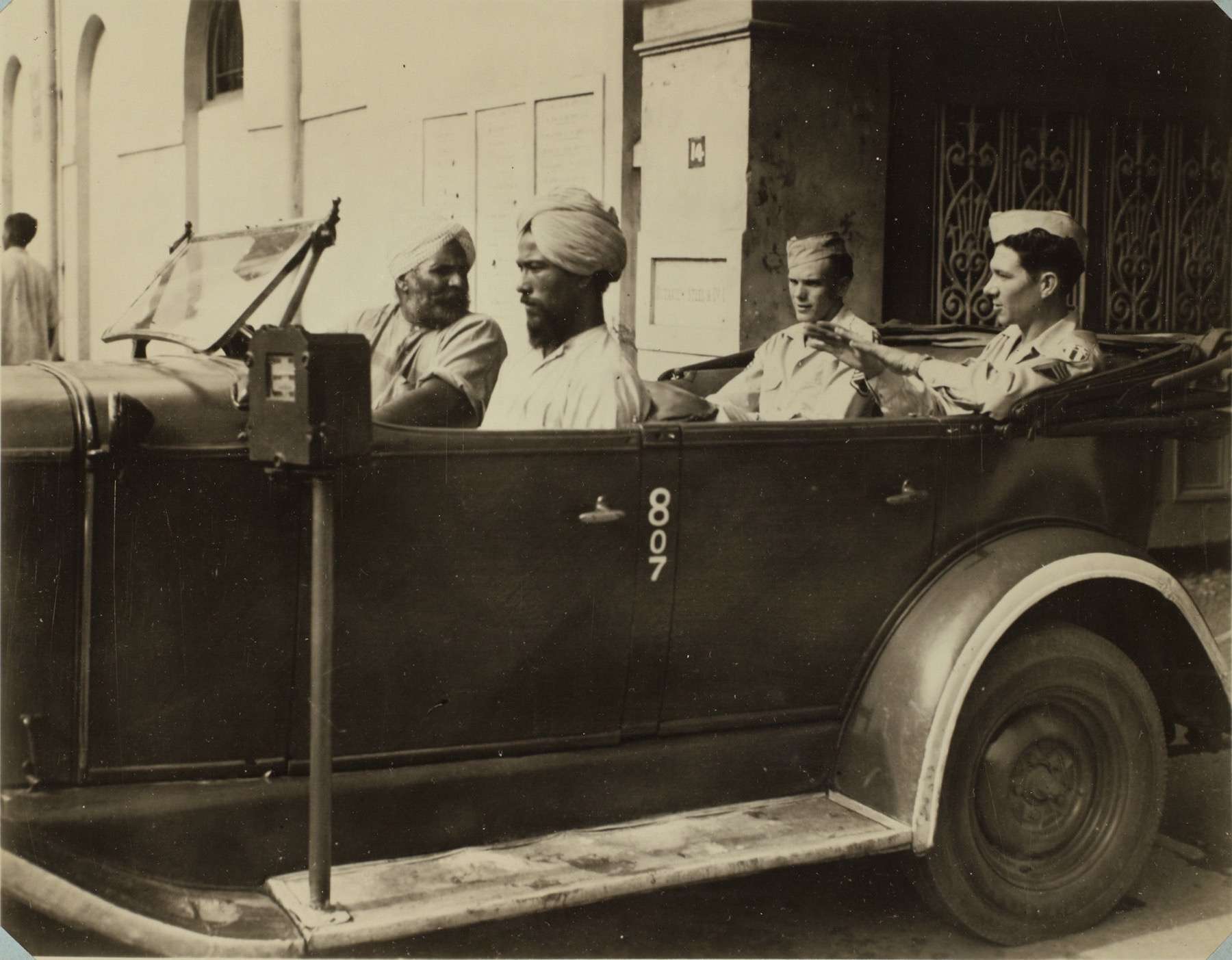 People of Calcutta – Sikh drivers
Of Calcutta's assortment of colorful and intriguing characters, the Sikh taxi-driver and his co-pilot rank high. The co-pilot was added in 1944 following an affray in which a soldier knifed a driver. The two GI's shown here are doing their best to convey their destination to the driver of the ancient jalopy.
23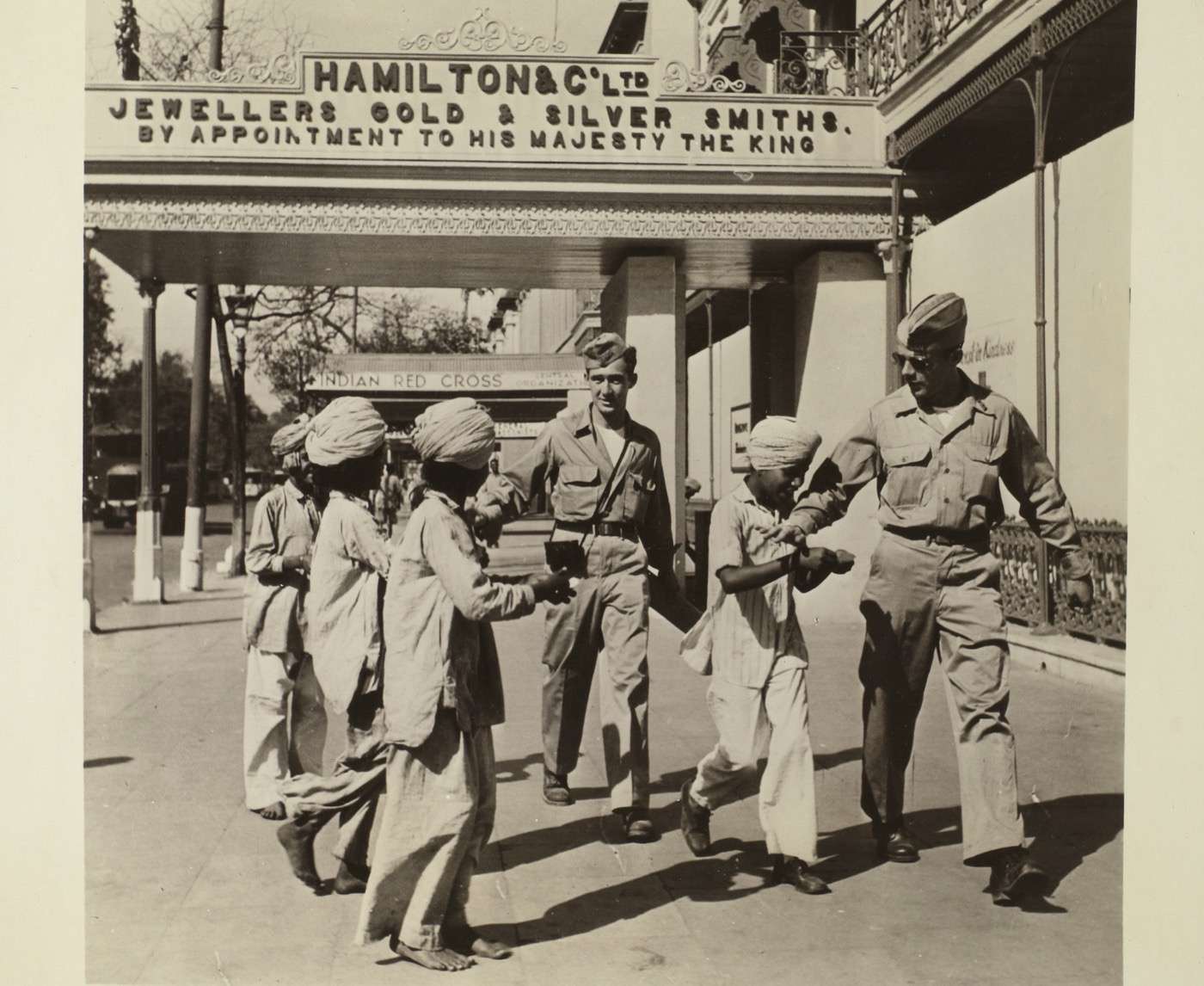 Sikh lads selling precious stones
These Sikh lads have chosen an auspicious stand for their business of selling 'precious! stones to GI's. No more than 12 years old, these boys are shrewd and 'malum' (know) English well enough to trim a sucker every time.
24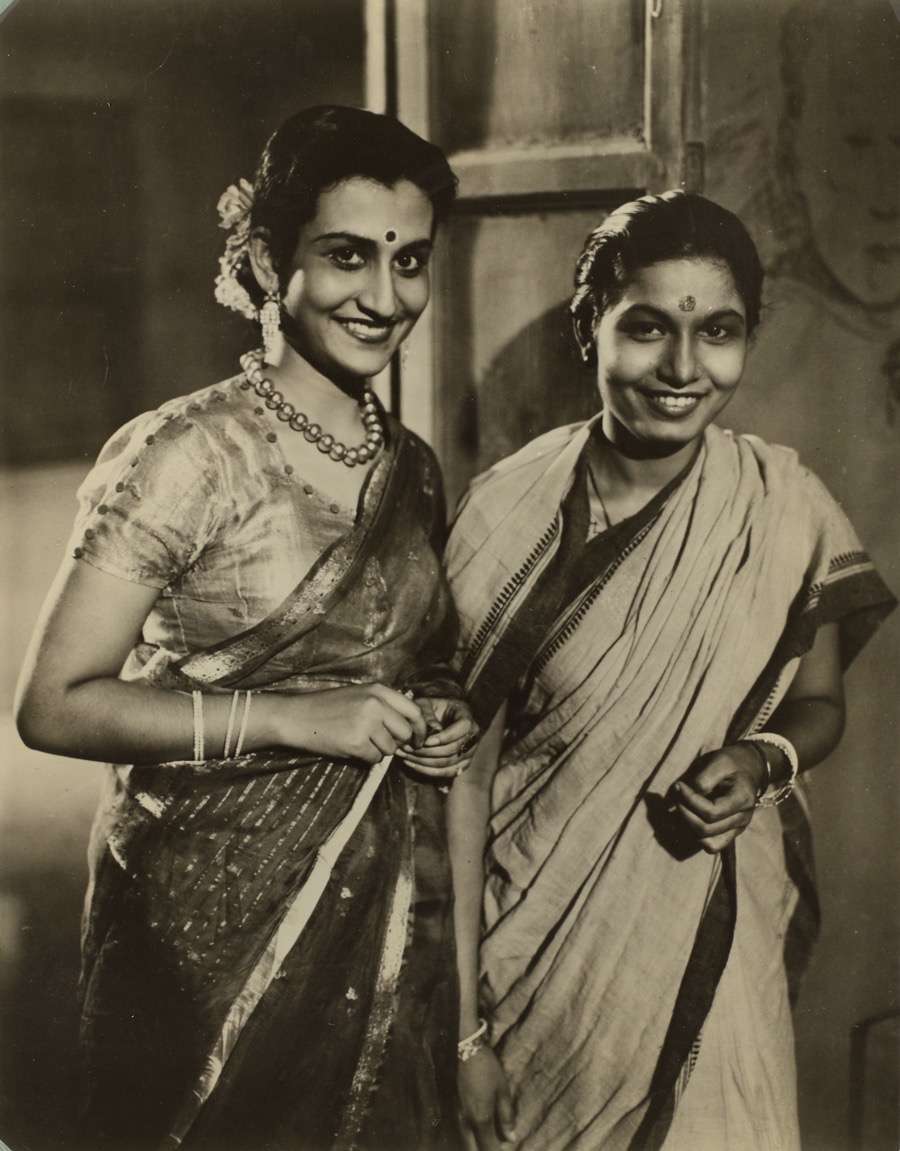 Indian movie actresses.
Dressed in Sarees, 19-year old Binota Bose, left, and Mrs. Rekha Mullick, right, are right at home before the camera and lights. Miss Bose earns $360.00 per month and Mrs. Mullick $210.00. Both are well educated and prefer American books, pictures.
25
A queue to buy kerosene
Calcutta's poor form a line to buy kerosene at 6 a.m. Each little cubicle may contain a shop and living quarters for a family ranging possibly from 6 to 12. Sanitary facilities consist of an open street drain.
26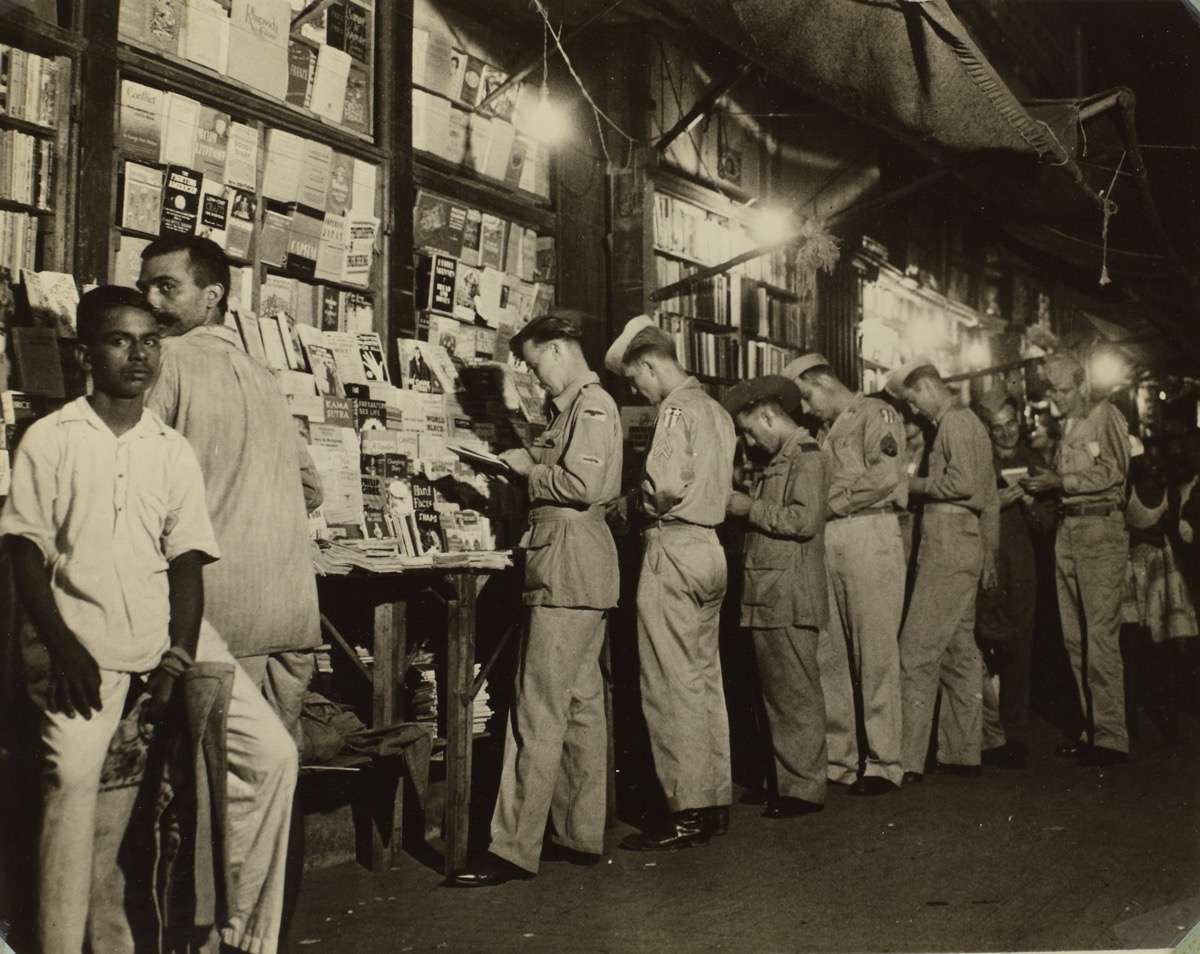 Stalls selling erotic books
Corner bookstalls, specializing in lurid novels, sex treatises, are fascinating spots for British and American soldiers alike. Typical titles, "The Escapades of Erotic Edna", "Kama Sutra, The Hindu Art of Love"
27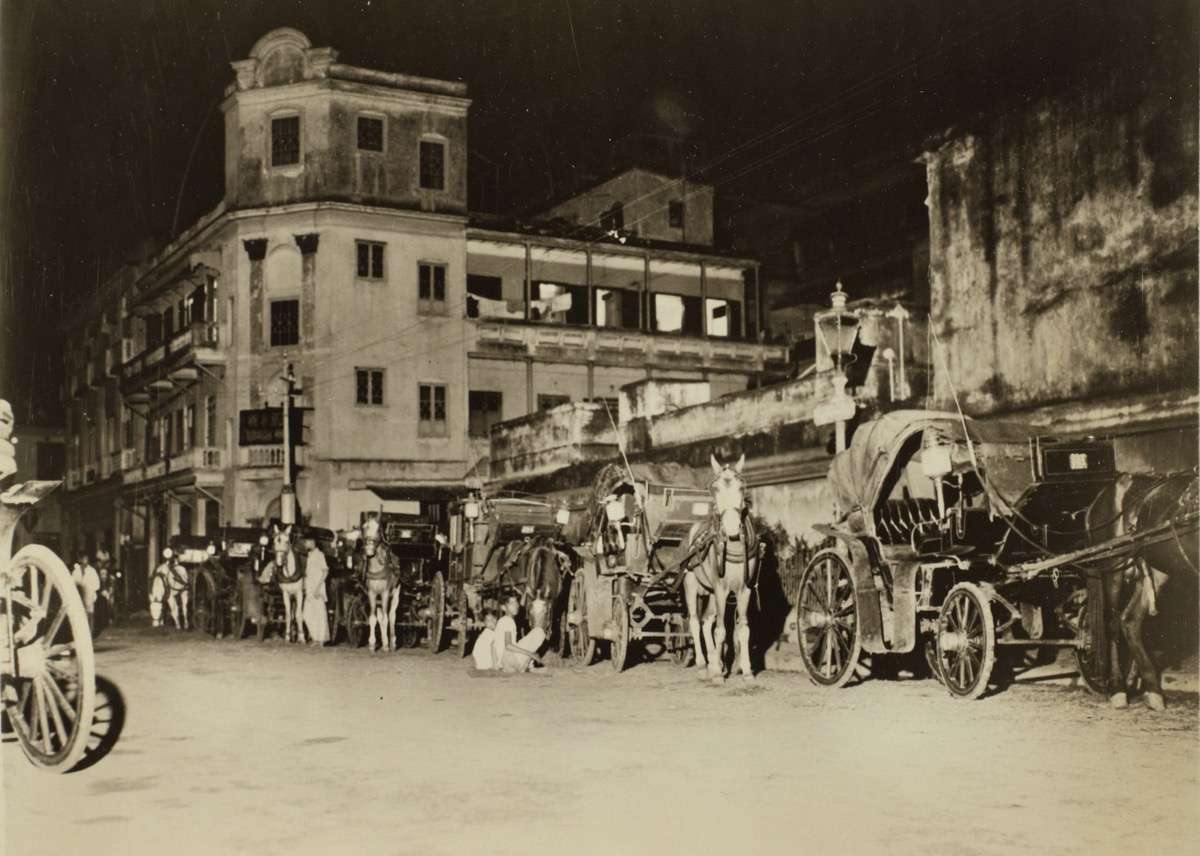 Dimly-lit alleys leading to brothels
Nightfall in Calcutta stirs the imagination and curiosity as to what goes on down dimly-lit alleys often leads an occasional soldier into the out-of-bounds areas. If you don't know the way, five rupees will buy a trip to the few still existent brothels in one of the garries shown here. (Warning: MP's take a poor view).
28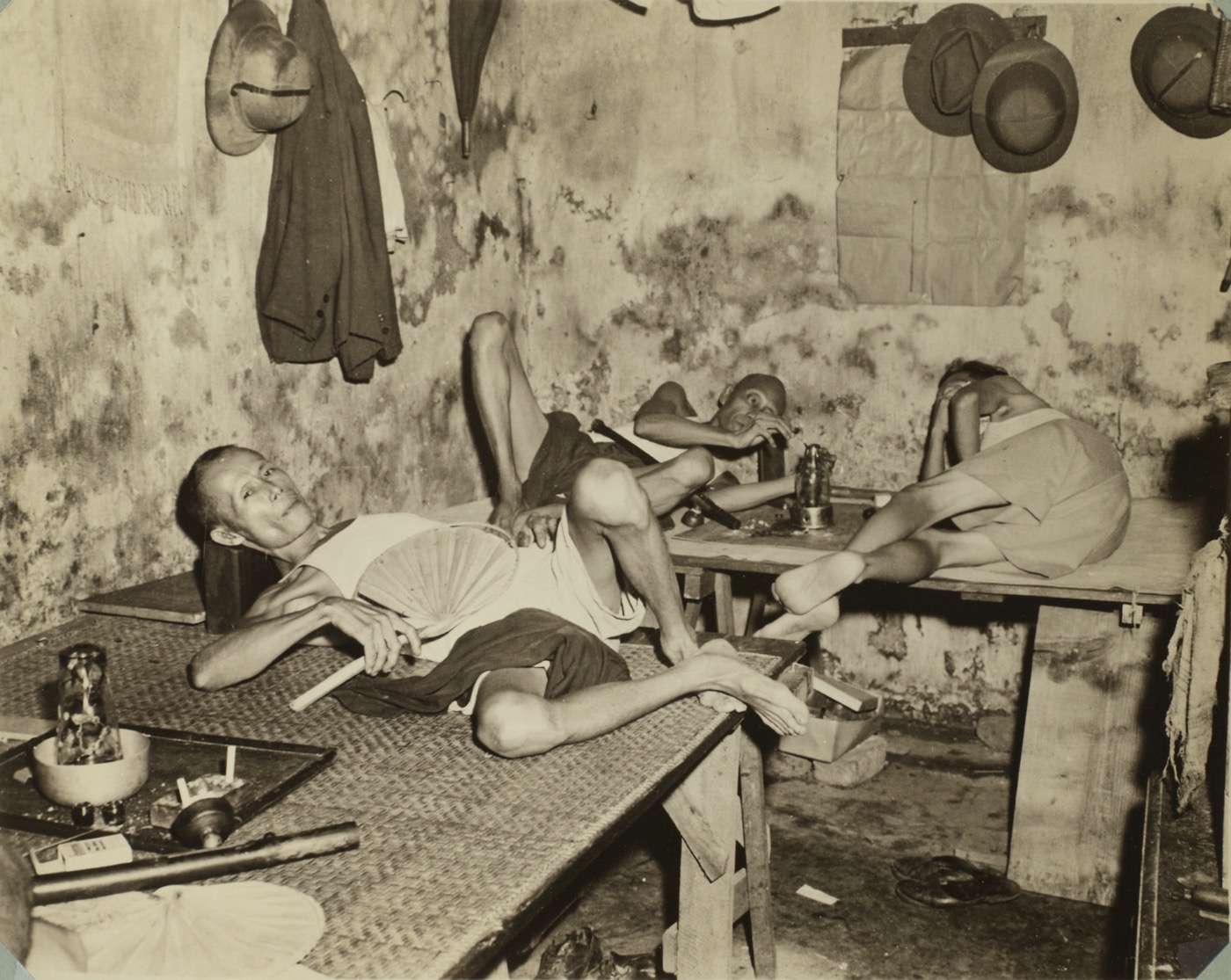 Opium Den – Chinatown, Calcutta
A little snooping in Chinatown will turn up one of the little opium dens stuck down an alley (not recommended without police escort). Actually, the smokers shown in this picture do it legally. Each den is licensed for so many pipes. Each pipe costs a rupee, a phial of opium five rupees. Average smoker consumes a phial a day and there are about 186 pipes licensed in Calcutta.
29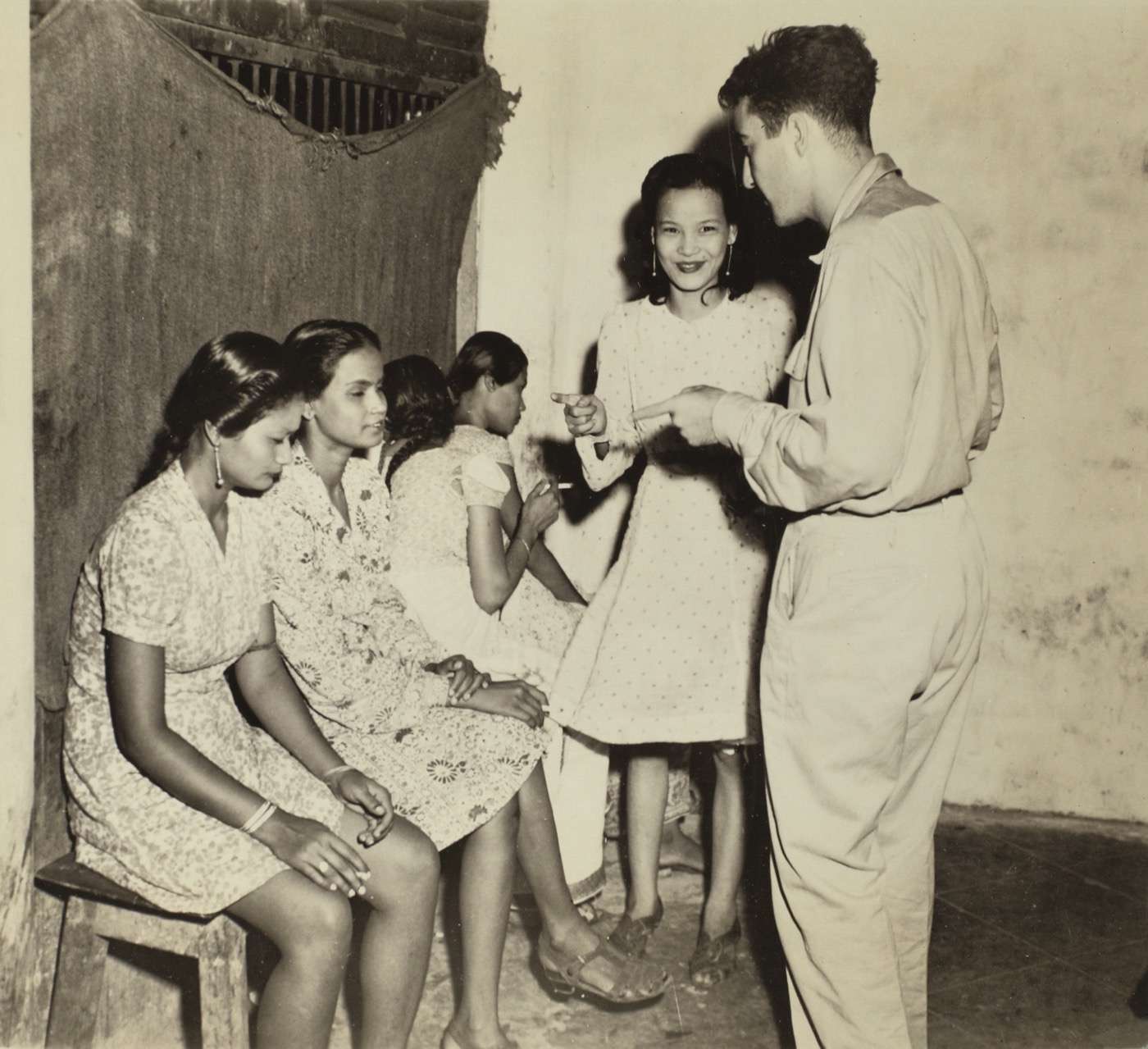 A Brothel in Calcutta
Highlight of the out-of-bounds visit is of course, a look-in on the lassies. These dusky ladies of the night ask from $3.00 to $6.00 for the dubious pleasure they offer. The GI seems to find making choice hard.
30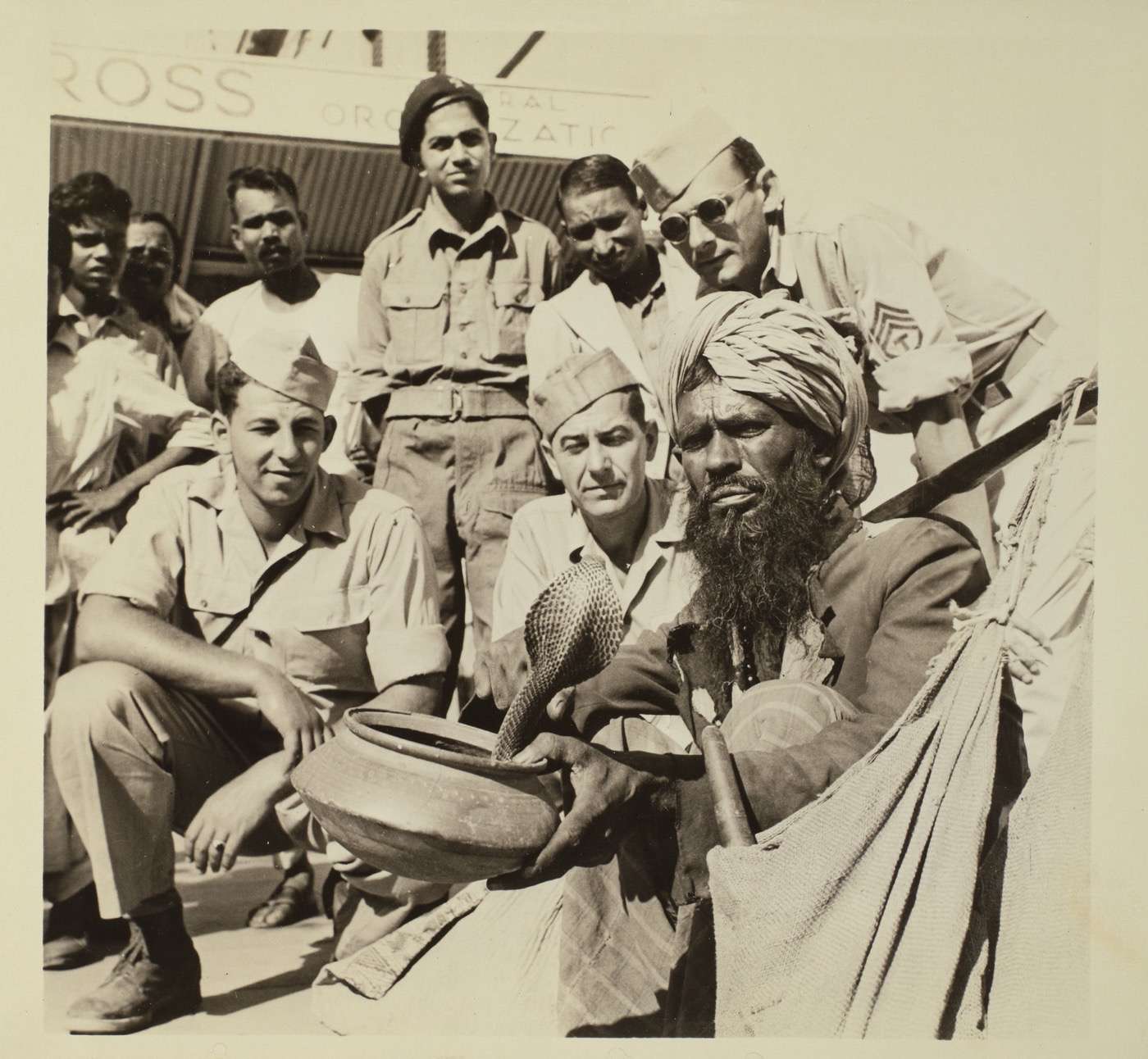 Snake-Charmer
A group of GI's take a close look at the snake-wallah's hooded cobra. Both the snake and his master are good specimens. The fangs, of course, have been removed so the reptile can strike at will, scaring no one.
Another Snake-charmer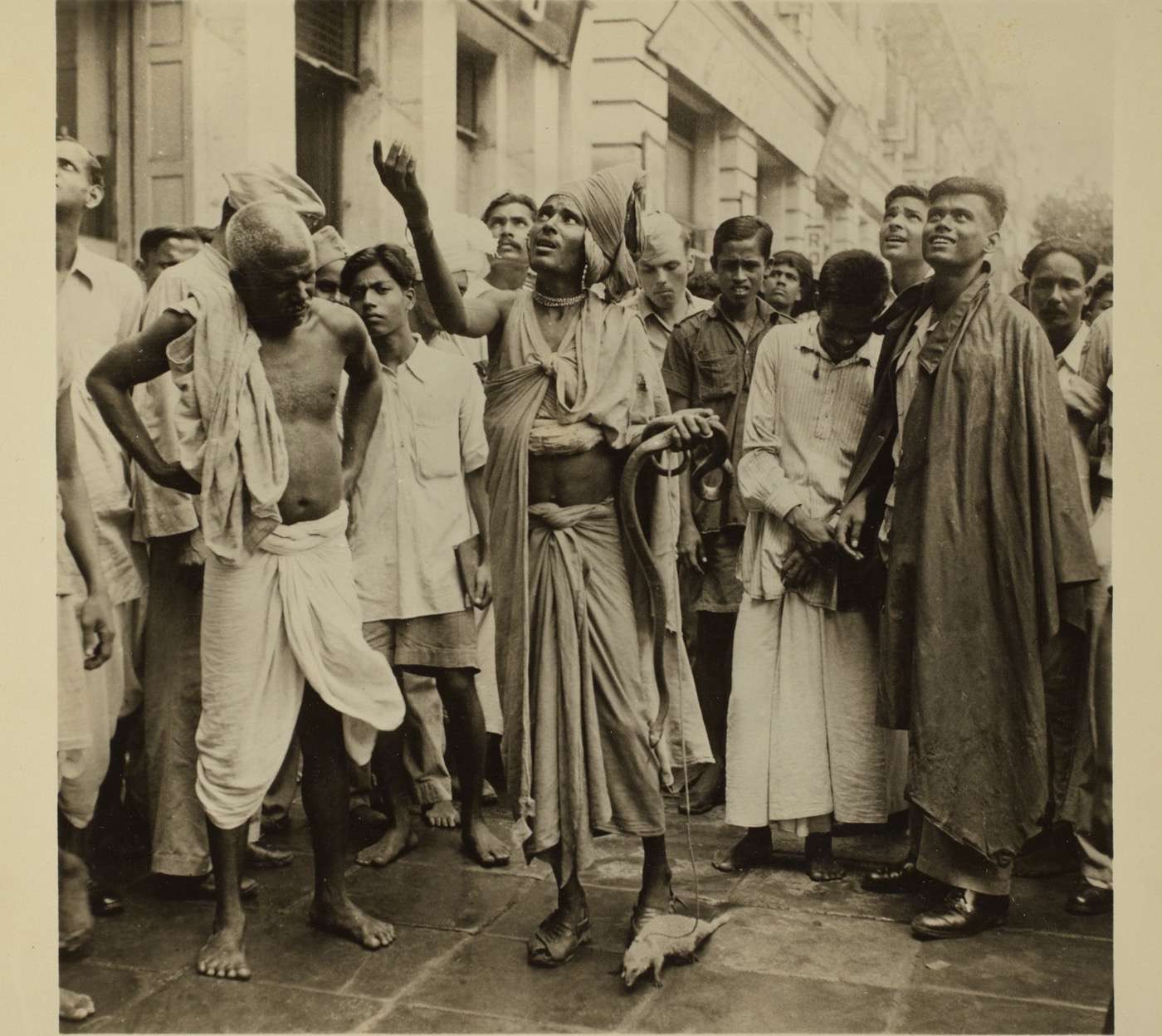 This weird-looking snake charmer is doing is best to coax a balcony audience to toss down enough baksheesh (donation / tip) to get his cobra and mongoose in the mood to stage a fight to the finish. Actually the combatants always seem a bit bored with the act and after a few fierce snorts and lunges, decide it is better to live.
31
Sidewalk Performances
Crowd gathers round a sidewalk performer at bus stop while GI's take temporary advantage of an overhead view from steps of a camp bus. This is a good spot for hawkers, beggars, shoe shine boys, showmen to work on the bankroll of the 'rich American soldier'.
32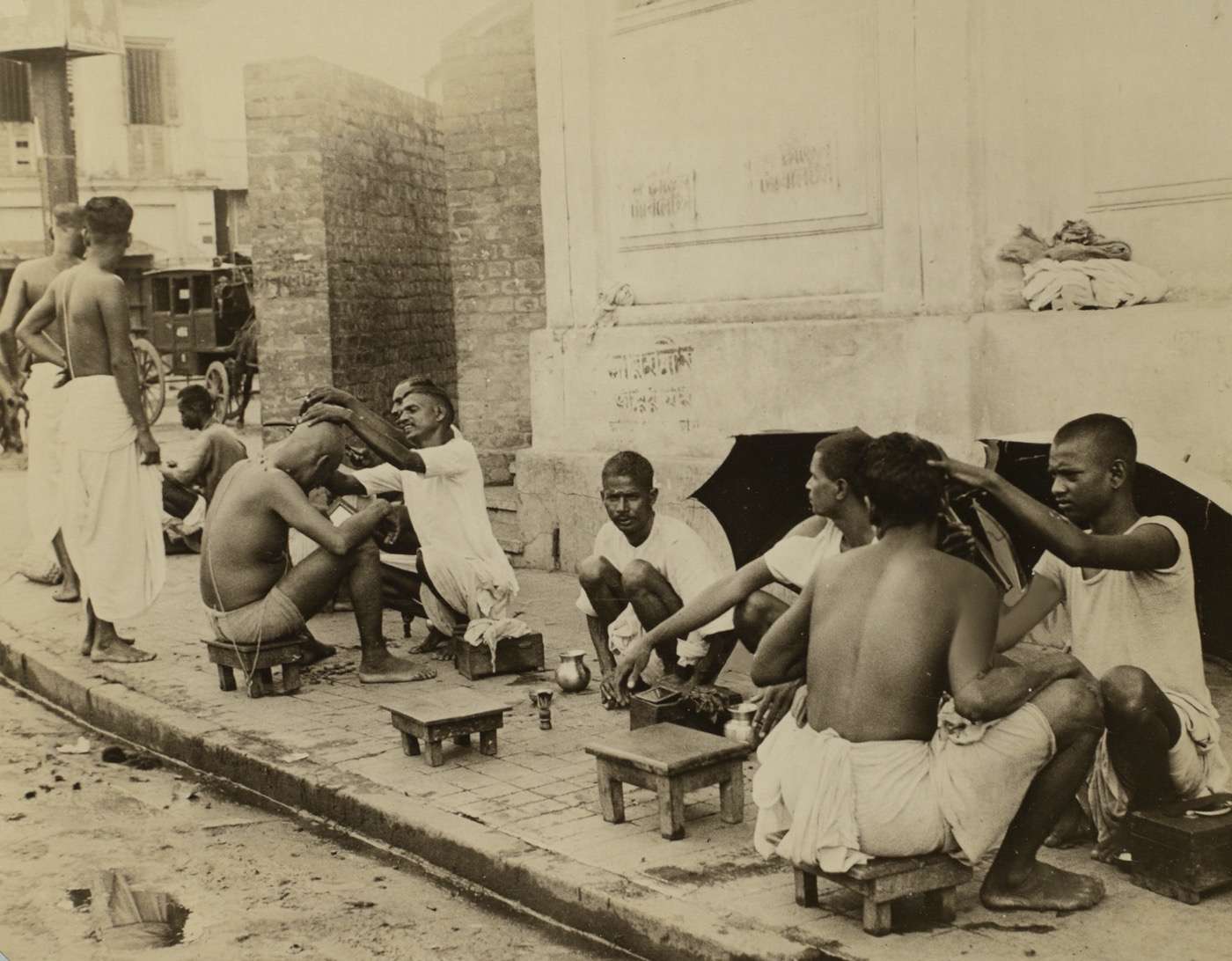 Barbers at the Sidewalk
Sidewalk tonsorial parlor. India probably has a greater proportion of barbers than any nation, for in addition to the many salons which cater to the European and higher type Indian trade, these sidewalk shavers seem to ply their trade in every other block.
33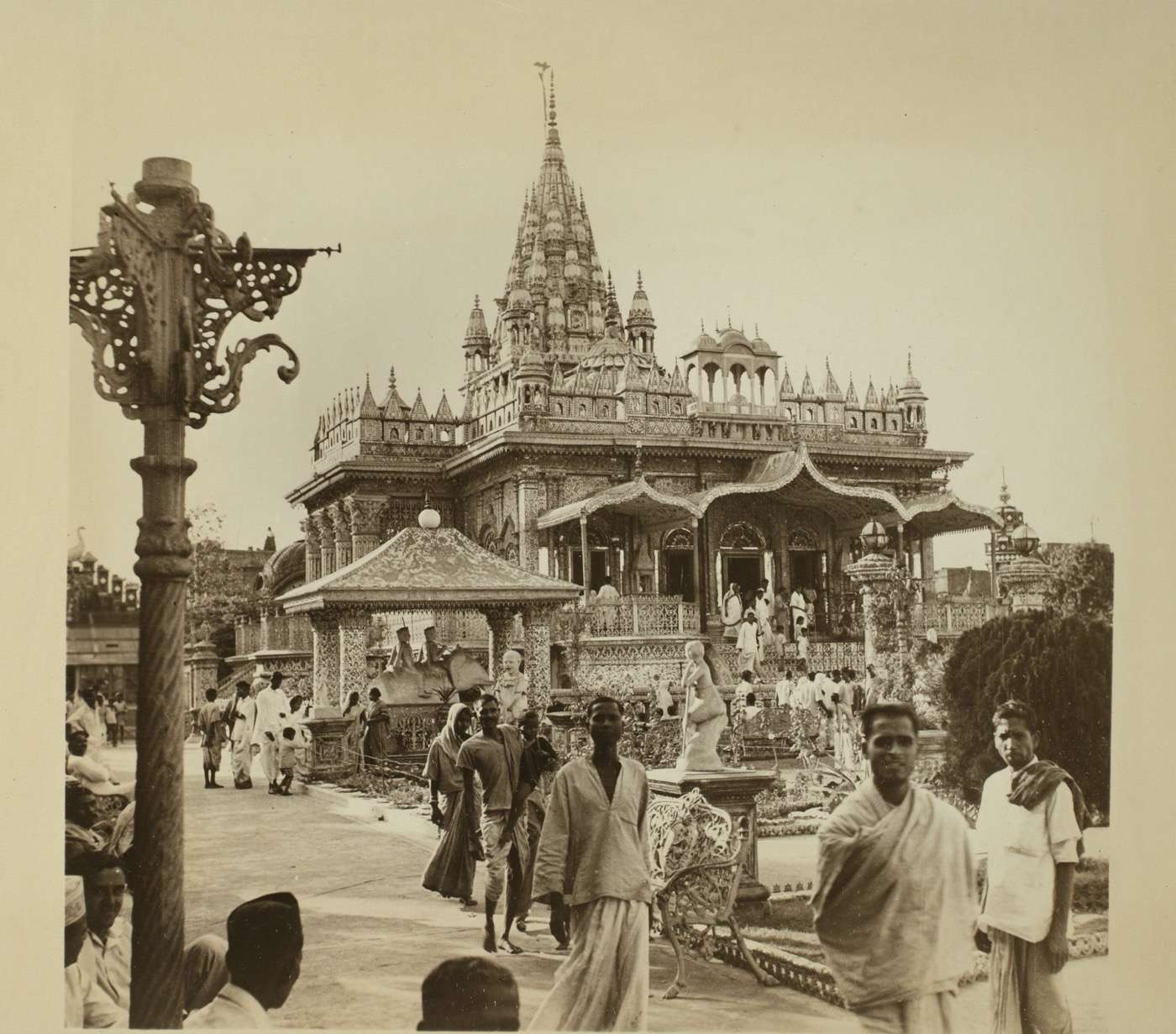 The Jain temple, Parashnath Mandir in Calcutta.
The Jain temple, Parashnath Mandir, is Calcutta's gaudiest and most elaborate temple. The Jains are a sect of the Hindus, a great many of whom belong to the money-lending class, are shrewd and frequently weal- thy. Jains do not believe in taking a life, often even wear a nostril veil to prevent inhaling of insects.
34
The Nimtolla Mosque : the largest Mohammedan mosque in Calcutta.
Its prayer hall will accommodate 10,000 worshippers. A modern specimen of Indo-Saracenic architecture, its Minarets (towers) are 151 feet high. GI truck at entrance is waiting for a load of soldiers on American Red Cross tour.
35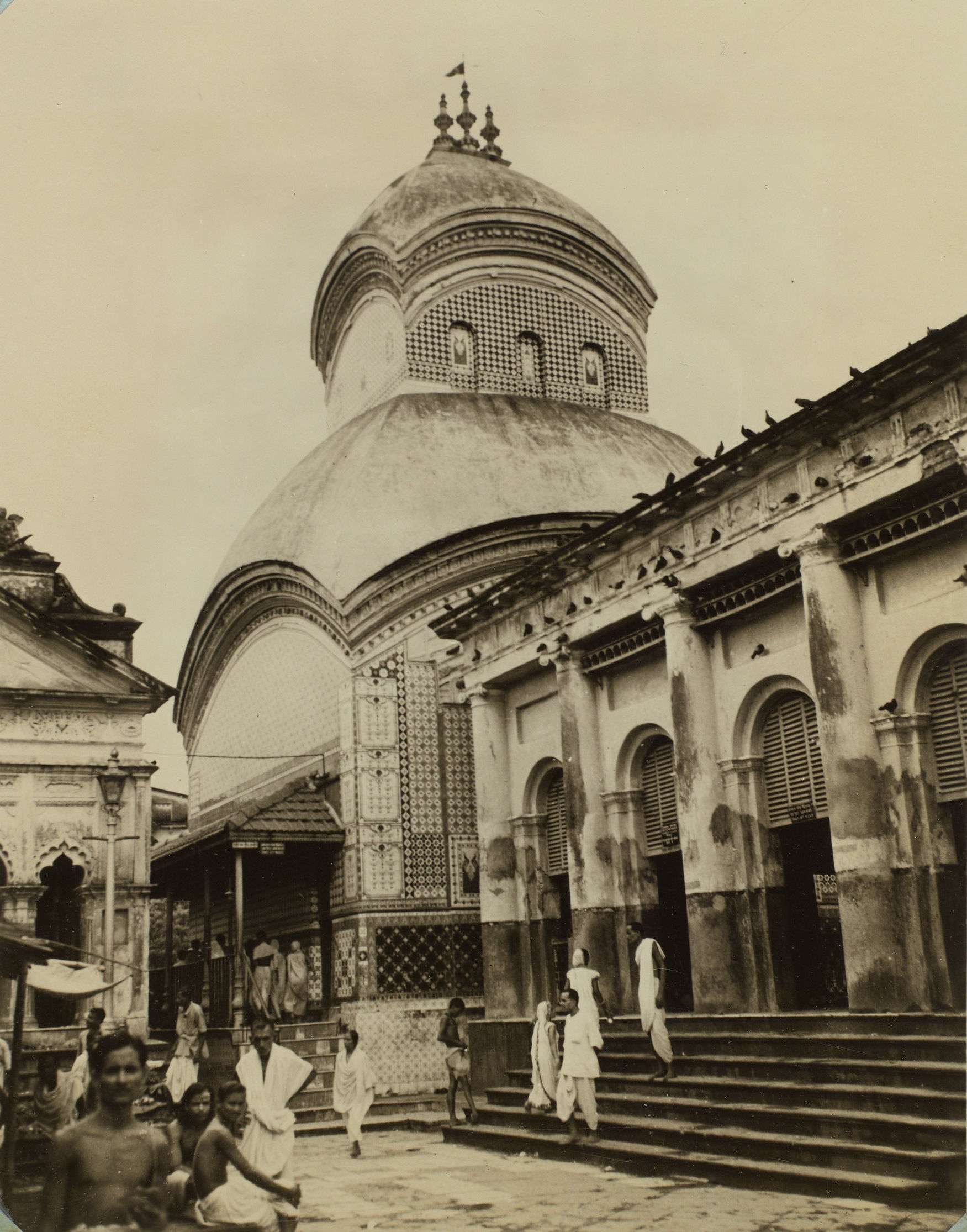 Kalighat Temple, Calcutta
A strong contrast to the splendor of the Jain temple is the Kalighat temple, built in the 1600's, worship place of Hindus. It is famous for the practice of sacrificing goats, as many as 1500 having been slaughtered in one day. On the bank of a canal cut from the original Ganges bed, it is the temple of the Goddess Kali.
36
Woman Praying
Hindu wife prays to the God Siva for blessing of fertility. Phallic symbol is obscured by iron grating at base of a type of cactus tree which is believed to have power to endow worshipper with productive powers. Woman whose face barely shows behind tree has prayed in vain for days and has been seen there day after day by Red Cross girls who take GI tours to the temple.
37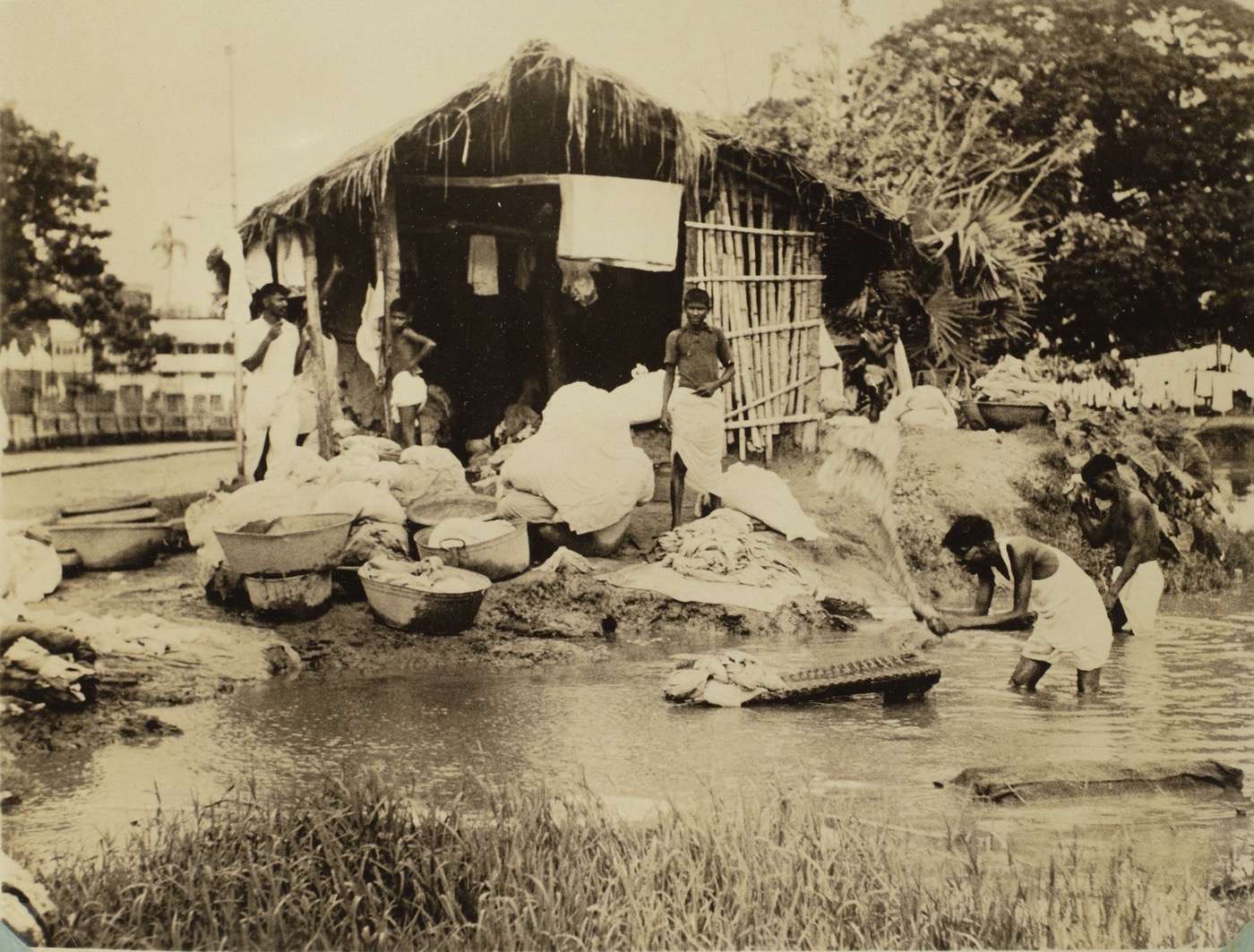 The Calcutta Dhobie (Laundry)
In case there's any doubt in your mind as to your dhobie's intentions with your best shirt, the expression on the face of the fiendish laundry-wallah battering the garment in this picture should remove it. In closing this album of Calcutta, the writer feels justified in observing that the reasons for the dhobie's methods remain, in spite of much research, among the greater mysteries of India.