Mario Miranda (2 May 1926 – 11 December 2011) is undoubtedly one of India's most loved cartoonists. His delightful artwork was the result of his careful observation of people, places, and experiences.
Miranda began his career as a cartoonist in 1953, working for the Times of India. He was later invited by 22 countries to create illustrations and sketches! Interestingly, Mario did not formally study art. He famously attended art school classes for a day at J.J School of Art in Mumbai before deciding against it. He went on to graduate with an Honours in English.
Fun Fact: Even though he did not attend the J.J School of Art, he met his wife Habiba Hyadri at the school's Annual Ball !
Mario Miranda loved good food (and wine). And so, in this gallery, we venture out with the legendary artist for dinner and drinks – featuring the numerous cafes, bars and restaurants that appeared in his drawings from around the world.
1
From Mario Miranda's travels, here are glimpses of 10 places to eat / drink!
– as shared by the Mario Miranda Gallery, Goa.
2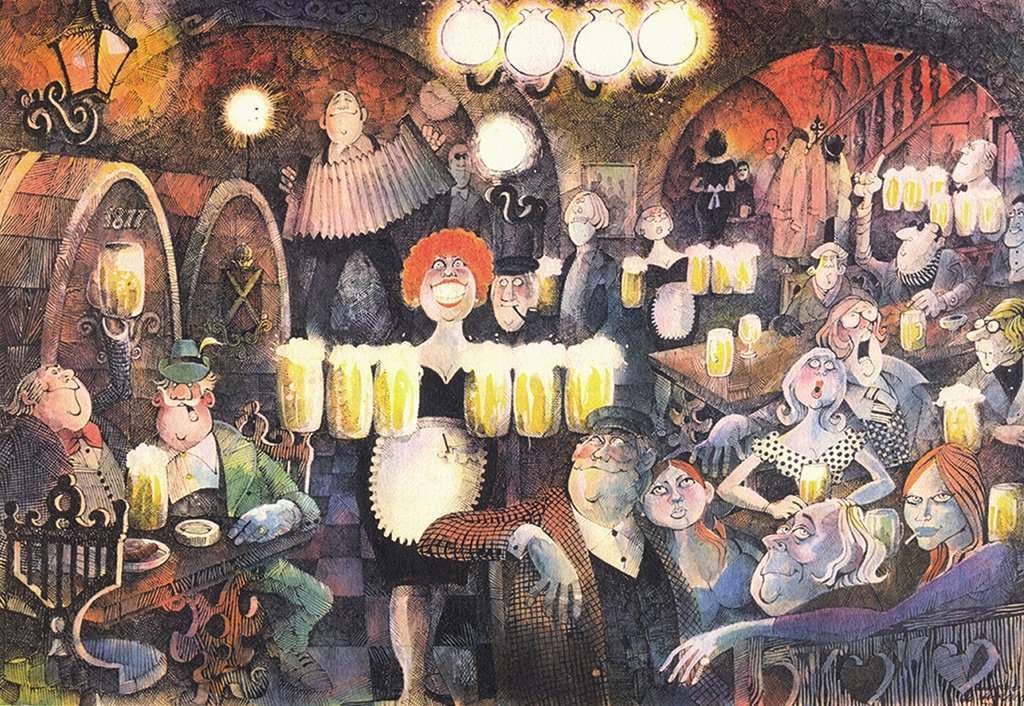 Beer Hall, Munich 1979
"Step out of the cold into a world of warmth & togetherness – Saturday Night in a beer hall —where the beer is always served with a sunny smile!"
Image: Mario Miranda Gallery, Goa.
3
Le Crocodile, Paris 1984
Mario Miranda spent a few months in Paris, soaking in the sights and sounds, frequenting its cafes and bars occasionally.
Mario Miranda Gallery, Goa.
4
Le Tire-Bouchon, Paris
For Mario, coming to Paris was nothing short of a dream. After graduation, Mario had aspired to study art in Paris, but the hope ended with his father's death in 1948.
Mario Miranda Gallery, Goa.
5
Cafe de Flore, Paris
Cafe de Flore, in Mario's words was "one of the spots where Jean-Paul Sartre and the Existentialists used to meet before the Second World War".
Mario Miranda Gallery, Goa.
6
Friedman's Jewish Quarter, New York 1985
Mario Miranda shot to fame when he first travelled to the US in 1974. Here he toured cities such as San Francisco, Denver, New Orleans, Washington, & New York.
Mario Miranda Gallery, Goa.
7
a Portuguese Restaurant, Newark
Over beers, doughnuts and lunches, he met American cartoonists like Ed Fisher (The New Yorker), Bud Blake, Gordon Bess & the creator of the cartoon Peanuts – Charles M. Schulz! Ed Fisher took Mario for lunch to a Greek restaurant. Over red wine and skewered lamb, he shared details about the cartooning business in America.
Mario Miranda Gallery, Goa.
8
a Street Scene, Singapore 1991
"I don't like to be in a crowd but I love to observe people and watch crowds…" –
9
Abu Shukri, Old Jerusalem Israel 1974
On his way to the US in 1974, Mario flew via Tel Aviv. This afforded him the opportunity to be accepted as a guest of Israel. Here too, he met some of the country's most prominent cartoonists.
10
Vishranti Bhawan, India
The details in a Mario-Miranda cartoon are one of the many fascinating aspects of his style. His animated depiction of people and his skilful observation of their activities are not only humourous but are a reflection humanity.
11
Outdoor Cart, Mumbai India
"He has always been fond of observing life from the street level, and he goes nosing around, and making drawings of whatever catches his eye." – 'Mario De Miranda' by Manohar Malgaonkar
Share your reaction!