Charles Bartlett (1860-1940) was a British painter and printmaker. He was educated at the Royal Academy of Arts (UK) and later trained at Paris. In 1913, he travelled to Asia visiting India, Pakistan, Ceylon (Sri Lanka), Indonesia, China and Japan. While in Japan in 1915, he met the woodblock print publisher Shozaburo Watanabe. Watanabe was considered to be the driving force behind Shin-Hanga ("new prints") : a woodblock printmaking movement that took place at the beginning of the twentieth century as a result of cultural exchanges between Japan and Europe. The movement sought to blend the traditional ukiyo-e with European influences.
Watanabe published 21 travel prints from Bartlett's works featuring landscapes, people and scenes of everyday life. Each of Bartlett's etchings were hand-colored with watercolor and therefore the prints vary greatly depending on the colors he would choose for different areas of the image.
In particular, we feature here Bartlett's vision of India in the shin-hanga style.
The early decades of the 20th century experienced a growing Japanese interest in the rest of Asia, as Japan struggled with issues of colonialism and established its identity as an international political force. One of the reasons for the success of Bartlett's prints was the Japanese fascination with other parts of Asia, which seemed foreign and exotic, but with which Japan also increasingly identified itself in opposition to European and American colonial influence.
Madurai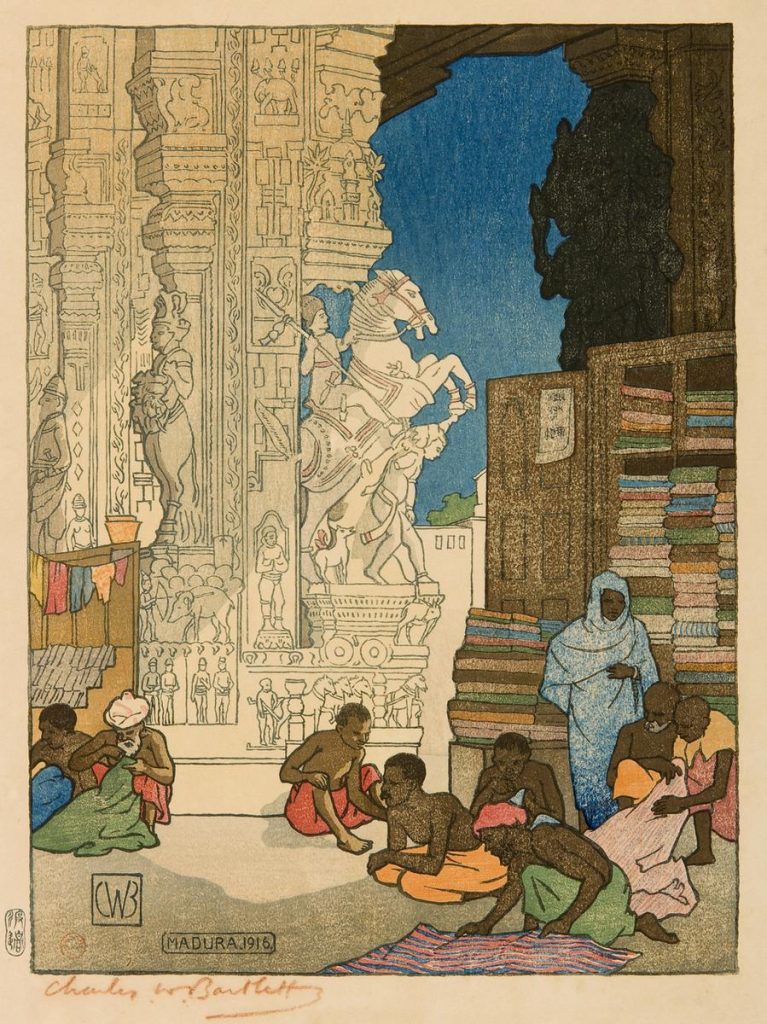 In this print, one spots the iconic entrance to the Meenakshi Temple in Madurai, Tamil Nadu. This 17th century temple dedicated to the deity Shiva (Sundareswarar) and his consort Parvati (Meenakshi), is one of the most important examples of south Indian sacred architecture. But Bartlett does not focus on the architecture of the temple. Instead, he uses it as a background for human activity. In his sketchbook, Bartlett notes:
"Entrance to an ancient palace used by Hindu merchants for displaying their wares. Gay cottons are being displayed."
Bartlett also created watercolours / oil canvases:
Mathura
Mathura, between Delhi and Agra, holds special significance as the birthplace of the deity Krishna. Mathura became a major center of Buddhism during the Kushan period (1st-3rd centuries AD), and was one of the first places where images of the historical Buddha Shakyamuni were made. Here Bartlett shows a young boy toweling off in a Mughal-period pavilion after ritual bathing.
Agra
According to the Honolulu Museum of Art:
"In some cases, Bartlett and his Japanese publisher, Watanabe Shözaburö, produced variant images of a given print. Three different variants are known for this print: one with a blue-gray and brown hillside in the mid-ground; a variant with an olive-green hillside; and a variant with an olive-green and brown hillside. Bartlett also recycled his subjects, this print from 1916 shows the Taj Mahal from nearly the same perspective, but at night, and with the camel caravan going in the opposite direction"
Benaras
One of the oldest continually inhabited cities in the world, Varanasi (Benares) is a sacred pilgrimage site in India famous for its ghats,(stairways) that provide access to the River Ganga.
Udaipur
This print shows a group of Muslims gathering for prayers at sunset in the city of Udaipur. Located in the northwestern province of Rajasthan, Udaipur was established as the capital of the state of Mewar by Rana Udai Singh in 1568, and remained an important political center into the twentieth century. It is famous for its palaces and artificial lakes, causing it to be known as the "City of Lakes."
Kashmir
"Deep joy, a calm content and quiet harmonie"

Charles Bartlett
Amritsar
Completed in 1604, the Golden Temple is one of the most recognizable places in India, and already was an important tourist destination by the time Bartlett visited India in 1914.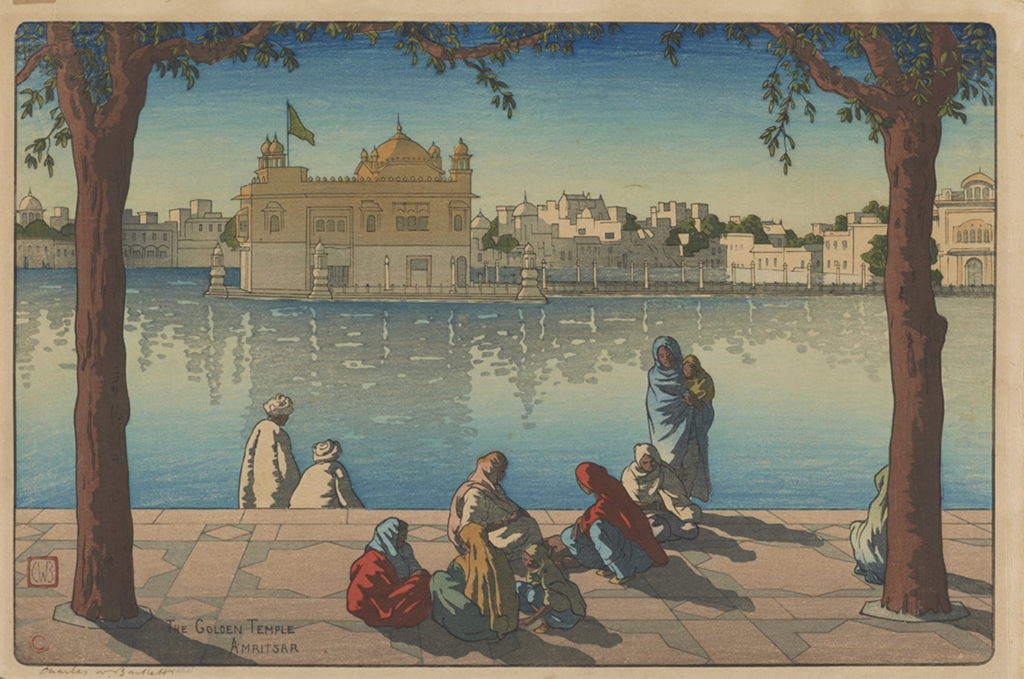 Bartlett's paintings and prints of Amritsar mostly focus on the human elements of the city, with the Golden Temple usually in the backdrop.
Charles Bartlett's art is in the collections of:
Honolulu Museum of Art, Hawaii
Arthur M. Sackler Gallery, USA
Library of Congress, USA
Share your reaction!