The muted, yet magnificent Chikankari of Lucknow has stood the test of time. The embroidery, treasured by yesteryear royals and contemporary designers alike, is a reflection of aesthetic choices, craftsmanship and inventiveness over the ages.
There are some speculations though, about the origin of Chikankari embroidery. The word 'Chikan' is derived from the Persian 'chikin' or 'chikeen,' meaning beautifully embroidered fabric. One set of narratives attribute the name to a distorted version of 'chikeen'/'siquin' – a coin worth four rupaiyya, the fees paid by the Mughal Empress Nur Jahan to Persian artisans for the first embroidery. Some other accounts trace the origins of Chikankari to East Bengal where the word means 'fine' or 'delicate.'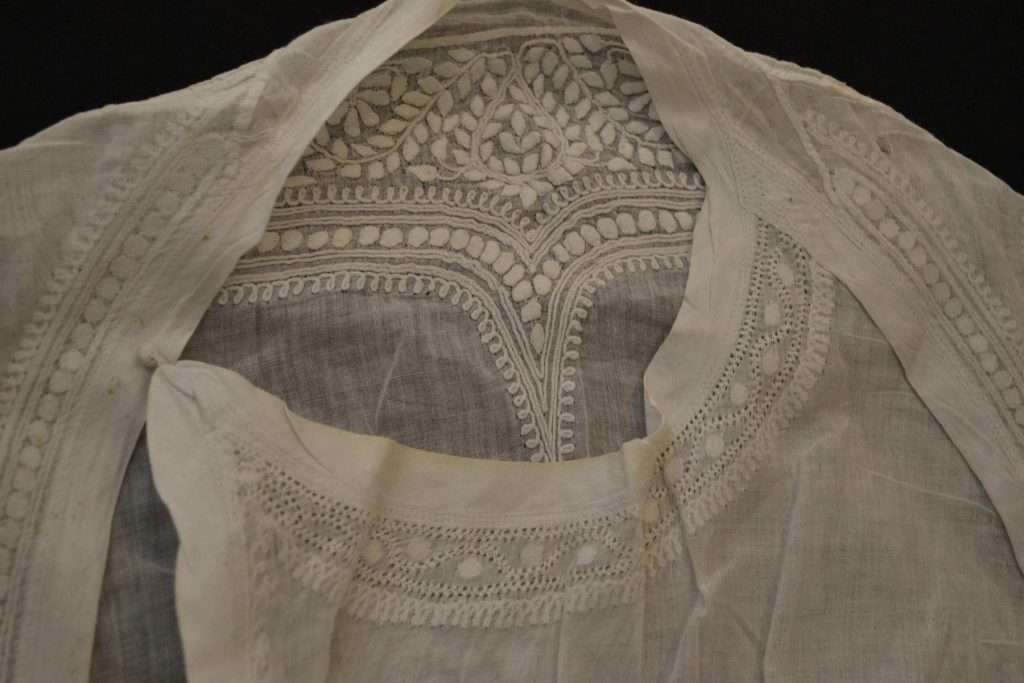 Of course, there are references to embroidery similar to chikan work in India as early as 3rd century B.C. The Greek Ambassador of Seleucus Megasthenes, mentions (in his observation of the King Chandragupta Maurya's court) flowered muslins embellished with precious stones worn by Indians. Cultural historian Kamala S. Dongerkery takes into account King Harsha (7th century A.D)'s preference for white embroidered muslin "…lack(ing) any colour, ornamentation, or anything spectacular to embellish it" to establish Chikankari's roots.
Nur Jahan and the Mughal patronage of Chikan embroidery
The Mughal Empire was at its pinnacle during Jahangir's reign (1605-1627). Both Nur Jahan and Jahangir were great patrons of art. In her book, 'Nur Jahan – Empress of Mughal India', Prof. Findly highlights the Empress' significant contribution to textiles, notably her involvement in introducing silver-threaded brocade (badla), silver-threaded lace (kinari), and, most famously, chikankari to the Indian subcontinent.
More about Nur Jahan

Nur Jahan is considered to be one of the most influential women in medieval history. Born as Mehr-un-Nissa to the Persian aristocra, Mirza Ghiyas Beg and his wife Asmat Begum, Mehr was a talented child. Her dramatic, exciting life traces her journey from being a widow to arguably the most powerful Padshah Begum in Indian history. She was even granted the privilege to issue farmāns (sovereign mandates) in her name. A humanitarian who cared deeply about women's issues, she frequently contributed to dowries for orphaned girls. She was a gifted writer who encouraged women in the empire to pursue literary interests; played a crucial role in the reformation and development of the era's arts, literature, and fashion and was reputed to be a formidable markswoman who frequently accompanied her husband on hunting trips.


---
Under Akbar's rule Awadh, a wealthy kingdom had emerged as one of the 12 original subahs (top-level imperial provinces). Nur Jahan, reputed to be a skilled embroiderer, designed intricate Indo-Persian embroidery patterns, sometimes inspired by Rajasthan and sometimes by Kashmir, and often mirrored Mughal architecture. She is said to have brought in artisans from a village in Persia's Koh Mehr province -these artists were entrusted with the responsibility of sharing their knowledge with Awadh families.
Embroidery was done on undyed white shazaada cotton or Dhaka ki mulmul, which was sourced from the Mughal Empire's eastern ends. Fabric lengths were mostly utilised for dupattas at the time. As the artisans, mostly women in purdah, began to find a regular source of income, the skills and secrets were passed down generations. Even now, around 90% of Chikankari work is executed by women.
Jahangir supported the growth of Chikankari by establishing numerous workshops. The patronage and support has extended the knowledge of the embroidery throughout modern-day India; even after the embroidery became a favourite among the Mughal elite, the province of Awadh remained the home of the art.
Chikankari : decline and then a revival
According to Abdul Halim Sharar's book, Guzishta Lucknow: Mashriqi Tamaddun ka Aakhiri Namuna (Lucknow: The Last Phase of an Oriental Culture), chikan had begun to fade from public memory after the death of Nur Jahan. It was resurrected around the 1830s under the rule of Nasir-ud-Din Haidar, the second King of Awadh and an anglophile. Chikankari was brought out of the doldrums, presented at darbaars and popularised by the king's extravagant presents to the British and moved from embellishing dupattas to other garments, including the-then evolving gharara (long skirt) worn by women as well as kurtas and panels of the dopalli topi (twin-panelled cap) worn by men.
Various arts and crafts, particularly embroideries of various types, flourished during the Nawabi era, in an atmosphere of wealth and sophistication. There were royal workshops that favoured exquisite skills in embroideries in pure gold and silver threads on velvets, silks, and fine muslins.
Chikankari embroidery, with its intricate yet delicate white on white stitches on fine muslin, epitomised Nawabi and Lucknawi culture. During the colonial era, the use of Chikankari embroidery increased dramatically, and embellished items exported to Britain ranging from muslin dresses, collars, table covers, and runners to mats, napkins, and even tea covers!
Chikankari embroidery : a painstaking process
Chikankari embroidery has been used to embellish both men's and women's clothing. From flowy angarkhas and chogas (tunics), achkans, and kurtas to topis and cummerbands of men's garments, it also highlighted women's lehengas and odhnis. Originally a white-on-white needlework form, the preferred fabric was muslin or mulmul since it was most suited to the warm, slightly humid climate. Fabrics such as chiffon, muslin, silk, organza, net, cotton, and others are now widely used.
The end-to-end process of embroidery though, is time-consuming and laborious. Chikankari is a three-step procedure of block printing, embroidery, and washing out. The initial step in block printing is to decide on a design and then engrave it onto a wooden block.
These blocks are then dipped in dyes or Neel and stamped on the embroidered fabric. The needlework comes into play in the second step, which is embroidering the printed design. Because the embroidered work is more complex and time-consuming than the previous procedures, the cloth is secured into frames. Depending on the fabric and pattern, the artists create the design using a variety of stitches. The method of washing the fabric is the final stage. The fabric is soaked in water for a while before being thoroughly washed to eliminate any traces of ink. The fabric is carefully starched prior to sale to ensure that the product seems as stiff precisely as intended.
Chikankari has flourished owing to its variety in stitches and designs.
It is an incredibly detailed embroidery style that commonly integrates motifs from Mughal architecture and designs. Among the many patterns and designs found in chikankari embroidery are muree (knotted work), phanda (loop to form a knot), lerchi, keelkangan, and bakhia(shadow work).
Ten main stitches are used and made from raw skeins of thread. Another 26 or so stitches are used to adorn fabrics with Chikankari, totaling approximately 36 different stitches.
Here are 9 Types of Stitches to know about

Tepchi : Tepchi stitching is generally used to design the outline motif. One of the simplest forms of stitching in Chikankari, Tepchi is a linear and long-running stitch on the cloth.
Hool : In Hool stitching, a hole is punched on the cloth and the thread gets separated. This type of stitching is mostly used in making flower centers.
Bakhiya : The design of Bakhiya stitch is also known as 'Ulti' or 'Seedhi' Bakhiya. The chief embroidery is done on the fabric's inner side, which forms a shadow-look on the outside with borders.
Rahet: Also known as 'Dohra Bakhiya,' Rahet is typically used to create outline stitches. It forms a solid lining on the right side.
Zanzeera: Zanzeera is a very delicately crafted stitch in Chikankari. It is mostly used to highlight the borders of the design and enhance them.
Jali : Jali is a very intricate form of stitching and requires great expertise. What makes it different is that the thread is never drawn through the fabric, so the cloth looks as impeccable on the inside as on the outside.
Phanda : One of the most common forms of stitching, Phanda is a millet-shaped design crafted on the cloth. It is used to make the center of flowers and motifs.
Darzdari and Turpai : These are the most integral types of stitches in Chikankari. Kamal Darz, Shankarpara Darz and Kohi Darz are the types of Darzdari stitching, while Turpai has an effect of a fragile thread on the fabric.
Apart from the above types of stitches, there is a lot more design availability in Chikankari like Makra, Karan, Sazi, Banjkali, etc.
The art of Chikankari has survived centuries with productive self sufficiency and still retains its unparalleled appeal. Instilling an air of understated elegance and grace, Chikankari is a magnificent hand embroidery of India that is well-known in Indian and international markets for its nuanced allure and ebullient texture. Over the years newer designs and styles have come up but the magic and lyricism of the white threaded embroidery has remained the same.
---
Notes

Asian Embroidery. India: Abhinav Publications & Crafts Council of India, 2004.
Indian Embroidery. India: Publications Division Ministry of Information & Broadcasting, (n.d.).
Wilkinson-Weber, Clare M.. Embroidering Lives: Women's Work and Skill in the Lucknow Embroidery Industry. United States: State University of New York Press, 1999.
Sharar, Abdul Halim. Lucknow: The Last Phase of an Oriental Culture. India: OUP India, 1994.
Dongerkery, Kamala Shrimati. The Romance of Indian Embroidery. India: Thacker, 1951.
---