Jesuit missionaries were the first group of Europeans to visit the Mughal court. They initially arrived at the Portuguese colony of Goa in 1542; at the invitation of Akbar (r. 1556-1605), there were altogether three Jesuit missions. The third was headed by Father Jerome Xavier (1549-1617) who arrived in Lahore in 1595 and remained at court until 1615.
The Jesuits Rudolf Acquaviva, Antonio De Monserrate and Francisco Henriques took to the Mughal court 7/8 volumes of this latest and most prestigious Bible edition then available in Europe. The 8th volume was omitted because its content was not considered necessary for the instruction of a Muslim ruler.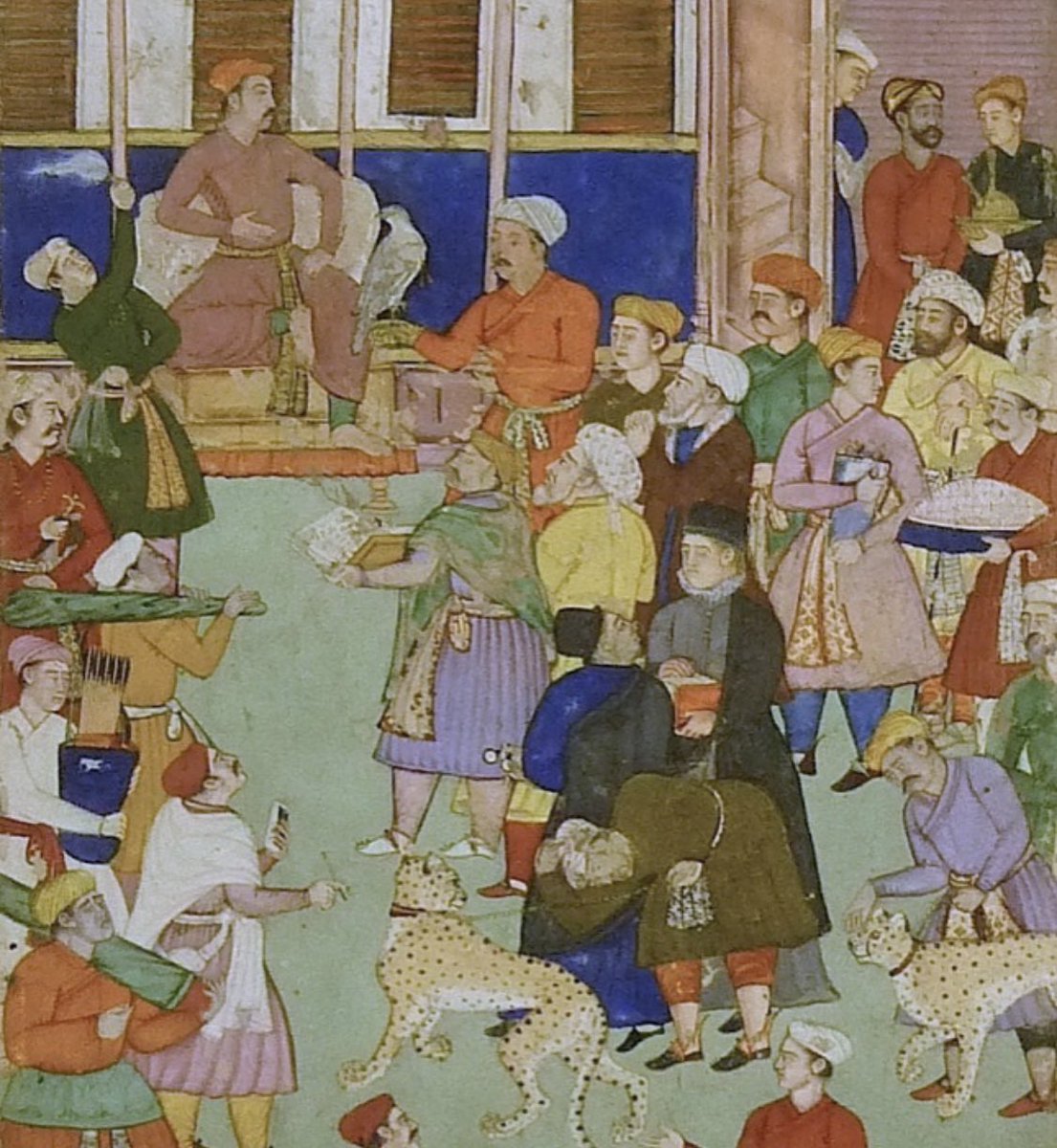 The Royal Polygot Bible presented to Akbar in 1580 was published by Christopher Plantyn in Antwerp between 1568-72. It was a monumental piece of work written in Latin, Greek, Hebrew, Chaldean and was edited by Dr. Benito Arias Montanus, the King Philip II's personal chaplain in collaboration with renowned scholars.
Akbar, views on Religion and a secular Mughal Court
Like his ancestor Genghis Khan, Akbar was interested in world religion and actively participated in learning about the same. Genghis encouraged his subjects to value all faiths and borrowed characteristics for the Mongol religion. Akbar implemented this ideology by bringing about a synthesis of various sects at his court. From the mid-1570s, he had instituted weekly religious discussions, every Thursday night in a specially built structure called the Ibadatkhanch, or House of Worship. More open-minded than most contemporaries, he invited Islamic, Hindu, Christian, Jain and Zoroastrian scholars to religious discussions. His broad fascination with religions culminated in 1582, in the establishment of the Din-Ilahi, a syncretistic cult incorporating Islamic, Hindu and Christian beliefs.
During one such debate (illustrated above), Akbar's Mullas (Islamic Theologians) attacked the Gospel. To this, Father Acquaviva challenged them to a sort of Agni-Pariksha and said "If they have such an opinion about our book, and regard the Koran as a word of God it is proper that a heaped fire be lighted. We will enter with our Gospels, and the Ulama of that faith can carry their book. The safe emergence or escape of any ONE would be a sign of his truthfulness." To Akbar and Abul Fazl's delight, the Muslim priests declined the challenge.
Abul Fazl who spoke little Portuguese would listen to the Jesuits in private and present their views coherently in public. At first only Islamic theologians engaged in these discussions. Gradually, followers of other beliefs : Hindu, Jain, Parsee, Sikh were also invited to participate. It was to explain Christianity at these gatherings that Akbar summoned the Jesuits Fathers from Goa to his court.
Biblical Themes, and the Fusion of Mughal & Christian Art Techniques
In 1595, an unknown Portuguese painter arrived at the might court with a Jesuit mission. Though this painter stayed barely for a year before leaving for Japan, he left behind his painting "Madonna and the Child with Angels" which is closely based on an engraving by Antoon Wierix after an original by Martin de Vos.
Prince Salim wanted his artists to emulate this Portuguese painter by imitating European prints as faithfully as possible. Eager to learn the meaning of Biblical subjects, Salim even instructed his artists to consult Jesuit Fathers when colouring the costumes. Thus, when painting over a copy of Durer's engraving of the Madonna and Child with Angels, an anonymous Mughal artist has appropriately coloured the Madonna's robe blue.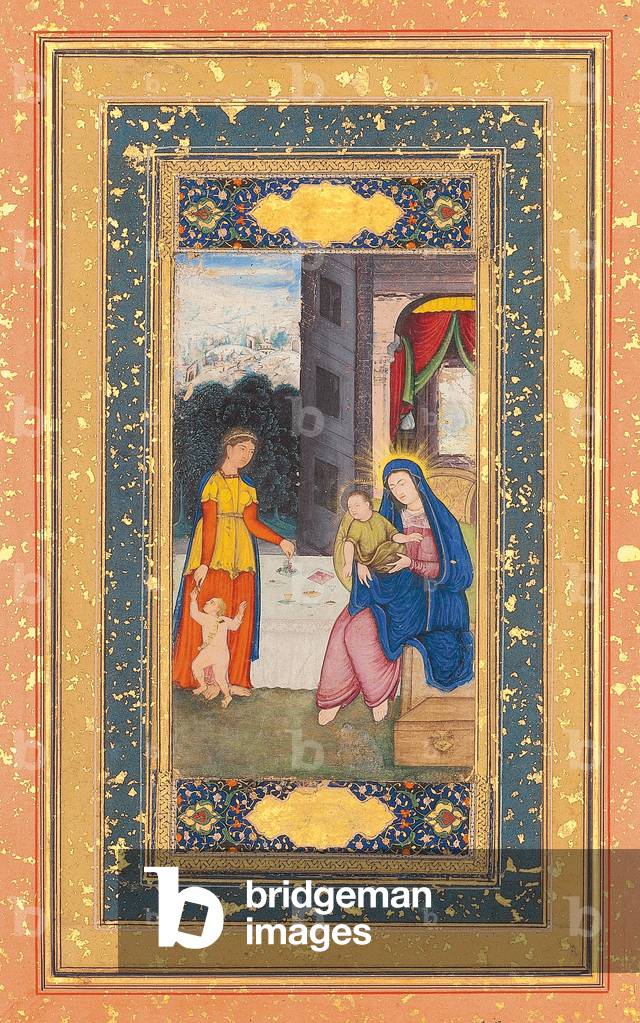 Salim was also intrigued by printmaking but was unable to obtain copper plates of his own. His artists developed a monochrome method of painting to duplicate prints. As part of their apostolic training, the Jesuits had received instruction in the visual arts and began supervising the execution of biblical paintings at the Mughal court. Jahangir (imperial name of prince Salim) lacked his father's spirit of tolerance toward the different religions being practiced in India at this time. However, his interest in Christian images seems to have been genuine.
The technique of combining wash and line drawing was called NIM QALAM (half-pen) in the Mughal workshop.
Below on the left, is the Madonna del Popolo [Engraving; British Museum] and on the right, Virgin and Child Mughal-version 1620-30 using the Wash Technique (use the slider to see each image).
Women in the Mughal Court were also involved in the creation of Biblical art. The following image seems to have been traced from an engraving by Jerome Wierix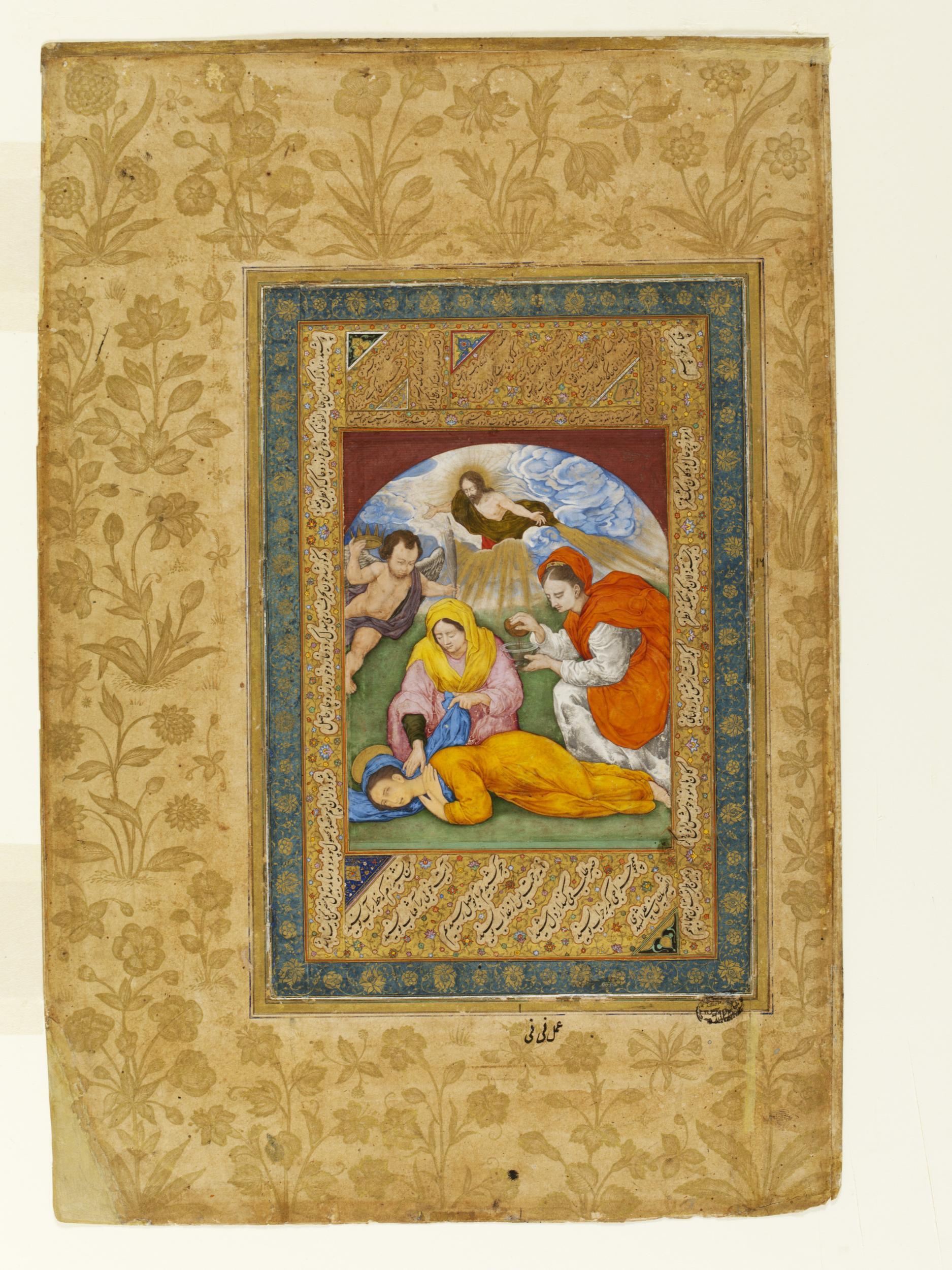 Artists of the Mughal court lacked imagination when it came to biblical paintings and their patrons didn't allow them much flexibility. Yet there were some Mughal artists who deviated from European models such as Basawan. He fused Eastern and Western elements in his paintings.For instance in the painting below, there's a mother nursing her child on a carpet with Persian designs. Behind them is painted a rural Indian scene juxtaposed by a columned European structure with a knotted curtain (European influence). The exposed breasts and drapery folds of the mother are influenced by the personification of piety on the Polyglot Bible. Indo-persian facial features, carpet motifs, ornate vessels are representative of the blend.
The same features are evident in his work, Tobias and the Angel :
Political Propaganda, Art & Religion:
Akbar had realised that being a minority and ruling over a nation of different faiths had its challenges. With the successful intertwining of politics and religion, he could unite India, and that's exactly what he did through these debates and paintings.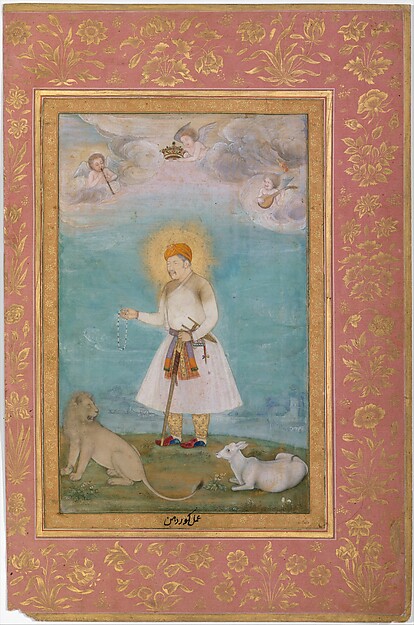 The following is a painting of Jahangir in his court. If you looked closely, you'd see an image of Mary on the top right side, adorning his chamber.
Here's another one with Jahangir holding up a portrait of Mary. There are many similar pictures online – of Jahangir holding up Akbar's image and this one is in direct relation. It is believed that Jahangir's Mother was named Maryam, and so technically in this picture, he is holing up an image of his Spiritual Mother. In-fact it is interesting to note that Akbar's mother, Hamida Banu Begum was given the title "Mariam Makani".
Jahangir sealed his official letters with images of the Virgin Mary and Jesus Christ and wore a cross of gold beneath his robe. Akbar and Jahangir had images of Madonna and the Christ painted along with saints, angels and other Christian subjects on their palace walls and ceilings. In doing so, their message to their subjects was clear : their rule had divine approval. In the later versions of the Quran, Virgin Mary is lauded as being above all women and at least 30 verses are dedicated to her.
---