Historically, the caste system has assigned tasks such as cleaning toilets, waste disposal, and other activities that are considered "dirty" or "impure" to lower castes. The communities who carried out this work were considered the 'untouchables' (now referred to as Dalits).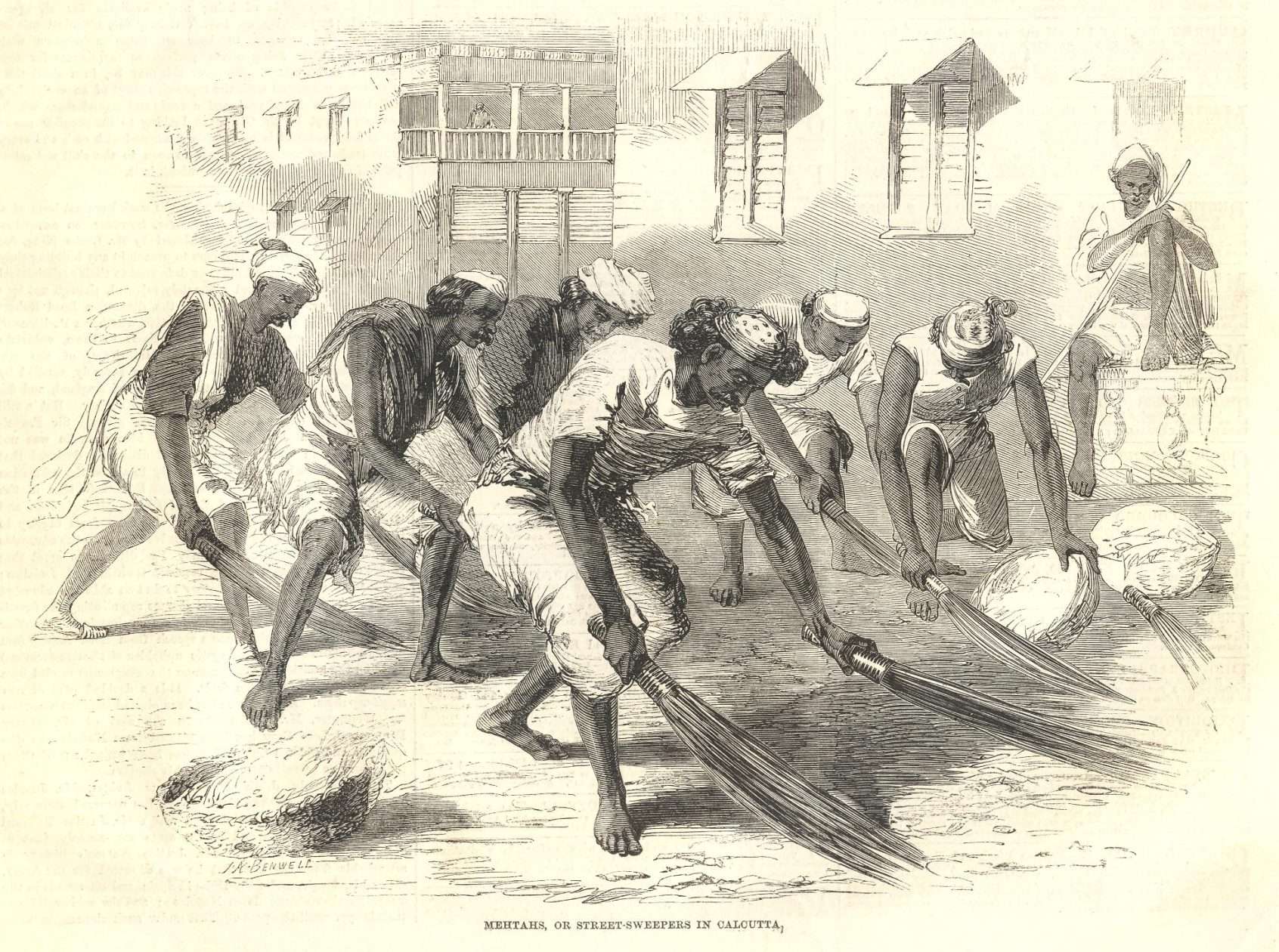 In the run up to India's independence, leaders were concerned with political representation and building a place for Indians in civic administration. But that wasn't all. Many thought of it as an opportunity for social reform. One such leader was M.K. Gandhi who wished to improve the social status of the Dalits. He hoped to eradicate the practice of untouchability. In this pursuit, he cleaned his own toilets in the ashram and referred to himself as a 'bhangi.' He tried to popularise the term 'harijan' (children of god) for them and also appealed to the community to take pride in their work, saying:
"You should realise that you are cleaning Hindu Society."
While some laud his efforts, others criticise him for supporting and advocating in favour of the caste system. Dr. B.R. Ambedkar, who was a Dalit himself, attacked Gandhi for supporting the very structure that perpetuates oppression. In the 1920s, Gandhi wrote in favour of the varna system based on birth, which ensured that those born in the Shudra varna would continue in occupations of cleaning and waste disposal:
In 1945, Ambedkar attacked Gandhi's ideas about caste and cleaning:
We've outlawed the practice of untouchability under the Constitution of India and made it punishable under criminal law. But the indignity associated with the occupations of the historically exploited community still remains. Most visibly, it exists in the continuation of the practice of manual scavenging, performed predominantly by Dalits, despite being prohibited in law. But we also see the same reflected in domestic tasks that are outsourced to paid workers.
Among the many chores in a household — cooking, cleaning, washing clothes, and dishes — workers from lower castes are often employed in cleaning tasks. Domestic workers from upper castes avoid cleaning toilets and disposing off waste, which is considered dirty, and thereby, the reserve of Dalits. Upper caste workers are primarily hired for cooking. In terms of wages, cleaning often pays less than cooking.
The dirt in dirt
As a society, we continue to outsource, what we consider 'dirty' work, to Dalits. This has everything to do with our casteised ideas of work. The Swachch Bharat Mission is a clear example of the extent of our reliance on Dalit labour. Outside the home, the Mission sits comfortably on the shoulders of safai karamcharis, an overwhelming majority of whom are Dalits. Inside the home, it relies on the labour of paid domestic workers belonging to lower castes.
As with all political campaigns, the Mission was fresh and made a lot of noise. But for the ground worker, it came with no better working conditions or even dignity. Some have argued that the Mission has "swept over the connection that caste has with cleanliness." Was it not ironic then, to invoke Dr. Ambedkar to launch the second phase of the Swachh Bharat mission in 2021? Would he have approved of building a political campaign whose foundation lay in the continual abasement of the historically oppressed?
In relation to this, Dr Lotika Singha has argued against exclusively fighting for better working conditions for domestic workers. She says that "simply supporting domestic workers in their fight for labour rights alone is also casteist in itself." She aptly sums up the course of action for all of us when she says:
"Improving conditions in the domestic work industry means acknowledging the mental work in manual labour and what exactly is the dirt in dirt, which is our casteised notions of work and labour. We need to get over the idea that doing manual labour will somehow make us lesser beings. We need to share not just our space with domestic workers, but share their spaces, and their work. And this is a necessary prequel to any possibility of a shared ethics of paid domestic work in India."
So, how do we go about cleaning our mind? Some say that one way to challenge deep-seated feelings about dirt is if everyone did their own cleaning. We could start with cleaning our own houses and toilets.