When a Hollywood movie combines Museums and Indian Maharaja-archives, it's got to be one you cannot miss!
The French luxury designer brand 'Cartier' recently re-created a legendary diamond necklace for the movie 'Ocean's 8'.  In the movie, a crew put together by Sandra Bullock aims to steal this necklace at the famous Met Gala.
Now here's the amazing part : this diamond necklace is modelled on a piece originally created for Raja Ranjitsinhji Vibhaji Jadeja of Nawanagar (a former princely state in Gujarat). Fans and followers of Cricket know him as the man from who, the Ranji Trophy gets its name.
The necklace is called the "Jeanne Toussaint" necklace in tribute to Cartier's former creative director. Toussaint,  was quite fond of Indian jewellery and a lot of her work was inspired by India.
According to the Cartier archives, the original necklace included the Queen of Holland – a blue-white 136.25 carat diamond. Today however, all that remains of this much celebrated piece is sketches and photographs. Following the Maharaja's exile,  " the finest cascade of colored diamonds in the world " was lost.
Here's what is inspiring : Cartier as the official jewellery partners of the movie, hosted an interesting exhibition (as part of the promotions).  For the movie, Cartier not only redesigned and recreated this necklace but also lent other pieces to the stars of the movie.   At the exhibition hosted at Cartier's New York mansion (where some of the movie's scenes have been shot), all jewellery featuring in the movie were exhibited, but of course, the Toussaint piece was the highlight! Here's a look:
An evening with #Oceans8 & @Cartier. #CartierOceans8 pic.twitter.com/M8Qnm6hX9L

— Oceans8Movie (@oceans8movie) May 25, 2018
Another Instagram user took to sharing her experience of the exhibition with these pictures. It includes a description of the necklace and the story of it's making for the movie :
According to Jacques Cartier, the designer of the original necklace, it was  "a superb realisation of a connoisseur's dream".
It took more than 4,200 total hours to re-create the necklace for the film, and between 10 to 15 artisans were involved in the creation.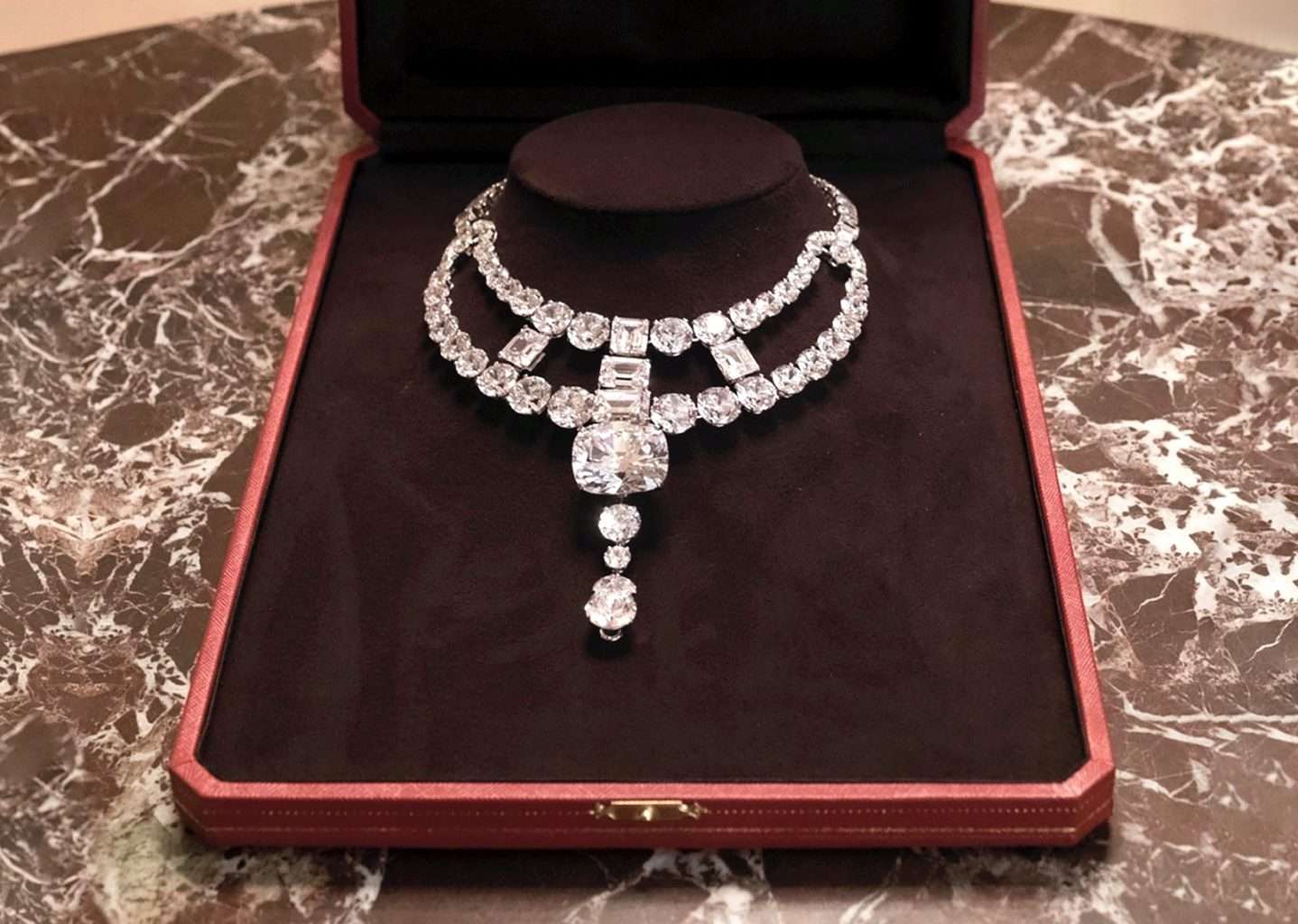 If a replica minus the original diamonds can look so heist-worthy, one can completely imagine the glory of the original .
Needless to say, this movie is definitely a treat for museum-fans !! Go watch it!!