In this digital-savvy world, museums are rediscovering new ways and tools to engage with their audiences – and Instagram is a hot favourite! In India though, museums are yet to take advantage of this tool and use it to it's full potential but with projects like #MuseumWeek, #AskACurator and #52Museums, the enthusiasm is definitely increasing. What's common between all these three? The name, Mar Dixon!
What is 52Museums?
Inspired by Chris Webb's project 52Quilters, 52Museums features one or several museums each week, taking over the event account throughout the year. We must warn you, the waitlist is a bit long too – but then Mar aces the curation bit, sometimes pulling up museums that deserve to be highlighted at this very global platform.
Here's why it's important for Museums to showcase on this platform:
# You get to connect with a global community of museums. Yes, we loved how museums (and professionals) across Europe were liking / commenting on our posts!
# There's a whole new audience waiting out there for you! Given the range of museums that have used the account for over 2 years, a whopping 18.1 k followers have been literally the result of "everyone's audience engagement" and it works for the community! All said and done, the account lets you take engagement to a different level altogether.
# Because it's just awesome to do something together.
Museums in India that participated:
The Heritage Lab was obviously excited to hear from Mar about Indian participation. We reached out to different museums on Instagram and otherwise, and immediately heard back from different museums willing to participate.
A journey across India was planned, sharing different stories that India is known for! We started in Chandigarh, moving between Amritsar, Jaipur, Mumbai, and Delhi during the week, 15-21 October 2018.
If you missed following the @52Museums account on Instagram, here are the highlights!
Government Museum and Art Gallery, Chandigarh
The museum used this opportunity to highlight some of it's treasures, but given that we "took over" in the run up to Dussehra, here's a beauty from the Museum: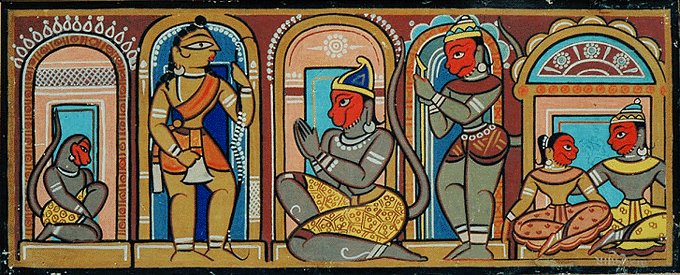 In their other post, the Museum highlighted the history of art in the region, with Gandhara sculptures forming the focus!
Partition Museum, Amritsar
The Partition Museum always has some compelling stories to share! Are you following them yet on Instagram / Twitter? They began their takeover by introducing the Museum building:
Have you ever wondered what the National Animal of our neighbour Bangladesh (then East Pakistan) is? It's the Royal Indian tiger, just like ours. Check out the post to know why:
View this post on Instagram
The museum also shared one of their most popular exhibits: a Phulkari coat, which tells of a very sweet love story!
The Maharaja Sawai Man Singh II Museum, City Palace Jaipur
One of the most picturesque museums in India, we were very excited to go on a tour with the Museum – and they didn't disappoint!
At a Palace Museum though, engaging with living heritage is a must! Curator Aparna Andhare took us on a quick tour of the 18th-19th century temples in the City Palace complex.
In the end, we even met the chief deity of Jaipur, Govind Dev ji, before we headed on to another place in Rajasthan – Bhilwara, with Sarmaya – India's first digital museum!
Sarmaya India
Luckily for us, Sarmaya was celebrating narrative traditions of India all of October, and so we were privy to some great content!
We have been in love with Bengal's Patua scroll-storytelling since forever now, and while Youtube might have some videos on the same, we've never ever seen such innovative digital-storytelling with Patua art! The artist sings the story out in Bengali in this one:
On the eve of Dussehra, Sarmaya gave us a very cool shadow puppet performance by Lankini – the demon guard of Ravana's empire. Well, if one must lose the battle, at least it should be graceful and something to remember!
CSMVS Mumbai
What happens when the country's best take you on a tour? Check it out for yourself, as CSMVS Mumbai shared fascinating details about not just their building, but Curator favourites, glimpses of the immensely popular Natural History section and finally, it's amazing Conservation initiatives.
Opened in 1922 to the public, the museum has 60,000 objects from Asia and Europe! Now that's what we call multicultural!
And then there are highlights of the museum you just cannot miss!
CSMVS also shared glimpses of their upcoming Children's Museum – curated by children. Have a look here!
JNAF (Jehangir Nicholson Art Foundation) Mumbai
Jehangir Nicholson was an avid gallery visitor and collector. His vision was to share his collection with the public.
If you're wondering about the scope of investing in art, then take a look at this:
The JNAF collection of 800 artworks has a special focus on the Bombay Progressives.
Dr. Bhau Daji Lad Museum, Mumbai
How can one leave Mumbai without a visit to one of it's most successful museums! This museum is definitely a photographer's delight, and irresistible to those who want to "know" Bombay.
The museum opened in 1857 as Victoria and Albert Museum Bombay. Check out it's oldest artefact, and how it got to the museum apart from the other treasures.
We also found it fascinating to see how the museum engaged with the community, especially the JJ School of Art back in the 19th century:
NGMA Delhi
Situated in the heart of Delhi, NGMA is an art lover's paradise. But for #52Museums, NGMA revealed some never-seen-before treasures that are part of their current exhibition "Chehre", i.e Faces. This bronze-bust of Mahatma Gandhi by the late SG Shrikhande is the "artwork of the month" as India celebrates Gandhi's 150th birth anniversary!
View this post on Instagram
Here's a glimpse into the exhibition which is an ode to India's sculptural genius!
India has so many stories that we possibly can't tell all in 8 days. For that, there's got to be a few more seasons of 52 Museums. In the meanwhile, for a daily scoop on Indian art and museums, head over to our Instagram page!
---
Would you like to join the India / Asia Museums' digital media community? Reach us at [email protected]!
Share your reaction!