Have you heard of the twelve zodiac signs in Chinese astrology? Each year has a symbolic animal, and the cycle is completed every twelfth year. The animal series starts from Rat, Ox, Tiger, Rabbit/Hare, Dragon, Snake, Horse, Sheep, Monkey, Rooster, Dog and finally ends with the Pig/Boar. 2018 happens to be the Year of the Dog and it is only legit that we start the year with some canine-love using an assortment of Dogs in Indian art from different Museums!
Dogs in Indian Art : Pin It for Later
Dogs have been man's companion since before the written word. The Bhimbetka caves and other prehistoric rock paintings dating back 30,000 years ago, have provided archaeologists with evidence of domesticated dogs.
In his detailed study Prehistoric Rock Paintings of Bhimbetka (Abhinav Publications, New Delhi, 1984) Yashodhar Mathpal lists 41 drawings of dogs in the famous Bhimbetka rock shelters in Madhya Pradesh (Central India). He classifies them into: a) Sight-Hounds b) Scent-Hunters c) Shepherd Dogs d) Giant Dogs
Dogs were seen as loyal companions, hunters, guardians and as a treasured part of the family.
Dogs in Ancient Indian Art:
In the oldest story from the Rig Veda, dogs appear in an elevated role as the companion of Bhairava (a form of Lord Shiva). Lord Indra's pet on the other hand is the celestial bitch Sarama – the mother of all dogs. Even Yudhishthir, the oldest of the Pandava brothers takes a dog-companion while trekking up to Heaven only to realise it was Dharma in the form of a dog, testing his commitment & loyalty.
Dogs also featured in the everyday lives of the Indus Valley people as we know them. In Ropar, an excavation revealed a dog buried with his master in addition to bronze and clay models (probably toys) of dogs.
#didyouknow : Historians have recorded that India exported dogs to Rome and Egypt.
Click To Tweet
Dogs in Early Indian Art
Other representations of dogs in early Indian art can be seen at Ajanta caves depicting Jataka tales.
One of them is the Mrig Jataka in Cave 17. In this Jataka, the King sets out and captures a golden deer for his Queen and returns with it in his chariot. Men with dogs on leashes (part of the hunting team), follow the chariot.
In yet another Jataka on a Barhut stupa relief there's a tale of 2 dogs, cats and a rishi. This is a tale where the rishi sits with a bowl of fish; the cats fight over the head and tail of one fish and while one dog walks away with a bone, the other waits patiently.
The Buddha-connection with the dog doesn't end at Jataka tales. The above Gandhara-art relief tells a story in which the Buddha visits a merchant's home and is greeted with the barking of his white dog. Buddha and the Dog have a conversation upon which the dog refuses to eat, and curls up into a ball, evidently sad about something. Seeing his dog unhappy, the merchant is furious and calls on Buddha who tells him of the Dog's past life karma and a way of attaining better karma.
Dogs in Medieval Indian Art
In South India, the medieval times saw Dog-paintings within temples too! In Lepakshi, at the Veerbhadra temples you see an image of a family with a pet dog; a Chola era mural of a dog was also found in the inner precincts of the Big Temple at Thanjavur. According to experts, its features are said to be aligned with the breed Alangu.
Dogs in Miniature Paintings
In the Mughal palaces, dogs were very cared for. There was one keeper for every two hunting dogs.
Akbar's biography highlights that the Emperor liked dogs so much that he imported different breeds from distant lands. His favorite dog was named Mahuwa.
Even Jahangir is said to have requested English hunting dogs from the ambassador Sir Thomas Roe. The tradition of collecting and keeping dogs was continued by the succeeding emperors and vassal kings.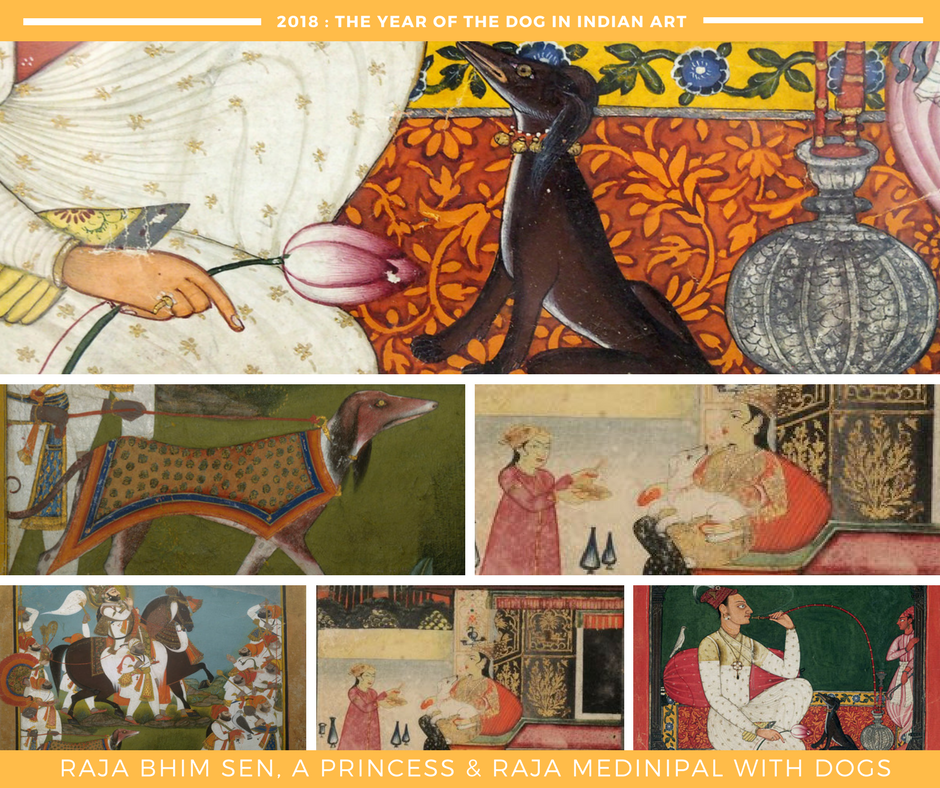 It wasn't just the royals who had dogs as hunting-companions and pets. Ascetics, wanderers & tribesmen too, had canines as friends.
Dogs in Company School Paintings
As the East India Company grew in power, so did their influence on the art-styles. With the company-school painting style, the dogs moved on to being the stars of their own painting. Maratha artist, Gangaram Tambat was an artist who skilfully blended miniature traditions with the European style and created some dog-renders amidst other paintings. Here's a selection from different museums.
Dogs in Modern Indian Art
With the growth in Indian art, artists such as Nandalal Bose experimented with different forms, moving away from the western style, adopting eastern influences. Nandalal Bose, who is credited with illuminating the Constitution of India often took inspiration from daily life of the masses. Dogs seem to be his favourite subject as he depicted them in postcards, sketches and mixed media too! Here's one in which he uses minimal pen strokes :
There's also another interesting depiction of the Dog and his master by Lalu Prasad Shaw:
Dogs at the Salar Jung Museum, Hyderabad
If you're a dog-lover, there isn't a better place than the SalarJung Museum to muse over the different depictions and breeds of dogs. From quirky walking sticks to porcelain showpieces and European paintings, dogs are present in almost every gallery!
---
Do you have a favourite dog-art piece? Share it with us! If you happen to meet a dog at any Museum, do pass a "Woof!" from me.