Born in 1909 Nagykaniza, a small town in Hungary, Elizabeth Brunner was the daughter of painters Ferenc Sass and Elizabeth Sass-Brunner. Her story is a most curious one. Convinced by a dream to travel across the world, Elizabeth Brunner was a dynamic person who left her mark on the world not only through her ethereal paintings, but also her sweet and compassionate nature.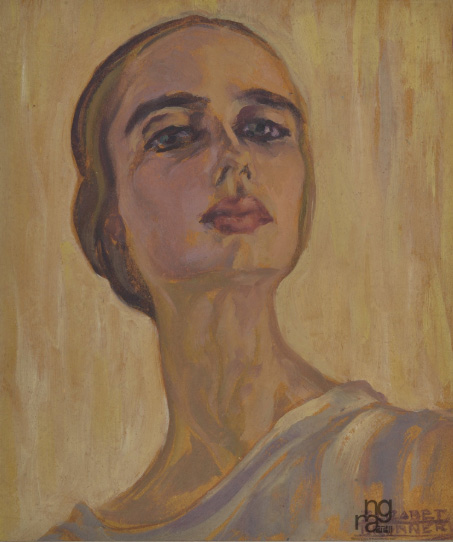 On the eve of her 19th birthday, Brunner dreamt of a silver haired man holding an oil lamp in her cellar. Her father was standing next to him. The old man was passing the lamp to her father, but it began to flicker. Elizabeth ran to the man to protect the flame. She put her hand out and took the oil lamp into her hands and it glowed bright again. The gentleman said, "Take this my child. You must guard this light carefully and carry it to every nook and corner of the world". When she narrated the dream to her mother, she recognised the man to be none other than Rabindranath Tagore who had made a significant impression on the Hungarian artist community when he stayed in Budapest in 1926. Convinced that this was sign that they should visit the master, the two decided to set sail for India.
Travel to India
Their travel to India was not without its challenges. The money from the sale of Sass-Brunner's pictures was misdirected, leaving them with the bare minimum. They had to survive on nettle leaves they found by the roadside! Even when they docked at Bombay, the English officers wanted to send them back as they were dressed in plain hand-woven clothes (they had heard of the resistance movement in India) and didn't speak a word of English. Luckily a Sikh gentleman they had befriended during their journey helped them out.
When they finally arrived in Calcutta and met Tagore, it was like a union among old friends. Brunner recounts "When we arrived, he was about to come down the stairway. Catching sight of my mother, he exclaimed, stretching out his arms, "So you have come." They flew towards each other and I saw their hearty embrace. Then he came and greeted me. He seemed to come straight out of a fairy tale with his silky white hair and beard, his smiling face, and half-closed eyes, his radiant expression of understanding and sympathy, and his imposing figure and beautiful hands."
The Brunners at Shantiniketan
Both mother and daughter settled down at Shantiniketan, enthralled by its beauty and oneness with nature. They found the spirituality and the peace that they had been seeking; this also echoed in their later works.
Her first portrait at Shantiniketan was of Tagore. She was so successful in capturing his spirit that it led to an open invitation to his study so that she could paint him whenever she wanted. This was perhaps Tagore's way of acknowledging and appreciating her art.
Under the guidance of Nandalal Bose, Brunner discovered her interests: people and faces.
The students at Shantiniketan inspired her too. She was impressed by their dedication and hard-work. This painting of Benode Behari Mukherjee immersed in his work aptly captures her amazement.
Painting the Mahatma
Tagore was not the only personality that she managed to impress. At her Bombay exhibition, she was encouraged by one of Gandhi's close associates to add his portrait to her oeuvre. However it was only in the winter of 1934 that the Brunners were able to meet him. When it was conveyed to him that Brunner wanted to paint him, he asked "Why do you want to paint an ugly man like me?" To which she replied "Oh, but I want to paint your spirit" He was doubtful but agreed to grant her 30 minutes to paint him.
In Brunner's words, "When the portrait was finished, I handed it over to him. His face lit up with approval, and he willingly wrote his signature. The news flashed the country, 'Hungarian artist paints the Mahatma in half an hour.' He told us that we could come anytime we pleased to observe him freely through his daily routine."
Meeting the Royals
Brunner was also invited to paint royalty! She met with important personalities like Maharaja Bhupinder Singh and Maharani Gayatri Devi during her time in India.
The Quest for spirituality
The Brunners found solace in India. The two established a certain affinity not only with the land and its people but also its philosophical thought.
While Sass-Brunner created mystic landscapes and depicted spiritual subjects like Christ and symbols of Shiva, her daughter was greatly inspired by Buddhist philosophy. In the last period of her career as a painter, Elizabeth Brunner mostly painted portraits and pictures of Buddhist inspiration. In 1959, the Dalai Lama even gave her a sitting for a painting.
The Brunners' story is one of indomitable courage. Elizabeth Brunner's dream was her compass to India. With it, she sets an example for future generations:
If you have a dream, believe in it and are determined to achieve it, nothing can stand in your way.
To see more of Brunner's inspiring works, take a look at IGNCA's collection here!
---
Help us spread the love for art and culture by sharing this story !