In the years after the Partition, India's urban landscape transformed rapidly as refugee colonies mushroomed in existing cities. New townships too, began to develop around urban centres. The story of one such township – Faridabad – is particularly significant for its experiment in people-led development.
Faridabad today is a bustling urban city on the Delhi-Mathura highway. But in 1949, it was a patch of wilderness. Of the milions of refugees, around 30,000 were lodged in temporary camps, near the old Faridabad town waiting to be rehabilitated. Within three years, these very settlers, would convert it into a thriving industrial township.
The plan and vision for Faridabad
Nehru's vision for India's development was not only concerned with the growth of heavy industries, it also aimed to empower ordinary citizens. At the core of India's postcolonial socialism, was mobilising the active participation of its people, with the promise that the fruits of India's development efforts would be shared by all. The Faridabad project was an example of this approach. To translate a vision such as this into reality was no mean task; this journey, like many others, was fraught with challenges and tensions.
The 'Faridabad Development Board' was set up with Sudhir Ghosh as its Secretary (employed by the Ministry of Rehabilitation); the Indian Co-operative Union, helmed by Kamaladevi Chattopadhyay as its first president was responsible for mobilizing the refugees.
The woman who led the development of Faridabad : Kamaladevi Chattopadhyay
Kamaladevi Chattopadhyay was raised in a progressive family in Mangalore. A frontrunner in India's struggle for Independence; later, she played a pivotal role in shaping India's textiles and crafts sector and other cultural institutions like the Crafts Council, National School of Drama, IIC and Lalit Kala Akademi. But beyond the sector, her legacy and contribution to the making of modern India remains unknown – quite unlike her former sister-in-law, Sarojini Naidu.
As rehabilitating refugees became one of prime challenges of the post-colonial period, Kamaladevi Chattopadhyay stepped up.
When she visited the Kingsway Camp (Delhi) to offer a helping hand, she was horrified that the refugees, here and elsewhere, had become dependent on the Government-dole. She was highly critical of the short-termism that had shaped state and voluntary relief efforts.

Sandip Kana / 'Voluntarism in partition's aftermath: the Faridabad story'
Battling bureaucratic hurdles, the limiting structures of the Central Government, and institutional hostility, Chattopadhyay set to work. India's postcolonial state had limited resources and capacity; it thus became necessary to harness the voluntary collective participation of ordinary Indians. 
One of her first successes of refugee rehabilitation through the Co-operative model came from working in Chattarpur. Chattapur, known for its sprawling farmhouses and hip wedding venues today was simply an arid piece of land in the early years of the Partition.
Chattopadhyay took personal responsibility for shifting the refugees to the new land site, putting up huts and tents for immediate shelter, and helping them reclaim the land.

Sandip Kana / 'Voluntarism in partition's aftermath: the Faridabad story'
For Chattopadhyay, it was not an easy task to convince erstwhile zamindars and merchants to take up construction tools; many rebelled and refused to work as "labourers". It was only when the womenfolk showed initiative that the men got to work as well. Kamaladevi Chattopadhyay fundraised through her own network to acquire tools and implements for construction and re-skilling refugees. It was the eventual success of the Chattarpur project that gained Nehru's support and his insistence on Co-operative Union's involvement in Faridabad.
Building Faridabad: here's a look at these early photos from the 1950s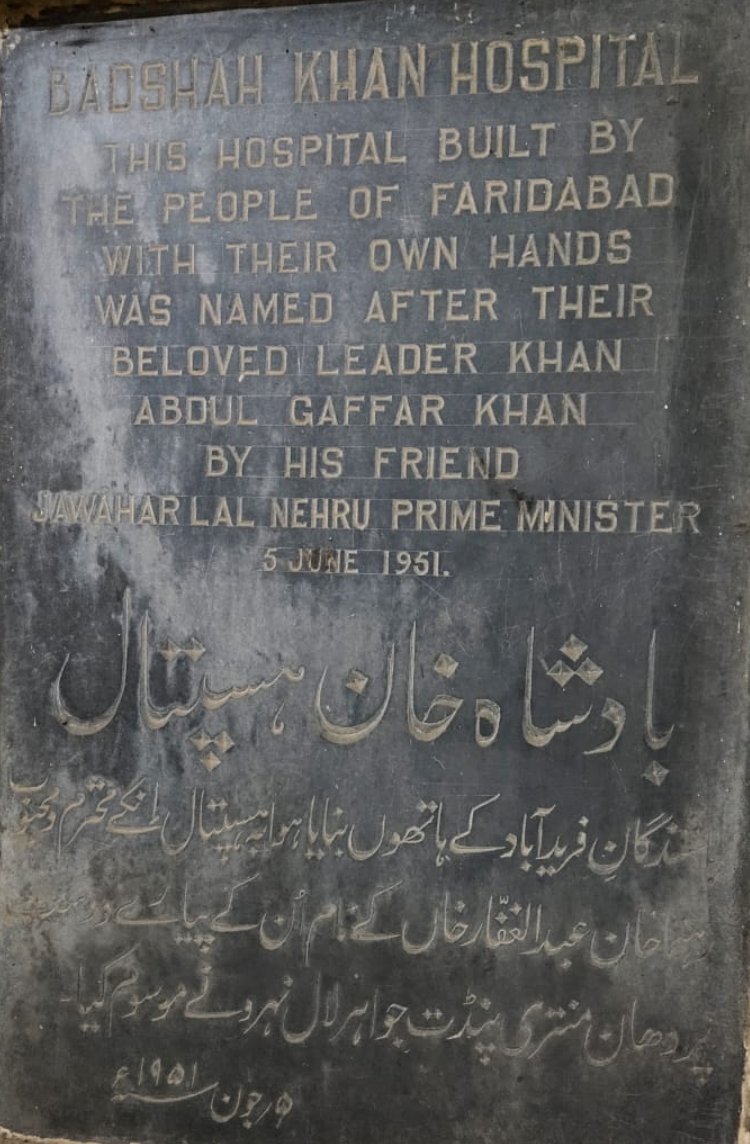 The cooperative efforts of the displaced people from West Pakistan resulted in a township that could boast of a modern hospital with 150 beds; a high school; many dispensaries; a power-house; water facilities, in addition to many industrial centres and handicrafts manufacturing firms.
The text for this photo gallery has been adapted from the research article 'Voluntarism in partition's aftermath: the Faridabad story' by Sandip Kana published under an open license. Sandip Kana is a recent History PhD Graduate from King's College London.
1
A Button Manufacturing Factory at Faridabad
2
Hosiery Factory Faridabad
3
Refugee women work at the Hosiery Factory Faridabad
4
A Toy Factory at Faridabad 
A young boy inspects a wooden toy truck.
5
Cloth Manufacturing Centre
6
Yarn Manufacturing Center
7
Stove Manufacturing Unit
8
Jaggery Production in Faridabad
9
Diplomatic visit to the Faridabad community project
Whilst Faridabad garnered much positive international attention, refugee discontent within Faridabad strengthened, as conditions in the camp deteriorated and employment opportunities dried up.
Despite their lack of experience, the efforts of Kamaladevi Chattopadhyay and Sudhir Ghosh in Faridabad left an indelible mark. Their work provided a model of how voluntarism and notions of self-help through community development would be pursued going into the 1950s across India, and what it could accomplish for the nation's development aspirations.