When reflecting on the history of photography in India, the names that come to mind are mostly of men : Lala Deen Dayal, Kulwant Roy and the likes. In the 20th century, Homai Vyarawalla emerged as first female professional photojournalist; her pictures are telling of an important period in Indian history. Around the same time, two women in Bengal, with their passion for photography, captured moments that reflected the inner worlds of women, in a country moving towards independence – unfortunately, these were lost to history.
The Jadunath Bhavan Museum and Resource Center, Kolkata is hosting an exhibition of photographs by Debalina Mazumder and Manobina Roy (b.1919).
Exhibition : August 13 -27, New Delhi
Exhibition: March, Kolkata
Here's a glimpse into some of their works. Please note: all images are from the family collections of Joy Bimal Roy and Kamalini Mazumder, and from the visual archives of the CSSSC. © All rights reserved and may not be reproduced without permission.
Twin Sisters & a Camera : the beginnings
In the 1940 picture taken by Bimal Roy, we see the identical twins – digging deeper into their story, we realise that they share more in common than just their looks!
The twins' encounters with photography began at the age of 13 at the encouragement of their father. They photographed their environment, family members and documented family holidays. They even learnt how to develop their own pictures! The magic of photography through the alchemy of light and silver halides enthralled them, and sparked an engagement that spanned almost six decades. Even after colour photography arrived, they preferred the tonalities of grey in black and white photography.
When lighter and portable cameras made 'unstaged' photographs possible, they became adept at taking strikingly composed candid pictures. Their compositional skills along with their understanding of highlights and shadows resulted in the creation of enduring portraits.
When they eventually acquired digital cameras with automated functions, they still preferred to use manual controls to compose their images. Their best works bear testimony to their technical expertise, artistic vision and aesthetic sensibility.
Accomplished Street Photographers
After Debalina and Manobina got married, their photographic pursuits had to be accommodated within their growing responsibilities as wives and mothers amidst new households in Calcutta and Bombay. But there were occasions that brought respite and greater freedom. Their joint stay in London with their children in 1959 was one such opportunity.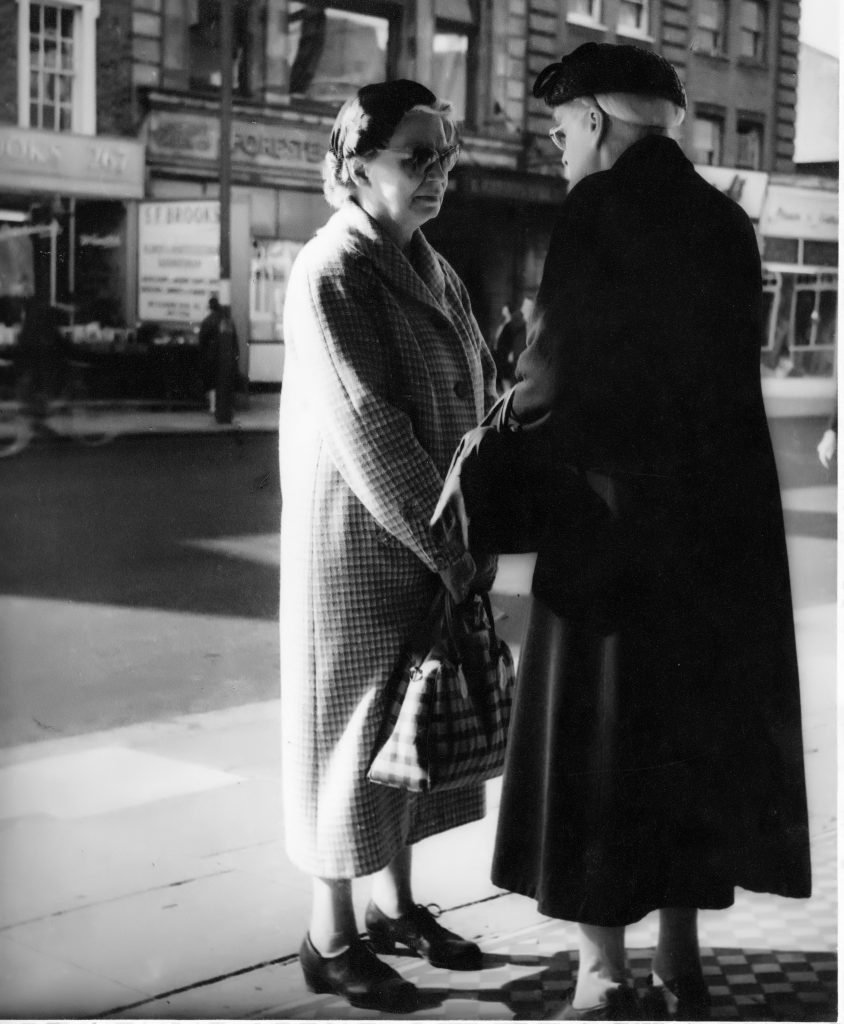 Together, they walked around the city, photographing strangers on the streets, people in Hyde Park and argumentative interlocuters in political meetings. The pursuit of photographing other worlds continued during their travels to Paris, Geneva and Moscow. These works establish that the sisters were accomplished street photographers who, even when they shot the same subjects, were true to their individual styles and sensibilities.
Debalina Mazumder and Manobina Roy Not without their Cameras!
The sisters never travelled anywhere without their cameras, nor were they merely photographers. They were enthusiastic archivists who selected, catalogued, captioned and preserved their photographs. They published in magazines and shared their images through networks like the Postal Portfolio, thereby reaching peer practitioners and a larger audience.
Despite their accomplishments, they never received the recognition they deserved. Not only were they amateur photographers (a practitioner considered inferior to the professional), they were also women. This, however, did not dim their attachment to photography. Debalina, who held office in a number of prestigious photo organizations, believed that if she had pursued photography as a livelihood, the compulsion would have killed her passion for it.
This exhibition is a tribute to the spirit of amateurism and the love of photography that the sisters embodied.
---