Guru Nanak Jayanti commemorates the birth of the first Sikh Guru, Guru Nanak Dev. He was born in the year 1469 in undivided India, and devoted his life to the cause of humanity. He rejected the separation of people based on religious lines and rallied for a syncretic culture, the values of selflessness, service, and living an honest life.
To celebrate 550 years of Guru Nanak's life and teachings of love, peace and tolerance, here's a selection of art from the Govt. Museum & Art Gallery Chandigarh.
The Janamsakhis
The illustrated janamsakhis in the collection of the Chandigarh Museum tell many fascinating stories about Guru Nanak. There's one about Guru Nanak and the Monster fish that we love. But there's also this one about Guru Nanak and the holy men:
Once, when Guru Nanak was 12, his father gave him some money for business transactions; however, Nanak came in contact with holy men (who had been hungry), and spent all the money on food for them. This generosity is reflected today in the continuing tradition of 'langars' – community meals organized by Sikhs across the world 'for everyone'.
Guru Nanak in an inscribed shawl
This watercolour painting of Guru Nanak wearing a calligraphed robe is an iconic artwork. The painting recalls Nanak's travel to Baghdad where he was gifted the robe which had verses from the holy scripts inscribed on it in Naskh script. This Baghdadi Chola (robe) is now preserved at the Dera Baba Nanak. Prof BN Goswamy, eminent art historian describes the painting: "quite suddenly, as one realises what the painter has done – taken the holiest of words from different faiths and wrapped the great Guru's noble figure in them – the work rises, from being only a competent 'portrait', to another, altogether higher level."
The Holy Guru Nanak : a portrait by Sobha Singh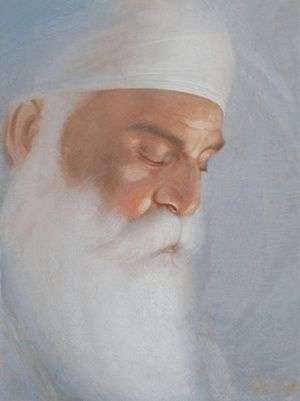 Even though as an artist, Sobha Singh worked on folklore themes and legends; advertisement posters and other varied work, he is known most for his portraits of Guru Nanak. He successfully blended the aesthetic and spiritual elements in his portrayal of Guru Nanak – and it is impossible to find a Sikh home without a Sobha Singh art print (of any of the Gurus). Looking at this painting, one can feel the compassion, and calm spirituality that Nanak was known for – in that sense, Sobha Singh's paintings are a huge success when it comes to evoking devotion.
The Pilgrim by Jaswant Singh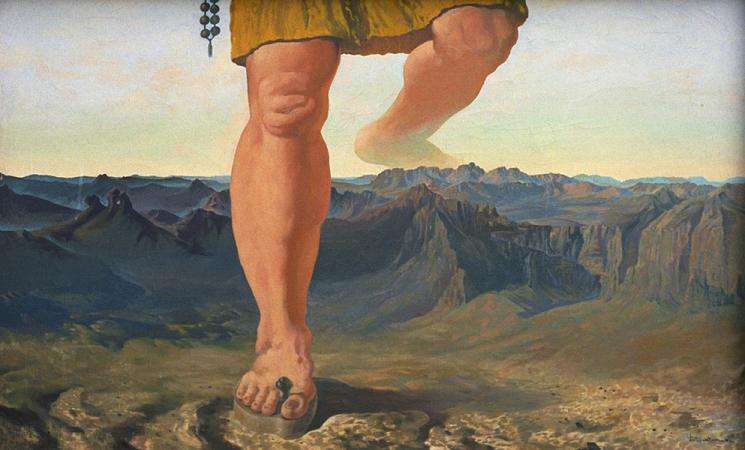 Far from Sobha Singh's portrayal of a haloed Guru, calm and composed; Jaswant Singh's painting, features only a pair of legs, towering over a stretch of mountains in simple footwear. The painting emphasizes the journeys Guru Nanak undertook on foot (his Udasis are well-documented) – becoming the second most travelled person in the world (yes, he travelled 28,000 kilometers in 24 years!). Here's an interactive map of his travels:
Guru Nanak and the other Sikh Gurus : The Sikh Legacy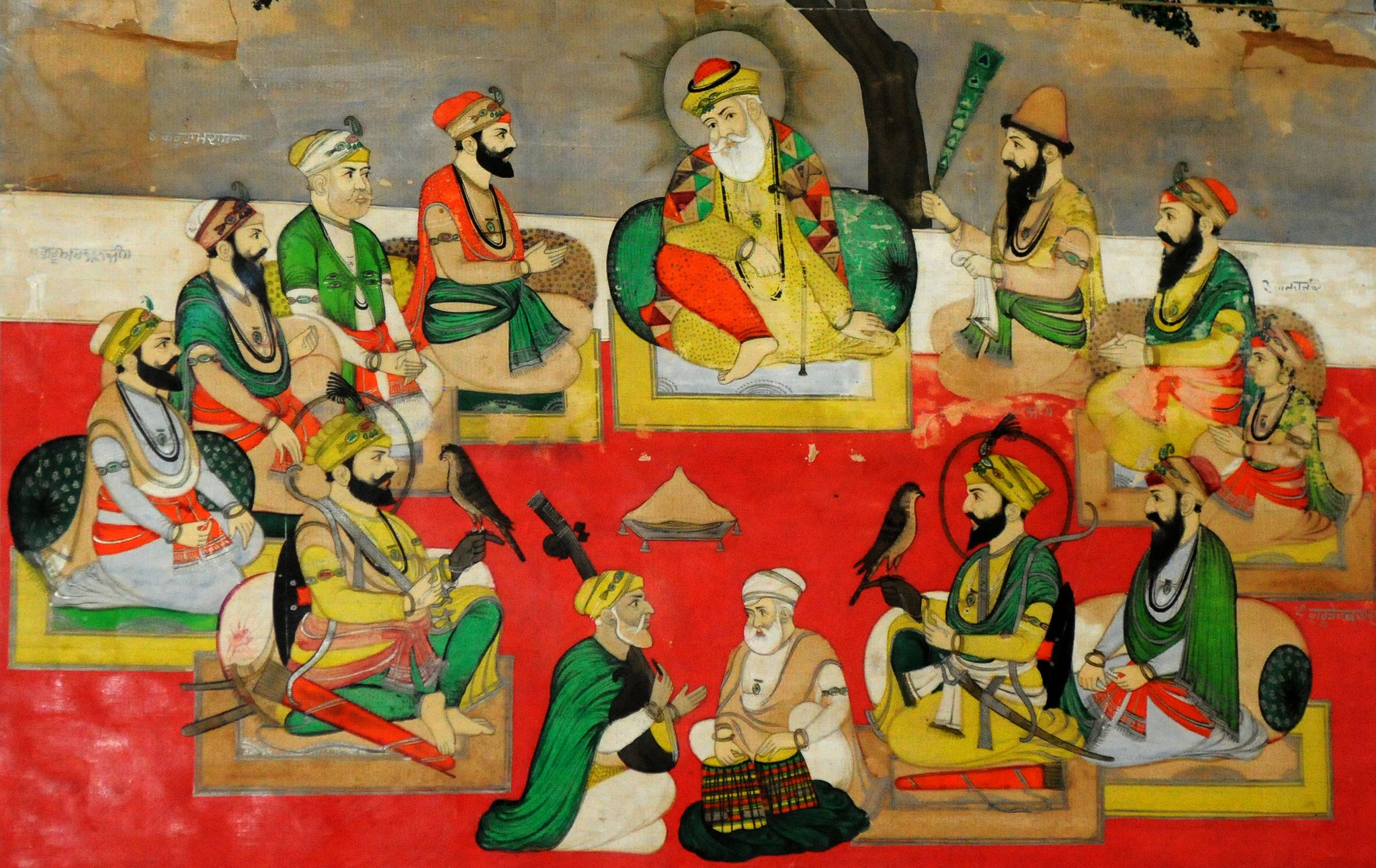 Seated in the center, Guru Nanak is flanked by the other Sikh Gurus – can you recognize them? The legacy left behind by Guru Nanak continued to inspire – if he stood for peace, tolerance and humanism, others like Guru Teg Bahadur and Guru Gobind Singh led the way in standing for others' rights irrespective of religious differences. To this day, followers of Sikhism are often at the forefront during emergencies, ever ready to help / protect others.
The Chandigarh Museum has many fascinating treasures, but the Sikhism-Legacy walk is one of our favourites! We hope you'd find these paintings as inspiring as we did! If you visit, let us know how you felt!
---