Seated on a parrot, Kamdev is often depicted in paintings carrying a bow made of sugarcane stalk, strung by a line of bees.
Each arrow causes the 'target' to swoon under a certain effect of love, and is tipped with a special fragrant flower.
Wondering what the 5 arrows of Kamdev do to you?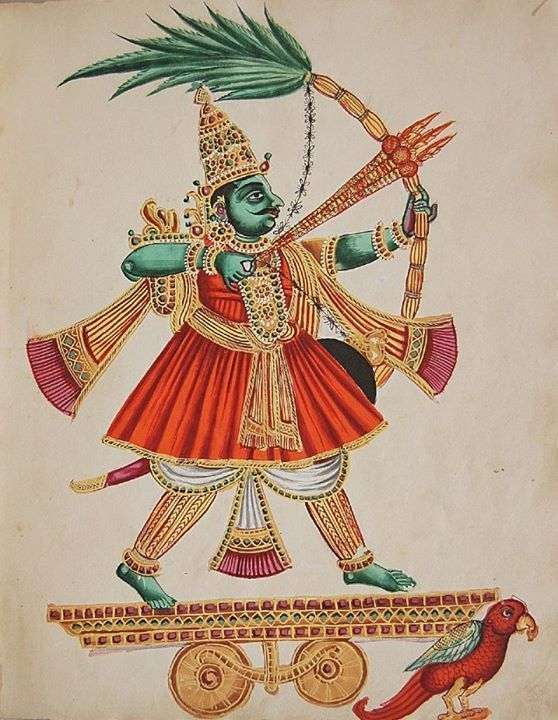 Aimed at the heart, it causes initial excitement and a youthful-cheerfulness.
Aimed at the lips, it causes one to cry out of this excitement
Aimed at the head / brain, it makes one lose their mind / go crazy with love
Aimed at the eyes, it makes you see things (hallucinate even)
The fifth arrow is basically designed to hit you anywhere causes the 'target' to simply be absorbed with love!
When Shiva was hit by Kamdev's arrow
One of our favourite stories is how the 'Rockstar-God' Shiva fell in love with Parvati. Having lost his wife Sati, Shiva had gone into deep meditation. Taking advantage of the situation, the Demon Tarakasura sought Brahma's boon, with the clause that only a son of Shiva could overpower him.
Meanwhile, Parvati (Sati reborn) had been trying to get Shiva's attention, but with little success. That's when the Gods (led by Indra) summoned Kamdev, the Indian Cupid.
Kamdev accepted this dangerous mission (who wants to arouse Shiva's wrath…?!) and set off!
With a little help from the Lord of Basant (Spring), a favourable atmosphere was created, and Shiva was struck!
Realizing Kamdev to be the cause for his broken meditation, Shiva in an angry avatar, reduced Kamdev to ashes. Kamdev's consort Rati was understandably aghast at the situation, and inconsolable. So Shiva attempted to resurrect Kamdev, but only in a non-body form. And since then, LOVE has existed as a feeling!
If you're still wondering – yes, the arrows worked: Shiva fell in love with Parvati; together they had a son, Kartikeya, who destroyed the demon Tarakasura.
Kamdev, the Painting
This Madhubani folk-painting of Kamadev by artist Satyanarayan Lal Karn was created in 1982 and is in the permanent collection of the Lalit Kala Akademi. One of the finest Mithila painters of India, Satyanarayan Lal Karn and his wife, Moti were known to be one of the few people following the age-old tradition of using natural colours for their artwork. To make colour, they would grind flowers / leaves collected (not plucked) and used thin broomsticks as brushes.
For more Love-Stories from Museums, follow us on Instagram & check out our "Stories" for the day ♥️