A nondescript placard on the wall reads: "Buddhist Stupa, 2nd Century BC, Bharhut, Madhya Pradesh."
I turn around and almost knock into a magnificent red sandstone 9-feet high railing and 23-feet high gateway, teetering in awe at its grandeur and proximity. It is covered profusely with intricate imagery of secular life and Buddhist teachings in 2nd Century BC India. Short inscribed labels in Brahmi script record the names of donors.
The monumental piece is nothing short of breathtaking. Much like everything else in the archaeology gallery of India's oldest and largest museum, the Indian Museum located just around the corner of Park Street, Kolkata, and built in 1878 by the then British Raj.
Arranged in chronological rather than thematic order, the gallery showcases 1,500 years of Indian sculpture, from which emanate its various schools and inter-linkages, in a seamless story.
Piqued? Come join me on a virtual tour of this collection under whirring fans, encased in a hot humid corridor in a Doric columned colonial edifice.
1. Remains of a Mauryan-era Buddhist Stupa
It all starts with the beautiful remains of a Buddhist stupa (image below), right at its entrance. The 2,200 year old yakshas and yakshis [nature spirits], devatas [gods], floral and animal motifs, and Buddha's pre-birth [Jataka] stories wrap around its railings, cross bars and coping stones to bring to life the Indian Mauryan era, and a time when Buddha was still not depicted in human form. But this was soon to change. A change that was to take place in an art style which took birth in a rocky outcrop of land in north-west Pakistan and eastern Afghanistan 300 hundred years later.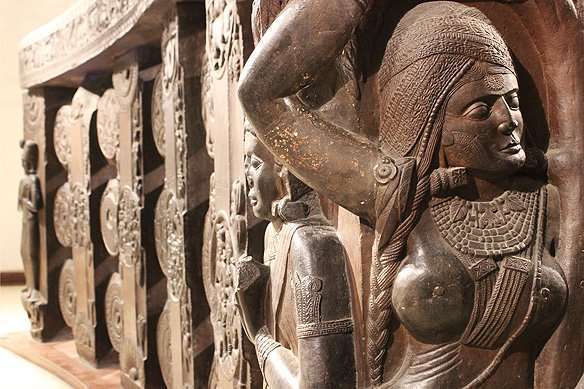 2. Gandhara Sculptures
The second creative epoch alternatively known as the Gandhara, Graeco-Buddhist, or Graeco-Roman School, flourished during the Kushan dynasty and more specifically the rule of Kanishka the Great, a devout patron of Buddhism (2nd Century). Moulded by the region's close ties with Rome, Buddha here appears not through indirect Jataka stories and obscure representation, but instead as a great enlightened man with a youthful Apollo-like face and dressed in Roman togas in gray-blue schist and stucco. Wavy hair, sometimes even moustached, and the presence of the urna (protuberance) between the eyebrows become the iconographic norm.
Gandhara Sculptures from Mathura
Whilst the Gandhara School was developing its own unique sculptural language, another art form was shaping itself, also under the Kushan dynasty, somewhere in the heart of the Indian peninsula in a trading and pilgrimage centre called Mathura. A style more indigenous and rooted in 'Indian' artistic traditions, Mathura was an exporter of sculpture to much of north central India. Taking inspiration from the depiction of native yakshas and yakshis, Mathura's artists imbued the local red mottled sandstone with sensual life. The school was characterised with broad-shouldered, round-faced, short flat spiral haired Buddhas brimming with enormous energy, and an uṣṇiṣa [protuberance] on the top of the head—It was a representation that would later become the global standard in the Buddhist world. The female figures were equally 'alive'. Nude or semi-nude voluptuous women carved in high relief, they epitomised fertility and abundance.
3. Sculptures from Amravati
In the meantime in South India, in Amaravati, Andhra Pradesh, during the Satavahana dynastic rule running parallel to the Kushans, a completely different style bloomed. It was the Amaravati School.
Known for its magnificent reliefs in white marble and limestone, the carvings are among the world's finest examples of narrative sculpture. The most exceptional of these reliefs were carved on the panels surrounding the Amaravati stupa (2nd Century), one of the largest stupas built in Buddhist India [50 metres in diameter and 30 metres high]. Much of the stupa has been destroyed. However, remnants of the decorative plaques bring alive Buddha's life and Jataka stories through crowded yet unified compositions filled with dynamic movement, using both aniconic and iconic representations of the Buddha.
5. Sculptures from the Gupta-period Mathura
The fifth burst of creative excellence in sculpture took place in the 5th Century during the Gupta period, often also referred to as the Golden or Classical period. Here too, two sub-schools emerged, one in Mathura, and another in Sarnath where Gautama Buddha gave his first sermon. The former was the result of the religious zeal of Buddhism, Hinduism and Jainism; the latter an ode to Buddha.
If the Gupta period of Mathura School was the culminating into maturity of the earlier indigenous form which took birth under the Kushan period, the Gupta period of Sarnath School, in contrast, veered towards absolute plasticity. Carved out of buff coloured sandstone, Sarnath, above all, stood out for its tactile modelling and soft delicacy. The translucent 'wet drapery' without folds covering Buddha and the Bodhisattvas became a distinct feature setting its art apart. What both Schools, nonetheless, had in common was the successful translation of spiritual peace and grace into the human form.
6. A definitive blending with regional styles began to take place, post the Gupta period, or to be more specific from the 7th to 12th Century.
The Indian Museum celebrates this journey though an eclectic mix of reliefs and in-the-round carvings from Bengal and Bihar. Made of Basalt stone, they bear traces of the Gupta legacy wrapped in local idiom. Buddha now appears crowned wearing a necklace, along with other deities and Bodhisattvas. The Hindu pantheon and Jain Tirthankaras are equally generously used as subject matter.
One of my favourite group of pieces in the gallery, and part of the post-Gupta works are the Surasundaris or celestial beauties. A medieval art style characterised by three-quarter fine profiles and back views of figures twisting around an axis, they are also the most blatant break from the Classical Gupta School, both in terms of content and style. The whole gamut of mundane human life was narrated through myriad poses and expressions by the artists of the Chandella kingdom in Madhya Pradesh and Odisha during this period.
7. Indian settlement in South-East Asia and the subsequent export of Buddhism and Hinduism saw a corresponding rife export of Indian architecture and sculpture.
It is also perhaps a befitting end to the Indian Museum collection of a rich heritage, which went on to enrich those it came into contact with.
With the Garuda from Cambodia and a Chaturmukha Linga from Java staring at you in the eye in one end of the gallery, and the Bharhut gateway towering at the other, 1,500 years of India's sculptural art is traversed in one corridor. All in one afternoon.? Such is the wonder of wonderful museums.
---
Visit the Indian Museum!
27, Jawaharlal Nehru Rd earlier Chowringhee Road, Park Street area, Kolkata
Timing: 10:00 am – 5:00 pm
Ticket: INR 20 for Indians; INR 500 for foreigners
Photography is allowed inside; Backpacks are not
Cloakrooms are available at no charge
---
This post was written by Rama Arya and originally appeared on her blog.