For thousands of years, Indian textiles have been 'objects of desire' across the world, renowned for their rich craftsmanship and unique aesthetic. From heavy calicoes to light muslin, Indian cotton manufacturing was varied and developed before anywhere else in Asia or Europe. It is the Indian chintz, though (which used the innovative technique of dyeing cotton naturally with permanent colours), that earned itself the tag of having 'changed the world'.
In the 15th century, European merchants may have crossed over oceans attracted by Indian spices and jewels, but it is the trade of these cotton textiles that turned their fortunes. According to historian Om Prakash, a study of the Dutch East India Company records reveals that a large portion of their purchases were initially for trade in other Asian markets (Indonesia for example); only small quantities were being shipped to Europe. By the turn of the 17th century though, 2/3rds of the purchases were directed towards Holland.
From a 17th century Court of Versailles to the White House; from the sets of the 1980s cult movie Risky Business to Princess Diana's wardrobe – 'chintz' has travelled from India to the world, remaining trend-resistant through centuries. The story of Chintz (derived from Chints – a plural form of the Hindi Chint) though, cannot be told through the singular lens of trade or craftsmanship. It is layered with stories of slavery, colonialism, and cultural appropriation. It continues to inspire questions and dialogue around consumer-demand, technological innovation and control over global markets.
For the first time in 50 years, the Royal Ontario Museum [ROM] in Canada is exhibiting Indian chintz, to celebrate the textile's influence on the world (which has spanned over 750 years).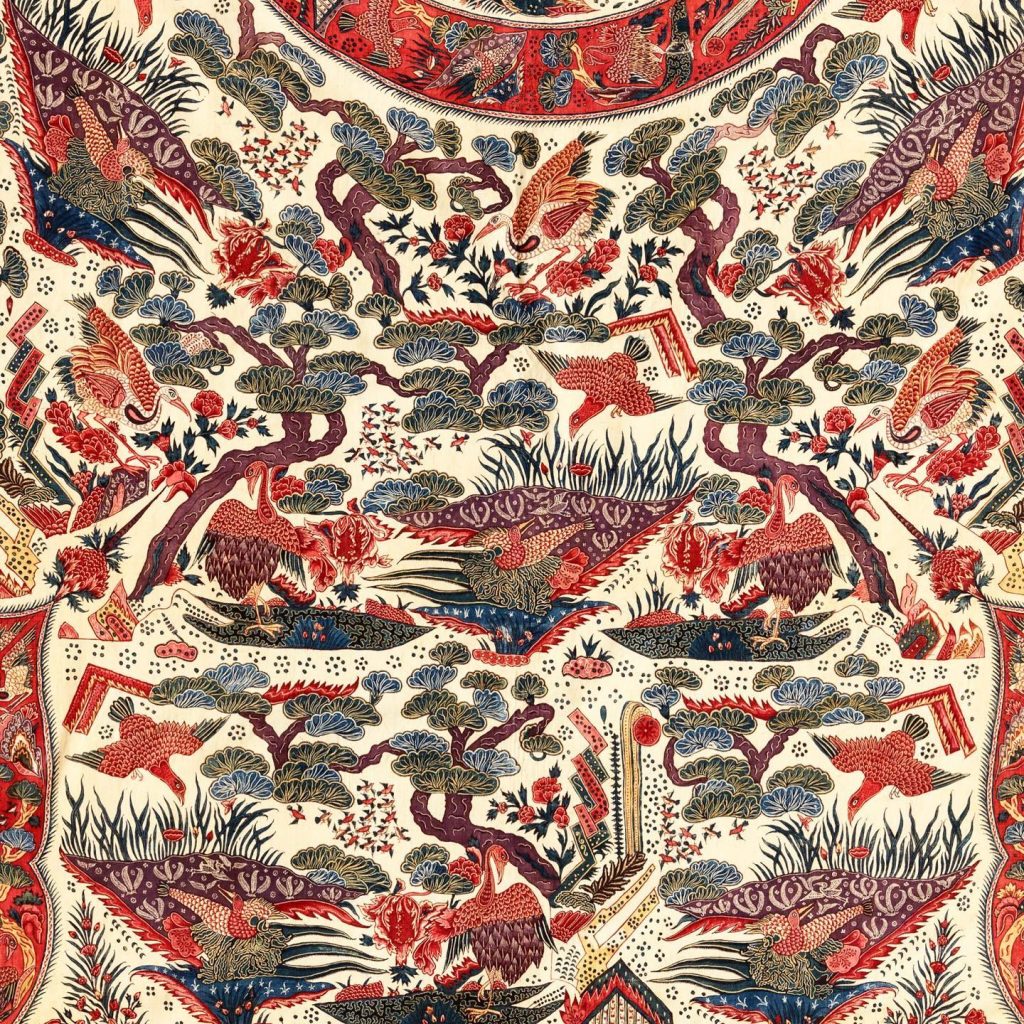 The exhibition also spotlights the consequences of global consumer desire for Chintz while showcasing how painted and printed cotton cloth from India connected cultures. On display are 80 objects from 4 continents. Closer observation will reveal similar motifs found on textiles from opposite ends of the Indian Ocean – a testimony to India's artisanal and aesthetic influence. Used in palace decorations (furnishings), ceremonial offerings, and as fashion items for the elite, the versatility of the fabric is unmissable.
How Chintz transformed Industry
The East India Company, which was responsible for about half of the world's trade in basic commodities including silk, spices, tea, and opium, found itself significantly richer because of the Indian (cotton) chintz. Even as the chintz craze engulfed royals and masses alike, not everyone was happy about it. Daniel Defoe once lamented in his weekly, 'The Review', that the English had taken to dressing in Indian carpets. In his words, Chintz from India
Chintz posed a severe threat to the local industry (especially wool) in Europe, and England. Protests by trade unions were not uncommon and often resulted in increased import duties on the Indian cotton. By 1686, France imposed a ban on the import and production of the textile. Spain, Prussia and Britain followed suit; the latter enforcing a complete ban in 1721. The Dutch though, continued to find ways of meeting Europe's demands for chintz.
The traditional process of making chintz – mordant and resist-dyeing, involves hand-drawing with a bamboo pen (kalam) or printing with blocks; the complex and laborious (23-step) process was impossible to replicate.
As a way around the ban on painted and printed textiles from India, European merchants started to import "unfinished" cloth (that would then be printed in Britain). As a consequence, new printing technologies (copperplate printing, engraved rollers) and innovations in synthetic dye-making emerged rather rapidly. Printing and dyeing on cloth therefore became one of the most important areas of 18th-century invention in Europe. Even as European manufacturers struggled to compete with natural dyes from India, their imitation-goods filled the market, becoming a product for the masses.
The 1750s witnessed a rise of industrial scale cotton textile manufacturing. Cotton, which formed 16% of Britain's exports in the 1700s, rose to 42% in the 1800s. These industrial innovations, had a bearing on Europe's social and cultural life but also changed how the world would consume resources; the effect on India's handmade industry was devastating. Britain's imperial ambitions had far-reaching consequences. With scale of production, textiles became cheaply available – this shift from artisanal to industrial production would continue to impact textile workers in the 21st century. Today, textile workers in the Indian subcontinent continue to work extraordinarily hard for low prices, fuelling dialogue on fast fashion and consumerism.
How Chintz transformed economies
India had already been trading it's cotton textiles in Africa [the exhibition showcases fragments found in Egypt dating to the 14th century] long before the East India Company set their eyes on the growing African market in the late 17th century. In the 18th century, European capitalism fuelled the rise of a slavery-based plantation economy from West Indies to North America. Indian textiles served as currency (indigo was termed 'blue gold') to buy slaves from African regions, transported on British and French ships to colonies in America where cotton production slowly overtook that of India. A sack displayed at the exhibition informs the viewer how cotton-pickers were expected to fill 45 kilos, twice a day. For over a century, cotton remained a leading export item for America and nearly 1/5th of Britain's population came to be directly or indirectly involved with cotton textiles.
Soon, the global center of cotton manufacturing had shifted from India to Europe. This disastrous role reversal saw India, once the leader in manufactured goods become a supplier of raw materials. Britain's industrially produced fabrics flooded markets in Asia & Europe, driving away the demand for Indian-handmade. Beverly Lemire, in 'East India Textiles and the Flowering of European Popular Fashions, 1660-1800', traces the increase of cotton garment-stock from 3% in 1667-71 at a London shop to 18-22% in 1770's at a York shop. Eventually, technology would travel to India, leading to the rise of textile mills, a call for Swadeshi & would transform the Indian economy – but that is a story for another time.
The impact of Indian Chintz on art and aesthetics
The exhibition also highlights a key difference in Chintz meant for the Asian market and that for the European market – can you tell what it could be?
Even though Chintz was the dominant trade item, Indian aesthetics were perceived "unsuitable" for the European market. And so, Indian artisans adapted to European aesthetics – the items meant for the European market mostly had a white background; while it adhered to the traditional Indian colours, the designs of the flowers and birds took combined elements from English embroidery, with Islamic floral designs and those from Chinese ceramics.
As the trend of using chintz for garments caught on, other changes emerged : the floral patterns became smaller, more delicate.
The exhibition also traces the growth of Chintz in contemporary 20th and 21st century fashion, highlighting the case of 'SarahClothes'. Sarah Pouliot, a Canadian who travelled to India in 1975, discovered chintz and built a successful textile business around it! Such collaborations helped Indian artisans regain markets and reconnect with western audiences.
In the 1980s, the popularity of chintz took it to Ronald Reagan's study and other rooms of the White House; Lady Diana's wardrobe and Tom Cruise's living room in Risky Business! It came as little surprise that the 90s saw a chintz-exhaustion.
Asked about the relevance of the exhibition at this point, Sarah Fee, curator of the exhibition says, "There's this global revival and interest in natural dyes because of the sustainable issues now…."
Just like the steadfast colours of the cotton fabric, the fascination for Indian chintz remains unwavering.
---
THE CLOTH THAT CHANGED THE WORLD: India's Painted and Printed Cottons is showing at Royal Ontario Museum, Toronto till September 6, 2021. Check their website for more details to plan your visit.
---
Deeper thinking & Classroom Connections
Discuss: [History] Have your class watch the movie 'Twelve Years a Slave'. This is an excellent resource to delve deeper and draw connections with modern movements today.
[Science / Botany] Reference this interview with Deborah Metsger, the Science Curator at ROM Toronto or listen to the descriptive audio tour to discover the links between nature, art, culture and an era of European botanical explorations.
Read and Write : Read a Victorian account of life in Industrial Britain and compare it to that of an artisan in India. You could give your students writing prompts and assignments which use the above references.
Entrepreneurship : have students understand the meaning of social / sustainable / ethical businesses and think of a way to promote Chintz today. Is it possible to remain profitable through these means and scale their venture? Allow for a classroom debate or presentations.
Create : consider a block-printing or Kalamkari workshop in school for students; using traditional material, encourage them to respond to what they perceive as "global trends" today.
---