Some stories get handed over as batons from one generation to the next. But only rarely do we find stories which seem to belong to the wrong generation! Maulana Daud's folk romance Laur Chanda was written in the 14th century but has all the trappings of a 21st century love story. That got us thinking, what would the story look like if it happened today? If you are as intrigued as we were, read on.
---
Once upon a time, Bajir the travel-blogger happened to visit Govar where he photographed a local beauty, Chanda. He was so smitten that he wrote a song about her. Look for him on Soundcloud and you might just find him!
Enter Rupachand, part-time King and full-time Creep. He heard the song and saw the picture, and at once decided to send rishta (proposal) the good ol' fashioned way.
Chanda was not interested, and her dad, Sahadev, wasn't particularly excited about the prospect either. Rupachand was an old rival and had a stronger army. So to end matters amicably,  Sahadev reported abuse. Rupachand however was adamant (and lovestruck). That's when he took an extreme step…
Sahadev requisitioned the help of local warrior, Laur to help him fight Rupachand. Laur's wife, Maina, wasn't too keen about it but then Laur wasn't the kind to go back on his word. He began training and preparing for War.
As so it happened, Rupachand was defeated. During the victory procession home, Chanda spotted Laur and it was love at first sight.
Chanda confided in her best friend, Brihaspat who had a brilliant idea for Laur and Chanda to meet. As per plan, Chanda convinced her dad to throw a victory party where Laur was to be invited as the guest of honour!
At the party, Laur and Chanda hit it off instantly. Flirting ensued, and we know because…Snapchat! Check out their snap stories :
The party ended and and left the young couple miss each other terribly and yearning to meet. But the question was how?!
Brihaspat arranged for them to meet (yet again!) but little did she know how much Laur loved Snapchat filters.
Chanda failed to spot him (for obvious reasons) and went back home quite disappointed.
Ultimately Brihaspat decided to trust only Google Maps, and sent the StreetView version of Chanda's bedroom to Laur. Now he could practice walking into the palace and find his way to his beloved's room with much ease!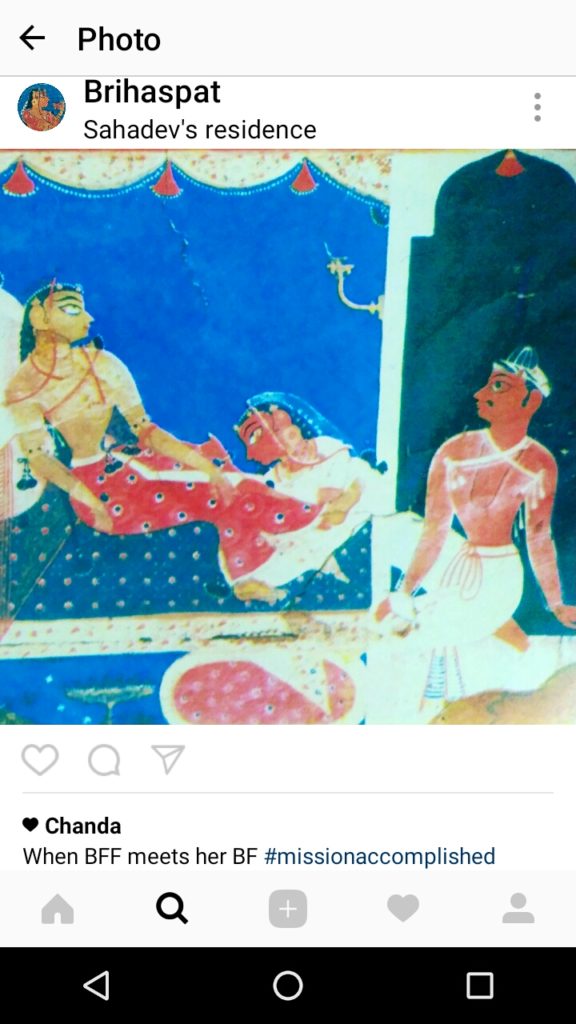 But word spread fast, and news of Laur's infidelity reached Maina.
……who obviously decided to use Twitter to vent.
Laur, not knowing what move to make, thought it best to ask his Mother, Kholin for help. With her assistance, all three parties came to a truce.
They all decided to live together, but Chanda was not satisfied with the arrangement. She tells Laur that if he wanted to be with her, they had to elope.
And So they did – after blocking Maina and Kholin…
Their journey was filled with adventure.
Like the time when a snake bit Chanda and Laur asked for recommendations for a hakim on Facebook but none seemed to be very satisfying.
And another time when they ran into a pervert Sadhu.
And yet again when Mahipat the gambler won away all of Laur's possessions only to play the last round with Chanda who distracted him with her 'husn' (charms) and won it all back.
Meanwhile, Maina trying to nurse a broken heart asked Caravan Rider Sirjan to deliver her message to Laur.
Which he does.
(That was easy now, don't you think?)
Laur and Chanda, exhausted of their adventurous honeymoon decided to return.
And somehow, Laur, Chanda and Maina lived happily ever after.
---
If you laughed a little, share this 14th century remixed story ahead and encourage us!
This post is part of our #StoriesMW programming for #MuseumWeek