Jamini Roy, Tagore and a sholapith – terracotta Durga are essential to every Bengali household and my grandparents' home wasn't any different. Of all the three, I found Jamini Roy's art to be most child-friendly and fun. Yesterday was this iconic artist's 130th birthday, and the Google-Doodle brought back many childhood memories – which is why, I created this post with a Jamini Roy Activity Sheet for children (and adults!)
Before we begin to appreciate the art of Jamini roy, we must understand the time and circumstances during which he worked.
Jamini Roy was born in the village of Beliatore, in Bankura district of West Bengal. This village is also famous for sweets! He grew up watching artisans work and it is perhaps this that kindled his interest in the arts.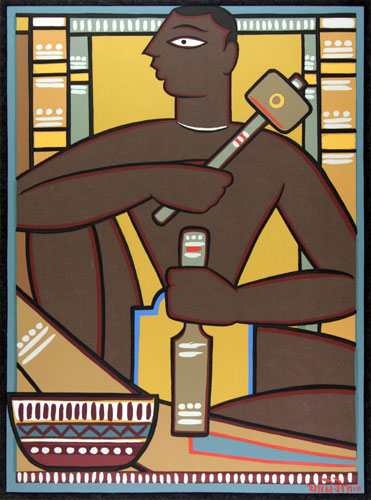 One of the most famous students of Abanindranath Tagore, he studied the British academic style of painting and became well-known for his portraits. But he wasn't satisfied with his output. At the age of 34, he decided to chart a new course for himself, and that is when he rediscovered the art of Bengal Patuas. The two images below are : a) left – Kalighat Painting of a Cat with Prawn and b) right – Jamini Roy's Cat with Prawn.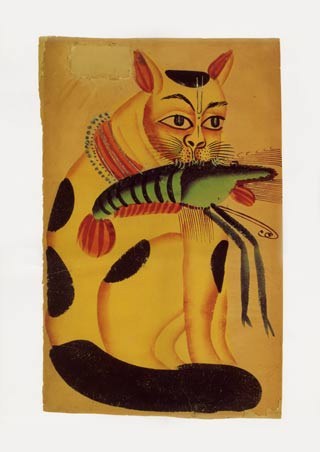 He sought inspiration from East Asian calligraphy, terracotta temple friezes and craft traditions. He portrayed rural scenes, ordinary people, animals and cults of the time and place.  Look at this terracota horse sculpture from Bankura and compare it to Jamini's horse painting. Isn't it a lovely adaptation? What similarities do you see in pattern, shape and design?
He was also inspired by the traditional Alpana patterns and motifs (recurring almost in each of his paintings) , and designs from traditional kantha quilts!
Themes in Jamini Roy Paintings:
Jamini Roy borrowed his subjects from his environment, especially focusing on the village people – the Baul musicians, the Santhal tribals, etc. He painted different stories, myths and heroes too!
His favourite seems to be the Santhals. They're my favourite too. Here's a piece from a traditional artist (Moyna Chitrakar) from the village and its been in her family for 80 years or so.
The Santhal work extended into Christian themes in Jamini Roy's work too. Here's a glimpse:
Inside Jamini Roy's Studio:
His move from oil colours to earthy ones was marked by a change in materials too ! For his canvas, he used clay or lime-coated cloth / paper or wooden boards. He experimented with egg-tempera as a binding medium; though mostly used tamarind seed glue.
Colour palette: Indian red, Yellow Ochre, Cadmium Green, Vermillion, Grey, Blue
These were prepared from locally available material such as chalk, limestone, lamp-soot, kak-khori, hingul, and harital.
Jamini Roy: Activity Sheet for Children (and adults)!
This activity sheet includes 3 DIY paintings (Horse, Cow and Bird), and activities on Patterns & Shapes and Jamini Roy Faces. It's a free download, though I would really love it if you left me a comment / feedback on it!  

Jamini Roy died in 1972, but his art continues to live in almost every Bengali home besides museums such as NGMA, Indian Museum (Kolkata), Govt. Museum & Art Gallery (Chandigarh), Harn Museum of Art, British Museum, Kerala Museum, etc.
Awards & Recognition:

He was awarded the Padma Bhushan, the third-highest honour for civilians in India, in 1955.

In 1976, the Archaeological Society of India declared him one of "Nine Masters" to be treated as a National Treasure Artist.
#FunFact: As an artist, he wanted his art to be accessible to everyone and so he created numerous prints for buyers, sometimes selling for as low as 350/- INR.
PS: You can also make this post accessible to others by hitting the share button!
Share your reaction!