For centuries, poets, painters, dancers and other artists have sought inspiration from the love story of Radha and Krishna. Their intimacy, the agony and ecstasy of separation and union – symbolise the eternal love between the devotee and the divine. The theme, rich in emotion, has been reinterpreted and retold countlessly after the success of poet Jayadev's influential 12th century work, Gita Govinda. 200 years later, the poet Vidyapati composed a hundred love songs but with Radha as the protagonist. The literary masterpiece, composed in the 14th century thus stands out for its sensual & tender celebration of the many moods of Radha's love as she negotiates her relationship with Krishna.
Who was Vidyapati?
Vidyapati (1352 – 1448) was born in the village of Bisapi in Madhubani, on the eastern side of north Bihar, India. He was fondly known as 'Maithili Kokil' (Poet Cuckoo of Maithili), and wrote in Prakrit, Sanskrit as well as Maithili. Vidyapati belonged to a family of scholars and was patronized by the Maithil King Kirti Sinha, and later Deva Sinha. Owing to their patronage, his career flourished; though his writings were mainly in Sanskrit, his popularity soared because of his works in the vernacular (his Maithili works are known as 'Padavali poems'). His works had a considerable influence on other regional literary traditions (Bengali and Assamese, for example) & even Rabindranath Tagore is said to have been inspired by Vidyapati!
Amidst his most popular works is the historical romance, Kirti-patika; a drama Gorakshavijaya (in Maithili) and Purusha-Pariksha, a collection of short stories. However, it is Vidyapati's ballads and songs in the vernacular language that are considered his specialty. Unrivalled in their expression, use of metaphors, and imagination, some of his ballads are sung to this day!
Bangiya Padavali: Love Songs of Vidyapati
In his love songs, Vidyapati follows in the tradition of Sanskrit poetry – where a beautiful woman is doe-eyed, her limbs, soft and smooth as a lotus, and her hair – black as the night, long as the tendrils of a vine. Seasons are related to different stages of love owing to the ambience / mood they create.
Deben Bhattacharya, in translating the Love Songs of Vidyapati, admits that much of the essence of these poems is lost in English. These poems cover all stages of love – from the first meetings to counsels given by girlfriends; from quarrels to physical delight! If you have ever been in love, you are sure to identify with the timeless poetry of Vidyapati.
Here are some of our favourite songs that capture key moments in the love relationship of Radha and Krishna.
Tangled Tresses
Each day the breasts of Radha swelled.
Her lips grew shapely, her waist more slender.
Love's secrets stole upon her eyes.
Startled, her childhood sought escape.
Her plum-like breasts grew large,
Harder and crisper, aching for love.
Krishna soon saw her as she bathed,
Her flimsy dress still clinging to her breasts,
Her tangled tresses falling on her heart'
A golden image swathed in yak's tail plumes.

Says Vidyapati: O wonder of women,
Only a handsome can long for her.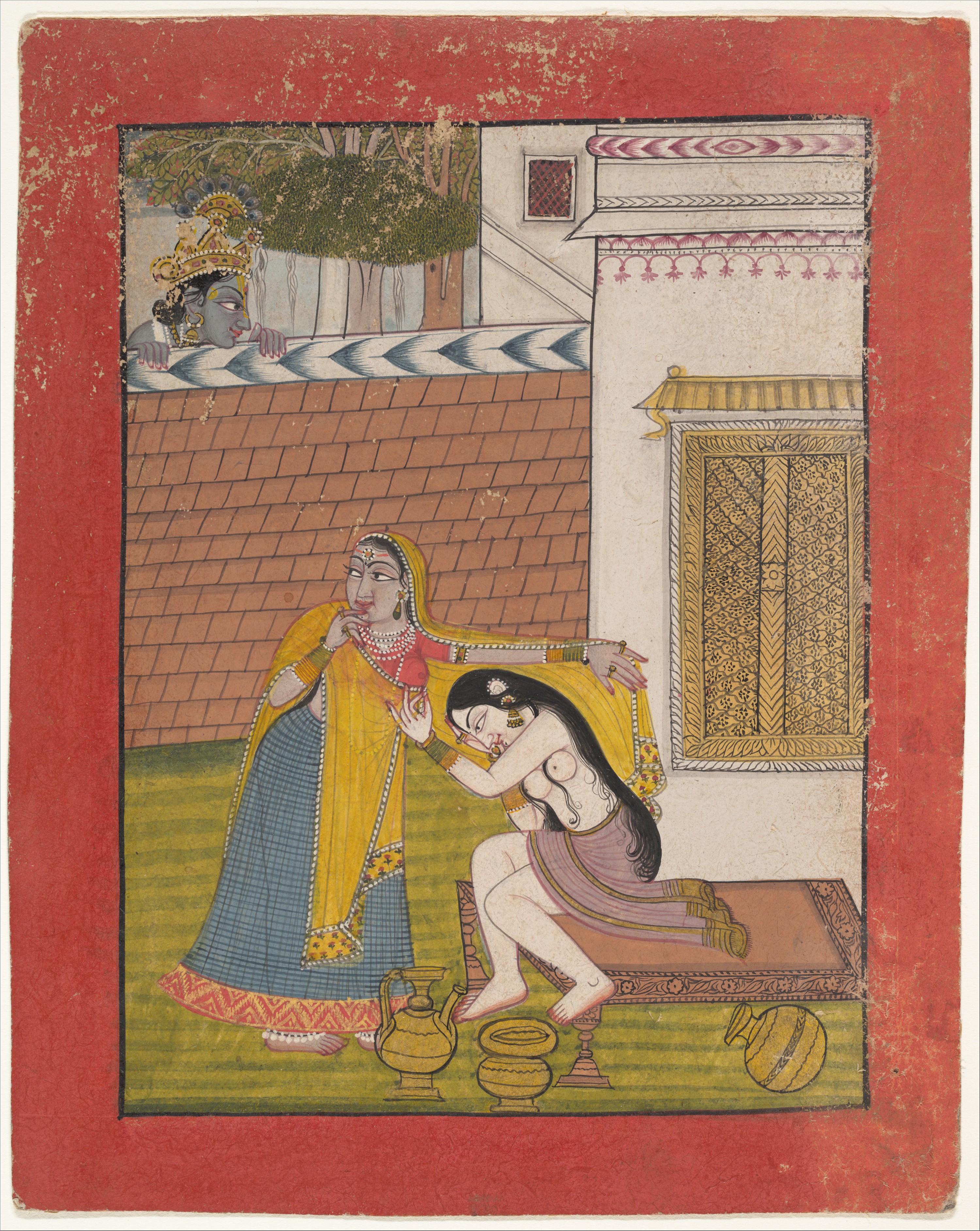 River and Sky
Oh friend, I cannot tell you
Whether he was near or far, real or a dream.
Like a vine of lightning,
As I chained the dark one,
I felt a river flooding in my heart
Like a shining moon,
I devoured that liquid face.
I felt stars shooting around me.
The sky fell with my dress,
leaving my ravished breasts.
I was rocking like the earth.
In my storming breath
I could hear my ankle-bells,
sounding like bees.
Drowned in the last waters of dissolution,
I knew that this was not the end.

Says Vidyapati:
How can I possibly believe such nonsense?


New to Love
 New to love, 
 I shrank from loving, 
 Let the night grew
 And all was done. 
 I did not relish
 Sweets of dalliance
 My shyness warned against my will 
 He seized my garland, 
 Held my hair, And pressed his heart 
 Against my smothered breasts
 But, in my clumsy innocence
 Alone, with one to aid, 
 I could not please. 
 He wanted everything
 In one great rapture
 And to my painful shame
 I gave so little.
 The spell of passion went. 
 I said
 Nothing.  


Lost Love
 When growing love has gone, 
 The cheeks are smudged 
 With lamp-black from the eyes. 
 My body slumps in languor
 And love tastes bitter as a gourd. 
 If you ask me, friend, 
 Chance is love's nature,
 Fickleness my lover's
 But that others should know
 Pricks me like a thorn.  
 
 The bird of spring, 
 The black kokila, 
 Fans the fire of parting
 And Krishna provokes it 
 Sprinkling water.  
Tomorrow
He left me saying he would be back tomorrow.
I've covered the floor of my home
Writing: Tomorrow.
When dawn came, they all enquired:
Tell us, friend,
When will tomorrow come?
Tomorrow. Tomorrow, I gave up my hopes,
My beloved never returned.

Says Vidyapati, listen, beautiful one,
Other women held him back.
Returning Lover
O friend, there is no end to my joy!
Madhava is home for ever.
The pain I suffered for the heartless moon
Ended in bliss.
My eyes live on his face.

Lift up my dress, fill it with gold,
Yet never will I let him go again.
He is my shelter in the rains,
Ferry boat on the river.
He is my warmth when the winter is hard,
Cool breeze in the summer months.
Nothing else I need.
---
Image Sources

Krishna Spying on Radha | ca. 1780–90 | India (Punjab Hills, Mandi) | Medium: Ink and opaque watercolor on paper
The Met Museum | Image license : CC0

Krishna Kisses Radha | Page from the Boston Rasikapriya (Lover's Breviary) | ca. 1610 | India (Rajasthan) |
The Met Museum | Image license: CC0

Krishna and Radha make love | Page from a Gita Govinda Series | ca. 1780 | India (Punjab Hills, Kangra region)
Virginia Museum of Fine Arts | Image License : CC-by-NC

The Sorrow of Radha | folio from the Tehri Garhwal series of the Gita Govinda | ca. 1775–80
The Met Museum | Image license: In Copyright

The Sakhi describes Krishna's lovelorn State to a hesitant Radha | Page from the 'Tehri-Garhwal' Gitagovinda Series | ca. 1775-80 | India (Guler or Kangra) | Francesca Galloway | Image License : not specified.

Story of Radha and Krishna | ca. 1800 | India | Detroit Institute of Arts | Image License : not specified

Featured Image : Radha Pining for Krishna from a Gita Govinda manuscript | ca. 1775-1780 | India (Kangra) | Medium Opaque paints on paper | Freer Gallery of Art | Image license : Usage Terms apply.
---
Enjoyed reading? Consider subscribing to our Newsletter or Telegram Channel (it takes less than a minute!)