The world of South Asian painting has increasingly entered the mind of the general viewer through a considerable uptick in Instagram accounts sharing works of art from every imaginable region and period, especially the early modern world. The quality of these pages is hardly uniform, however, this first moment of encounter brings with it emotions of awe, wonder and astonishment at discovering such a rich visual past. If one pays attention over time (and provided images have been captioned properly), several names of artists emerge. Their names appear like a faint murmur beneath a river's surface — and one such name is Mihr Chand's, the great eighteenth-century master from Awadh.
Studies of Indian art have traditionally not placed the individual artist and their life in the limelight, preferring to bind them to courts or ateliers instead. The vaunted art historian, B. N. Goswamy charted a different path from his predecessors with his gaze. He chose to study the much-celebrated eighteenth-century Pahari artist Nainsukh of Guler, son of Pandit Seu, in a manner that looked at the painter's life through his oeuvre. At the very beginning of his book on Nainsukh, Goswamy states the following:
"To trace the life and career of a painter in India is somewhat akin to following the course
of an earthen lamp on swift waters. The glow is bright and warm, and one can keep it
within sight for a while, but things quickly turn and uncharted vastness takes over."
This, sadly, seems to be the norm for most historical masters of the South Asian pantheon of artists. Thankfully, however, in recent years more masters like Nainsukh have been studied, such as Mihr Chand of Awadh.
---
The life and times of a great Awadhi master
The lives of master painters in early modern India were characterised by considerable migrations and movements in search of patronage. Mihr Chand's case is not very different in this regard — and we can hope to uncover some hints of this beneath the fine brushstrokes and sheets of wasli paper he left behind. According to Malini Roy (Head of Visual Arts, British Library, London) Mihr Chand's father, Ganga Ram, was possibly a painter from late Mughal Delhi. The former imperial capital had hosted a very active court atelier during the reign of Muhammad Shah (commonly known by his epithet, 'Rangila'), which included several artists that fanned out throughout Hindustan after the ruler's demise.
Bhawani Das and Nihal Chand were instrumental in the forging of the Kishangarh tradition of painting, while Mir Kalan Khan, Hunhar and Nidha Mal performed a similar role for Awadhi painting's genesis. It can be ascertained that Mihr Chand most likely trained under his father, and eventually ended up in Allahabad by 1759 — a period when the Mughal prince, Ali Gauhar, who had been crowned emperor under the title of Shah Alam II, resided in the city.
Severe military setbacks for both the emperor and his vassal, Shuja-ud-Daula of Awadh at the hands of the British East India Company perhaps created conditions of financial strife at the Allahabad court. Therefore, Mihr Chand chose to migrate to Shuja-ud-Daula's capital at Faizabad, which was quickly emerging as a centre of culture, in hopes of finding better patronage.
Mihr Chand and Antoine Polier
A Swiss adventurer, engineer and architect, Antoine Polier made his career in the English East India Company, and served as the chief engineer at the court of Shuja-ud-Daula in Faizabad.
Greatly interested in portraits of rulers, courtesans, architectural monuments, as well as Hindu mythology, Polier rapidly fashioned an atelier for himself while living in Faizabad. Mihr Chand became the head of this personal atelier, and executed several interesting works while in the employ of Polier.
---
'Colonel Polier watching a nautch' attributed to Mihr Chand. (Faizabad, ca. 1774)
Collection of Prince and Princess Sadruddin Aga Khan.
---
In this portrait, we see a variation upon the popular theme of the 'balcony scene' found throughout eighteenth century painting in South Asia. As art historian Kavita Singh has done elsewhere, let us read this painting from right to left, much like the Perso-Arabic script used to inscribe many of Mihr Chand's works.
The first thing we see is a pool of shadow at the base of a group of musicians, who are each similarly clad in a white floor-length jama (a long tunic-like dress favoured in South Asian costume from at least the sixteenth century).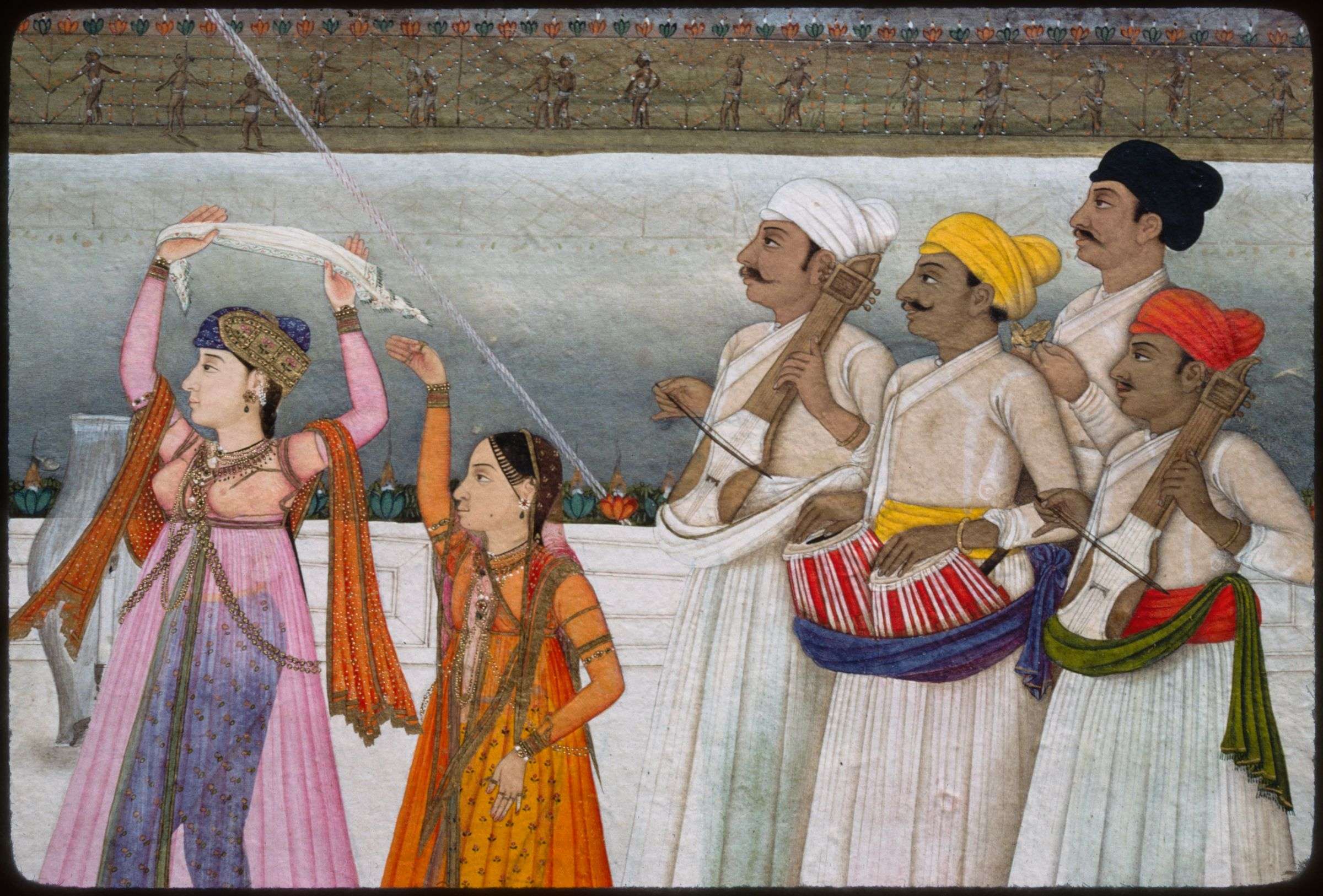 Two of the figures play sarangis, while one juggles a set of tablas, acting as a musical accompaniment to the performance we see next.
The two figures in the centre of the painting appear to be dancing, each clad in a rich pink and red peshwaz (another type of garment from the period).
If the painting is looked at slowly, the viewer can almost hear the music from this evening soiree. In the background, a large river flows, quite possibly the Sarayu which flows near Faizabad.
We see a dazzling ensemble of snakelike gold tendrils — the telltale signs of fireworks celebrating an important occasion. This is further enhanced by a series of lamps lit on the parapet of the balcony.
Polier himself appears on the left of this composition, seated on a yellow chintz sofa placed beneath a red awning. He is framed by two attendants in the back, and four candles in front of him, each emanating a soft light that creates the shadows we noticed earlier.
Curiously, while clad in courtly attire and participating in courtly pleasures such as smoking a hookah, Polier is wearing a pair of white socks underneath his Awadhi clothing.
While Polier most likely supervised the artistic output of his own atelier, it is curious to consider Mihr Chand's own interventions as an artist here.
To a viewer familiar to such balcony scenes, the appearance of the bright yellow sofa instead of a gaddi would immediately appear incongruous, much like the white socks.
In a manner, Mihr Chand's gaze guides us to view Polier as a European conscious of not wading too far into 'native' traditions and ways of life.
This is only highlighted by the contrast between the brightly clad dancers on one hand, and the European sofa on the other. All the other figures, it should be noted, only wear simple white gear.
Portraits of the Nawab-Wazir of Awadh, Shuja-ud-Daula by Mihr Chand
Several portraits by the hand of Mihr Chand depicting the grandees of eighteenth century Hindustan also exist. One such example is this portrait of Shuja-ud-Daula from the Ashmolean Museum in Oxford, most likely commissioned by Polier for his growing collection.
---
Nawab Shuja' ud-Daula of Awadh
© Ashmolean Museum
---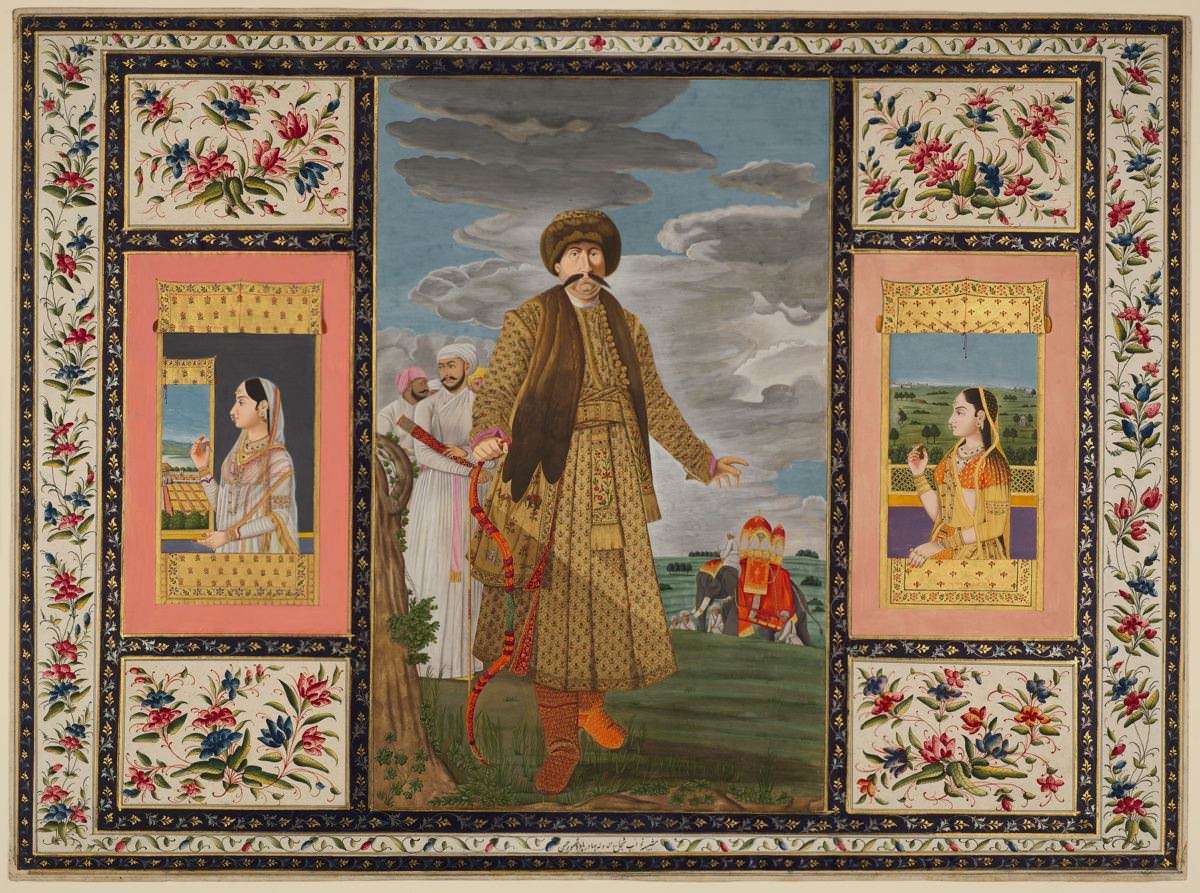 Malini Roy has noted that Mihr Chand's inspiration by the European painter Tilly Kettle was key in developing a standard iconography for depicting Shuja-ud-Daula. The ruler would possibly not have been accessible to painters, especially those working for non-royal ateliers, in order to sit for portraits frequently.
The painting from the Ashmoleon Museum is inscribed in fine letters within a golden frame, stating amal-i Mihr Chand pesar-i Ganga Ram — by the hand of Mihr Chand, son of Ganga Ram. The larger folio also has another inscription: Nawab Shuja-ud-Daula Bahadur, identifying the subject of the portrait.
The Nawab-Wazir is not looking directly at the viewer, but rather in a three-quarter profile that allows Mihr Chand to depict his facial structure with shadows, highlighting his double chin, his relatively high cheekbones, and hooded eyes.
Shuja-ud-Daula is also shown wearing his characteristic fur-lined coat, and the front-tying turban ornament popular in his reign, seen in the earlier portrait of Polier too. Two areas, however, shine through, highlighting Mihr Chand's evolving style beyond earlier imperial Mughal precedents.
The close bust portrait is augmented with fine creases on Shuja-ud-Daula's cotton jama — a character of the fabric that viewers will relate to even today. Its translucent nature is also captured, with hints of peach alluding to the Nawab's skin.
The other most remarkable feature, in addition, is the background — swirling, full-bodied clouds that add an almost-three-dimension nature to the portrait.
Most likely housed in an album originally, the portrait could have been positioned across a folio of calligraphy, or another painting. This would have added a purpose to positioning Shuja-ud-Daula's gaze in this direction.
An imagined Courtesan
Another portrait by Mihr Chand is extremely telling of his skill as a painter.
---
A courtesan, Mir Chand c. 1765–70
British Library, Public Domain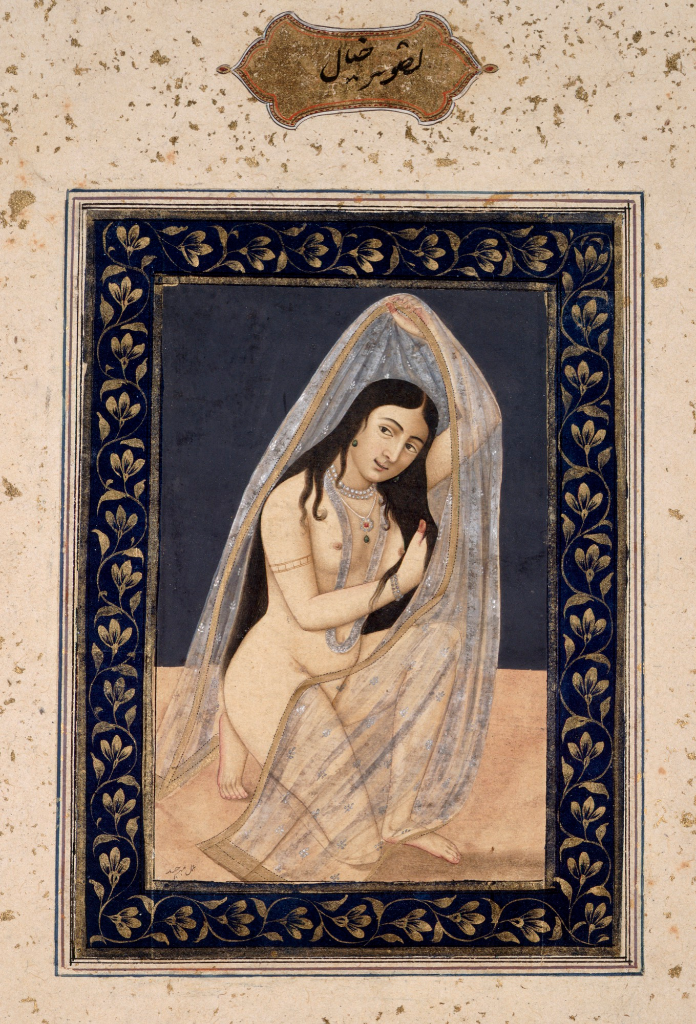 ---
Labelled simply with an inscription stating tasvir-i khiyal (a dream portrait), we see our artist paint a very sensitive and elegant portrait of an imagined courtesan.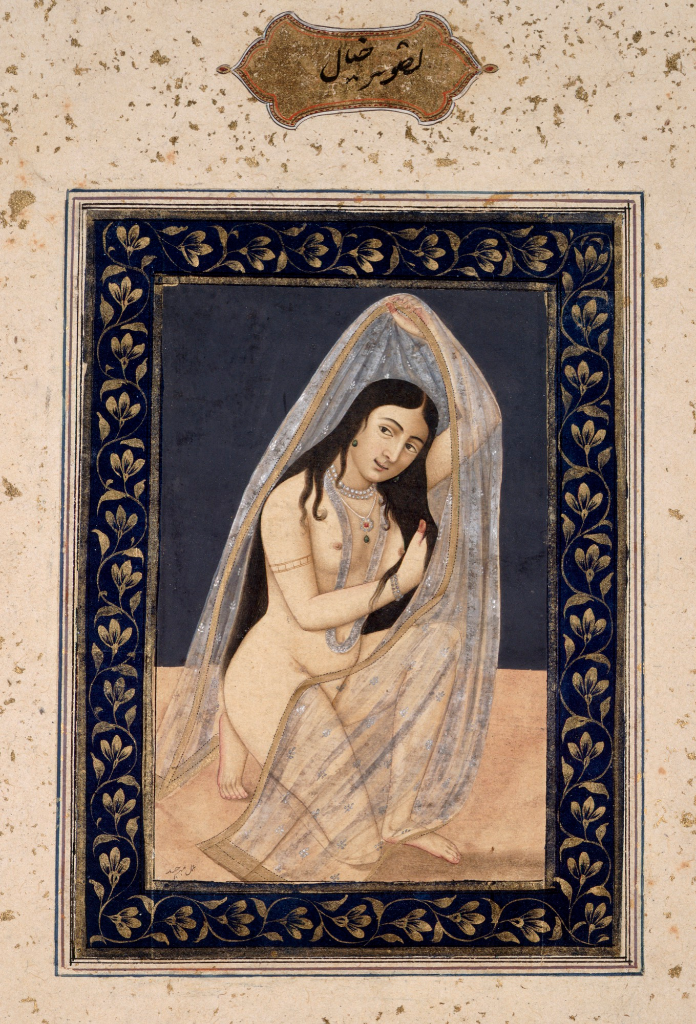 She appears to have freshly bathed in this imaginary scene, her long tresses hanging heavy as if laden with water.
According to Dr. Katherine Butler Schofield, this might have been modelled on a European nude — a likely possibility considering Mihr Chand's access to the works of famous European artists along the likes of Tilly Kettle.
Framed within a navy blue border with golden vines, the portrait is situated at the centre of a sheet of gold-speckled paper. The imaginary courtesan poses against a dark background, almost highlighting the dreamlike mood of the portrait.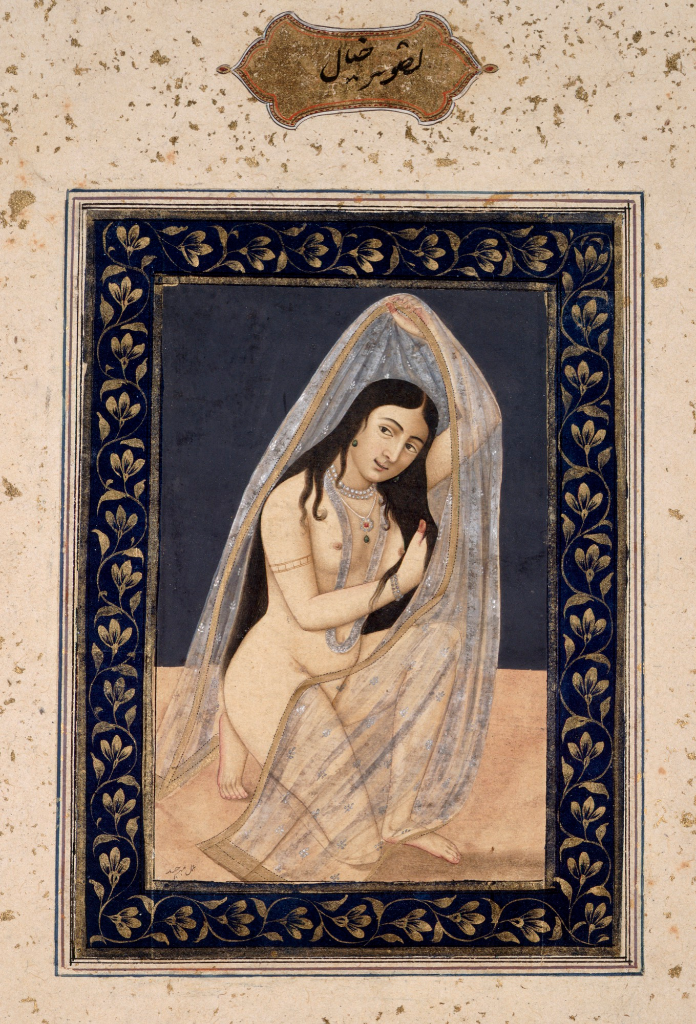 She isn't too heavily ornamented (compared to some other figures in contemporary portraits) boasting some necklaces of pearls and silver that stretch to her waist.
The real magic of Mihr Chand's brush, however, is his treatment of her gossamer thin odhni (scarf) that is painted with translucent pigment with many creases hinting at the texture of the fabric.
Right at the end of the odhni's golden border, we see a tiny nondescript inscription identifying our artist once again. Amal-i Mihr Chand(the work of Mihr Chand).
The main figure is facing a corner of the portrait, presumably towards an imagined light source. Once again, Mihr Chand finds an opportunity to show his skill in working with shadows — pooling at her knee, as well as near her curled toes.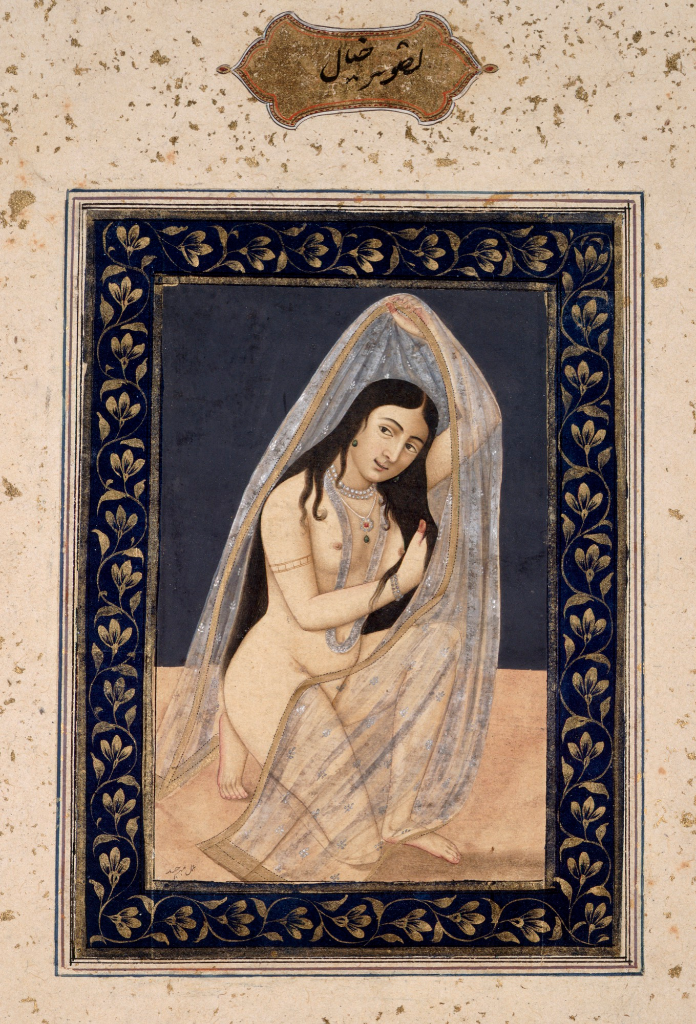 A sense of space in Mihr Chand's paintings
Besides the single and group portraits examined earlier, an interesting set of paintings also attributed to Mihr Chand have come to light in recent years. A common thread tying them all together is the notion of a progressively expanding background, adding a sense of space not seen in imperial Mughal painting from the sixteenth century. Take a look at this painting, depicting a Holi celebration in the zenana. It is a very merry scene, with a deliberate use of a bright palette.
---
Ladies in the zenana during Holi.' Leaf from an album belonging to Antoine Polier, attributed to Mihr Chand, Awadh, ca. 1780.
Photograph and © Prahlad Bubbar, current location unknown.
---
The cartouche at the base of the painting contains an inscription identifying the scene: majlis-i haveli zenana-o chabutare marba'-o 'imaraat darmiyan-i darya (A gathering of the zenana in the haveli at a square pavilion in the middle of a stream).
This is exactly what we see — an idealized, symmetrical celebration of a festive occasion. Most of the figures are placed in this central pavilion, wearing characteristic eighteenth century peshwaz.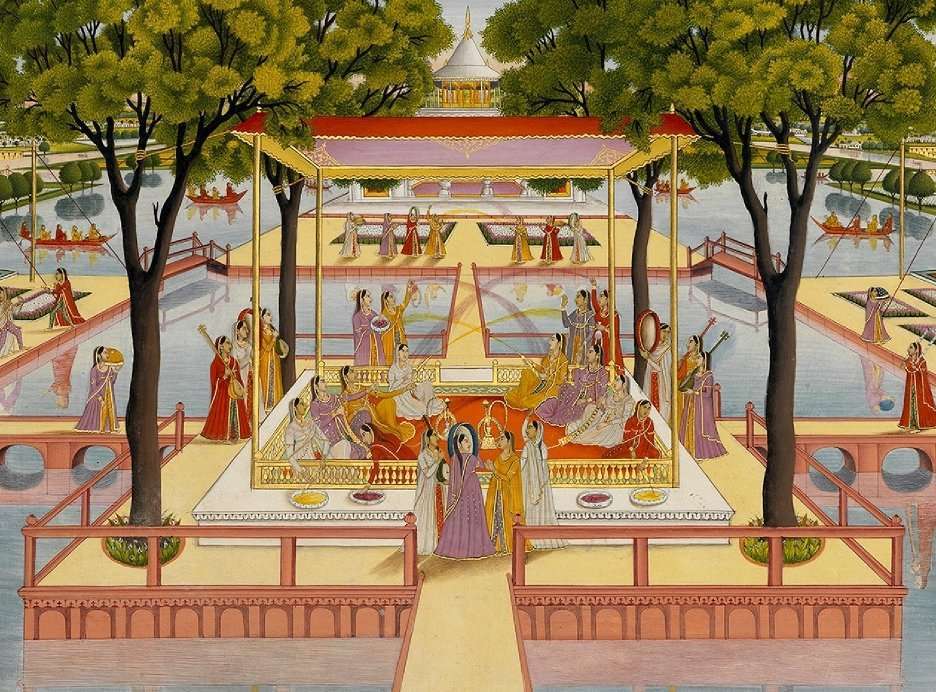 Several groups of musicians are placed throughout the painting, as well as glistening rivulets of colour being thrown by different women at each other.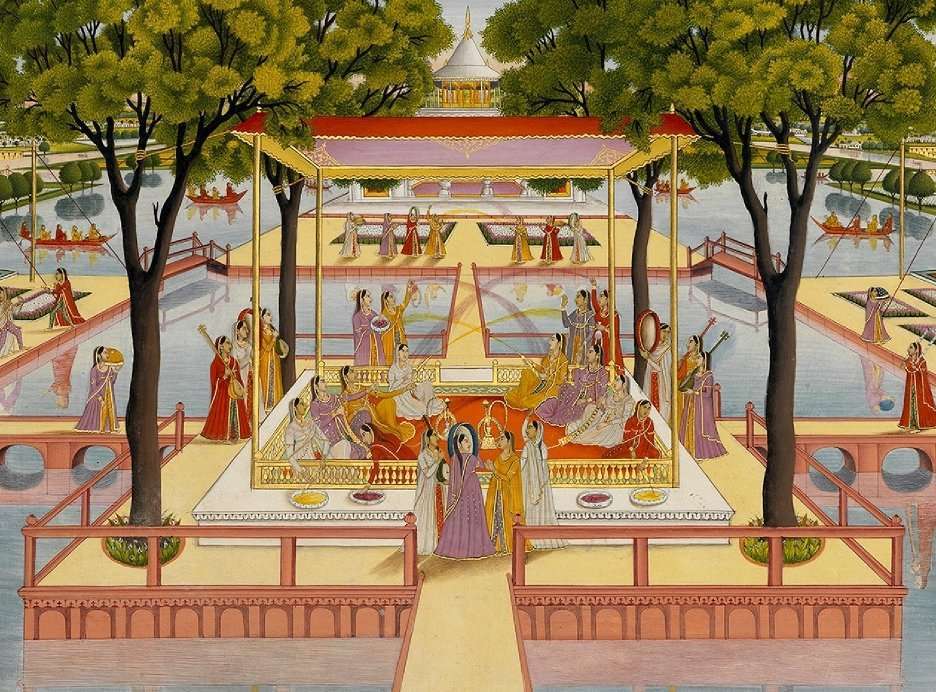 The water reflects all the figures and objects nearby — from trees and shrubs to small red boats carrying people. This was most likely an imagined portrait, much like the courtesan before, for all the women appear to be idealised figures (Mihr Chand was unlikely to be allowed into a zenana space as an outsider).
As the view recedes, we see figures get smaller, until in the far distance we see small settlements far from the palace.
Awadhi painting after Mihr Chand
Antoine Polier travelled throughout North India, moving briefly to Delhi, and was followed by Mihr Chand in 1776. With the death of Shuja-ud-Daula, his son, Asaf-ud-Daula chose to move the capital of Awadh to Lucknow. Polier, and presumably Mihr Chand, returned to Awadh to stay until 1786, when the former decided to leave Hindustan altogether. Sadly, according to Malini Roy, the paper trail for Mihr Chand's life stops here. It is possible he retired from painting entirely or found employment in another patron's atelier. Awadhi painting, with the characteristic use of shadows and receding landscapes developed by Mihr Chand, continued with considerable vigor for many decades thereafter. Even by the mid-nineteenth century, there were artists working at the court of Wajid Ali Shah, the last ruler of Awadh.
---
---
Notes

Goswamy, B.N. Nainsukh of Guler: A great Indian painter from a small hill-state. Zurich: Artibus Asiae Publishers, 1997.
Losty, Jeremiah P. 'Towards a New Naturalism: Portraiture in Murshidabad and Avadh, 1750-80.'
In After the Great Mughals: Painting in Delhi and the Regional Courts in the 18th and 19th Centuries, edited by Barbara Schmitz, 35-55. Mumbai: Marg Publications, 2002.
McInerney, Terrence. 'Mughal Painting during the Reign of Muhammad Shah.'
In After the Great Mughals: Painting in Delhi and the Regional Courts in the 18th and 19th Centuries, edited by Barbara Schmitz, 12-33. Mumbai: Marg Publications, 2002.
Roy, Malini. (2009). Idiosyncrasies in the Late Mughal Painting Tradition: The Artist Mihr Chand, Son of Ganga Ram (fl. 1759-86) (Publication No. 11010637) [Doctoral dissertation, School of Oriental and African Studies, University of London]. ProQuest Dissertations Publishing.
Roy, Malini. Origins of the Late Mughal Painting Tradition in Awadh; In India&'s Fabled City: The Art of Courtly Lucknow, edited by Stephen Markel and Tushara Bindu Gude, 164-185. Los Angeles: Los Angeles County Museum of Art, 2010.