Born into a poor barber's family in Bengal's Bankura district, Ramkinkar Baij is considered to be the "Father of Modern Indian sculpture". His tryst with art began at a young age; he would emulate the local idol maker (Ananta Sutradhar), sketching and making sculptures out of the red soil that was so abundant in Bankura. His talent caught the eye of eminent journalist and editor of 'Prabasi' and 'Modern Review', Ramananda Chattopadhyay who referred Baij to Kala Bhavan at Shantiniketan.
Tagore and Nandalal Bose were quick to recognize Baij's talent, and his natural affinity towards sculpting.
A non-conformist by nature, Baij defied all the accepted rules that governed art and instead focused on intuition as his main driving force. While his contemporaries stuck to old ideals of a rigid system, Ramkinkar burst out of this shell and innovated and experimented. Baij's experiments would go on to break new ground, paving the way for 20th century sculptors.
In 2020, we celebrate the 115th birth centenary of the legendary artist, Ramkinker Baij
Ramkinkar Baij's most well known sculptures
Ramkinkar ushered in a new wave of modernism with his distinct use of abstract in his sculptures like 'Lampstand'. 'Santhal Family' and 'Call of the Mill' are two of his most famous works. Learn more about these sculptures here!
He was also commissioned the Yaksha-Yakshi that stand outside the RBI building in New Delhi today.
Ramkinker Baij was a true artist – from paintings to portraits and sculptures, he was the master of his craft.
The same themes that so frequently occur in his sculptures are immortalised in paintings too.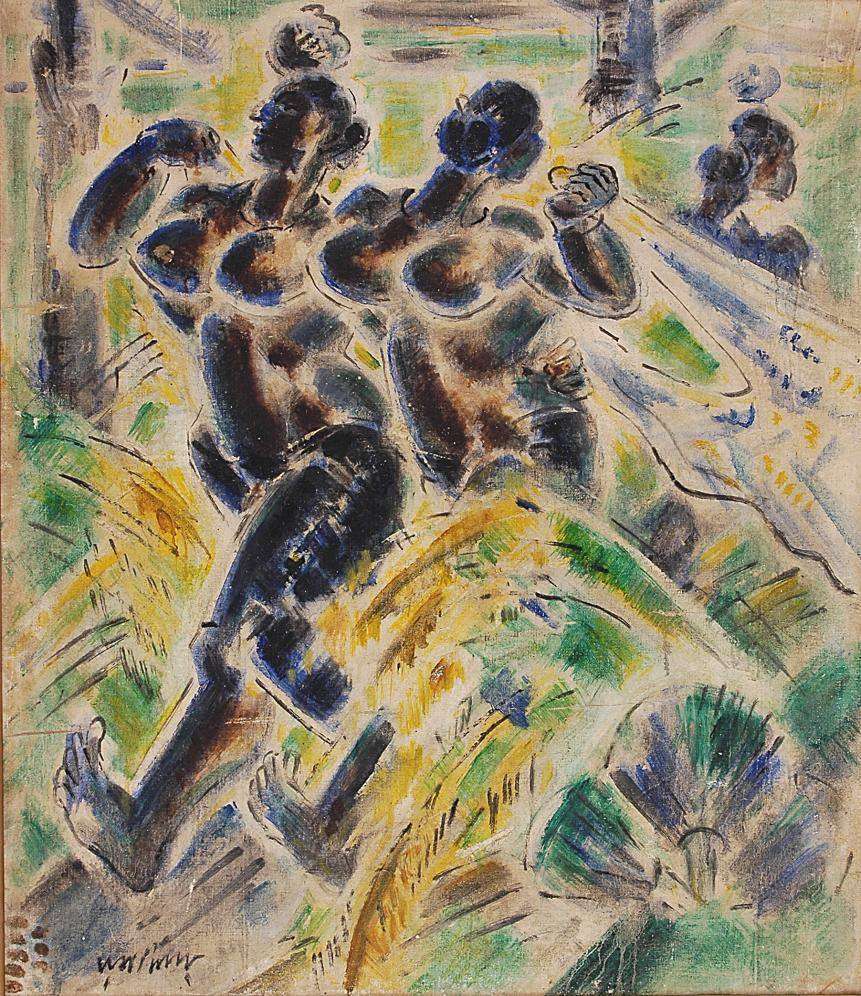 Early years and Santiniketan
Baij's early years at Shantiniketan were experimentalist. He tried various mediums: watercolour and oil paints and these too in various styles. Like other students at Shantiniketan he too tried the wash and gouache technique of the East, painting in the soft and slender style of the Bengal school.
It was at Shantiniketan that he was first exposed to the contemporary European art world. But despite this exposure to the west, Shantiniketan never imposed colonial ideals of art on its students, rather it stressed on remaining rooted to one's culture. It was this liberal education and the guidance of masters like Rabindranath Tagore and Nandalal Bose, that inspired Ramkinkar to eventually find his own seminal style.
This was later abandoned for Impressionist paintings that gave importance to depicting life as they saw it rather than making their portraits look realistic. His impressionist work was greatly influenced by Cezanne and one can even draw parallels! Compare the two paintings below:
But it was perhaps cubism that really captured Ramkinkar's imagination. From his paintings to his sculptures, the effect of cubism is evident. However, he did not simply copy. His style was not an imitation, but rather an amalgamation of everything he had learnt at Shantiniketan.
Themes in Ramkinker Baij's art
Santiniketan also influenced the key themes in his sculptures, nature and the human form. The open atmosphere here encouraged him to deepen his ties with nature. It was also that he first came into direct contact with the Santhals that have found expression in his artworks over and over again!
The allure of the Santhals
His fascination with the Santhal tribe however, had been an old one. As a boy, he would watch with fascination the Santhal labourers migrate from their villages in the hilly tracts to plain areas in the harvesting season. He was particularly taken by their movements. He wanted to imbue the same sense of dynamism in his work. The simple way of life that the Santhals led also attracted him. He felt that they lived spontaneously through their hearts. This simplistic joy echoed in all his works.
Nature
Right from their genesis to their exhibition, nature and environment are recurring themes in his art. lack of essential raw material in Birbhum Ramkinkar materials gathered from his surroundings. His love and respect for his environment inspired him to use materials such as cement, concrete, pebbles, rope etc. For the framework, he would use iron rods, and if those weren't available he would use bamboo sticks, hay or strings. The lack of high quality equipment did not affect standard of perfection. All he wanted was to give back whatever he took from the nature.
'Sujata' is a perfect example of this philosophy. The absence of a pedestal indicates Ramkinkar's desire to unite his sculpture with nature. Even the flora around the sculpture is symmetrical to it. Sujata, with its tall height blends in with the high eucalyptus trees behind it. The sculpture and its environ almost create the impression that a tree-nymph is visiting the grounds at Santiniketan! 'Sujata' was modelled upon a fellow-student and artist, Jaya Appasamy. See her sculptural portrait below.
Space was an important concept too. His open air sculptures are placed in such a manner that they can be easily walked around. The observer is compelled to orbit the sculpture and look more finely at it. He also gave attention to the use of light in his sculptures. The material he used created such an uneven texture that they both reflected light, and absorbed it too.
Ramkinker Baij & People : In Portraits
The cement bust he made of his master Rabindranath Tagore is perhaps Ramkinkar's most famous portraiture. His political portraits however, often got caught in controversies for "they did not resemble the person". The artist that he was, such claims never bothered him – for Baij, more than the facial features of the person, it was the essence that mattered.
Baij also created painted portraits. One such painting is 'Binodini', which depicts a woman identified as a student at Kala Bhavan, Santiniketan. A friendship had sprung up between the two and she became the subject of many of his portraits. What is peculiar about this painting is that instead of using a canvas, he has used gunny cloth (made from raw jute yarn) and coated it with thick oil paint to give it some durability.
Ramkinker Baij, and art as protest
Ramkinkar was responsive to the socio-political changes that were taking place around him. He created a series of anti-war paintings in 1942 and his sculpture titled 'Harvester' was a response to the infamous Bengal Famine of 1943.
---
Take a look at NGMA's Virtual Exhibition celebrating Ramkinkar Baij
---
Ramkinkar Baij: a simple man
"I don't bother for social response. I feel an inevitable impulse and it forces me to create.This inner inspiration compels me to paint or create. Does it really matter whether the rich and elite class demands my art works or not? The forms and figures which are born within me forcefully try to come out and while I give them some shape, I feel relieved."

– Ramkinkar Baij
The enigmatic personality of Ramkinkar and his unique style of sculpture drew much attention to him. Efforts were made to classify his work, either he was a traditionalist or modernist. But in reality, Ramkinkar described himself as a non-conformist. Neither did he consider himself part of the legacy of the Old Masters of Europe, nor did he subscribe to the modernist scene that emerged in the late 18th century. He refused to follow the rules of mathematical proportions laid down under realism, at the same time, he did not fully adopt the cubist aesthetics of Braque or Picasso. While his style and technique were modern, the subject of his paintings betray his deep roots to tradition.
Ramkinkar Baij not only remained true to his tradition but also remained true to himself. Inspired by his favourite muses, the santhals, he believed in a simple life. Never did he care for fame or money, his only wish was to be able to successfully give a physical form to his thoughts.
---
Glossary
Modernism: General name given to the succession of avant-garde styles in art and architecture which have dominated Western culture almost throughout the 20th c.
Cubism: An art movement which came into being c. 1909, led by Picasso and Braque and with its roots in theories put forward by Cézanne. It was an attempt to represent fully and exhaustively on a flat surface all aspects of what the artist saw in three dimensions.
Impressionism: French 19th c. art movement which tried to use contemporary scientific research into the physics of colour to achieve a more exact representation of colour and tone. The majority of the Impressionists applied paint in small touches of pure colour rather than broader, blended strokes. This made their pictures seem dazzlingly brighter than those of contemporary salon artists.
Realism: A phase of 19th c. French art. Rejecting the idealistic tendencies of romanticism, leading French artists of the mid century such as Courbet concentrated on reproducing what was immediately accessible to them, in terms of both social and sensory experience.
Gouache: (Fr. Wash) Painting in opaque watercolours.