The Muraqqa-e-Chughtai, Diwan-i-Ghalib is one of the most fascinating objects from the Partition Museum, Amritsar. With this illustrated selection of Ghalib's poems published in 1928, artist A.R Chughtai shot to fame, in South Asia and internationally.
The Artist : Abdur Rehman Chughtai
Chughtai was an artist from Lahore, known for his distinctive style that combined the Mughal and calligraphic styles; took inspiration from Abanindranath Tagore's Japanese wash technique. [Swipe to see both images]
View this post on Instagram
Mirza Asad Ullah Baig Khan or Mirza Ghalib as we fondly call him, was born on December 27, 1796 in Agra. He started writing poetry at the age of 11 in Persian, Urdu and Turkish! It is no wonder, that he went on to become one of the greatest poets of Urdu & Persian. Ghalib's poetry tackled themes such as love, philosophy and the mysteries of life.
The Muraqqa-i-Chughtai
The foreword, written by Iqbal describes the artistic work as "a unique enterprise in modern Indian painting and printing". Indeed it is, for before this, nobody could have visualized Ghalib's deep poetry! Here are a few favourites:
Says Ghalib, that (if) you cannot see the River in a droplet, nor can you see the whole in a part; then it is a childlike game (a make-believe view of the world that you have); and not that of a visionary!
This couplet is part of a ghazal which gives a glimpse into Ghalib's wit; in his style, he challenges his contemporaries. It ends with the lines….
थी ख़बर गर्म कि गालिब के उड़ेंगे पुरज़े

देखने हम भी गए थे पर तमाशा ना हुआ

There was widespread rumour that Ghalib would be torn to pieces

I went to have a look too, but the (expected / promised) spectacle didn't take place!
In this one, Ghalib says:
The rose mocks the nightingale's flutters and whines.
What people call as `love' is a frenzied state of mind
(Love is in fact a mark of mind derailed).
Ahem, would you agree?
Translated, this couplet means :
I am neither a delightful melody; nor a musical arrangement.
I am the voice of my own defeat.
It could mean, that Ghalib's poetry and his "voice" is the result of the challenges and defeats he has faced in life; instead of the joys!
According to Rekhta though, Ghalib reflects and laments on what he is, instead of focusing on what he is not; thus oscillating between illusion and reality.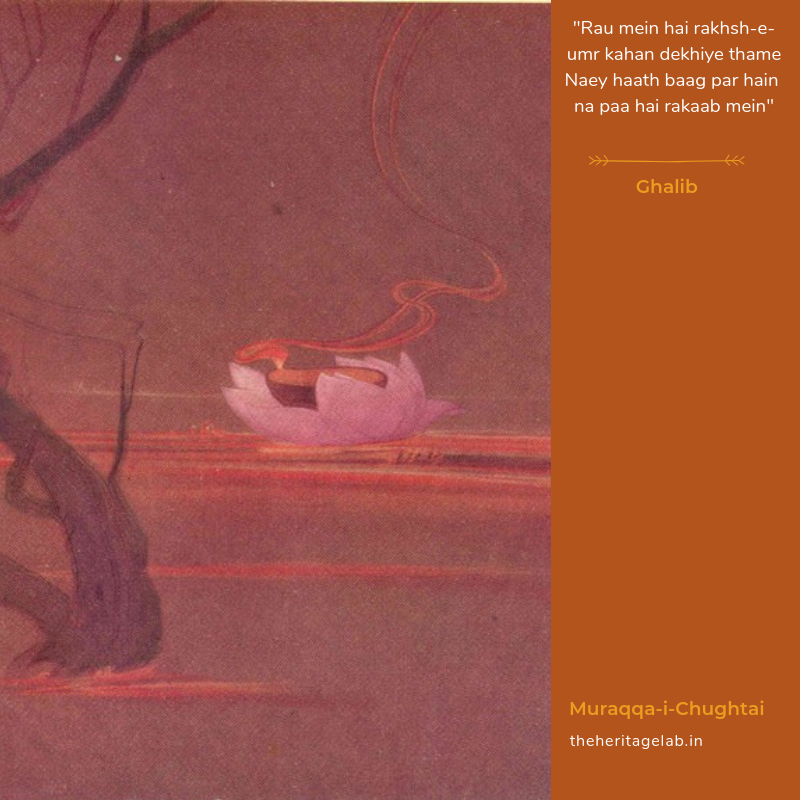 The literal translation of this couplet is :
"The horse of the times is galloping away, Let us see where it stops
The rider has neither the reins in his hands, nor his feet in the stirrup."
In this couplet, Ghalib basically describes what most of us feel when we're racing against time; or it could well be a comment on the inability of the leaders to manage affairs of the state.
Again, taking in Rekhta's help, it is possible that Ghalib talks about the importance of being nice / polite. If the soul is like a fragrant flower; the garden would be in full bloom only at the sweet singing of poetry.
The Muraqqa-i-Chughtai : A Masterpiece!
Chughtai's visualization of Ghalib's poetry is a reminder of the Ragmala-painting tradition. In Ragmala paintings, artists usually visualize the mood of a raga (classical music note). Chughtai combines the lyrical medieval miniature style with a modern technique.
In Ghalib's time, his contemporaries found it difficult to even understand his poetry. To visualize his wit therefore, is a feat few could have achieved. It is no wonder, that the book was thought to be the finest in publishing at the time. The Maharani of Cooch, Behar is said to have partially funded this project, and it is believed to be a dedication to the Nizam of Hyderabad.
The Muraqqa-i-Chughtai truly represents a rich artistic culture that thrived in pre-partition India. It is undoubtedly, one of our favourite objects at the Partition Museum!
After Independence, the book was republished twice in the 1960s. Here's a copy you can see:
Share your reaction!