Earlier this year, CSMVS Mumbai introduced an extremely inspiring project : a Children's Museum, curated and managed by children. Intensive workshops and many creative sessions later, children aged 8-14 years presented to the city of Mumbai, an exhibition focusing on friendship, peace, compassion & environmental consciousness.
Last year, in 2017, Government Museum & Art Gallery Chandigarh hosted a full-fledged Children's Takeover. Key roles such as that of Conservators, Curators, Guides were taken up by 14 students of a local school. In 2016, Mehrangarh Museum in Jodhpur had been the first to lead this initiative in India.
While children have been at the heart of museum-programming for years, a key question remains: are museums in India child-friendly? Some indicators of being a child friendly museum, in our opinion would be:
the availability of special facilities for children across age groups (specially designed games, creative classes or clubs for instance)
an established feedback system recording children's opinions
specially designed exhibition / label content to suit the interest of children
availability of learning material suited to children's educational needs
sensitivity to children with special needs (or just basic needs in case of some museums)
A french non-profit, Mom-Art-Famille has been able to get 30+ museums in Belgium and France to adopt their charter, "10 Rights of the Little Visitor at the Museum". Take a look: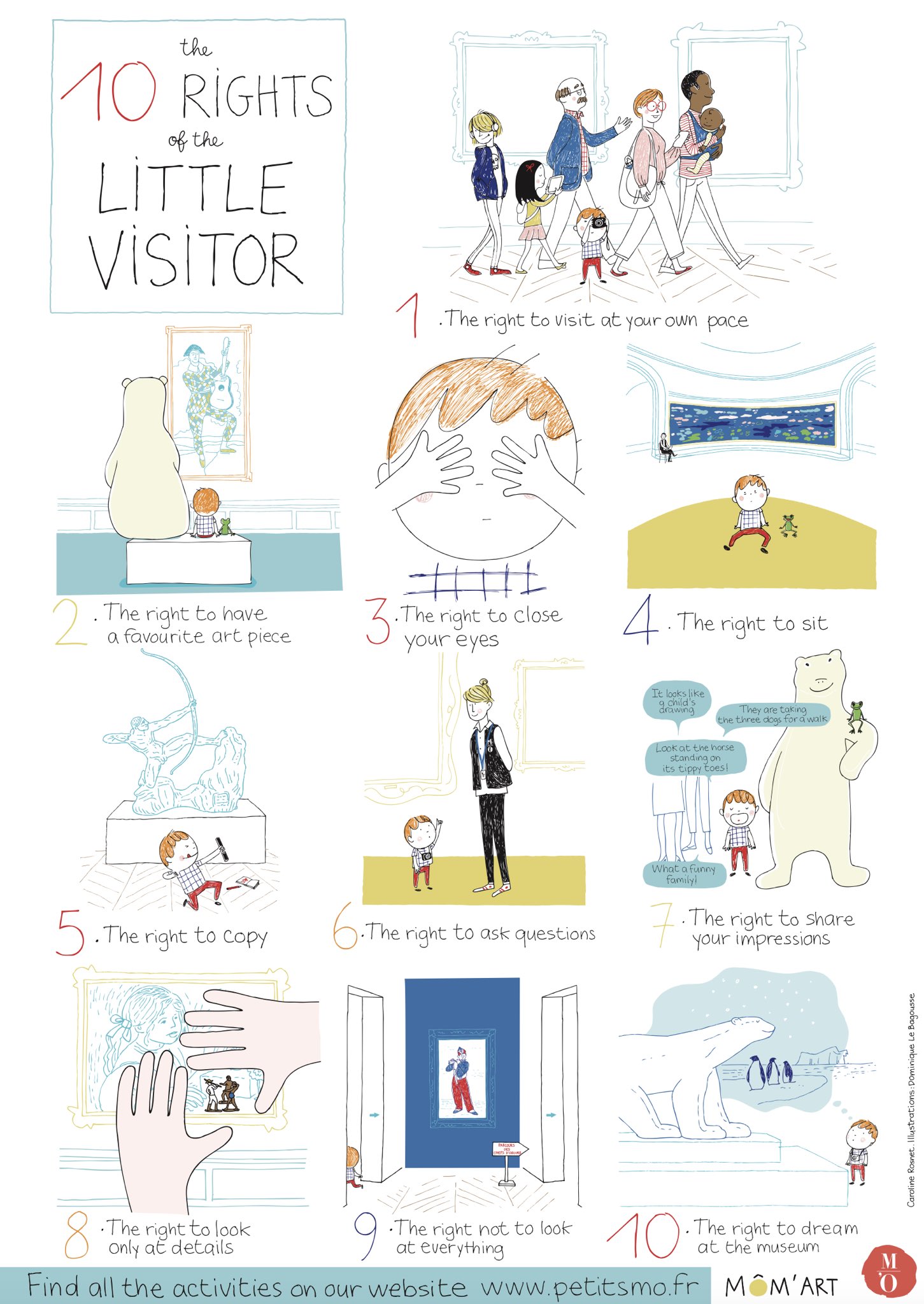 Conceptualized by Caroline Rosnet, this is inspired by Daniel Pennac's 10 Rights of the Reader (illustrated by Quentin Blake):
We recently asked our Instagram-audience for help on ideas for museums, and here are some rights that we ADDITIONALLY want:
1. The Right to Reading Spaces
Most museum libraries are only open to scholars. Creating a reading space for children within libraries or galleries should be allowed!
2. The Right to Museum Guidance
Think about it, a lot of parents wouldn't head to McDonalds if it wasn't for that "Happy Meal" ! So coming to the point, wouldn't it be great to set aside specific hours for Guided Tours meant for Children? A lot of museums in India offer guided tours at specific times catering to languages – the same concept could be used for kids. Let's face it, a trail or your museum's highlights might appeal to adults or those in love with art, but can be intimidating for kids. The same goes for audio guides. If your budget allows, throw in some freebies too, like drawing cards or replica treasures. Children deserve their own guides.
3. The Right to Play
Providing art games in the gallery (and regularly altering them) makes children really happy! Children must be able to alter an artwork, or create accessories associated with a sculpture and so on. Museums must provide children with the right tools to engage with objects. Check out our Fun-At-Museums pack that your museum can use.
4. The Right to break queues
Children learn nothing when they come in a line, and leave in one because the museum-guide is way ahead of them. When accepting school groups, it is a MUST to break them into smaller groups and let children see the museum in pairs. We have to be trusting of children, isn't it?
5. The Right to access information
Does your website allow children to download educational material for their school projects or presentation? A lot of times, schools visit museums on educational trips, and children are unable to note down everything they observe. They are not allowed cameras, and are mostly unable to record their memories. Can museums allow digital downloads of important materials for children?
6. The Right to have a Right
Children's committees are not unheard of. At museums though, they are. UK Based Kids-in-Museums has encouraged museums to open up to teenagers & host teen-takeovers of social media accounts. Children-committees must have the right to make recommendations to museums!
And well, on a lighter note the Right to wear Chu-Chu Shoes !!!
---
Have we missed anything? We'd love to hear your views on the Rights of the Little Visitor at the Museum : write in to us at [email protected]
Share your reaction!