Be it the famous nagada or an instrument made of human bone, the Sangeet Natak Akademi's Gallery of Musical Instruments houses some of the largest and little known gems from India's musical heritage. The museum features a meticulously assembled range of instruments, acquired through a methodical collection, as well as gifts from musicians visiting the academy.
The Gallery of Musical Instruments, also called 'Asavari' (meaning spirit of the heavens), was inaugurated in 1964 by renowned violin maestro Lord Yehudi Menuhin. Much of the acquisition for this collection followed an exhibition of musical instruments held in Delhi in 1968. Since then, a number of exhibitions of musical instruments from the collection have been held in India and other countries, including Italy (Rome), Russia (Moscow), Greece (Athens), Egypt (Alexandria), Spain, South Korea, etc.
Highlights of the Gallery of Musical Instruments
Out of a collection of about 600 musical instruments, over 200 of them have been kept on permanent display at the museum. The instruments on exhibition represent the four-fold classification followed in India since ancient times, namely, tantu vadya (chordophones), sushir vadya (aerophones), ghana vadya (idiophones) and avanaddha vadya (membranophones).
The selection of percussion instruments in the gallery is particularly interesting as it encompasses a large and diverse section of the display. While the more familiar instruments are clearly displayed, it also has a collection of rare instruments, including the Kachwa sitar (North India) and Gettu Vadyam (Tamil Nadu). Defining the talents of India's best through the ages, here are seven instruments that you must not miss on your next visit to this gallery!
1. Devalai Sangu
Tradition has it that all good must start with a blow of the conch shell. So let's begin!
[soundcloud url="https://api.soundcloud.com/tracks/352123856″ params="color=#ff5500&auto_play=false&hide_related=false&show_comments=true&show_user=true&show_reposts=false&show_teaser=true" width="100%" height="166″ iframe="true" /]
Devalai Sangu is a conch shell instrument from Tamil Nadu which is fitted with funnel shaped mouth piece of brass on the blowing end. Another elaborate and intricately carved decorative piece of brass is attached on the other end by the means of wax.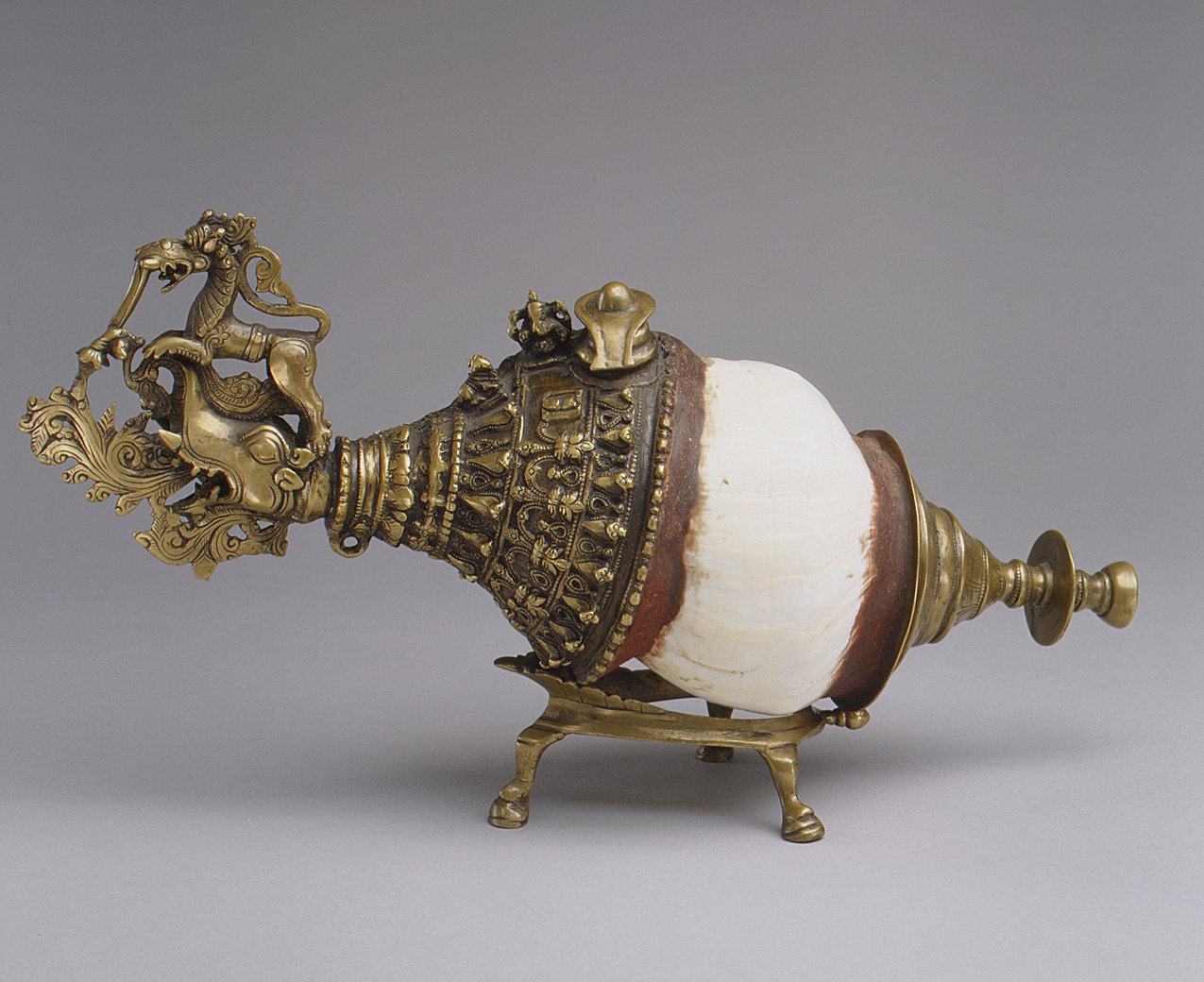 The mouthpiece suggests a lotus, while the heavily decorated conical end depicts a rows of nagas (serpent divinities) and wreath-bearing kirtimukhas ("Faces of Glory"). This instrument is mostly used in religious and auspicious occasions in temples.
2. the Ravanhatha
Ravanahatha is one of the earliest instruments to be played with a bow and finds references in the Vedic (ancient) texts. As the name suggests, it is attributed to Ravana – the demon king from Ramayana.
The components include a two-feet long round wooden fingerboard, penetrated through a halved coconut shell covered with skin. Two steel strings are tied to the pegs on upper end. In order to play the music, the curved bow with horse hair is moved across the steel strings in a rhythmic manner. Ravanhatha is mainly used as an accompaniment to folk songs of Gujarat and neighboring regions.
Here's a glimpse of the instrument being played by Bhopas of Rajasthan while narrating the folk-ballads :
3. Yazh
Yazh is an arch-shaped harp from South India. An arched arm is attached to a rectangular and hollow sound box located below. Forty eight strings are connected to individual pins on the underside of the sound box and tied to the pegs on the arch.
There is a long wooden main bridge on the sound box and a diagonal secondary bridge at the upper end. Under the main strings, there are seven strings attached to the pegs and fixed to the supporting wooden frame. This instrument is placed in a vertical position on the lap and played with the fingers. A replica of the instrument has been found in sculptures at the archaeological sites of Amravati and Sanchi.
4. Bakak Ding Dong
Bakak Ding Dong is a bamboo tube with naturally closed ends. On this tube, thin bamboo strings are sliced off from the surface, keeping both the ends intact. Further, two bamboo bridges are fitted under the strings to create the tension and are also used for pitch adjustments. Finally, a thin bamboo square plate connects both the strings just above the sound hole. The instruments is played by sticks and used in 'Nak-Cheng renie' dance of West Bengal.
5. the Kangling
Kangling, literally translated as "leg" (kang) "flute" (ling), is a rare instrument from Ladakh. It is made of seasoned and dried-up human bone, mainly using the femur (thigh bone) of a criminal or a person who died a violent death. A metal cap with a blowing hole is fitted at upper end whereas the orifice at lower end is covered with black skin. One needs to blown through the hole in order to play it. The instrument is used by the Lamas of Buddhist monasteries for their rituals even today. See it in action here:
6. Gettu Vadyam
Gettu Vadyam is another rare instrument in the gallery and comes from the state Tamil Nadu. It consists of a round wooden resonator connected to a long neck and a bent peg box that ends with a lion motif. The instrument also contains an extra resonator. Four strings made of steel attached on the body are struck with a bamboo blade and stopped by another blade. This instrument is mostly used as a drone-cum-rhythmic accompaniment.
You can listen to the Gettu Vadyam being played in this video:
7. Kachwa Sitar
Kachwa Sitar is a rare North Indian concert instrument of lute category. The finger-board and peg box are made of wood whereas the resonator is made of half cut gourd. This long and broad finger board has nineteen frets tied with silk thread – five main, two drone and thirteen sympathetic strings rest on one main and one auxiliary bridge.
In its effort to preserve and promote the art of instrument making, the Akademi has honored eminent instruments makers with its award in recent years. Training programmes in instrument-making under master craftsmen have also been undertaken to encourage young artisans to continue work in their hereditary occupations.
Interested to know more about the collection? You can continue to explore the instruments at the Sangeet Natak Akademi here:
[archiveorg id=SangeetNatakMuseum width=720 height=480]
---
From West Bengal to Rajasthan and Ladakh to Tamil Nadu, music is the language that connects people! You can also feel this connection in the Sharan Rani Gallery of Musical Instruments at the National Museum, New Delhi which also narrates a fascinating story of India's musical heritage.
---