…धाभाई सामो भाई लालो चितारो बखतो उभो…..
(..Dhabhai, Bhai Lalo, and Chitaro [the painter] Bakhato are standing…)
This part of a lengthy inscription written in Devanagari script and Mewari dialect on the recto of an 18th century Udaipur court painting (see the first painting below) introduces us to a young painter whose future awaited a riveting career spanning over 40 years. As clearly seen in the inscription, the artist's name is Bakhta, or the more popularly used term, Bagta. His impressive artistic oeuvre elevated him to a dignified status in Rajput painting & serves as a reflection of of Rajput painters' work, aesthetic sensibilities, consciousness of other painterly traditions, and most importantly, their eclecticism to amaze us with their brush!
Devgarh : the lay of the land
Before we begin to learn more about the painter, it is crucial to understand the region he worked in.
The erstwhile kingdom of Mewar, with its capital Udaipur (present day Rajasthan), was one of the most important Rajput states ruled by the Sisodia dynasty. Established in 1559 CE, Udaipur remained an active centre for art activities and with the many subservient chiefs serving this powerful court, the courtly arts were not unknown to them. Among the chiefs were the Rawats of Devgarh, who stood sixth among the solah thikanas (16 important feudal states). Their aesthetic sense and artistic patronage created some of the most brilliant examples of Rajasthani painting. Devgarh (also spelled as Deogarh) lies some 126 kms from Udaipur, and is home to the Devgarh Mahal, with incredible wall-paintings. Devgarh as a style of painting has gained much attention from scholars, and owing to many published examples from different collections around the world (including parts of the Devgarh royal family's collection), we know a great deal about the master painters of Devgarh.
In 10 paintings , discover Bagta : the painter and his artistic journey
With the continuous artistic patronage at the Udaipur court, paintings such as this example above, became typical – but it is around this period when Bagta's story begins.
Bagta at the Udaipur Court
Maharana Ari Singh in a durbar on his birthday
Perhaps among the earliest painted images by Bagta, this intriguing painting reveals a lot more than the Maharana's birthday celebration. Inside the gigantic city palace of Udaipur, you find the Maharana seated on the upper right smoking a hookah. As courtiers sit and stand symmetrically wearing colourful robes, musicians play dholak and morchang, singers sing and women dancers impress the Maharana with their skills, Bagta offers an accurate glimpse into the Rajput court life. After taking a closer look at the figures and inscriptions, one gets the sense of the individuals portrayed. In a discreet corner you find Bagta himself – on the extreme left, he stands humbly, holding a scroll, hands folded, a katar (dagger) tucked in his simple white robe wearing a block-printed turban.
As a scholar has noted, during this period the Maharana had little interest in painters nor was Bagta such an important artist worthy enough to be included in this important scene. Then why this self-representation? Could this be an instance of self-promotion as a young artist and a subtle dig at the Maharana's disinterest in the court's artists? In any case, Bagta was sharp and careful enough to place himself on the utmost left, far away from the Maharana.
Bagta's layered compositions often revealed more than what was visible to the eye:
Notice the Dutch and Chinese tiles which adorn the walls behind Maharana, who Bagta seems to have strategically placed here; perhaps an intention to indicate the Maharana's worldly connections and cosmopolitan sophistication.
Zooming in further, you will notice boats, Europeans, deities, equestrian portraits, animals, hunt scenes, plants and other scenes that slowly begin to emerge. Bagta's sensitivity and skill to involve these statements were only a preview to his later work which would make him more confident.
Another powerful statement trumpeting the Maharana's power is the candle-lit Surya Mahal or Surya Gokhara. The symbol of the sun, which was sacred to the Maharanas is "enshrined" exactly in the center, depicting a wall-painting of elephant fight.
Bagta's move to Devgarh
The year around 1769 proved turbulent (politically) for the Maharanas, leading Bagta to find another patron. This is where his journey begins at Devgarh. The shift to Devgarh distinctly reveals the change in his style as he continues to blossom in the following years. As art historians Milo Beach and Rawat Nahar Singh II note:
"The move to a court evidently without entrenched artistic expressions allowed him to develop as an artist in ways that would have been impossible had he remained in the Maharana's employ."

Rajasthani Painters: Bagta and Chokha, Master Artists at Devgarh
With initial equestrian, hunt and court scenes, Bagta explored, experimented and devised different compositions from his earlier Udaipur learning and also made sure that the new patrons get a previously unseen 'taste' of his artistic abilities, also challenging his own artistic skills. At Devgarh, his first patron was Rawat Jaswant Singh (1737-1776); but Bagta's fate was about to change dramatically with the coming of Jaswant Singh's great-grandson Rawat Gokul Das (r.1786-1821) who was perhaps his greatest patron. Now let us examine some paintings executed by Bagta when he shifted to Devgarh.
Kunvar Ragho Das of Devgarh and his sons worshipping Giridhariji
Among the earliest paintings attributed to Bagta is this wonderful private scene of Kunvar Ragho Das (1776-1786), the son of Rawat Jaswant Singh and his five sons at worship. The Devgarh Rawats' devotional preferences itself is an exciting subject of study. This painting depicts Giridhariji, a form of Krishna lifting mount Govardhan. It seems that the Rawats were the followers of Pushtimarg ("the path of grace"), a 16th century Vaishnava devotional sect which places high emphasis on the seva (self-less devotion) to Krishna as Shrinathji, the seven year old child lifting mount Govardhan. The sect's prime shrine, which invites a large number of pilgrims is in Nathdwara, is only some 83 kms from Devgarh.
Bagta neatly places the Kunvar and his five sons inside a marbled shrine and green curtains adorned with white floral motif. The deity seems to come alive through Bagta's rendition of his red eyes, garment and jewellery. In front of him are toys, and necessary ritual objects. The colourful garments and symmetrical arrangement of figures against a white background gives a perfect contrast and amplifies the vibrancy of colors. Each individual's facial features and physiognomic qualities are sensitively portrayed, a testament to Bagta's brilliance in the art of portraiture. These figures appear often in other paintings (an example is given below), and one can even observe their age through more paintings, like the slightly aged Ragho Das, who appears with hands clasped in front of his father, Jaswant Singh in the next painting.
Rawat Jaswant Singh of Devgarh with his inner circle of nobles
This painting is among the earliest durbar scenes painted by Bagta. This scene depicts the elderly Rawat Jaswant Singh of Devgarh (1737-1776) resting against a bolster, smoking a hookah while holding a rosary. All the figures are named with inscriptions (in Devanagari) on the borders – they are all formally seated, some with their hands clasped, while others are intently listening. Bagta splashes the background with lemon yellow, a thin line of waving clouds – features which will continue in his later paintings. The focus is entirely on the figures; they appear to be less idealized and more individualistic with a tinge of humour and amusing expressions. Here, it is also interesting to note that Bagta carefully renders the smallpox scars on the faces of many of the figures. Beach and Singh add:
"Since these smallpox scars were certainly not an invention of the artist, it is clear that while Bagta was able to capture an idealized courtly world, he was also allowed – after all this must have been an official court scene – to show things as they were, and even to emphasize physical idiosyncracies."
The strategically placed figures with their wavy robes, and the position of their shields add to the uniformity of the scene, making it accurately formal. The colourful turbans and transparent white robes which make the inner garments more visible also give a sense of volume.
Equestrian Portraits by Bagta
Formal equestrian scenes, especially involving hunts were conventional court subjects. Painted not only to brag about their horses, it also boasted the person's physical ability, power and their expertise in horse riding, one of the crucial aspects of court culture.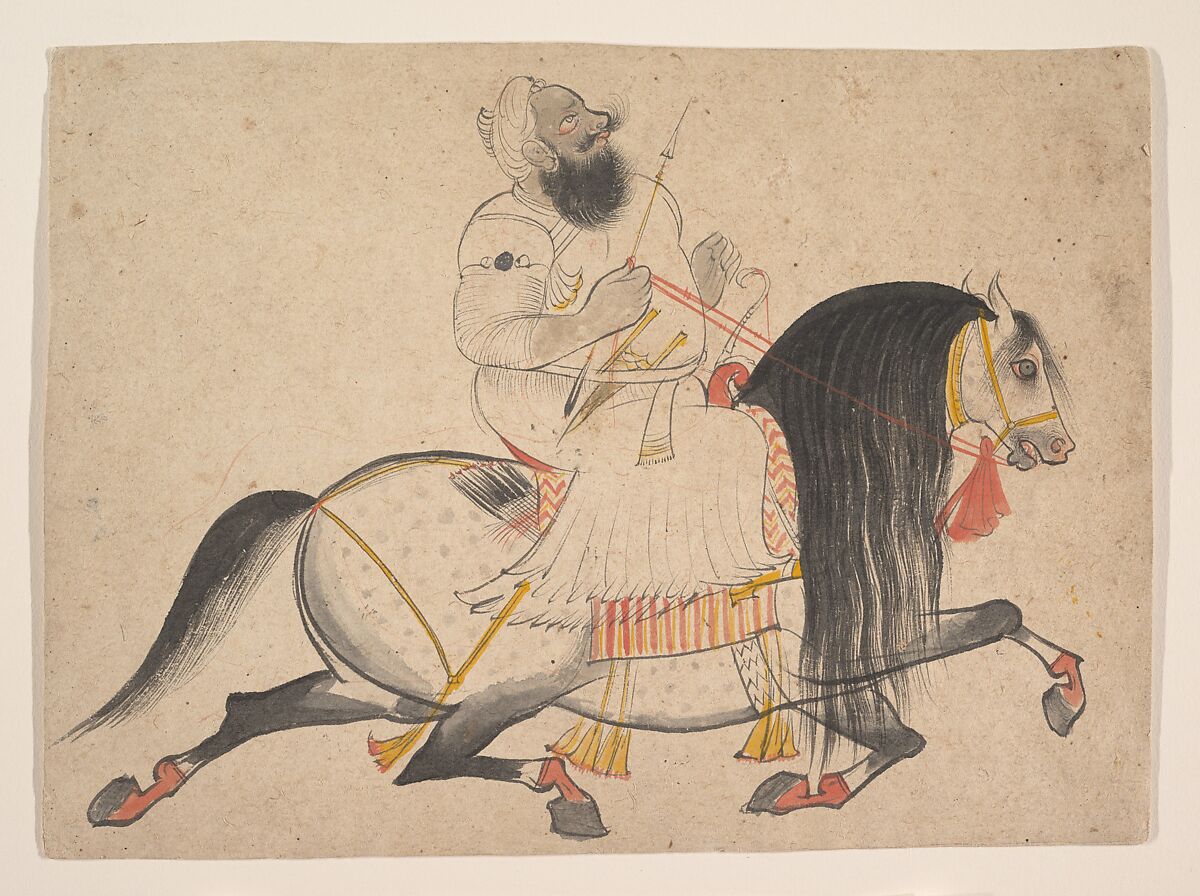 Perhaps intended to be a caricature of the subject, the above energetic sketch highlights Bagta's powerful brushstrokes, and his ability to evoke humour and satire. Notice the slightly rough, and hefty lines that give us a 'behind-the-scenes' understanding of Bagta's growing confidence as an artist and a portraitist.
The stout man, with his curled moustache, long beard, reddish eyes, bemused face and awkward posture is seen riding a horse who is finding it difficult to handle the rider's weight as he bends while running. Mocking a nobleman's poundage and physical features through a painting, many of which were circulated in the court, might have served as humiliation or humour.
Rawat Gokul Das and Kunvar Devi Singh hunting birds
Another equestrian scene shows the young Gokul Das, Bagta's greatest patron in the coming years, and Kunvar Devi Singh (whom we encountered earlier in the painting featuring Rawat Jaswant Singhs inner circle ).
They are perhaps returning from a successful hunt. An assistant wearing a green robe (to camouflage), with gun, rope and other paraphernalia pays homage to them as the hunt's success is visible through the dead crane. While the clouds become slightly neater, Bagta now chooses to invest more in broadening the colour palette, also paying more attention to the background.
Rawat Gokul Das at Singh Sagar
"An unusually dramatic topographic view" is this scene which portrays the pleasures of Rawat Gokul Das at Singh Sagar. In the early nineteenth century, Rawat's financial freedom and involvement in patronizing painting made Bagta "the finest painter working in Rajasthan". Bagta's ingenuity in making such views, I suspect, was possible not only because of his training at Udaipur, but also his exposure to Kota paintings – the theme of maps, topographic views was quite popular among Kota masters. Beach and Singh have compared this painting with a 1596 map of Goa in a private collection, to which it bears an uncanny resemblance. Whatever the source of inspiration, this view is spellbinding. To understand it well, let us 'enter' inside.
On the upper left you can spot cows grazing, and as we move down, you'd see some houses, camels grazing and villagers roaming. Further down, where a flag flutters proudly, some men (perhaps guards) sit together while horses and their caretakers enjoy water-sports -the entourage of Rawat Gokul Das including attendants, elephants, horses, bullock carts. As we move our eyes further down, we see the preparation of food: attendants chopping off wild-goats and peeling off their skin. Around a giant rocky hill, monkeys play around. On the right, you see the well-adorned Rawat on the end of another rocky hill shooting a crane flanked by two attendants. Bagta does not miss an opportunity here to emphasise upon his patron's skills as he frames him in the exact dramatic moment of the gunshot, sensitively depicting the curled smoke as the bullet pierces the chest of the cranes.
Turning to the middle section, the boundary of the fortress has women walking, musicians entertaining, and to highlight the pleasures of his patron, Bagta portrays the terrace of the fortress. Here you see women dancing and in the lower part Rawat gets ready, attended by two women; he then gets dressed and again, the upper part shows a woman getting ready, enjoying the view. Rawat is again portrayed hunting, seated on his terrace while on the right side, women are playing in water. In the uppermost section, deer run around as cranes stand on the smaller part of the land as two crocodiles rest on the same land. Thus, the artist not only portrays the ruler's pleasures with his ladies, but also his hunting skills and the wilderness, bringing a sense of realism in this view.
Rawat Gokul Das seated with a rifle
Bagta continued to paint portraits, like this seated portrait of Rawat Gokul Das. A pale-green background adorned with flowers surrounds Rawat as he leans against a large bolster, relaxing while smoking a hookah. He sports a white robe filled with gold-work, and proudly holds his gun. Beside him are his sword, shield and gun-powder flask emphasizing his kingship and power. Bagta has sensitively modelled his patron's large body, his facial features and the soft beard, which go well along with the British agent-historian James Todd's description of Rawat as a Goliath with six feet six inches and bulky proportion, whose limbs "rivalled those of the Hercules Farnese."
Rawat Gokul Das at a hunting party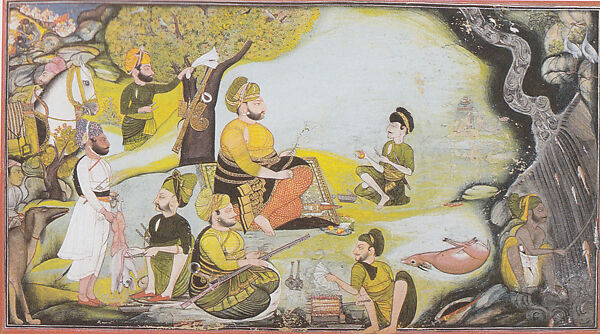 A painting which is similar in terms of composition and colour scheme to Fig.6 is the above example in which the Rawat and his elderly kakaji (uncle) Javan Singh are seen seated conversing and enjoying a hunt party. Bagta, as we earlier saw, seems to take special interest in portraying the natural surroundings of the region using different tones of green, rocks, trees and water; you also spot an attendant spearing fish from water. On the left, a horse and the saluki hound with their attendants are standing, perhaps waiting for the food to be prepared. On their right are two other attendants peeling off the skin of a rabbit while another noble waits beside them. Another attendant is preparing kebabs as he fans the grill to increase the heat of charcoal – overall, the mood is relaxed, easy-going and 'real' in portrayal of hunt parties, which were common among Rajputs.
Rawat Gokul Das celebrating Holi
This mesmerizing scene of Rawat Gokul Das celebrating Holi is set inside a marbled palace with intricate jaalis, a navy blue sky featuring the palace interior, the zenana (women's quarter). If the thin, vague line of clouds and flying birds make the upper part serene, the blast of colours in costumes, figures, interiors and the overall mood fills up the overall scene with much ecstasy.
Unlike many of his works, this rare large-scale composition must be looked at with special attentiveness. On a raised platform in the center is the patron Gokul Das seated comfortably as he squirts different shades of color on the ladies. The royal women – perhaps his queens or concubines – don't hold back. They too are in a playful mood and one of them is about to splash a handful of red color onto Rawat. Decked up in vibrant clothes and jewellery, the women display a vast ray of expressions – one looks a little uneasy while the others are shy and excited. On the lower right, musicians dance and sing in ecstasy. Behind Rawat is a row of attendants holding his paraphernalia. Again, Bagta sensitively captures their expressions with a tinge of humour.
Observing their distinct physical features, I suspect one three figures (two in the lower left and one in the lower right playing the round musical instrument dafli) might be a naazir ("eunuch"), which are much different from the Rajput idealized beauties. It is difficult to prove whether they are women or naazirs, but the physiognomies, jewellery and costumes of the attendants, the royal women with colors, musicians and dancers are so distinct that one can't help but marvel at Bagta's mastery in capturing faces with "extraordinary care and sensitivity".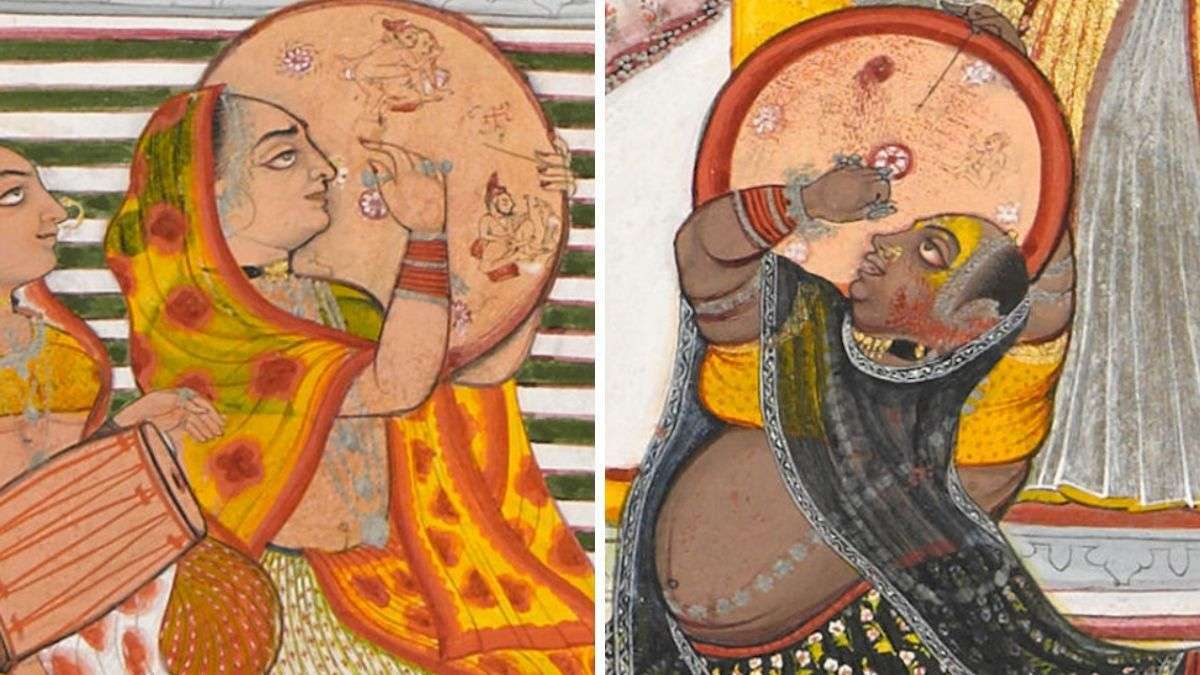 Bagta had his own subtle ways to highlight and evoke the amorous bhava (emotion): in the background, the empty bed-chamber, the cuckoo trapped in prison and bird-couples flocking together enhance the romantic mood, but these are not the only suggestive symbols; take a look at the dafli held by the figure on the lower left and lower right – these have fine sketches of couples in erotic embrace. These symbols become visible only when you pay attention to the scene with a keen eye. This also helps us to understand that the courtiers and those who viewed such paintings understood Bagta's intent and his approach in making this scene more 'erotic'.
Horse race between Rawat Gokul Das and Gyan Singh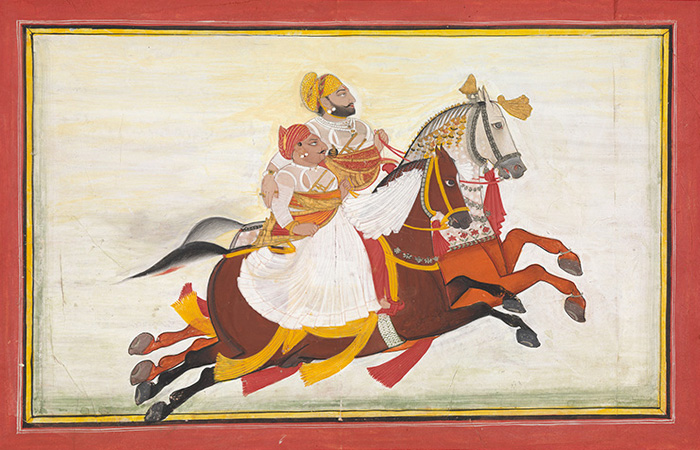 Among the last paintings inscribed to Bagta is this scene of a horse race between Rawat and his friend Gyan Singh of Gyangarh, a neighboring Thikana. The riders, who seem to be out on a friendly race to strengthen their ties are elegantly dressed, so are their horses. The swift uniformed jump of the horses adds to the action of the scene.
Bagta: A life in paintings
Active from circa 1765 till 1820s, we have journeyed through Bagta's career – from Mewar to Devgarh; from his typical Udaipur figures to the starkly different figures in Devgarh, his stylistic change, maturity and sensitivity as an artist, and notably, his relationship with his patron which gave him access to paint such "realistic" and enigmatic scenes.
I believe, what makes Bagta a master artist is not only the variety of paintings he executed, but his ability to experiment and explore a different style. The credit goes equally to his patrons who, in all their glory, wanted to boost a different style. As mentioned before, the prime reason for the change in Bagta's style is the shift from Udaipur to the smaller court of Devgarh, which gave him more freedom to think about his style. In these years more paintings inscribed and attributed to Bagta have emerged, providing an opportunity for further study. As we continue to learn more about his work, I am confident that more secrets will be unravelled.
The legacy of Bagta
Wall-paintings inside the Devgarh palace, many executed by him, still echo his presence. In Devgarh, Bagta was not the only artist who gained fame – he established what we may call a 'family style' as he was followed by his two sons Chokha and Kavala, who, learning from their father's experience, went on to create more fabulous works of art. Further, Chokha was followed by his son Baijnath. Bagta's legacy remains very much alive in the land of Mewar.
---
References:
Molly Emma Aitken, The Intelligence of Tradition in Rajput Court Painting (New Haven: Yale University Press, 2010)
Beach, Milo Cleveland, and Rawat Nahar Singh II, Rajasthani Painters Bagta and Chokha: Master Artists at Devgarh (Zurich: Artibus Asiae Publishers, 2005)
---
Enjoyed reading? Help us spread the love for art!
Share with your friends and subscribe for updates on new stories