According to latest news, photography and videography is now banned  at the Golden Temple complex at Amritsar! Could it mean, artists painting views of the temple will be back in vogue again (nothing wrong with wishing)?! But it definitely means one cannot go Yogi-spotting anymore! I mean you can, but won't have photographic evidence to prove it 😉
 

 

View this post on Instagram

 
Take a look at some iconic paintings made by traveller-artists that offer  stunning views of the Golden Temple!
1

Maharaja Ranjit-Singh at Harmandir Sahib by August Schoeftt (1850)
There is no end to the stories of Maharaja Ranjit Singh's contribution to the the Temple.  When the Harmandir Sahib (another name for the temple) was renovated, the Emperor of Punjab donated the Gold! Did you know, more that 1600 kilos of gold was used! He went on to invite foreign dignitaries to the Temple and sponsored the beautification of many other Sikh shrines in the region.  Interestingly, the artist of this painting, August Schoefft travelled to India two years after the death of Maharaja Ranjit Singh and obviously never met him. For an imaginary painting, this one is absolutely stunning!
2

Interior of the Golden Temple Amritsar by William Carpenter (1854)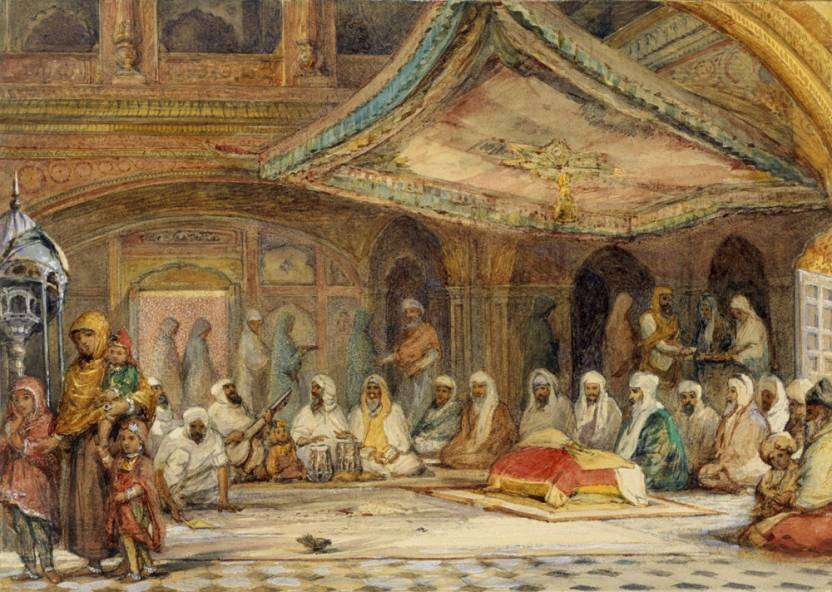 William Carpenter travelled widely in India between 1850-1856, capturing scenes of India's streets or groups of people. Here. he captures the brilliantly decorated interiors of the Golden Temple, with the sacred book of the Sikhs, the Guru Granth Sahib, resting in the centre on a red cushion. You can almost feel the spiritual ambience created by the worshippers who sit around it and recite the shabad (hymn).
3

Interior of the Golden Temple Amritsar by William Simpson (1864)
William Simpsons came to India on a project to make illustrations of famous places in areas /regions associated with 1857.  Unfortunately for him, his project never saw the light of day, as the publishers went bankrupt by the time he returned; his work on India was sold as bankruptcy-stock.
4

The Golden Temple, Amritzur by Marianne North (1878)
If you though solo travel for women was difficult today, wait till you hear about Marianne North. She is completely #travelgoals. As a Victorian lady, it was a highly unusual for her to travel as much as she did- from Sicily to Jamaica, and South Africa to India. Though she's mainly known for her work documenting flora and fauna, her extensive travels in India gave her an opportunity to study temples, mosques and village scenes. This serene painting of the Golden Temple is the result, and aren't we grateful for it!
5

Across the Pool to the Golden Temple by Edwin Lord Weeks (1890)
American artist, Edwin Lord Weeks was fascinated by India and made this painting of the Golden Temple in 1890 on his second trip. Weeks, being a writer as well, had this to say about the Golden Temple:
 a glittering jewel or some rare old Byzantine casket wrought with enamel and studded with gems
In case you were wondering, Weeks did not stand here for months making this painting, but created sketches. Back in his studio in Paris, he completed this 6 ft tall, 9 ft wide painting. When it was painted in 1890, this artwork became quite popular but gradually faded from memory. Only in 2007, this work became available again, after the Brown University (US) conserved it!
6

Golden Temple By Hiroshi Yoshida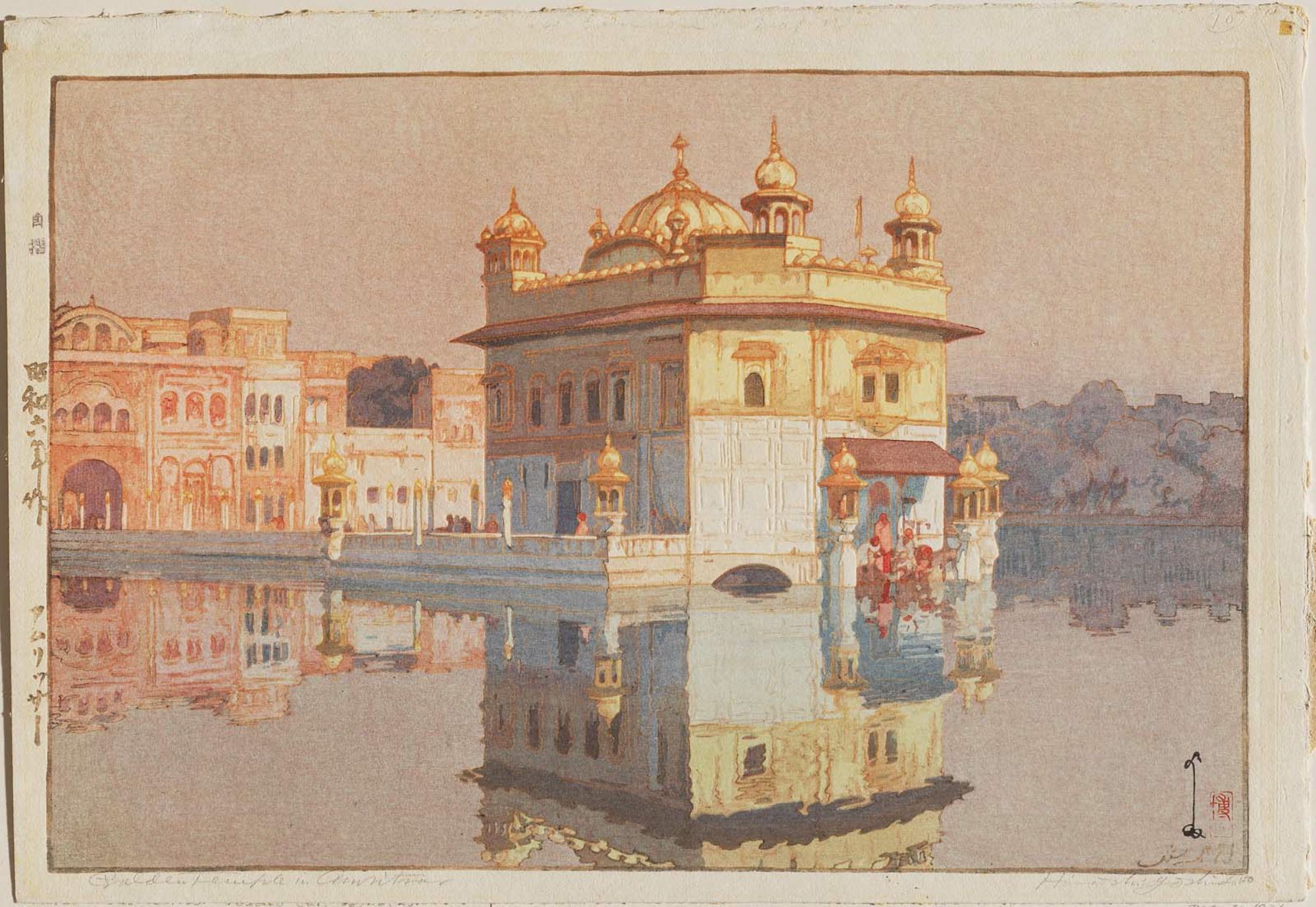 Japanese traveller-artist Hiroshida was part of an art movement called shin hanga which revived the art of woodblock printing (ukiyo-e). He is best known for recording non-Japanese places (like in the painting of Golden Temple above) through this traditional Japanese medium. Truly a cross-cultural connection!
7

Speaking of wood prints, here's another version at the Honolulu Museum of Art by

Charles W. Bartlett

(1916)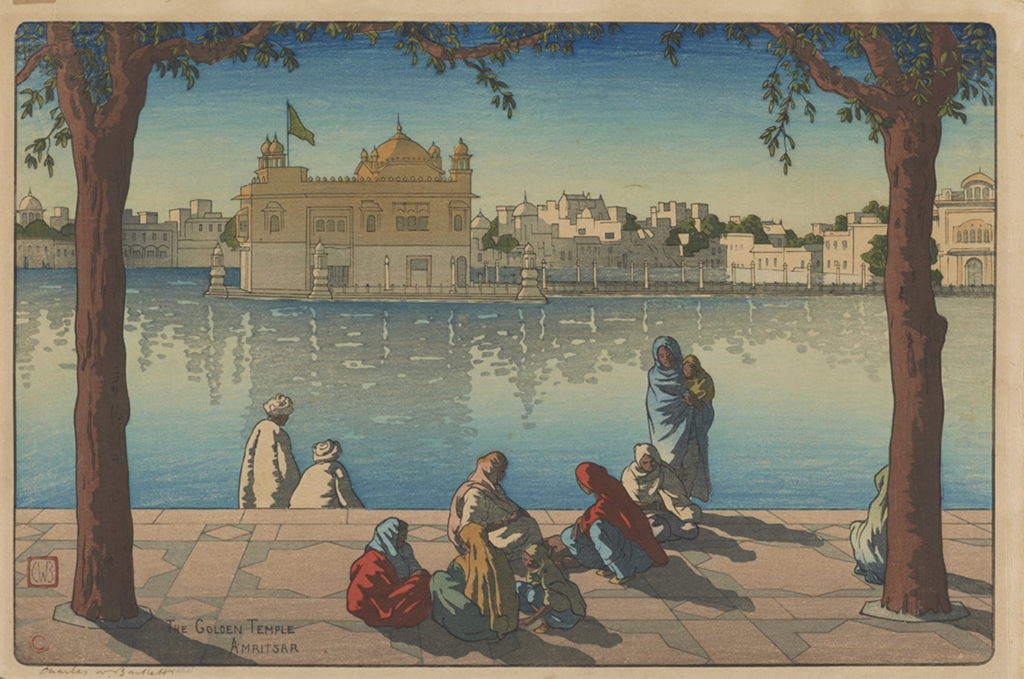 English painter and printmaker, Charles W. Bartlett, also emulated the same kind of woodblock style as Hiroshida. In 1913, he travelled to India, Ceylon, Indonesia, China, and Japan.  During the last leg of his journey in Japan in 1915, he met woodblock print publisher Watanabe Shōzaburō who then published this and 20 other woodblocks from Bartlett's designs.
---
Inspired? So maybe the next time you visit Amritsar, leave your camera behind in favour of some paints and pencils!