April is Poetry Month, and it's a time to celebrate the power of words to move us and transform our understanding of the world. This year, the Partition Museum is proud to welcome poetry submissions in any language, exploring the themes of Partition, migration, displacement, citizenship, and borders.
Selected poems will be showcased on our social media platforms, illuminating the diverse voices that make up our global community. Through the emotive power of poetry, we hope to honour the experiences of those impacted by these urgent issues and raise awareness of the ongoing struggles of those affected by borders and displacement.
We invite you to join us in this celebration of the transformative power of poetry. Let us unite in solidarity and understanding as we listen to the voices of those impacted by these issues, and honour their stories through the beauty and power of language.
As we begin this month-long celebration of poetry, we present a selection of submissions:
Swipe to read or use the arrow icons
1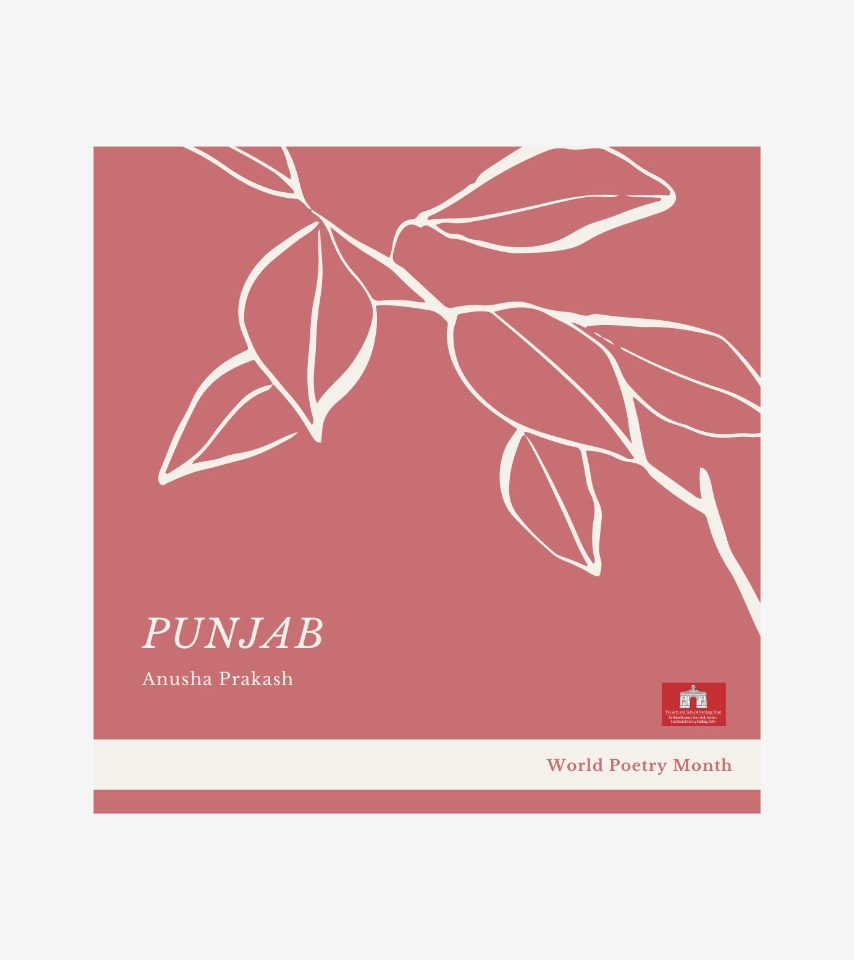 Punjab
I awake to red.
Beas, Sutlej, Ravi, Chenab, Jhelum.
My holy waters bloodied-
I am a ghost of Punjab in Nineteen Forty-Seven.
A metamorphosis; I am the Thar, dehydrated and aching-
My Vande Mataram is a knot in my throat.
Torn amidst the partition-
I am an open wound in the division of British India.
Unevenly cut up between the East and the West-
I awake as a refugee in my own country.
Nurtured and nourished in the womb of our shared mothers-
I pull out the empty shells of those who were once my brothers.
Across this partition-
You are Lahore, and I, Amritsar.
Reminiscing what once was Punjab-
Brother, let us retreat our forces.
Just as the sun begins to set on the horizon-
Let us dance on this tight-rope called Wagah.
---

This poignant work by Anusha Prakash reflects on the tragic history of partition and its lasting impact. This poem serves as a reminder of the pain and suffering endured by many and urges us to learn from past mistakes to create a better world for future generations.
Anusha Prakash is a writer and poet based in Bengaluru, India, whose work has been published in the EKL Review.
2
To Basti's Afzal
I have to meet Basti's Afzal
I have heard he still hopes for a piece of land
to grow rose beds on it.
I have to search for that fool in the ruins of Shiraz
I have heard he still waits for the flute of Krishna.
I need to tell him that there is no space left for roses
Crops of hatred are providing more surplus
That their elders who did not leave my side of the border
Thinking they would lie beside their ancestors,
Their graves shaded with the biggest banyan trees,
Died graveless.
I would ask him to inform his friend Zakir
That I met Sabira, her head was covered with silver strands,
Looking as old as the streets of Roopnagar.
She did not speak much but her cloudy eyes still long for him.
I want to ask him if his diary has a single good person left
I tried making a list of people on my side of the border
And ripped it off in frustration: everyone has turned into mice.
I would tell him that there is no hope for amendments,
That the flute he waits for is not allowed to cross the border.
I will search for him near the banyan tree
Tell him that the birds on my side of the border are restless too.
I will shock him out of his delusion!
Basti's Afzal asks me to be silent, saying,
"This is the time for a sign—"
But I cannot remain silent
I need to meet Basti's Afzal!
---
The poem is dedicated to one of the beloved characters from Intizar Hussain's celebrated Partition novel, "Basti". Divya's admiration for Afzal's romanticism, humility, innocence, and critical observations of humanity's brutal aspects is beautifully expressed in this piece, leaving her yearning to meet him.
Divya Rawat is a teacher by profession and a passionate literati. She developed a deep interest in partition literature during her graduation, which continued to grow during her master's studies. Her engagement with stories, poems, and firsthand accounts of partition pain and trauma helped her form a vivid understanding of the realities of borderlands.
3
Do Mukhi Zabaan
sees nivde farid, nanak, te bulleh de chaman te
Many pay obeisance to the garden of Farid, Nanak, and Bulleh
mehkde phull ne vir, amrita, chatrik de ajj vi
Blooms of Vir, Amrita, and Chatrik fragrance the orchard even today
langhde vapaari chhadd gaye khushbu aapni
Merchants passing by left their own scent
hamlaavar vi laa gaye kujh phull khiDde
Even the invaders bestowed their aromatic flowers
kamaaya naam jis ne kise hor zabaan toN
Which reaped its name from another tongue
vand gayi ikk lakeer os punjabi de baag nooN
That garden of Punjabi got bisected by a mere streak
na zaat di boli, na boli di koi zaat
Vernaculars don't belong to creeds, nor do they have their own caste
fer vi saaDi guru te lahinde di shaah maat
We still accepted Gur(mukhi) as our mother, while the West (Punjab) got Shah(mukhi)
kehDi sachchi kehDi jhooThi jaane nanak farid aap
Let Nanak and Farid adjudge which is bona fide and which not
kalam badli niri, mukhoN gall taaN nikle samaan
Only the pencraft is different, but the parlance is the same
---
"Do Mukhi Zabaan" delves deep into the rich history and culture of the Punjabi language, exploring the impact of the Partition and how it affected the language. Despite this division, Karandeep Singh's poem "Do Mukhi Zabaan" reminds us that the two dialects of Punjabi are still one and the same. They may have different nuances and variations, but they share a common history and culture that binds them together. In fact, the poet argues that the very division of Punjabi into two dialects has only made the language stronger and more resilient.
Karandeep is a journalist and a writer. He is proficient in crafting compelling stories, poems and engaging screenplays.
4
Lines
If you are looking into your Atlas
You may not be able to find my home
I was born on the wrong side of the Radcliffe line
Now I don't really know where is my land-
Where do I belong?
When they flipped our homes
Like you flip your coin;
I wish I were wiser
I wish I could know where I belong;
For no balm soothes my homesickness now
No soil entices me with its scent of belongingness.
But how do you choose
Between two halves of yourself
When the line you drew
Ran through my courtyard
And my kitchen;
So now I stand-
Broken into bits like my land
One half here
One half there
But each time I try to be whole
A line stands there!
---
Shawni Bhattacharjee's heartfelt lines pay tribute to her beloved grandmother Jyoti, whose home was tragically lost amidst the dividing lines that cut through our land.
Shawni Bhattacharjee is an aspiring poet & writer who grew up among the green pines of Shillong. She is currently based in Delhi and roots her writings on the stories of partition narrated by her late grandmother Jyoti.