Phulkari, which literally translates to 'flower work', is a unique style or technique of embroidery particular to Punjab. However, more than just a handicraft, the threads of Phulkari are inextricably tied to the history of Punjab. Both have endured much: partition, industrial reforms, changing economic and fashion trends. A recent exhibition held at the Philadelphia Museum of Art tried to tell just this story.
Called 'Phulkari: The Embroidered Textiles of Punjab', it presented embroideries from pre-partitioned Punjab, drawn from the collection of Jill and Sheldon Bonovitz as well as its permanent collection. Curators Dr Cristin McKnight Sethi and Dr Darielle Mason position the craft as art, presenting it through a historical and cultural lens. When looked at this way, the textile ceases to simply be a commodity of high commercial value, but also offers a unique window into the lives of people and their tradition.
In a brief issued by the Museum, Timothy Rub, The George D. Widener Director and CEO of the Philadelphia Museum of Art, said:
"This exhibition, which examines the artistic, cultural, and political significance of phulkari, is long overdue and will certainly delight visitors who may be unfamiliar with this remarkable art form".
I couldn't agree more, and here's why:
Phulkari: a lens into the culture of Punjab
Phulkari's history dates back to the time when shared cultural practices were common and women from all religions crafted and wore these embroidered textiles. Just as gold is handed down generations, phulkaris in the early 19th century signified a woman's material wealth and were deemed an important part of her wardrobe. They were typically worn as shawls draped over the head on special occasions such as marriages, births, and other rituals.
In addition to being worn on the body as an odhini (head cloth), phulkaris were also placed on (charpoy) woven cots as seat covers for special guests, draped on dowry chests or hung in the home as decoration during religious festivals, and presented to temples or gurudwaras (a Sikh house of worship) to present to a deity or to cover the Guru Granth Sahib (the Sikh holy book).
The exhibition comprised almost all types of phulkaris—ranging from the baghs (all-over embroidered phulkaris, almost like a floral garden), darshan dwars (which were replete with architectural motifs and meant to be presented at gurdwaras), sainchis (narrative embroideries which depicted scenes of routine village life and included human motifs), and the thirmas (which were embroidered on plain white khaddars for elderly women and widows) to the chopes (which were presented to a girl by her maternal grandmother on her wedding day)—from the mid 19th century to 1947.
Phulkari: an expressive medium of Art
Motifs were crafted either from imagination or more often, borrowed from the immediate environment. Therefore, names such as belan (rolling pin), kakri (cucumber) or even chandrama (moon), and satranga (7 colours) are common motifs recognized in the phulkari parlance even today. Animals, flowers, trees, and folklore depicted in the embroideries are all resonant of a shared culture. Phulkari motifs and designs passed from generation to generation by word of mouth and example. Thus each family had its own characteristic style and, with practice and experience, each woman was able to develop her own repertoire. And so, phulkari became an expression of the embroiderer's feelings, hopes and dreams.
Using simple tweaks on motifs, women could express their emotions. For instance, through a pair of peacocks, the women of the Punjab described their personal life and relationship with their spouses. A drooping plumage signified a sad relationship or distance; a blooming one revealed the bliss of married life. Phulkari motifs often made it to poetry and conveyed bits of wisdom.
Phulkari saadi reshami, utte chamkan mor,
Gallan tuhadiya mithhiya, andron dil ne hor.

Peacocks gleam on my silken Phulkari
Your tongue is so west but your heart is false
Phulkari as seen through a historical lens
According to Flora Annie Steel (as published in the Journal of Asian Art, 1888): Phulkari was a home-craft, a leisure time activity, crafted with passion for personal use or to gift it to near and dear ones and was never meant for sale. During colonial rule, these became part of gift basket locally described as "dali" that were presented to the British and other high officials on Christmas and also as a gesture of gratification.
Colonial rule also introduced modifications to the art and as referenced by S.S Hitkari, the local craft of embroidered phulkaris were also shaped into women's coats to be worn over saris during winter in the cities. An example of such a coat is on view at the Partition Museum in Amritsar. Interestingly, this coat was one of the few possessions that Ms Pritam Kaur of Gujranwala could bring along with her when India was partitioned. It became a reminder of happy days left behind, a source of comfort during her tragic journey, and a silent witness to the horrors of mass displacement and Punjab's harrowing fracture.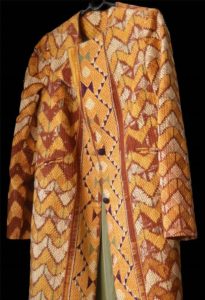 The Political Significance of Phulkari
The display of phulkaris in the exhibition also indicates the erstwhile trade route and materials that underwent a change at the turn of the 20th century. Cotton was a readily available local resource that was used to spin cloth that would be embroidered. Soft, untwisted silk floss thread called as "pat" came from various places like Kashmir, Bengal and even from Afghanistan, and Turkistan, but were dyed locally in Amritsar and Jammu, and women could obtain this from nomadic merchants.
The politics of 1947 changed all of this.
The events of Partition led to the death and displacement of millions of people across what today comprise Pakistan, Bangladesh, and the northern half of India. This schism left in its wake fractured communities and enormous loss of heritage. Some phulkaris were abandoned during the mutual flight across the new borders; many others were destroyed.
There were no nomadic merchants to buy from anymore; neighbours who sat together to celebrate over a phulkari were displaced and the global context for this craft also had to undergo a change.
Personal Affect
Unlike any other phulkari narrative, the exhibition at Philadelphia Museum of Art takes you back to the comforting memories of an undivided Punjab and keeps you there, flowing gently into contemporary times, conveying that though change is inevitable, the past can be faced with reverence and be equally celebrated with motifs that reflect a new generation of thought and practice.
Lessons for the future and an enriching narrative
In the course of my research, I realised that the readings on phulkari, though highly informed, focused mostly on gender, handicraft, technique and design. At Museums, there is understandable emphasis on provenance. however, it is crafts like the phulkari that can help us explore the significance of handed-down stories—emphasising women's tactile and emotional engagements, and exploring shared threads of feeling between people of different religious beliefs.
Museums in India and Pakistan can do more to use phulkaris as a vehicle to tell the story of their shared culture. The Partition Museum in Amritsar references this within their exhibit. Showcasing phulkaris from the East and West Punjab, it highlights the difference in their development. But at the same, it gives to the youth of India and Pakistan—those who have grown up imagining themselves inheritors of distinct pasts—a common ground to share experiences.
play a Phulkari-Jigsaw puzzle by the Partition Museum
Evidently, museums such as Philadelphia Museum of Art and the Partition Museum (Amritsar), place considerable educative value in constructing encounters with the (uncomfortable) past. Until the time that other museums take cue, phulkaris will continue to remind us of a time when religious diversity was not a hindrance to cultural growth and enrichment.
---
A version of this post by the author first appeared in the Architectural Digest.