The first ever house built in Chandigarh was that of Pierre Jeanneret. The home of the city's first chief architect is located in Sector 5 (no.57) – right opposite the famous Sukhna Lake. Today, this home serves as a museum and tells the story of Jeanneret's creative genius.
If you've ever wanted to live in a museum – then this is THE one! In this sweltering heat, the house remains cool owing to its high ceiling and stone-wall exteriors. Well, one can always take ideas for the ideal dream home from here!
Pin it For Later: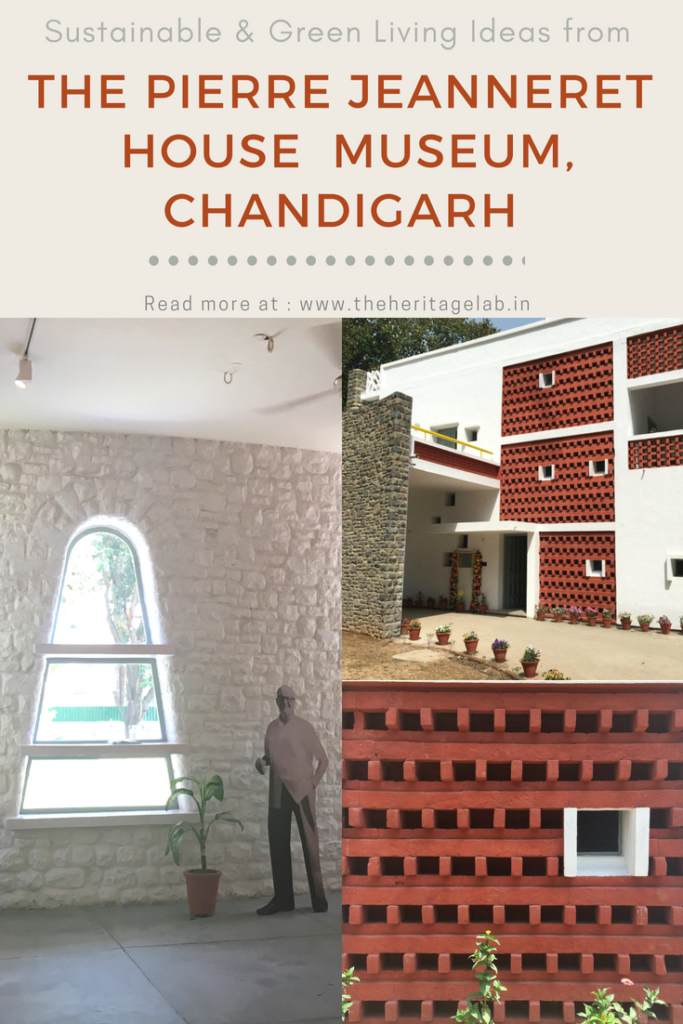 While working with Grade 6 students on vernacular architecture and sustainable living, we decided to visit this house-museum to soak in some inspiration. The house speaks volumes about the man Pierre Jeanneret must have been: simple, and classy.
Building Chandigarh :
Pierre Jeanneret lived in this house for 11 years while he and his cousin, the much renowned LeCorbusier were building the city. So to understand this house, is also in a way understanding the city's architectural vision. The 1950's were an exciting time for India. Laying the foundation for a modern city, Jawaharlal Nehru had once said:
There comes a time, which comes but rarely, when the soul of a nation long suppressed, finds utterance.
It was Nehru's vision that laid the agenda for Chandigarh : it was to be " a symbol of the Nation's faith in the future".
Many of the architectural elements of the house are now part of Chandigarh's architectural identity. Exposed brick and boulder stone masonry, unfinished concrete surfaces, latticed brickwork, in contrast with plastered surfaces and stone walls, narrow openings to "trap light", balconies, & uniquely designed porches are common features of different buildings in the city.
The Pierre Jeanneret House : a type 4J
The Jeanneret House is a type 4J – one meant for senior officers. Jeanneret observed Indian life very closely before designing spaces suitable for people. For example, he knew that Indians loved the outdoor spaces; that families were uncomfortable with their household staff using the same washrooms, etc. Keeping in mind the hot weather and other conditions of building in India, he created simple, but effective designs.
The Ground Floor
The ground floor of the house has an Office Room, the Living Room and a Dining Area connected to the Kitchen. There's a small bathroom that can be accessed from the office room as well as from outside. Each of the rooms offer views of the sprawling garden and allow for ample natural light.
This room speaks about the different housing projects undertaken by Jeanneret. This is where you realise that MLA Hostels, and some very iconic houses in the vicinity (private commissions) were created by Jeanneret. Even though he created housing for different social categories, the signature style remained in place.
The Living Room :
Quirky-designed and huge windows make excellent use of natural light – a sign of energy efficient practices that we wish more homes would use today. In this room, one gets to know about the different educational buildings designed by the Swiss-born architect.
Jeanneret adopted standard plans for schools. From nursery schools to the Panjab University and it's famous Gandhi Bhawan, as well as the State Library, his projects remain a study for modern architectural practices even today. This note, written by the renowned filmmaker Prithviraj Kapoor about his visit to the Panjab University Library reads:
Akkhaan, dil, tey dimag vaastey
Channana ik tha tey vekhna hove
Tah is liberary'ch aa jave banda
Ajj itthey aake bada hi aanand mileya.
(If you're seeking light for the eyes, heart, head & soul, then visit this Library. It really felt good to be here today)
Finally we enter the Dining area, which is connected to the kitchen. The kitchen can also be accessed directly from the entrance.
In this room, you get a glimpse into the challenges Jeanneret faced during his time in Chandigarh. His letters to M.S Randhawa are almost something you can identify with, if you've ever tried working with the Government!
Jeanneret : Furniture Design
Pierre Jeanneret held Indian craftsmanship in high regard. He paid close attention to detail and material, creating his own mashups. A mango tree-trunk refashioned into a coffee table; a Sikh ritual bowl reconfigured as a lamp, or chairs made of bamboo sticks, rope and cane straps are just a few examples. The furniture of his living room though, is placed at the Architecture Museum in Sector 10.
The Kitchen
The kitchen design is simple and functional – as you can see, the museum staff use it well ! The kitchen also leads to a smaller verandah and the household-staff quarters.
A spiral staircase leads us up to the first floor which has the coolest verandah ever!
In the sweltering summer heat, we were a cool and happy bunch. Jeanneret created such shaded verandahs at a time when there were no air conditioners & ensured that the homes remained cool and pleasant.
What's more, each room on the first floor, opens to a shaded balcony like this one!
The Bedrooms
Do you already feel like living in this museum? Good news is that you probably can! In an interesting and bold move, the U.T Administration is strongly considering letting out the rooms for temporary stay if you're visiting the city.
---
Museum Timings: 10:00 am – 5:00 pm
Tuesday – Sunday
Ideal Visit Duration: 30-45 minutes
Entry : Free
What we love : This house has been restored really well & gives a good look into the life of Pierre Jeanneret – a man who otherwise was overshadowed by the fame of his cousin, Le Corbusier.
What we wish for: The museum is great to understand sustainable and green living practices. This could be highlighted for present-day relevance!
Save this post for a later-read!