Rabindranath Tagore, India's most prominent cultural icon and it's first Nobel Laureate was a poet, novelist, playwright, educator – and an institution in himself.
When you think of Tagore, the 'Renaissance Man' – you probably imagine a tall bearded man, arms folded at the back, with a silent downward gaze. This is why, it is such a delight to see a younger version of the Tagore in a rare portrait by his nephew Abanindranath. The portrait is now missing – so it's all the more a treasure!
'Gurudev' – an apt moniker for him – influenced people in ways that perhaps even he couldn't imagine. He was known for taking students under his wing, but what is truly remarkable is the wingspan – the variation in medium and genre that he impacted, knowingly or unknowingly.
Through a plethora of portraits made by both his students, and artists we celebrate Rabindranath Tagore: India's most loved and revered artist of all time.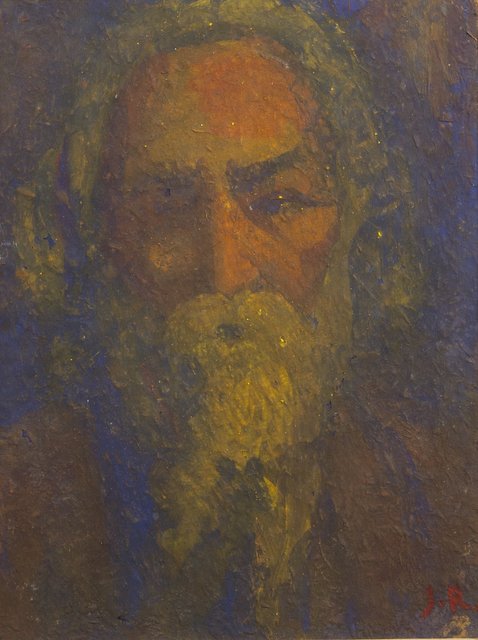 Page 1 of 16
'Portrait of Rabindranath Tagore' by Jamini Roy from the Museum of Art and Photography (MAP)
The first time Jamini Roy met Rabindranath Tagore, on "a magical evening in Allahabad", the young Roy was left speechless – it seemed like 'Jesus standing outside the closed door'; recounts art historian Sandip Sarkar, in his book about Jamini. The painter from Bankura who painted both for the masses and classes was not always known for his signature almond-eyed portraits that are a reflection of the Bengal's folk tradition. Jamini Roy's earlier works closely followed the European style – in fact, he is known to have started his career with portraits! This portrait of Tagore, is an example of his earlier works.
Page 2 of 16
Portrait (in cement) by Ramkinker Baij from NGMA
Tagore was an indulging patron of the legendary sculptor Ramkinker Baij. When Baij entered Shantiniketan, he was already at the peak of his creativity – or so felt Tagore. Tagore was quick to acknowledge that he needed no training and offered him the open environment of Shantiniketan to nurture his art further. A month after his admission, Tagore inquired after Baij; Nandalal Bose, the Head of the Department was quick to retort : "He is undoubtedly gifted, but he doesn't listen!". To this, Tagore is said to have smiled and said "Let the boy find himself". We all know how that story goes – Baij at his creative best sculpted an entirely new language for modern Indian sculpture. In this cement bust, you see a contemplative Tagore, almost ready to share his wisdom; or perhaps a melancholic man, dejected with the circumstances around [Crisis in Civilization, Tagore's speech on his 80th birthday and at the peak of the WW2, was his last to the world]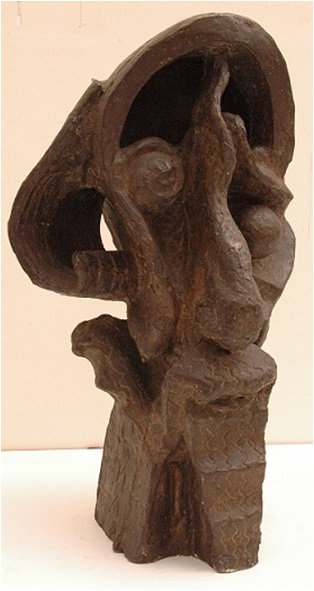 Page 3 of 16
A Bronze Portrait of 'The Poet' Rabindranath Tagore by Ramkinker Baij (1937).
This was Baij's first portrait of Tagore. Interestingly, with all the distortions, it looks nothing like Tagore, and yet you can recognize it!
Is it the beard pleating below the chin, or the receding curled hair? Or is it the triangular face with the elongated nose? Seeing this sculpture, Nandalal Bose had commented that it looked like a star, viewed from a height. Well, to know if that's true you'd just have to see for yourself – at NGMA!
Page 4 of 16
Rabi, the Baul : Rabindranath Tagore in a unique avatar by Nandalal Bose
Nabani Das (or Khyapa Baul as Tagore would call him) is the only baul* to have ever inspired India's first Nobel Laureate. In fact, Tagore composed a song and gifted it to him – earning himself the title 'Rabi Baul' (pronounced Robi). Amidst the many Ramkinker Baij-sculptures dotted across the Vishva Bharati campus, you'd also find one of Nabani Das, the Baul singer, commissioned by Tagore. Tagore's deep engagement with the Baul tradition is captured in this painting by Nandalal Bose.
* a wandering minstrel preaching spirituality and mysticism with folk songs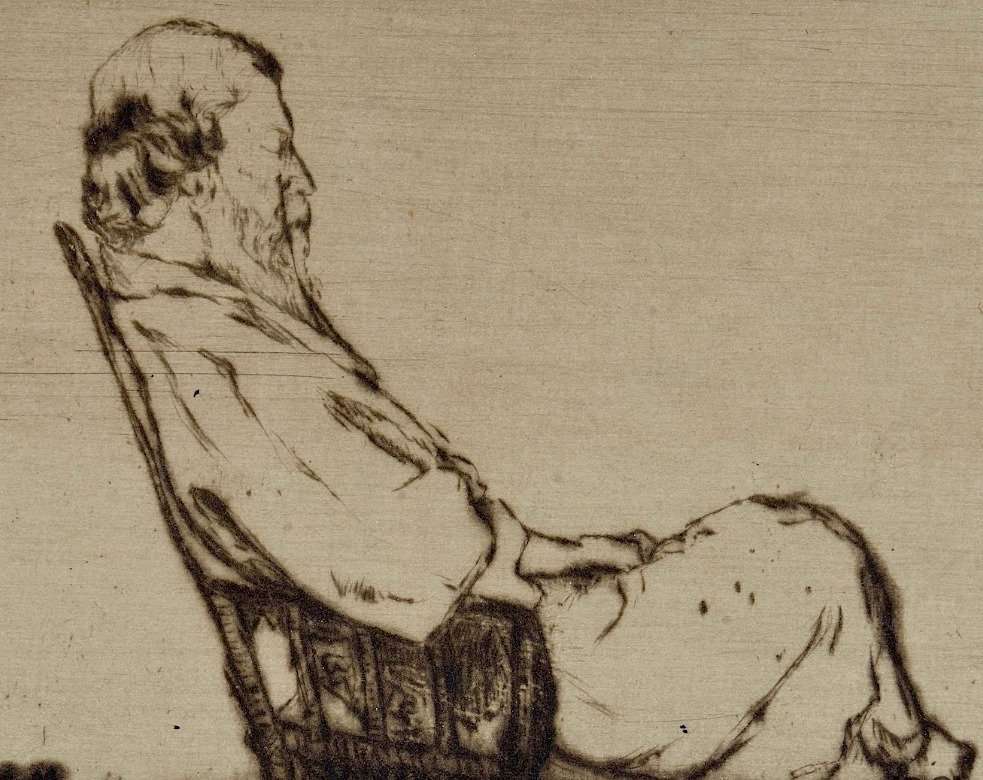 Page 5 of 16
A portrait of Rabindranath Tagore by Mukul Dey from NGMA
After studying at Shantiniketan, Mukul Dey trained under Tagore's nephew Abanindranath. During this time, he often stayed at their family home (Jorasanko). In 1916 and 1917 Dey even accompanied Rabindranath Tagore to Japan and US (after the latter's Nobel Prize win); from the above etching print, one can make out the close bond they would have developed over time. This behind-the-scene look where Tagore reclines on a chair is one of the many portraits that Dey rendered of the poet. In his autobiography, Amar Katha, Mukul Dey shares how he managed to earn some extra money during these trips: he recounts how he would help others gain access to autographed books by Tagore – and how people, greatly pleased at receiving these priceless forms of memorabilia would sometimes reward him.
Fun Fact: Rabindranath Tagore once designed a logo for Mukul Dey!
Page 6 of 16
A portrait of Rabindranath Tagore by Chitranibha Chowdhury
Nibhanoni Chowdhury joined (Kala Bhavan) Shantiniketan, during the Durga Puja vacations one autumn. The campus was almost empty – but Tagore personally helped her settle in. During this time, she learnt art from Bose and the other faculty members; with a friend, she frequently visited Tagore to hear his poetic recitations from Chayanika. As the vacations passed, her bond with Tagore cemented – this pencil sketch reveals how Nibhanani had the opportunity to observe Tagore from close quarters. On one such evening, he nicknamed her 'Chitra-Nibha' (Painting Beauty). Chitranibha Chowdhury went on to become Kala Bhavan's first female professor upon the recommendation of Tagore and Bose. Later she authored a memoir 'Rabindrasmriti', for Tagore's birth anniversary. Here's another painting by Chitranibha depicting Tagore at the Basant Utsav.
Page 7 of 16
Rabindranath Tagore: a Linocut Portrait by Chittaprosad from DAG Museums
As shared by DAG Museums, this linocut featuring Rabindranath Tagore was made in 1940 – one year before the the poet's death. In the print, you see him reclined, with a book in hand – but eyes elsewhere. Chittaprosad, just like Tagore was a self-taught artist. In the 1940s, woodblock prints and linocuts became a chosen form to express protest against colonial rule – Chittaprosad's visual reports of the Bengal Famine continue to be his most known series.
It's something to ponder over, that this portrait represented two different arcs of 20th century nationalism in India : while Tagore, and the artists from Shantiniketan engaged with Japan and China seeking to connect people to traditions, and evoked a sense of pride in the past through printmaking; Chittaprosad took to the second wave of the India-China connect, finding woodcuts and linocuts an appropriate medium to voice dissent.
Page 8 of 16
A bronze bust of Rabindranath Tagore by Somnath Hore
At first glance, this bronze bust of Tagore might seem a little unsettling. If you stare long enough at it though, you will find the entire picture emerging. It is as if the bust captures the 'lit up' parts of a Tagore sitting next to a window, parts of his face, shadowed. This is a fine result of an expert printmaker's vision of Tagore. Somnath Hore started his career in the graphics department of Kala Bhavan. But whether you have that information or not, this bronze seems to be almost a 3-D version of a graphic vision.
Hore made four such sculptures of Tagore, his mentor, including a commission for the Nehru Centre in London. 
Page 9 of 16
A portrait by Atul Bose
This elegant conte-crayon portrait was one of the many created by Atul Bose featuring the poet. This one though, was painted posthumously. Atul Bose was known for his realistic portraits.
Page 10 of 16
A cartoon by Gaganendranath Tagore
The poet's first flight from London to Paris is captured by Gaganendranath Tagore in this humourous ink-and-brush depiction. Gaganendranath Tagore was known for his satirical art.
Page 11 of 16
Tagore in the worlds of Sukumar and Satyajit Ray : Photo and Sketch
In Sukumar Ray's photo print, and his son Satyajit Ray's sketch of Tagore, you get an understanding of Tagore's engagement with two different generations. But well, Sukumar Ray & Tagore's relationship goes way back to the Ray's childhood. Tagore shared a cherished friendship with his father, Upendrakishore.
At the age of 23, Sukumar Ray left for London to study print and photo technology; later pioneering the movement in India. While in London, Sukumar read out many essays and speeches in praise of Tagore – much before he won the Nobel Prize. These are considered to be the first speeches about Tagore outside India. In Sukumar's photograph, the reverence is evident. Tagore too, held Sukumar in high esteem – after all he was a fellow poet, writer, artist and a genius at that.
The oscar-winning iconic filmmaker, storyteller and artist Satyajit Ray, is sometimes referred to as 'mini-Tagore' – and it is not surprising at all. Both men are gifted beyond words and they even share a birthday week! While Tagore's works lent beautifully to dance-dramas, Ray adapted Tagore's stories for the screen, adding a new dimension of genius to these works (Teen Kanya, Charulata, Ghare-Baire); the rabindra sangeet too, featured in Ray's works. In 1961, for Tagore's birth centenary, Ray made a documentary on the National Icon.
Page 12 of 16
But Tagore's popularity as a subject of art was not just restricted to India.
Page 14 of 16
A bust by Sir Jacob Epstein
Sir Jacob Epstein was an American-British artist who was known for his perceptive understanding of his subjects and modelling technique. His faulty eyesight caused him to shift from painting to sculpture, a more touch sensory art. This shift proved to his advantage as his observation was suited incredibly to this skill set. This bust of Rabindranath Tagore is cast in bronze with a dark brown patina layer.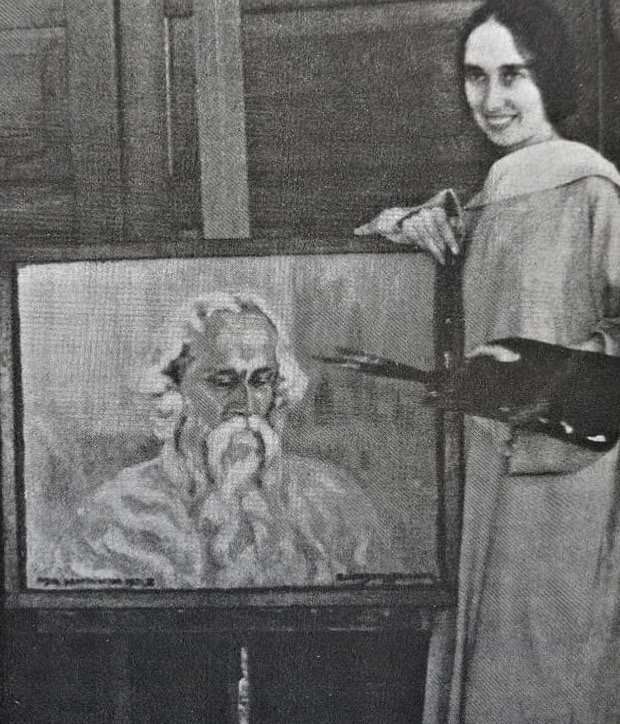 Page 15 of 16
a portrait by Elizabeth Brunner
Elizabeth Brunner was an eminent Hungarian painter and visited Shantiniketan around 1930. She was given the freedom to move around the compound as she pleased, resulting in several candid paintings. By her admission, she observed Tagore everyday for a year – and found him to be at his fascinating best when he was alone – writing, composing, painting or simply thinking.
Page 16 of 16
Tagore : Self Portraits
Now that we know how the world saw Rabindranath Tagore, let's take a look at a self portrait – to see what he saw himself to be.
Rabindranath Tagore is an inspiration to all of us who believe that age has some correlation with art, himself having begun only at the age of 60. It is endearing to think that not only did his own art leave a mark in the history of its practice, but also impacted the lives of everyone he came in contact with, whether as a mentor or simply an acquaintance.
Which of these self portaits do you like the most?
The works and ideas of #RabindranathTagore continue to inspire generations in the form of poetry, music, literature, cinema & other forms of art. Let's never forget : true genius cannot be contained in classrooms with walls!
Click To Tweet
There are countless other portraits of Tagore created by artists in India and abroad, so this is by no means a definitive list – if you chance upon a portrait you like, don't forget to share it with us on Instagram / Facebook / Twitter using #MuseumsEveryday
---
Share this post to inspire someone with these snippets from the life of #RabindranathTagore and other artists.
---