Most of us have different types of playlists – either on spotify or other platforms , each serving a different purpose. There is one to pump you up early in the morning for a jog, one for when you feel lonely and sad (heart
breaks included); another for the singer in you or for the party animal and maybe one to peacefully lull you to sleep. With the different types of genres and musical instruments we unconsciously attribute our favourite songs to certain parts of the day or for certain feelings.
This classification of melodies is however, not a feat achieved by us millennials. It dates back to the medieval period and for proof, we have visuals a.k.a Ragamala Paintings!
A 16th century trend called 'Ragmala Paintings'
The word 'Ragamala' translates into a 'garland of ragas' ; where the word 'raga' mainly refers to musical melodies but also refers to colours which fill the mind with a definite feeling, passion, or emotion.
The trend of Ragmala paintings can be traced back to the 5th century text, the Narada Shiksha – which explores the relationship between sound and emotion. Between the 16th – 19th century, this trend became popular in different courts of India across Rajasthan, Central India,Deccan, Ganges-Jamuna plains and the Pahari region.
There are several ways to classify ragas – conventionally, each raga was attributed to a deity, had to be sung at a certain time, and sometimes, even during a particular season! With time, the number of ragas increased, and different approaches to classify them emerged. A popular way was to classify them into Raga-families; with Ragas & their wives (Raginis), sons (Ragaputras) and Ragaputris (daughters).
Just in case you're wondering : To perform a Raga at an inappropriate time was thought to be not only unaesthetic but also hazardous since ragas were linked to deities (and were believed to impact nature)!
"He loves me, he loves me not": The 'Drama' in Ragmala Paintings
Ragmala paintings illustrated poetry (musical sentiment) through representing specific human situations. Each painting thus shows a dramatic situation, though the theme that cuts across most Ragmalas is that of love.
Take a look at some of the famous ragamala-paintings which are sure to uplift your mood through their depiction of love, devotion, passion, celebration and happiness at any point in the day!
There are six main Ragas associated with deities, seasons & time of the day: Raga Bhairava, Raga Malkauns, Raga Hindola, Raga Dipak, Raga Shree and Raga Megha.
At Dawn: Bhaskar Ragaputra of Hindola
This Raga is sung when the sun rises and dawn breaks. You can spot Surya, the sun god mounted on his 7 headed horse, rising to a female offering a lotus petal. The temple and its empty walls depict that it is so early that no one else has woken up yet. The painting conveys a sense of calm that you feel early in the morning with no distractions of routine life. The Dulwich Picture Gallery has an interesting video explaining the painting. Watch it here:
In the morning after Sunrise : Raga Bhairav
Raga Bhairav is associated with Shiva. While the raga can be sung during any season, it has special significance during the monsoons. Interestingly, it is also usually the beginning piece at any Indian classical music concert. Some people even consider Raga Bhairav to be a refined version of the folk music of Bhirva tribals. This Raga is associated with a "purifying experience" – perhaps this is why, all paintings depicting the raga show Shiva with his female partner, who is applying sandalwood onto his body.
From Noon to about 3 pm: Madhu-Madhvi Ragini
You'd love this raga – for it evokes the mood of "relief after exhaustion" or joyous anticipation. This emotion is compared to that of the heroine rushing through the rain, eager to meet her lover.
Here's another version of the painting from the Alwar Museum:
The Sunset Raga : Shree
The Shree Raga is associated with the season of autumn and the harvest festivals, generally evoking the mood of relaxation and happiness; sometimes nostalgia.
Another one for the evening is the Dhanasri Ragini : if you're feeling lonely, that is! In this painting, the absence of the lover is highlighted through the heroine painting a picture of him.
In the Night : Dipak Raga
This Raga is meant to be sung at night and evokes passions similar to those of the lovers as portrayed in the painting. A popular legend recounts the musician Tansen (one of the Nine Jewels of Akbar's court) using this Raga to
set the palace on fire when asked to sing this raga. Those who challenged him had meant to see him engulfed in the heat (or fire) that the intensity of this raga produces. But what they did not know is that Tansen had already taught his daughter, the Raga Megha-Malhar. While he sang Raga Dipak in court lighting up the lamps (diyas), his daughter invoked the rain, and Tansen was thus saved.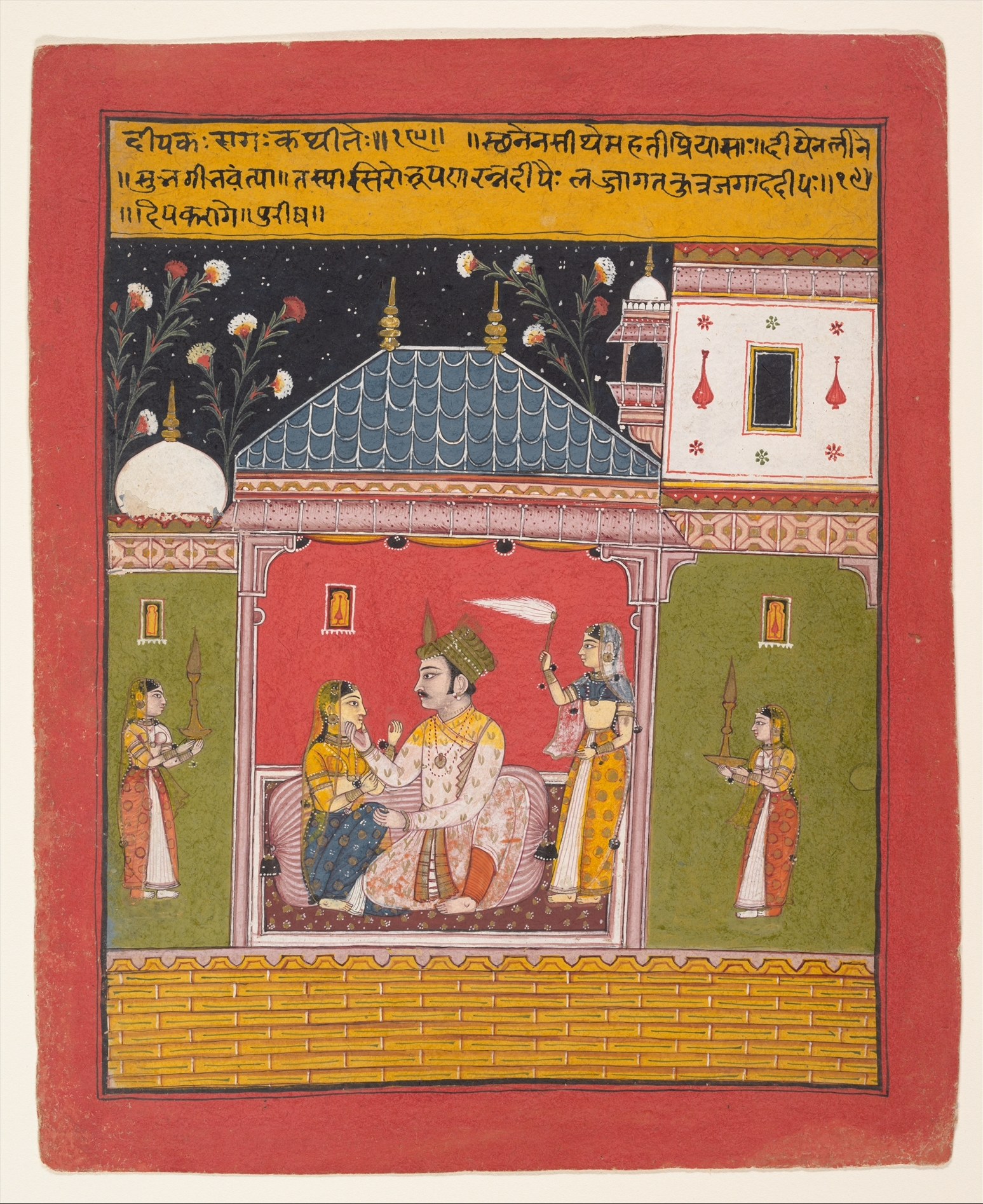 The depiction of this raga usually involves fire imagery. Here it can be seen in the two women holding lamps for the lovers during the dark of the night.
Midnight – 3 am : The Raga Malkauns
Many believe that the origin of this Raga is in the Malwa region and it was originally called Malwa-Kaunsa. The mood evoked by this raga is that of a deep, humble abandon in the peace of the night.
In ragamala paintings Raga Malkauns is frequently portrayed as a heroic lord consuming paan.
The Raga is said to have evolved when Lord Shiva performed the Tandava dance. The Raga is also characterised by a sense of conquering the self and reaching a state of inner satisfaction.
Bollywood has used this raga extensively, but here's our pick :
These deep, interdependent connections between sounds & visuals, mood & time pervading through so many centuries are nothing short of a marvel.
Subscribe to get posts like these in your inbox or simply share this post ahead. It will help bring in the monsoon.
No, we're just trying our luck here.
Processing…
Look out for our News-Letter every week!
Whoops! There was an error and we couldn't process your subscription. Please reload the page and try again.