Rembrandt is one of the greatest artists in history, with his name alone being synonymous with fine art itself!  Yet, few know him as one of the earliest European admirers of Mughal Art. At the peak of his career, he was influenced by Mughal miniatures and did several etchings based on these.  He drew at least 2 dozen versions of Mughal miniatures he had collected and some of his artworks from a later period reflect this "oriental" inspiration.
Back in the 1650s, at the peak of his career,  Rembrandt van Rijn drew a series of Mughal miniature – reproductions. Twenty-three of these are scattered around different museums of the world and are known to be among the artist's most compelling works on paper.
Interestingly, Rembrandt had never travelled to India; but India was traveling to the world. In the first of a series on India's cultural exchanges with the world, this post highlights one of the Masters of European art and his encounter with India.
Rembrandt & Mughal India: Pin It for Later
In India,  Christian themed Mughal art was encouraged by Akbar as well as Jahangir.  Artists of the early Mughal period, originally drawing from the Persian Safavid school, were exposed to, and incorporated Western techniques beginning around 1580, from engravings and illuminated manuscripts brought to Akbar´s court by Jesuit missioners. Jahangir in fact, loved European pictures so much that he would have his court painters make exact copies (only if Instagram was around back then) of the paintings Sir Thomas Roe would bring!  But by Shah Jahan's time, there was a reverse flow – with many Mughal miniatures going to Holland where they served as models for Rembrandt and other painters.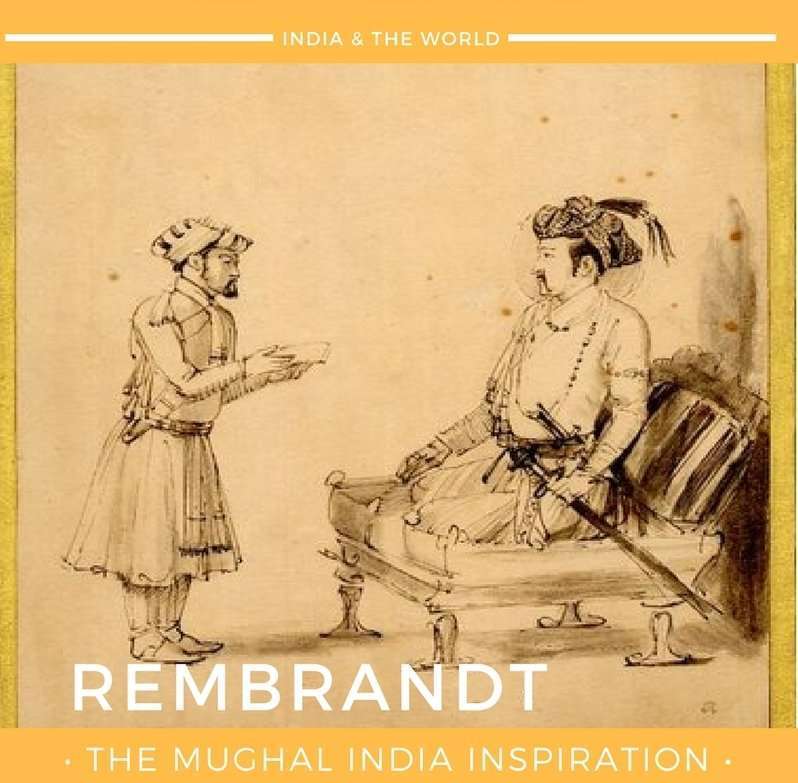 When Rembrandt went bankrupt, the inventory of his household goods mentioned his collection of Mughal miniatures as "An album filled with curious miniature drawings".  The Mughal paintings in Rembrandt's collection had probably arrived in the Dutch Republic via Dutch artists who worked for the Verenigde Oostindische Compagnie (VOC or Dutch East India Company) – which had an office in Agra – and later for Shah Jahan.
Rembrandt's Mughal Paintings
Rembrandt did not reproduce the miniatures in their exact form but changed the medium and introduced perspective and shading — adjusting his style to echo the delicacy of the original paintings. He then incorporated elements from them: either individual costumes or entire compositions as he did in Four Orientals Seated Under a Tree.
He carefully selected Japanese paper (the Dutch had an exclusive trade agreement with Japan in the 17th century) and used a very fine pen, using a dry brush to denote a slight background and to create a shadow behind Dara Shikoh in this one:
Popular belief amidst western scholars is that Rembrandt used the Mughal paintings to study Costumes & Gestures.  Some scholars however, take these paintings to be a strong indicator of cross-cultural exchange in the 17th century.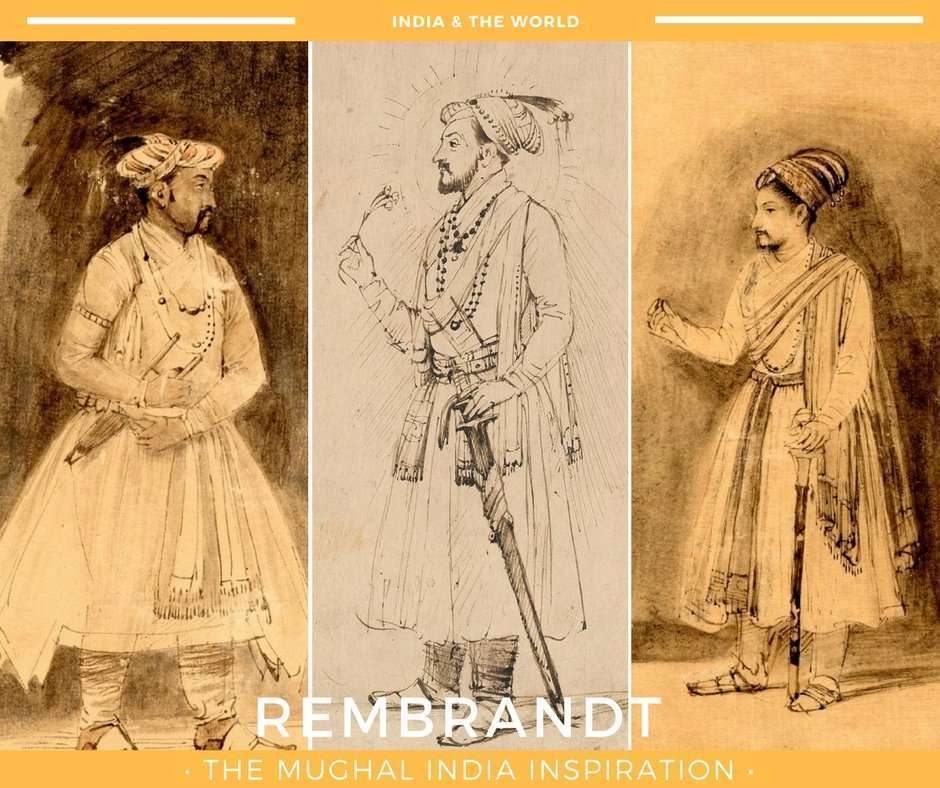 Although Mughal Miniatures are known for their colour, Rembrandt's depictions were rendered in a more chromatic palette with a focus on the figures' facial features and exotic attire.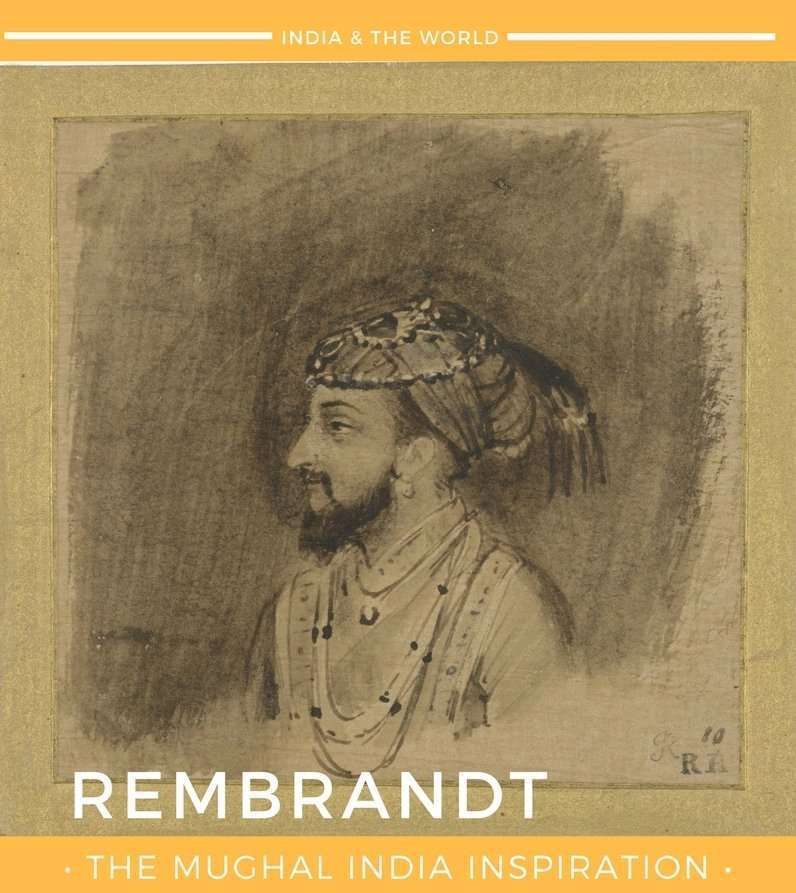 Rembrandt also conveyed 'movement' in his versions of Mughal miniatures. According to a study conducted by Jina Chung in 2011, in Akbar and his son Jahangir (image below): 
 "Jahangir's sash falls naturally on his lap – suggesting the natural touch of Rembrandt. He also imposed a "narrative" action in his drawing by having the two emperors converse. Jahangir, holding a book in one hand and gesturing with the other, appears to be immersed in a lively discussion with his father. Likewise, Akbar makes direct eye contact with his son to indicate his attentiveness and interest in his son's explanations"
The expressions given in these sketches make Rembrandt's versions stand out.
Scholars have also noted the exclusions made by Rembrandt:
Rembrandt excluded the umbrella – a commonly used symbol in Mughal paintings  to mark a person of great importance. The background and floral borders also do not seem to have caught Rembrandt's fancy. The haloes are only faintly demarcated and the clouds are loosely drawn, minimally denoting a celestial setting.
In the Mughal paintings, Shah Jahan is often depicted on a motionless stallion.  In Rembrandt's version however, you see the Mughal king in total control of the horse – which just somehow evokes movement!
I don't know what it is, but looking at Rembrandt's version, you somehow feel the picture has come to life – even though the arm at 90 degrees tries to bring back the feel of Mughal paintings. Here's a look at different versions of Shah Jahan on a horse:
Rembrandt's Mughal Inspiration
It is evident from the above Mughal-inspired "copies",  that Rembrandt was exploring a new form of art. He used this technique in creating other Biblical-themed art. Here's a look at 4 specific paintings :
1. Abraham Entertaining the Angels (1656)
From his drawing of the four religious sufis (refer to the 4th painting from the beginning of this post), Rembrandt adapted the semi-circular arrangement of seated figures around a central tray to arrange Abraham and the angels in his etching.  Before them is a large dish with wine glasses; next to them a jug. The jug, the dish and the depiction of God with a square white beard in the etching are clearly taken directly from his own copy of the miniature.
2. Christ Presented to the People (1655)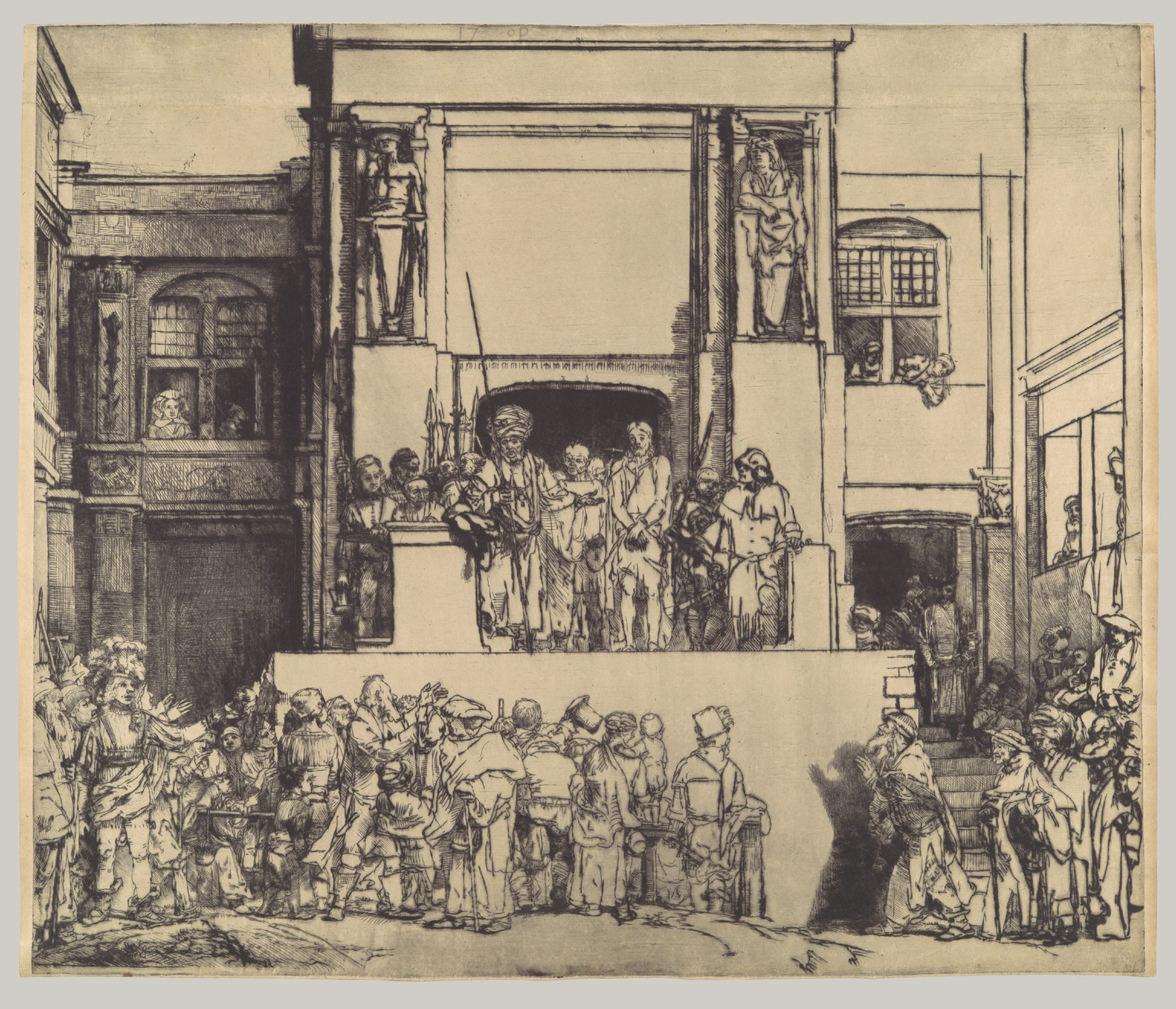 Christ Presented to the People, a series of eight studies done in drypoint on Japanese paper, also shows the influence of the miniatures in terms of the costumes.
 3. Christ Preaching (1657)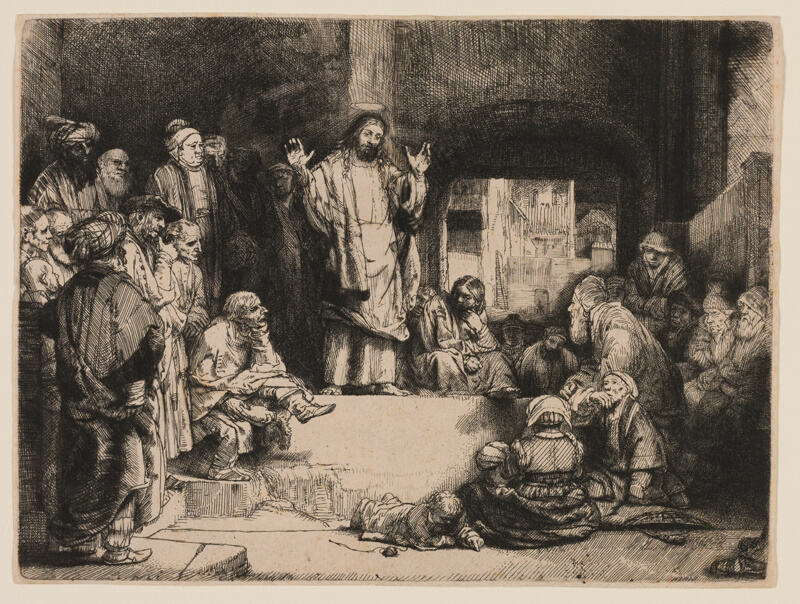 In this etching, Rembrandt is said to have included the turbans, slippers and shawls  worn by the locals resemble those in Indian paintings. The footwear and shawls worn by them are also inspired by the miniatures (look at the person on the left).
     4.  The Jewish Bride
Perhaps one of the most famous paintings by Rembrandt, according to scholars though this technique was vastly different from the Mughals, the inspiration was subtle :
"Rembrandt does not paint the bride wearing a dress of the period, but gives her a rich red gown that could have been influenced by the colours of the Indian miniatures"
We may have banned the Mughals from our history books but that definitely does not delete them from India's cultural legacy. The Mughals have inspired many artists – but could you have ever imagined their influence on Rembrandt's art?
"The Mughals have taught me a lot. Looked at rightly, the Mughal portraits can teach one everything almost that matters. Subtle yet intense, keenness of form, acute and detached somewhat ironical observation, all the things I needed most at the time I got acquainted with them."  – Amrita Shergill in a letter to Karl Khandalavala in 1940.
I guess Rembrandt would have completely agreed with Amrita!
---
If you enjoyed this post, please don't be shy about sharing!