Featured Image Artwork Credit: Archit Singh
Enhancing the museum sector is an important part of nation-building. In fact, it should ideally be the core from where one starts, for it binds the past and future. It also has the potential to become a high-revenue sector for the tourism ministry. Museums are hotspots for cultural tourism but in India, there is hardly a time when we choose museums as the hallmark or symbol of an inspiring visit.
Why are Museums the least searched term on Google? Why do Museum-Visits fall under the "alternative" or "off-beat" things to do?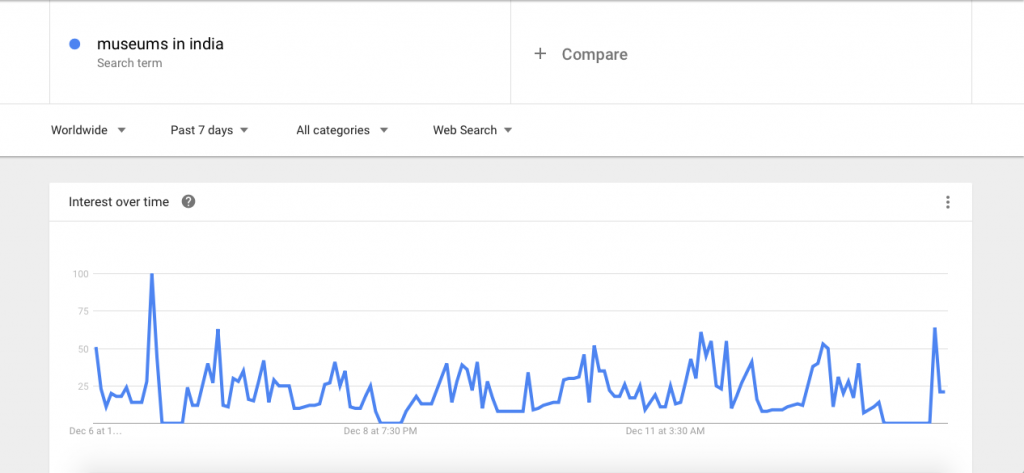 Recently in an interview to the Indian Express, Museologist Vinod Daniel, the Chairman of AusHeritage spoke about "six challenges museums in India are faced with".  Here are my views (proceeded by #) on the challenges he highlighted (in red).
The Lack of a Vision
"Across the country, most museums don't have a director. You look at most western museums, they have a director for 4 or 5 years; because it takes some time to transform a vision to reality."
# In India, Museums are sometimes 'Punishment Postings' for IAS officers. It is also common practice to appoint officers as Museum Directors who have absolutely no knowledge of arts management or curatorial practices. Further to that, there is no training organized for such Directors to equip them with the requisite skills to lead city / state museums! So that almost kills the point of developing a vision for the museum!
Staffing
"Most staff in museums here do not have the capacity to be part of the museum. Part of the problem is with the system. A lot of them come through UPSC and then having the necessary skill set is not part of the selection criteria. A proper selection process needs to be put into place"
# If you have visited a museum, you have come across Museum Attendants who are sometimes not very pleasant, and in the absence of a guide cannot explain a single word about the display. They are mostly there to guard objects against manhandling / breakage, etc. In museums where visitors aren't many, they hardly even leave their chair. The ugly truth is, that the staffing criteria is such that after some 'x' number of years of doing this day in and day out, I kid you not – they can earn something like 50,000 INR a month!! Compare this to a new entrant in say the Education department – the salary would be a meagre 10-12,000 a month. That's where Museums go horribly wrong.
Audience Engagement
"One of the things that should be done is that they really need to figure out what would make museums more attractive for audience to come, and feel connected"
# Unfortunately, even the Museums who have a lot of visitor walk-ins are seemingly forgetting to acknowledge or recognise the thin line between outreach and engagement. These are two very different things, and museums must understand how to engage visitors (and not just children), perhaps constitute a visitor-run and managed committee / club and give them the reigns! Trust is very important, and audiences have to be made to feel a connect with the display so they can visualise the links to their personal histories!
Managing Collections
"In terms of collections, it's going to reach a stage where they really need to prioritise what they are collecting. Museums need to rethink in terms of how they manage this whole aspect. In the West, many museums would have a collection development strategy. What they do is only a certain kind of collection can come under a certain museum, if not they can go somewhere else" 
# Aside from the likes of the KNMA or Bhau Daji Lad, state or city Museums probably don't even have a written mandate for acquisitions or loan terms.  Collections care, digitization and conservation too, needs to be taken seriously by Museums and a budget for that needs to be set aside!
Intangible Cultural Heritage
"The last point is important to most developing countries and not just India. That is the issue of intangible cultures- dances, stories etc.I think the museums need to bring the intangible aspects to the fold. It will drive more audience"
# This is the easiest thing that Museums can do and must do. Museums are by nature inter-disciplinary, and it makes sense to involve the traditional or folk arts. The Indian Museum recently hosted Bookaroo, and CSMVS hosts regular workshops in association with Paramparik Karigar. Museums could look at textile-demonstrations (printing / weaving); and 15-minute storytelling sessions through the day as well as interactive arts!
And the last point that I would like to add : The Disconnect between Academia and Museums
While we have more than 1500 museums in India, we do not have as many courses in the academic world that would equip the next-generation of Museum leaders with skills of arts management, collections management, curatorial practices, design or communication technology. Course content is not tailor-made to suit the different requirements Museums have.  On the other end of the spectrum, most Museums are also not open to people from different disciplines. This closes all forms of cross-industry interaction for Museums and results in the creation of an elitist brood that sometimes becomes unapproachable for emerging museum professionals.
---
Australia-based museologist and conservator Vinod Daniel has been working on restoration projects in India and in several other countries for a while now. This post uses only excerpts from the original interview which is a must read. He speaks about the urgent need for museums in India to address challenges of audience and community involvement, a need for a strong leadership and staffing and also the extent to which repatriation of objects that are situated abroad matter. He also speaks about why museums are necessary for efficient nation building and what India can learn from museums abroad.
I would love to hear your views on the challenges Museums in India are facing (perhaps there are more than the listed ones), and approaches / solutions to these!