If you've ever been to Mumbai, you would've visited the Gateway of India. And if you've been there, you know which statue we are talking about! The bronze sculpture of Chhatrapati Shivaji in his armour, atop a horse, looks almost ready to charge in battle. The stately equestrian statue enjoys a commanding presence over the tourist hub- almost as it always belonged there. We really can't imagine how this landscape would look like without it.
That's why it is so hard to believe that the Gateway of India was actually NOT the first place where this statue of Shivaji was stationed.
On the occasion of his birth anniversary (February 19), the nation remembers Shivaji as a great warrior and administrator. But in typical Heritage Lab style, we remember his statue and what we can learn from it about time and it's typical instability.
---
The Symbol of the Horse
Horses have always been an important tool of war. That is why, you'd see so many rulers and military leaders commonly depicted atop horses; even though in earlier times horse sculptures were quite difficult to make! This tradition continued, as we can see, even up till the statue of Shivaji under consideration. There's no conclusive record of the name of the horse Shivaji rode, like we have for another Maratha- Maharana Pratap. His horse, Chetak was immortalised in legend (and later as a Bajaj scooter ?) for his loyalty to his master till his death.
A kind of succession conflict
The Shivaji statue had one home prior to its current location. Interestingly, both times it was installed, it was done to replace it's counterpart in the British monarchy.
Edward VII & his 'Kala Ghoda'
The first time around, Shivaji's statue was installed to replace the statue of Prince of Wales [later Edward the VII]; in an area of the city now known as the Kala Ghoda.
Did you know, it was actually Edward VII's sculpture, with its bronze horse burnished black , which gave the area 'Kala Ghoda' its name! #Mumbai
Click To Tweet
The Prince-of-Wales statue was commissioned in 1879 by Albert Abdullah David Sassoon (a Jewish business and philanthropist). He was one of the richest men in Bombay at the time. Made by the world renowned sculptor, George Wade, the statue was supposed to commemorate the visit of Their Royal Highnesses Prince and Princess of Wales.
As a sign of colonial rule, the mere presence of the statue irked several activists. In the 1960s, in a wave of patriotic fervour, they defaced the statue and put the one of Shivaji in its place. Edward VII' statue was consigned to the Byculla Zoo. Later, the statue of Shivaji also made its way to the Gateway of India to thwart another colonial entity.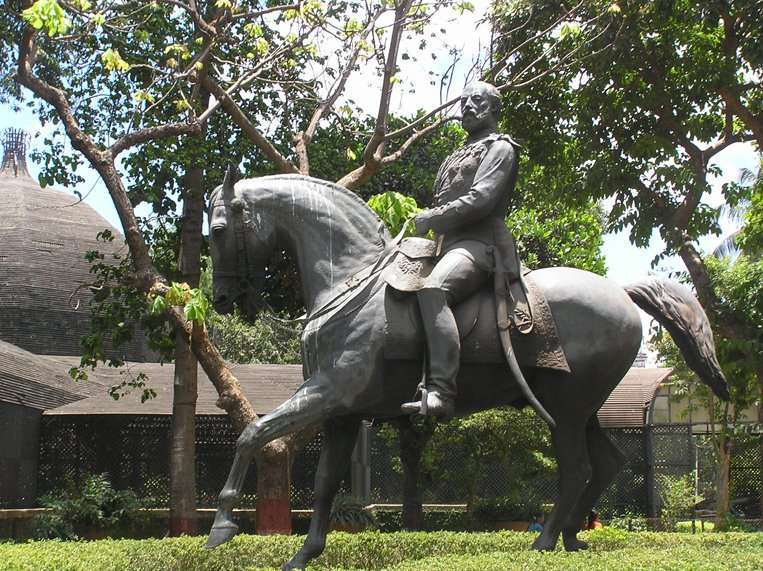 A Statue of George V
The second time Shivaji's statue replaced that of George V, which stood near the Gateway of India. As one of the more well known royal statues in India, it created a strong reactions on both sides of the debate. Ultimately, nationalist feelings prevailed and Shivaji managed a second victory. Last we heard, the sculpture of George V lay in a nondescript shed near Elphinstone College.
This statue of George V, actually came to be at the Gateway of India around the time he visited India in 1911. In fact, the Gateway of India too, constructed to commemorate this visit, ahead of Delhi Durbar.
What happened to Kala Ghoda
As we saw, in time, both Edward VII and Shivaji exited the locality. Without it's figureheads, the battlefield of symbols has turned into a mere parking lot. However, Kala Ghoda remained the shorthand way of referring to this area, which became a famous arts district and centre of the Kala Ghoda festival.
In 2017, the Kala Ghoda Association decided to reiterate the area's tryst with horses and remind the new generation of this history.
A new sculpture in the parking lot, replaced the earlier two statues ! Called the 'Spirit of Kala Ghoda', it was also a black horse, but this time without a rider. Designed by architect Alfaz Miller and sculpted by Shreehari Bhosle, it is to symbolise the essence of art, culture and the free flow of ideas.
Change is the only constant
Other than statues, the British dotted India's landscape with several such structures of imperial power and ambition. These structures in public places guide us how we think about the place and form memories related to it. Thus, when one section of Indians in the 1960s wanted to assert their national identity, they thought of removing those colonial symbols with homegrown national heroes. In a similar fashion, renaming a place is also an attempt to alter what about its history will go down in history.
Shivaji is celebrated as a hero and a self-conscious marker of Maratha identity. But perhaps hundreds of years down the line, it would be someone else we're revering. The poem Ozymandias by PB Shelley comes to mind- time truly doesn't wait for anyone. That is why history is humbling – it helps us get off our high horse!
At Kala Ghoda, they seem to have taken the sentiment to heart, with the latest riderless horse. To us, this simply means rulers may come and go, it doesn't matter who passes the baton to the other as long as the spirit of art stays alive. That's something we can all cheer about!
Share your reaction!