Over the last decade, many museums around the world have adopted an "open access policy". From the US to Europe, the opening up of museums has meant that anybody can use, re-use, remix collections without any copyright restrictions. At the core of open access is the commitment to make heritage accessible for people regardless of economic, social or geographical barriers. For museums, this move has contributed immensely to brand-building and added social value. But how?
The National Gallery of Denmark (the Statens Museum for Kunst, aka SMK) in Copenhagen is one of the premier art museums of the country and home to several European art treasures. In this podcast, I spoke with Jonas Heide Smith – Head of Digital at SMK about their approach, learnings and challenges. Give it a listen or read on for the key takeaways.
Follow the series on Spotify
Follow the series on Apple Podcasts
Important Links:
Jonas Heide Smith on Twitter
SMK Denmark website
SMK Open
The Berlin State Museums [Staatliche Museen zu Berlin] Germany
ICOM Germany
Open-Access as part of the Digital Strategy at SMK Denmark
The Goals:
increasing reach
connecting people with art
increase relevance in Danish society
remove barriers between local & global audiences and the collection
The big question : should we focus on making collections digitally accessible or invest on improving the digital experience of visitors who come to the museum?
SMK chose to go the open-access way resulting in a 10 fold increase in visibility.
At the time of recording the podcast, the numbers for 2019 were not in, and stood at 44 million. In January 2020, Jonas announced that their content (combination of web sessions, Facebook reach, Instagram reach and views on Wikipedia) had been accessed more than 47 million times. Here's a snapshot shared by Jonas Smith on Twitter showing their web-sessions.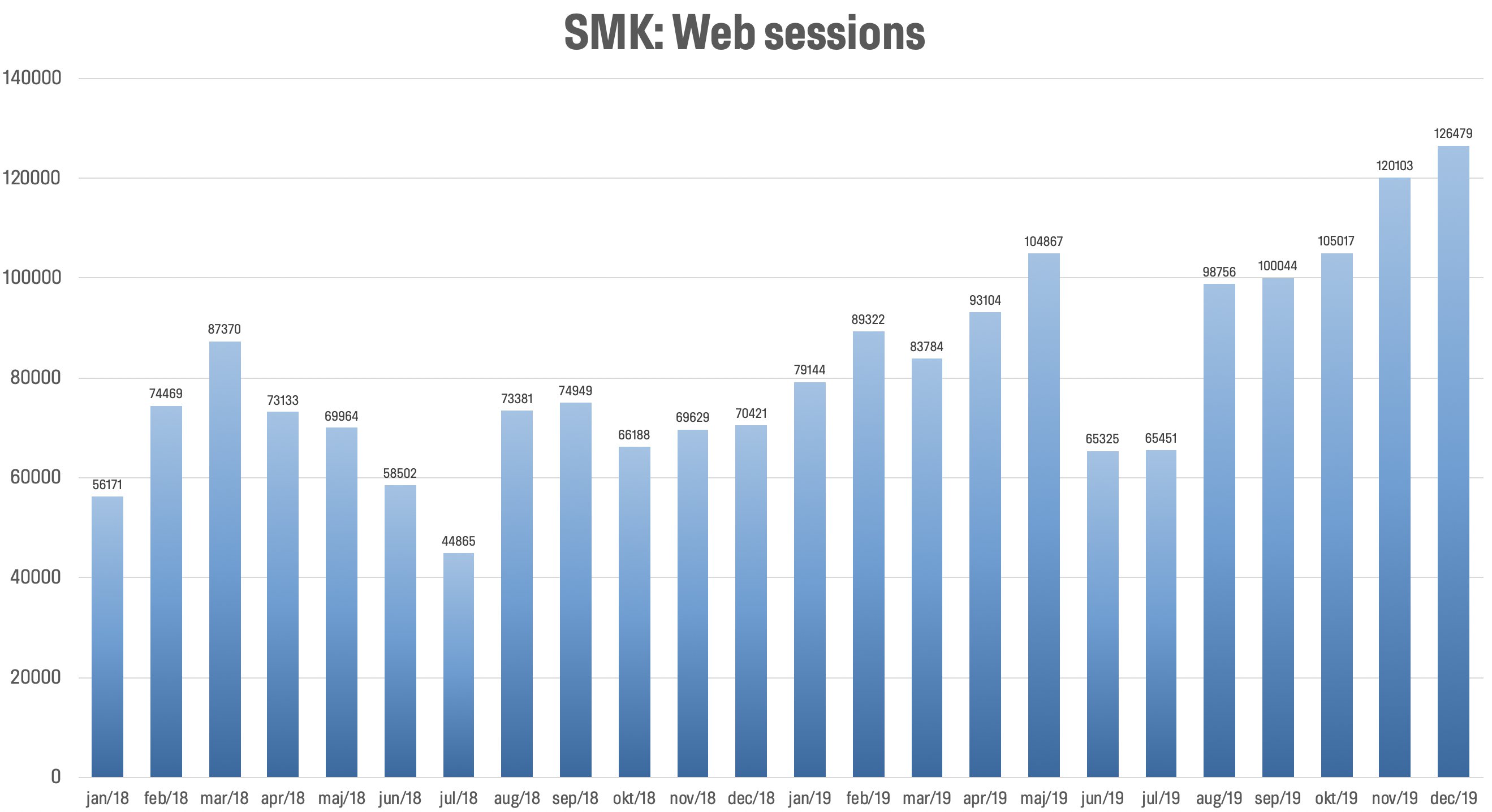 How SMK Denmark did it: Getting over the initial fears, and a realisation
For any museum thinking of open access, there are many questions, doubts and fears. One of the core challenges of opening up is the one about the perceived losses. Selling high resolution art works to publications / scholars for a fee has been a long followed practice in the industry. Most museums in India still follow this revenue model. This is why, the concept of Open Access tends to pose as a thought-barrier for museum administrators. While one doesn't need to argue the open-access case much, it would be ideal for museums to base their decision on data. How much does your museum earn through selling these artworks? Compare this to the projected reach your museum could have by opening-access or the social value it might create.
For those wondering if SMK faced any legal troubles, Jonas confirms that nothing of the sort happened, and "the world didn't collapse".
The experience has been, that the more you show your art online, the more people would love to see it offline

Jonas Heide Smith
SMK Digital : What comes after Open Access? How does the museum engage audiences?
Opening collections is not the end of "digital success". Enabling people to use the collection and generating engagement was the next step for SMK and the bigger challenge.
The museum planned workshops, events and programs that encouraged people to remix collections and learn about possibilities around using the open collections. For audiences that aren't used to visiting museums, remix initiatives are a great way to familiarise them with the collection.
It is not about replacing the old ways of seeing a museum; it is about reaching audiences who are clueless about that old way.
Highlighting the merits of Open Access, Jonas also stresses on the most important thing that museums need to realise : you cannot do everything by yourselves. Digital opens up many possibilities for museums to become more inviting and open to collaborations. A museum might have the core strengths of research, collection care, etc. but might not be the best at developing apps or clicking great photographs. In such cases, engaging audiences to use your collection to build on digital assets is a good practice.
There are many examples of cultural hackathons across Europe that show the innumerable creative ways people have used collection-data. When it comes to SMK, one of my favourite engagements is the Art Jewels competition hosted by the museum in association with Shapeways. And here's another nugget : Art from the SMK even made it into a Netflix series! The point is, you do not know in what amazing ways your art can reach people and the impact it can have.
Recently, DAG Museums in India, opened up 13 artworks allowing re-use and remix, as part of the GIF IT UP India Challenge.
Measuring the success / impact of Open Access : Key Performance Indicators at SMK
Any museum creating a digital strategy and drafting actionable points must also define success indicators (quantifiable goals). One of the metrics for SMK was 'reach across channels'. This included platforms like Wikimedia, Google Arts and Culture and when it came to social media, SMK even included the reach of photos clicked by visitors. Personally, I feel this is a a great practice because somewhere it indicates that every visitor and their activities at the museum or outside it are important and add to the success of the museum's goals.
Working with digital can take many forms and influence decision making across departments. Very often it becomes the *only* way for people to experience art that they might never get to see!
Management support and Funding is crucial for Digital projects
Getting management support is not easy, but crucial and you cannot get very far ahead without it. At SMK, going digital was a bottom-up process where the employees made a strong case for digital as a way to fulfil core museum goals. This is also why any digital goals and plans must align with the museum's overall goals – also so there is no room for competing for resources. The SMK used it's resources to build core infrastructure in a way that digital could amplify all the work the museum has done for hundreds of years. The project SMK Open too, is externally funded. According to Jonas, getting funding is one of the most important things to do, to ensure a buy-in from other teams – so you don't compete for resources and you're not stepping in on each other's work.
The most important thing: Secure funding
While many philanthropists extend support to museum-education and other functions (conservation, for example); museums in India have not been able to develop successful digitization projects yet. The Ministry of Culture, while sharing it's vision for a digital future often misses earmarking dedicated funds for such projects. Other issues which Jonas underlines, and must be taken into consideration by Governments across countries is the openness to collaboration and partnerships with people with relevant expertise.
Opening collections is not easy and needs a strong commitment from museums. But through our podcasts, case studies and other resources, Embrace Digital hopes to provide positive stories about museums and their digital projects and build a community of professionals who can seek support from each other.
View a list of OpenGLAM institutions here. You can also follow the @OpenGLAM twitter account for more about open-access.
Would you like to contribute and join the conversation? Share your museum's digital journey / successes / challenges [about social media, opening collections, engaging audiences, developing digital assets, etc] with us using #EmbraceDigital or reach me at [email protected]