When we think of artists from pre-independence India, Raja Ravi Verma, Abanindranath Tagore or Nandalal Bose come to mind. However, it wasn't an all-boys club, as these names seem to suggest. Women artists of the same time haven't been recognised and in some cases, have been conveniently forgotten. Sunayani Devi is one such artist who was left out of the historical records. So much so that, until last year's Art+Feminism campaign, she did not even exist on Wikipedia. This, even when other members of her illustrious family, the Tagores, are so well known.
In a country where it is difficult to name even 5 women artists, this is hardly surprising.
Thus, Women's History Month seems like a good time to remember and celebrate this forgotten artist from the 19th century.

Who was Sunayani Devi?
I'm sure you know of the Tagore household of Calcutta- a family of esteemed writers and painters. Sunayani Devi (June 18, 1875- February 23, 1962) was a member of this eminent family. Born to Saudamini Devi and Gunendranath Tagore, she was Rabindranath Tagore's niece and younger sister of legendary painters Abanindranath Tagore and Gaganendranath Tagore. Their family was the hub of the Bengali renaissance of the late 19th and 20th century.
A Self-taught Artist
#NGMADelhiPrestigiousCollection 'Lakshmi' by Sunayani Devi. medium: Wash and Tempera on Paper. pic.twitter.com/UEmbP48ByC

— NGMA Delhi (@ngma_delhi) November 4, 2015
Coming from such a background, one would think Sunayani must've had all the encouragement to start off as a painter. However, she was actually self trained and only took to art seriously in her thirties.
Sunayani would often spy on her two older brothers experimenting with different art forms, like the Japanese wash techniques. This created a longing in her to pick up the brush and paint. She tutored herself by watching her brothers and received no institutional training in her life.
She was married off to Rajanimohan Roy (grandson of Raja Rammohan Roy). It was on his encouragement that she started her journey as a painter. After this, she was active for 15 years, but lost her vigour to paint once her husband passed away.
Her painting style
When she started painting, Sunayani Devi maintained a strict regimen. She started her day at eight in the morning until midday, and then from three until four-thirty.
The wash technique
Art historian Stella Kramrisch, a champion of Sunayani's work, writes about her painting process. Influenced by Abanindranath's wash technique, she would first draw a red or black outline with brush on paper. This was then filled in with watercolours she herself prepared, applied with a thin paintbrush. After this, she dipped the sheet into a circular drum of water allowing the colours to be absorbed by the paper. The wash was used as a continuous process through which the form emerged without taking colours to drawing. The washes invested her works with a delicate hue. Once hazy shapes started emerging from the washes, she firmed up the outline.
Art gushed 'out of her very nature'
Sunayani did not pre-plan her art by drawing first. She let her creative urges guide her. This made Kramrisch declare that Sunayani's paintings grew organically, gushing 'out of her very nature'. Her art was a kind of creative relief. She did not care about what it'll be worth, evidenced by the fact that she would often paint on both sides of the paper. When she tried to paint consciously, she would lose her delicate touch, thus betraying her limitations. To Kramrisch, her limited skill and narrow horizon were a strength rather than weakness- a form of naïve grandeur.
Expressing herself on canvas
Diverse sources of inspiration
Her artistic sources were quite varied. As a child, she was fascinated by the devotional pictures that hung in her aunt's room, especially the Ravi Varma prints. Later, she was inspired by Rajput miniatures and Abanindranath's water colours. Kramrisch identified two main inspirations: village clay dolls that often adorned urban homes and Kalighat pats. The Englishman commented on the bold originality of her paintings, which resembled ancient Jain paintings in their hieratic quality.
A glimpse of her inner world
The subject matter of Sunayani's art belonged to a private inner world.
'Most of my paintings, I have seen in dreams – after seeing them I have put them down.'

Sunayani Devi, to her grandson
Sunayani Devi borrowed stereotypes associated with Indian women and the inner domain of their life. She then placed them in her canvas with vibrant colours in her own individualistic style. Being brought up in an environment of anti-colonial resistance and Swadeshi ideas affected her art. Her elder brother, Abanindranath Tagore, was also a strong advocate for the revival of Indian art. This explains the 'folk' element in her paintings.
However, according to renowned art historian Partha Mitter, 'rather than describing her as a folk painter, we should view her as a genuine naïve painter who used folk motifs with immense charm and feeling.'

First 'Indian modern woman artist'
In any case, we can boldly claim that she was competent enough to form a school of painting of her own. Dr Stella Kramrisch called her the first Indian modern woman artist and commented: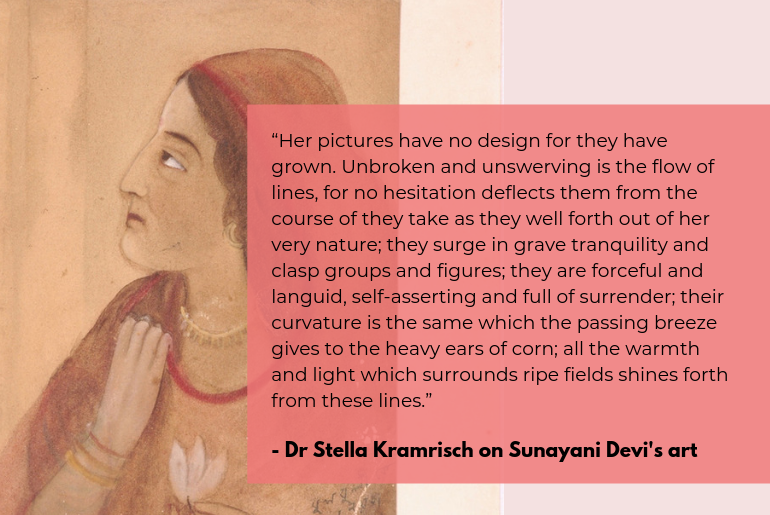 Sunayani Devi's art found several admirers and was featured in several important exhibitions. In 1927, she was included in the exhibition held by the Women's International Art Club in London. Austrian painter Nora Pursar was impressed by her lotus-eyed women, charming colours and mounmental fresco-like quality of her paintings. She had met Sunayani during her visit to Calcutta to produce murals for a local Art Deco movie theatre.
In 1935 her loyal admirers arranged a showing of her works at her home. This was to be her last public exposure. In the 1940s, her family suffered a series of misfortunes, causing her deep despondency, leading to her departure from the world of art. However, her art lives on. She stuck to her passion despite all odds and made a name for herself.
Sunayani Devi is truly an inspiration!
References:
The Triumph of Modernism: India's artists and the avant-garde, 1922–1947 by Partha Mitter.