[dot_recommends]
Contributed by Susmita Biswas
Every Sunday, a new bunch of schoolchildren troops into Rajendra Ovalekar's two-acre farm on the outskirts of Thane. Quite unlike children on a field trip, they instantly whip out their notebooks and pens and walk around noiselessly taking notes, clicking photos and quietly observing the flying specks of colour around them. For darting and flitting across the Ovalekar Wadi Butterfly Garden on Ghodbunder Road are hundreds of butterflies who have made it their breeding, feeding and nesting place. Home to over 140 varieties, this unique farm is where Rajendra, 49, has been breeding butterflies naturally since 2005.
"At a session on butterflies conducted by the Bombay Natural History Society (BNHS) in 2004, I realised that a variety of butterflies inhabited my neighbourhood but I did not know their names. That was when I decided to create a hub for butterflies with my resources," says Rajendra, a physical education teacher. Around the same time, his friends who knew of his interest informed him that a village not far from Mumbai had a high density of butterflies. On researching about it and touring the outskirts of the city, Rajendra found himself in his own village of Ovale. "I do recollect chasing butterflies as a child in my village home, but it never struck me that my village was in fact the right spot for a butterfly farm," he says.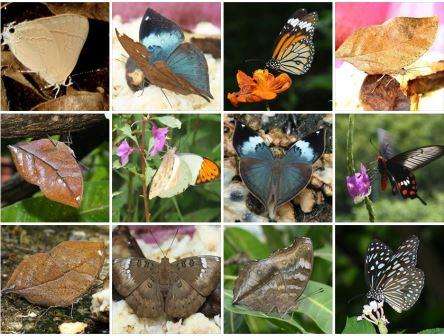 From a family with an agricultural background, Rajendra owned a two-acre farm in the village that had been lying barren for over a decade. He decided to convert it into a natural butterfly zone with expert inputs from Issac Kehimkar, general manager, programmes, BNHS, and the author of The Book of Indian Butterflies.
Eventually Rajendra planted host plants where butterflies lay eggs, nectar plants and even useful weeds. "All I think about ever since I started the farm is what more plants I should get so that more butterflies are attracted to this place," he confesses.
"I have procured plants from Kerala and Karnataka where there are butterfly gardens. But what is important to remember is that even weeds that grow on the roadside are perfect for butterflies and people chop them off with impunity. There is hardly any awareness being created about butterflies, especially in Mumbai where we don't even have a butterfly garden," he rues.
With this aim of spreading awareness about butterflies, host plants and nectar plants, Rajendra opened his garden to visitors soon after setting it up. "Initially I had no plans of doing so but the lack of information in the public domain about butterflies made me do this." Open only on Sundays, the garden is a favourite among schoolchildren who are able to observe the different stages of a butterfly's life cycle here. "Children are very interested in knowing what plants they should grow in their gardens and window gardens to attract butterflies," says Rajendra as he rattles out names of butterflies that feed on Ashoka trees, nest on Lime trees, and so on.
His enthusiasm about butterflies is quite infectious and is shared by his 17-year-old son Pranav and older brother Bhupendra. All three of them guide visitors through the garden and even assist photographers in capturing the butterflies on camera.
Rajendra visits the garden every day after school to keep a record of the butterflies that visit his farm. "Now with my data, I understand the migrating patterns of butterflies and even know when they are late or early. In fact, butterflies that nest on plants more than 3 km away from the garden visit Ovalekar Wadi just for the handpicked nectar plants I have planted. Only recently, the rare Redspot butterfly nested in the garden, but it does not visit anymore. Maybe I do not have the right nectar plant,"  he reckons.
The lepidopterist now wishes to write white papers on butterflies and spread the joy of "butterflying", as Kehimkar calls it.  "I would be happier if the government authorities take some initiative to promote preservation of butterflies as this small act of having a butterfly garden can snowball into preserving nature itself," he says.
---
Ovalekar Wadi Butterfly Garden is a home for 132 species of butterflies which are seen throughout the year. It is an open air butterfly garden located in Thane where you can see butterflies in natural surroundings and not in any enclosure. 
This Garden is open to public on all Sundays only. The timings are between 8:00 morning to 12:00 noon.
About the Writer: Susmita Biswas is a freelance journalist with a keen interest in learning new things. You can follow her on Twitter or Instagram, where she posts some amazing pictures.
Other credits: This article was originally written by her for the New Indian Express, and can be read here.