"Tipu's Tiger" is one of the most popular exhibits at the V&A, London. The mechanical wooden toy had once belonged to Tipu Sultan, and was even among the highlights of the Great Exhibition of 1851. To celebrate the death of Tipu, the 'most formidable enemy of the East India Company' in the Battle of Seringapatam in 1799, British soldiers ransacked the city, including Tipu's treasury, armoury and the palace. They helped themselves to any "souvenirs" they could find. A "Prize Committee" was later established to divide Tipu's treasures and items of everyday use amidst soldiers according to rank. The most important objects were divided between directors of the East India Company and the British royal family. On the first day itself, they managed to count 1.2 million gold coins. Today, Tipu's possessions are in museum collections around the world, and often show up at auctions. Even now, they continue to fascinate viewers, reaffirming the significance of the battle & Tipu's power over his enemies.
In this gallery, take a look at 18 beautiful objects along side their curatorial-descriptions.
Page 1 of 18
Cane Handle of Tipu Sultan
On one side of the lion's torso and the bottom, a commemorative inscription proclaiming Tipu Sultan's titles and a date corresponding to 1783-84, is engraved . The other side features two birds-on-branches with blossoms. The present inlaid gemstones and insets are later replacements. It is likely that this cane handle was among the luxury items made to commemorate his victory in the second British-Mysore war.
Page 2 of 18
Huma, the bird of Paradise, from the throne of Tipu Sultan
Above the canopy of Tipu's octagonal throne, hovered the Huma (Peacock– the bird of paradise). It was crafted of gold, studded with diamonds, rubies and emeralds. In a letter dated July 1799 to the Governor-General of India, Lord Mornington, Captain Macaulay (Private Secretary to the British Commander-in-Chief, General Harris) explained that the huma was "supposed to fly constantly in the Air, and never to touch the ground. It is looked upon as a Bird of happy Omen, and that every Head it overshadows will in time wear a Crown".
The next image includes another element of Tipu's throne.
Page 3 of 18
A tiger from the throne of Tipu Sultan
Tipu's court was known to have attracted the finest artists in metalwork and jewellery. This finial is one of only a few fully documented examples of goldsmiths' work from Southern Indian workshops.
Take a look at this painting of the throne. By the time Anna Tonelli painted this watercolour, the throne was already broken up, its parts to be auctioned off or given to high-profile British civil and military personnel, as well as the British royal family.
Page 4 of 18
A silver casket with perfume bottles
The casket contains six silver bottles, a silver funnel and a silver ladle. The suggestion of the intended use of the casket as an "attar-daan" hints at the use of perfume as an item of luxury in the Mysore court. The intricate silver filigree work has been seen by historians as a fine example of European (Dutch) – Indian artistic exchanges.
Page 5 of 18
Tipu's Tent
Campaign tents were important symbols of a ruler's power. Tipu's tent was made of chintz-lined panels from separate tents (qanats), which can be dated to the later Mughal period, c.1725-50; except for the South-Indian panels, which are probably from the time of Tipu Sultan's reign (1782-99). Later, the tent became a source of great pride for Lord and Lady Clive who used it for their garden parties[ref].
Page 6 of 18
Tipu Sultan's personal copy of the Quran
Tipu's library contained at least forty-four complete copies of the Quran. This manuscript was rebound by Tipu Sultan in a particularly fine gold decorated and inscribed binding which is found on several volumes in his collection. The cartouche at the top carries the official name of his kingdom, Sarkār-i khudādādī ('God-given government').
In the centre, a medallion is stamped with the names of Allah (at the top) and underneath Muhammad, followed by his son-in-law and daughter and their two sons: ʻAli, Fatimah, Hasan and Husain. The four corners contain the names of names of the four first Caliphs, Abu Bakr, ʻUmar, ʻUthman and ʻAli. The two side cartouches contain the words of the Islamic creed the Shahadah while the two pendants are inscribed 'Allāh Kāfī' ('God is sufficient').
Page 7 of 18
Tipu Sultan's copy of "Jaimini's [Jaya Muni] Sutras" – a treatise on Hindu Astrology
The ancient author Jaimini (c. 4th century BC) developed an astrological system of creating horoscopes to determine events and their timings which he recorded in this text, originally composed in Sanskrit. The calligraphy, in Telugu script (read left to right), reflects the hybrid nature of Tipu's court since it is written with a slight slant, presumably by someone more accustomed to writing in Persian.
Tipu's library contained approximately 2,000 volumes in several languages, and included books about theology, ethics, Sufism, cosmology and Islamic jurisprudence, history, poetry, the sciences, mathematics and astronomy.
Page 8 of 18
Tipu Sultan's Achromatic Telescope
Tipu was definitely one of the few Indian rulers who liked to keep up with global technology trends. The achromatic telescope manufactured by the James Ramsden was equipped with accurately divided circles and was used by many European observatories.
Tipu's telescope bears an engraving : "Col. Wemyss Smith. This telescope was taken from the body of Tippoo Sahib at Seringapatam, May 4th 1799".
Page 9 of 18
Helmet taken from Tipu Sultan's palace
The defeat of Tipu Sultan by a joint Anglo-Indian force at Seringapatam in 1799 (since the first war in 1767) opened India to armed conquest. The helmet was presented as a symbolic gift to Lord Cornwallis, the first Governor-General of India.
Page 10 of 18
Tipu Sultan's Book of Dreams
The journal contains altogether 37 dreams dating from between April 1786 and January 1799, just a few months before Tipu Sultan's death. The dreams are dated according to Tipu's own lunisolar calendrical system which used new month and year names based first on abjadand then on abtath values. The dreams cover a wide variety of topics but the majority reflect Tipu's preoccupations with his enemies. Some are seen as indicating success and victory. Others relay encounters with the Prophet, his son-in-law ʻAli and important religious and literary figures such as Saʻdi and Jami whose presence may be seen as a legitimising force.
Page 11 of 18
Tipu's Gold Watch
The 18th century pocket watch was made by 'Ellicott' – a famous family of clock makers from London. The watch was taken from the treasury of Tipu Sultan. On the back though, is an engraved inscription that reads: "This watch was found on the person of Tippoo, Sultan of Mysore on his death …".
Page 12 of 18
Gun-mortar in the shape of a tiger
This mortar was cast in India in the late 18th century, possibly for Tipu Sultan (1753-1799), known as the Tiger of Mysore. It is a testament to the skill of the unknown founder, weighing in at around 2,540kg. Two of these tiger mortars were seized in 1838 by the British Army under Major-General Wilson, at Fort Kurnaul, Madras Presidency, during local disturbances. This example remained unfinished without a drilled vent and cannot therefore be fired. After being sent to England, the mortars were held at the Tower of London.
Page 13 of 18
Tipu's Firearm accessory
This powder horn was used to contain gunpowder for a firearm. Notice its form carefully – it is exactly comparable to the stripes on Tipu's tiger (as seen in the previous image).
Page 14 of 18
Tipu's Quiver of Arrows
This quiver was a trophy from the Battle of Seringapatam on 4 May 1799, the culmination of a campaign against Tipu Sultan of Mysore (1750-99) in Southern India. It was presented to George III by Richard, Earl of Mornington, Governor General of India, on 2 April 1800. The inventory of arms and armour at Carlton House records 'This case of arrows was taken from the bedroom of the late Tipoe Saib, supposed to be poisoned'. See more objects from the collection of the Royal Collection Trust.
Page 15 of 18
Tipu Sultan's Body Armour
Body armour (peti) made of quilted cotton covered with green velvet with ties at the front, taken at the siege of Seringapatam in 1799.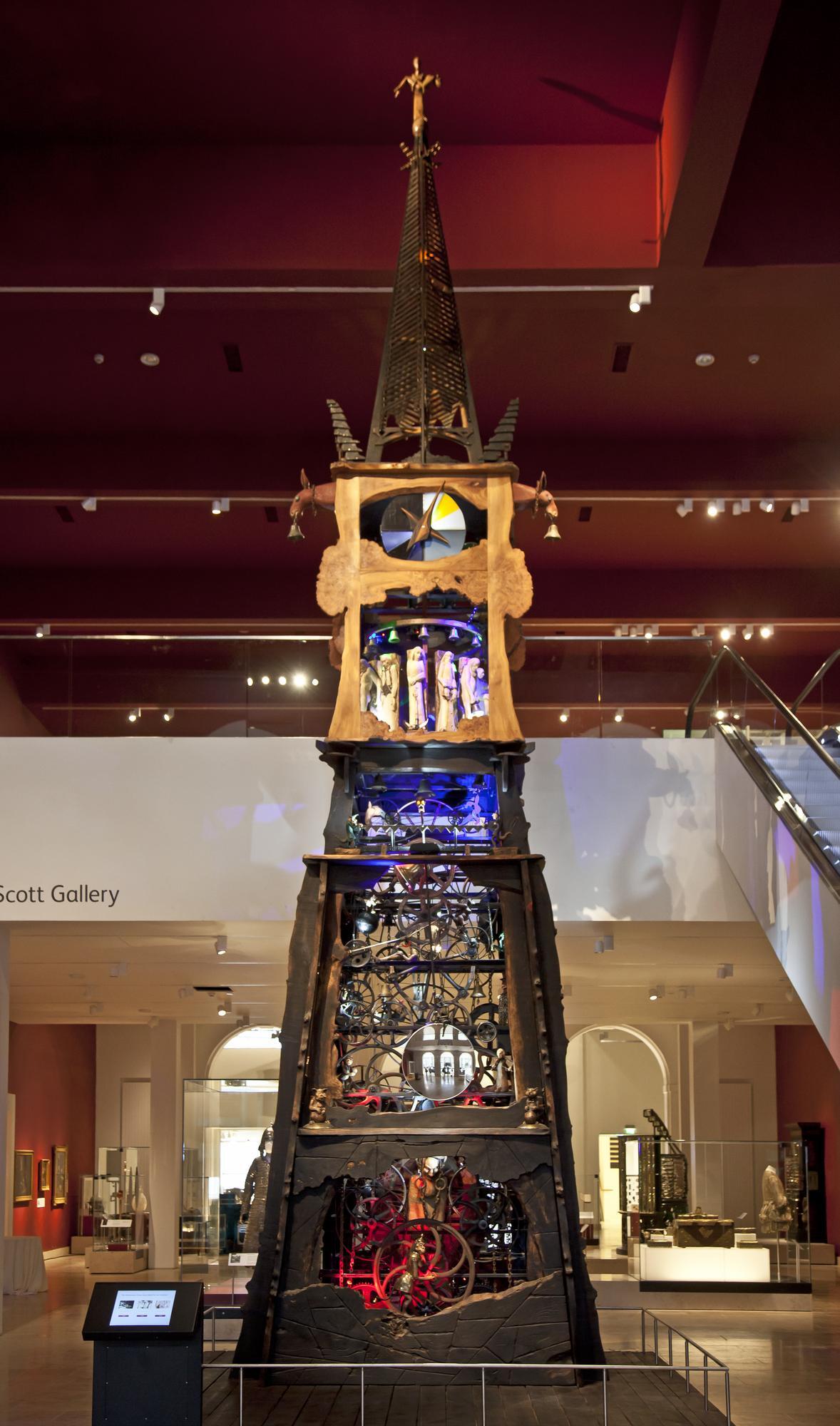 Page 16 of 18
Tipu Sultan's personal possession: a silk floral amulet case
This was the personal possession of Tipu Sultan, and was tied around his right upper arm. It was removed and kept by Captain Keith Young in the aftermath of the siege, seemingly to commemorate Tipu Sultan as a formidable opponent.
Page 17 of 18
Tipu Sultan's Scarf
Tipu Sultan is credited with laying the foundations for Mysore's silk industry. Evidence of his efforts in sourcing, cultivating silkworms is found in the many letters and correspondences that were transported in 35 boxes from Madras to Calcutta. By the Third Anglo Mysore War, the industry had expanded.
This textile bears gold and silk embroidery in the form of ornate patterns including fruits, flowers and birds. Accented with colours including red, green, black and pink. It was taken by Captain Keith Young, 71st (Highland) Regiment, during the Fourth Anglo-Mysore War, 1798-99, Mysore, India.
Page 18 of 18
Tipu Sultan's Gold (Magic) Box
This keepsake icosahedron belonging to Tipu was taken by General Robert Bell after his death. This 20-sided unique box bearing the Eastern Arabic numerals – 11, 20, 21, 31, 41, 51, 61, 71, 81, 91, 101, 201, 202, 301, 401, 501, 601, 701, 801 and 901 – is of great interest because of its rarity and value. The box is one of the rarest examples of a Platonic solid from the Indian subcontinent.
However, the significance of the numbers has not been decoded by scholars to date. Paul Bien relates the sums of numbers in the top, round the middle bottom and the total to give approximations (to 3 decimal places) to Pi, Pi squared, Pi cubed, the Golden Ratio, and the square roots of 2, 3 and 5 — we can say this box is nothing short of a mathematical wonder!
What do you imagine the use of this box to be?