[dot_recommends]
During Akbar's rule, a local revolt in Ahmedabad had the Great Emperor ride down from Fatehpur Sikri with 3000 horsemen at lightening speed (9 days). Of course he won over the rebels but stayed on in the city for 3 weeks. If at all there were leftovers (in terms of utensils from feasts and royal banquets), it would most likely be something you'd be staring into at the crowded display at the Vechaar Museum.
The Vechaar Utensils Museum is the only one of its kind in the world that boasts of a priceless collection of over 4500 unique pieces that narrate the story our cultural evolution, the human-need to create and the skill of crafting something beautiful, yet utilitarian. The museum also celebrates the diversity of craftsmanship in brass, terracotta, silver, wood, ivory, bronze and gold inlay work!
Fun Fact: The entire museum travelled to Russia in 1986 for an exhibition!
Utensils have been, and continue to be an integral part of everyday life. Through the ages, a myriad of utensils and cooking aids have appeared and disappeared only to become a trend again. The Hukka is one for instance. Also, see this Pressure-Cooker. Doesn't it resemble the idli-maker of our times?
The "boti"  for instance was a unique cutting instrument used in Bengali households. From grating coconut to cutting fish, women would squat on the floor, rest one foot on the wooden plank and use both hands to cut vegetables. It was common for a household to have 3-4 different sizes of Boti's with one reserved specially for "puja" purposes.
Each one of these utensils has a story and have witnessed the world in a way we can only imagine. Remember how in the Mahabharata the Pandavas were granted the Akshay Patra-cooking pot as a boon to help them during their exile? The boon was that food will never finish till Draupadi takes her share, and at the Museum you can see these big huge pots – it is believed that craftspeople, inspired by the story and legend of Akshay-Patra created such designs.
There's also a bowl that was used to mix and crush opium. It has a snake-head as a snout to remind the user of the dangers of consuming this deadly substance.
While most of the collection comes from Rajasthan, Madhya Pradesh, Orissa, there's one that comes from as far as Samarkand, Uzbekistan! These are mainly jugs and probably traveled to India because of the Mughals.
Speaking of travel, there are a range of travel-friendly utensils as well as storage boxes.
India's age old custom of dowry has been reflected in the collection as well. There are big boxes and small ones, intricately designed and simple ones.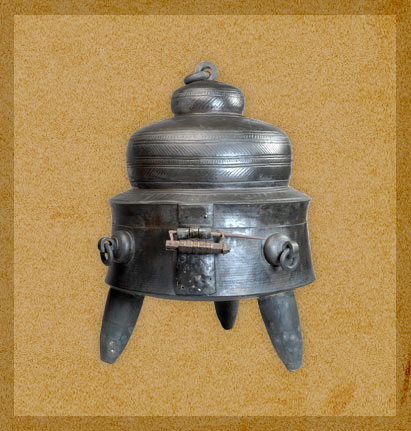 We are what we eat, and the Museum is a reflection of some practices that have shaped our culture. For example, there are about 800 different varieties of the nut-cracker itself – a reminder of how our ancestors from ancient India loved their post-dinner paan. It is believed, that sitting under a banyan tree, cracking open nuts was common community practice. The collection has small one-inch nutcrackers to 18-inch ones. While the peacock is a common motif across nutcrackers, it is indeed fun to spot the naughtier designs too. These erotica-inspired nutcrackers are assumed to have been used by courtesans to woo their admirers. Some nut-crackers supposedly doubled up as daggers or nail cutters.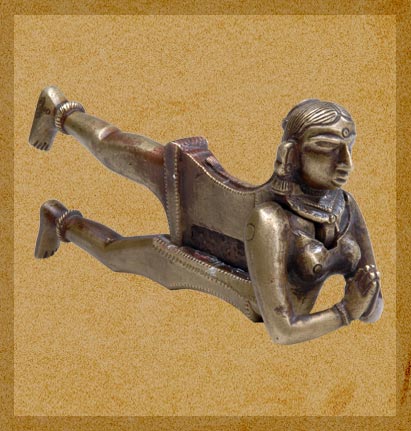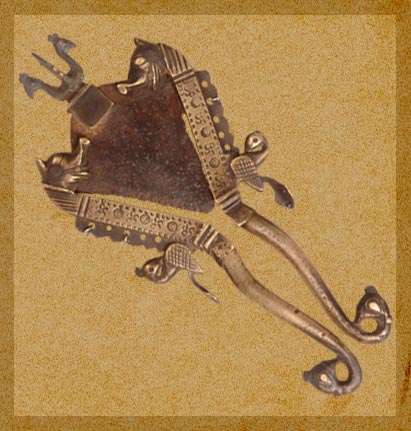 The display also includes other interesting objects such as locks. There are about 50 locks of all shapes and sizes and some have their keyholes concealed to confuse the thieves who were probably hoping to break in.
---
The Museum is the result of architect Surendra Patel and historian Jyotindra Jain's vision and dedication. Part of the Vishalla Village Restaurant in Ahmedabad, those coming to eat are encouraged to take a look as they wait for their food. The ambience is very village like – simple, and aesthetically curated and interestingly the museum doesn't have the typical glass-showcases or barriers. It has been constructed using indigenous materials such as bamboo, mud, etc and very skilfully too! If you're visiting Ahmedabad, you know where to go for lunch / dinner!
Vechaar Museum: 
Vishala, Sarkhej-Vasana Tolnaka, [Ahmedabad-Baroda Highway] Ph.: (079) 2660 2422
Timings: 3.00 pm to 10.30 pm
Entry Fee : Rs.10/-. Open on all weekdays. Photography allowed.