If you are visiting the City of the Nizams, then you simply cannot miss the SalarJung Museum.  With 38 galleries spread over 2 floors, the museum is not one of those enter-walk-click-leave venues, and can keep you engaged for an entire day! You can get a glimpse of the Salarjung experience at our Online Scavenger Hunt!
Who was Salar Jung?
Nawab Mir Yousuf Ali Khan, or Salar Jung III, was the 7th Prime Minister of the Nizams. Taking after his father (Nawab Mir Laiq Ali Khan) and grandfather (Nawab Mir Turab Ali Khan), he was very passionate about collecting antique relics and is known to have spent half his fortune on this hobby! It is said that he spent around 35 years and millions of rupees (approx 5 lakh a month) collecting all sorts of artefacts; and when he died in 1949, he left 40,000 pieces spread over 78 rooms Dewan Devdi, his ancestral city-palace.
 The Museum Building
The building is a semi-circular structure, built on the banks of River Musi. The Museum is the 3rd largest in the country.
This Museum has 38 galleries which spread over three buildings: Central Block, Mir Laiq Ali Khan Bhavan (Eastern Block) & Mir Turab Ali Khan Bhavan (Western Block) on 2 floors. The ground floor has 18 galleries, and the 1st floor has 20.
The Collection
The Museum has a magnificent global collection of art objects and antiques not only of Indian origin, but mostly from countries Western, a sizable collection hails from Middle Eastern and Far Eastern origins. Apart from these, there is a Children's section, a rich reference library which contains reference books, large collection of rare manuscripts etc. Thus, this Museum has become popular, not only as a place of interest but also as an institution for education and learning of world-culture.
There are about 14000 objects from over 40 countries on view. It is therefore advisable, that you take out an entire day for the Museum! But in case you cannot find a whole day, here's a quick run through.
The collection of the Museum can be divided into Indian Art, Middle Eastern Art, Far Eastern Art, European Art and Children's Section. Apart from this, a gallery is devoted to the illustrious Salar Jung family, which was mainly responsible for acquiring the collection.

The Indian Art Objects Comprises of stone sculptures, bronze images, painted textiles (Kalamkari), wood Carvings, Jade carvings, metal-ware, manuscripts arms and armor etc.

Middle East is represented through its art objects from Persia, Syria and Egypt covering the diverse media like carpets, paper (manuscripts), ceramics, glass, metal ware, furniture, lacquer etc.

Salar Jung Museum is one of the few Indian museums which can boast of a fairy extensive collection of Far Eastern Art consisting of Sino-Japanese art objects of porcelain, bronze, enamel, lacquer ware, embroidery, paintings, wood and inlay work.

European collection comprising of art objects ranging from resplendent and excellent examples of oil paintings, aesthetically attractive glass objects to majestic furniture, splendid examples of ivory, enamel ware and clocks.

The objects on display in the children's section of the museum are a testimony to the vast range of interest and diverse nature of Salar Jung III, in collecting objects.
Tour the Museum in 3 Hours:
Start with a quick round of the Founder's Gallery on the ground floor of the Central Block.  Note the various collections of the Salar Jung  family including a porcelain vase produced by the Coalport Factory in 1897 to mark the Diamond Jubilee Anniversary of Queen Victoria! It is one of the rare 50 pieces produced.
Go into the Indian Bronzes and Printed Textiles Gallery. You'll find some breathtaking Kalamkari work here. The huge paintings were part of India's trade with Europe and represent scenes from the Ramayana and Mahabharata. Kalamkari is a dying art today, and contemporary floral motifs have taken over.
From here, move into the Indian Sculpture Gallery. A really old Vishnu sculpture stands here – from the 9th century, and a lot of sculptures are from the Kushana period. Looking at these you can estimate the skill of artists then and how they've grown over the centuries. The Kushana period art is also important because before that we really didn't have physical representations of the Buddha. He was only depicted through motifs earlier, and King Kanishka changed that by commissioning artists some beautiful work!
You can skip some of the galleries and head to the Ivory Carvings Gallery. Here you'd find chairs gifted to Tipu Sultan and you can note the detailing in various carved items. The ivory carved mat is unbelievably beautiful, and worth a click! Most of these items represent the culture of the time, and the artistic genius that was being promoted by the rulers.
Close to this gallery, enter the doors leading to the Veiled Rebecca. Rebecca stands in the centre in a glass case, so you can see how beautiful the entire sculpture is. The sculpture is a representation of the biblical character Rebecca who was to be married to Isaac. The artist has brilliantly captured the shy demeanour of Rebecca during her first meeting with Isaac. Her veil almost looks like a thin transparent one – you realise its marble! The Veiled Rebecca is Salarjung Museum's icon-exhibit and fairly so. First, it is carved out of a single piece of marble; second, there are only 4 such pieces in the world created by the same artist – and while the other 3 have Rebecca holding her veil with her left hand, this is the only one where she uses her right hand to hold the veil! Try posing like Rebecca to get the Selfie right 😉
From here, make your way up to the first floor of the Western Wing.  Enter the European Paintings gallery, and as you familiarise yourself with the different famous European artists, don't forget to click the world-famous Wooden Double Statue. It has a whole story behind it, and the artist, unfortunately unknown, has created a masterpiece.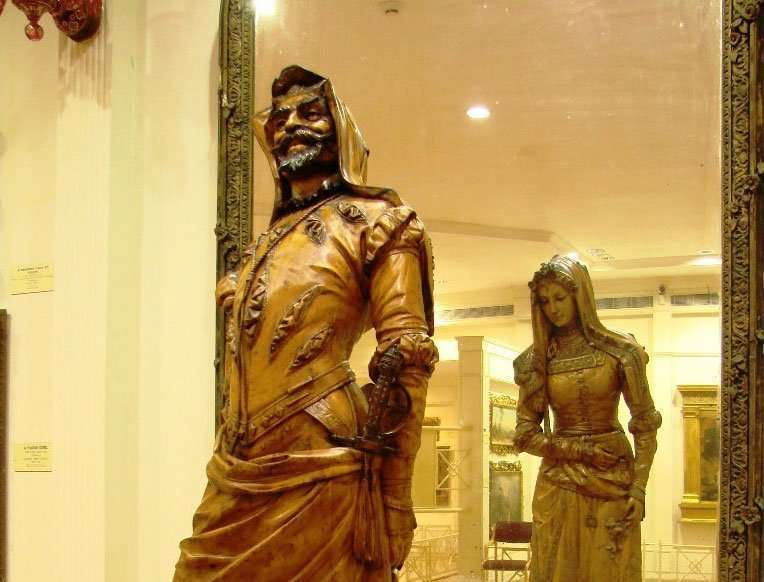 The European Porcelain gallery on this floor too, is an interesting point to visit. We all tend to get these porcelain showpieces at some point or the other in life and it is here that you can understand how the material is manufactured, glazed, painted, etc. Porcelain from China played an important role in strengthening Indo-Sino trade relations!
Moving into the Central Wing again, make way to the Jade Room, the Museum's most visited gallery. Jade was a precious material and while it existed in China 3000 years ago, in India it was introduced during the time of the Mughals. Mughal Jade was famous because of its ruby and emerald inlay work. In this gallery, you can spot an archer ring belonging to ShahJahan, fruit knives belonging to Noor Jahan, Aurangzeb and Jahangir's daggers etc. The other things in the gallery are a lesson in design itself!
Walk to the Manuscripts gallery. This is fascinating and you'd find a showcase dedicated to Quran's "Al-Quran". A 14th century Quran written in Kufic script, an arabic one written in Gold and Silver, a 13th century one signed by 3 Mughal emperors etc are some interesting exhibits.  There's also a manuscript called "Lilavati" on ancient Mathematics and an ancient medical encyclopedia transcribed in India is in the collection.
If you are running short on time, skip the Toys and Dolls gallery and move into the Eastern Wing. Here on the first floor you can visit the Japanese gallery and the European Sculptures one. In the Japanese gallery, I particularly found the Netsukes very interesting. At first glance I assumed these were miniature sculptures, but later realised these are Tassle-toggles used to hold knots in place (like buttons)!! Imagine having such fancy buttons :O
In the European Sculptures gallery, you can meet Napoleon Bonaparte, Shakespeare , a French Dancing Girl and more! Interestingly in the centre, of the gallery, you will find two centaurs guarding the Three Graces carrying an urn of ashes. Daughters of Zeus and Eurynome from Greek Mythology, they are Goddesses Aglaia (brilliance), Talia (bloom) and Euphrosyne (beauty).
Make your way down and in the Eastern block itself, check out the Furniture gallery. You will not want to leave the Museum looking at the beautiful Burmese cupboards and desks, a home-shrine and more! Do remember to check out the Indian Paintings gallery before you exit, for some fascinating Ravi Varma paintings!
Important Information

Audio Guides are available for Rs. 60 and a returnable-deposit of an ID

If you are in a hurry, the Museum Staff will lend you a Quick Tour Guide which can be completed in 3 hours

Tickets are priced at 15/- for Indians and 150/- for Foreign nationals.

Camera charges are extra, and you wouldn't regret the additional 60/-

Museum Website: www.salarjungmuseum.in