As early as 6-5th century B.C. women poets were outwitting their male counterparts. J.S. Mill talked of Myrtis, a Greek poet who bested her student and rival, Pindar, five times in different poetry competitions. Despite their skill and proficiency, women poets remained in the shadows for centuries. Up till the 19th century, women used pseudonyms to publish their work. Once women began to claim their literary pursuits publicly, the term 'poetess' came into vogue. However instead of being the equivalent of its male form, 'poetess' gained connotations of sentimentality and dilettantism.
The Penguin Book of Women Poets (1979) proves otherwise by selecting the works of women poets spanning over 3500 years. From Tamil love songs to the musings of Emily Dickinson, the book is a brilliant attempt at collating poems from all over the globe to create a chronology of the world's best women poets.
The book mentions several Indian women poets as well. Here are our top picks!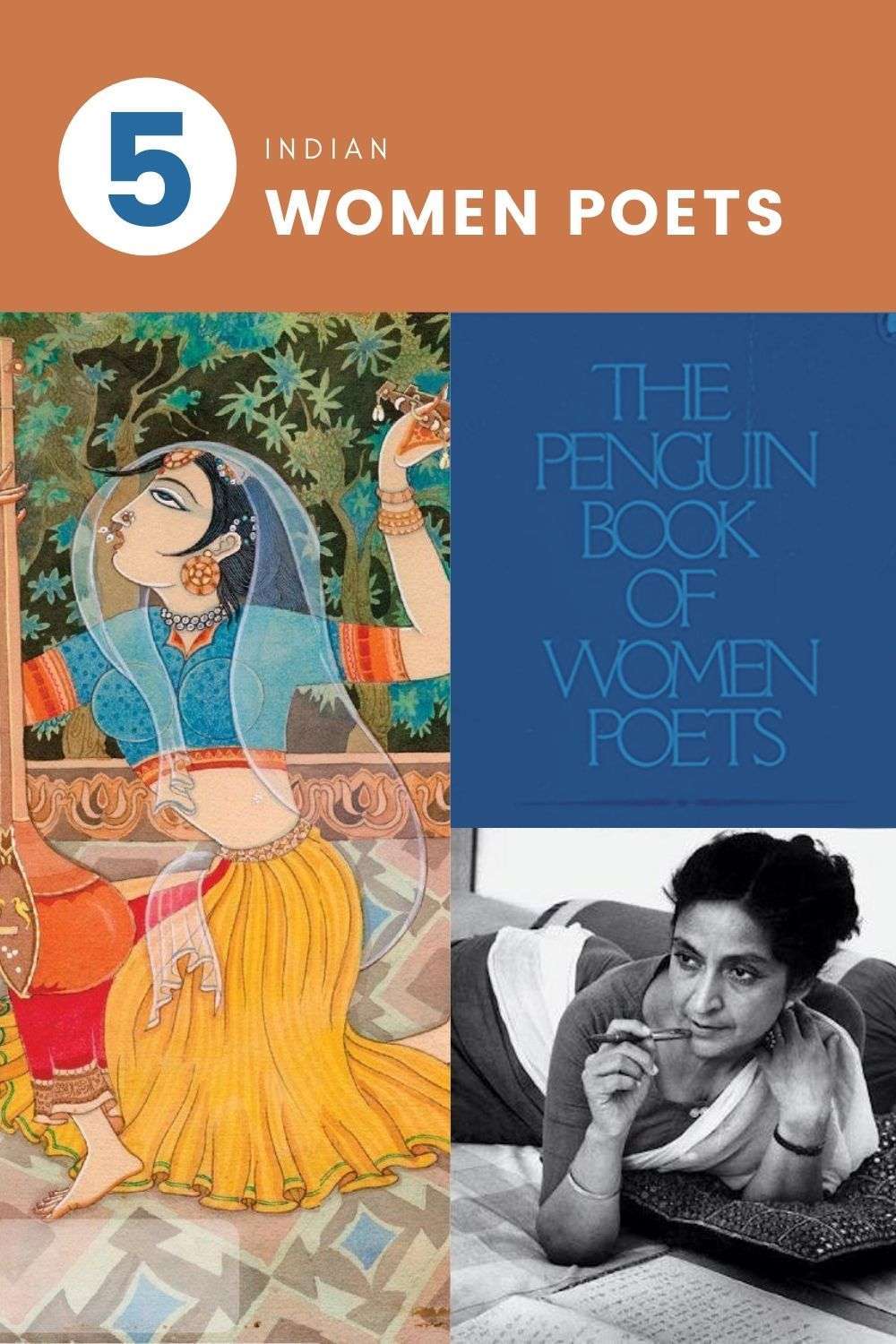 1.
Akka Mahadevi
A 12th century mystic, Akka Mahadevi, was one of the greatest women poets of all time. She wrote in the Kannada language and her poems are in the vacana form, a kind of prose poem that has a rhythmic structure in semantics and sentence patterns rather than sound. Akka Mahadevi's vacanas revolve around themes of mystical experiences and spiritual insights in which mystical bridal imagery abounds. They are highly personal and, in the absence of an autobiography, give hints about her life. The story of her life has been handed down by tradition and is based on sources that were composed centuries after her lifetime.
Here is an extract from one of her verses in the Penguin Book of Women Poets.
Like a silkworm weaving
her house with love
from her marrow,
and drying In her body's threads
winding tight,
round and round,
I burn
desiring what the heart desires.
Cut through, O lord,
my heart's greed,
and show me your way out,
O lord white as Jasmine 
Akka Mahadevi compares a silkworm's formation of a cocoon to the divine impulse of turning inwards and creating an interior space from one's love. Here, metamorphosis can also be compared to a moment of self reflection. This results in the spiritual growth of an individual. Mahadevi calls out to the Lord (Shiva) to help her transition to the ultimate spiritual self.
2.
Mira Bai
Mira Bai became famous for her poems posthumously. Her devotional songs, composed in the 16th century have survived in oral and musical tradition for centuries now. Married off to a prince at a young age, she rejected her marital duties and embarked on a spiritual quest to unite with her beloved Lord Krishna. She considered herself married to him and her songs reflect her unconditional love. Her songs are in a simple verse form called pada. Pada denotes a small spiritual song, usually composed in simple rhythms with a repeating refrain. For her immense contribution of 1300 padas, she is considered to be one of the greatest sants of the Bhakti movement that flourished in North India between 15th and 17th century.
This extract from the book, explains her devotion best:
O king, I know you gave me poison.
 But I emerged
 just as gold burned in fire
 comes out bright as a dozen suns.
 Family prestige, fear of the world's opinion
 I threw away as water.
 You should hide your own self, Rana,
 I am a powerless mad woman,
 Krishna's arrow has pierced my heart
 taking away my reason.
 I dedicate body and soul to the holy men
 I cling to their lotus feet.
 Mira's Lord has acknowledged
 her as his servant.
This extract describes the attempt on Mira's life by the Rana (king) for refusing to conform to her marital duties and for choosing a life of service to Krishna instead. She explains how she does not care about the opinions of others as she is struck by Krishna's arrow of love, which has made her forget reason. She dedicates herself solely to the service of her Lord.
3.
Sarojini Naidu
Sarojini Naidu is perhaps better known for her political activities and contributions to the Indian Independence Movement than her poetry. But her literary career impressed many writers and critics. Her poems are rich with poetic devices like imagery and repetition and evoke a feeling of 'folk' and 'home'. They glorify India, and capture its beauty and diversity. Evidently, this is the influence of the Swadeshi movement that promoted home-grown goods in place of foreign ones.
The poem 'In the Bazaars of Hyderabad' is a prime example of her style:
What do you sell, O ye merchants?
Richly your wares are displayed.
Turbans of crimson and silver,
Tunics of purple brocade,
Mirrors with panels of Amber,
Daggers with handles of jade.
What do you weigh, O ye vendors?
Saffron, lentil, and rice.
What do you grind, O ye maidens?
Sandalwood, henna, and spice.
What do you call, O ye pedlars?
Chessmen and ivory dice.
What do you make, O ye goldsmiths?
Wristlet and anklet and ring,
Bells for the feet of blue pigeons,
Frail as a dragon - fly's wing,
Girdles of gold for the dancers,
Scabbards of gold for the kings.
What do you cry, O ye Fruitmerchants?
Citron, pomegranate and plum.
What do you play, O ye musicians?
Sitar, Sarangi and drum.
What do you chant, O ye magicians?
Spells for the eons to come.
What do you weave, O ye flower-girls?
With tassels of azure and red?
Crowns for the brow of a bridegroom,
Chaplets to garland his bed,
Sheets of white blossoms new-garnered
To perfume the sleep of the dead.
Naidu has used repetition to establish a rhythm and to provide a musical quality to the poem. Her description of various items in the market, invoke a sense of wonder in the reader. By this description, she is also proving the rich variety of Indian products, a direct influence of Swadeshi. The poem also conveys a multitude of feelings. There is music, joy, and marriage. But towards the end there is also a sense of gloom and death.
4.
Amrita Pritam
Amrita Pritam is a partition era novelist, essayist and poet. Oscillating between Punjabi and Hindi, her poems still remain in the popular imagination on both sides of the border. Her oeuvre spans over 6 decades and includes over 100 books of poetry, fiction, biographies, essays, a collection of Punjabi folk songs, and an autobiography. Her most prominent work remains her poetic masterpiece, Aaj Aakhaan Waris Shah Nu (Today I call on Waris Shah) that describes the anguish of the massacres during the partition. Other work deal with themes such as love, loss, pleasure, and vulnerabilities.
These themes are visible in her poem 'Kunwari' (Virgin):
When I entered your bridal chamber
I was not one but two persons.
One's marriage had consummated and complete
the other had remained a chaste virgin.
To fulfill our union
I had to kill the virgin.
And kill her, I did.
Such murders are sanctioned by the law
Only the humiliation accompanying them is illegal.
So I drank the poison of humiliation.
Came the dawn and
I saw the dawn
and I saw the blood on my hands.
I washed them
Just as I washed off the odors on my body.
But when I saw myself in my mirror,
there she was before me;
The same one I thought I had
murdered during the night.
Oh, God!
Was the bridal chamber so dark that I could not tell
the one I had slain
from the one I did, in fact, kill?
Through 'Kunwari', Amrita Pritam has conveyed the universal female experience. She talks of shame, sex and humiliation. Pritam asserts that the destruction of the self (the ego) is necessary in a woman's first sexual experience, without any space for the humiliation it entails. Her unflinching take on sexuality was unheard of in times when women's roles were clearly defined.
5.
Kamala Das
As the daughter of the prolific Malayalam writer Balamani Amma, Kamala Das also known as Kamala Surayya, grew up with a love for writing. Under such an influence, Das soon began to explore the field in both Malayalam and English. Her work in Malayalam is limited to some short stories and an autobiography. It is in English, that she established a name for herself a renowned poet. She is celebrated for the difficult themes that are covered in her work. These include topics like female sexuality that are considered taboo in Indian society.
Here is a verse from her poem 'Old Playhouse':
You planned to tame a swallow, to hold her 
In the long summer of your love so that she would forget 
Not the raw seasons alone, and the homes left behind, but 
Also her nature, the urge to fly, and the endless
Pathways of the sky...
In these lines, Das conveys the plight of a married woman chained to her husband's house. She explains how a woman is literally 'bound' by matrimony. She also goes on to expose the nature of man, who with his veil of love, has made her forget not only her home from the past but also her dreams and ambition for the future.
These are some of the most well known women poets in India. There are countless others who still remain uncelebrated.
Bonus : In this anthology barring Kamala Das, you'd find award winning names like Mamta Kalia, Sujata Bhatt – despite their contributions and accomplishments they remain fairly unknown outside literary circles.
Save this post for later!
---
Have you noticed, that the Wikipedia page for 'Poet' has no pictures of any women?! To fix such gender-gaps in representations, The Heritage Lab is hosting edit-a-thons as part of the Art + Feminism Campaign. Our aim is to bring to the spotlight, stories of women that have for so long gone unheard. Will you help us #changethenarrative?