In 1991, Tim Berners Lee presented to the world, the first website ever. The purpose was simple : to share information with the world easily. Over the decades, the role of websites has evolved to reflect the changing needs and trends of society. From simple static information to contact forms and now AI powered chat bots : the WWW has come a long way.
A website-strategy is at the foundation of all digital efforts and forms the core of an institution's digital transformation. As museums and cultural institutions continue to cement their digital presence, the importance of a website that is appealing, engaging and optimized for search engines cannot be ruled out. For many cultural institutions, a dynamic presence on the web is characterized by activity on social media.
So do websites remain to be show-windows of information and programs? Do they play a bigger role aligned with the institution's vision / mission? Moreover, how do we keep our websites relevant?
Not only does a website contribute in strengthening 'brand-awareness' but it is a tool for driving digital traffic (which should be a key-performance-indicator), achieving revenue growth and building a community.
With these questions in mind, we co-hosted a Twitter Talk alongside ICOM Deutschland to understand how museums are using their websites to strengthen brand-awareness, drive digital traffic, achieve revenue growth and build communities.
During the chat, we heard of interesting examples from Manchester Museum (UK), Staatliche Museen zu Berlin (SMB), Pinakothek (Munich), MSMS II Museum (India), Sarmaya (India) amidst other voices from the industry. Read on for a recap below:
Digital transformation provides an opportunity for creativity and innovation when it comes to improving audience engagement / communication. So this will broaden the role museum-websites can play.
a website is more long-lasting and has a continuously evolving base not needing separate account creations as opposed to social media
Audiences today demand seamlessness in omni-channel experiences. For this, a museum needs a 360-degree plan into which the website is integrated. Max Westphal from the The Pinakotheke Museum shared how their website serves as an anchor for their activities on the web; Sarmaya India – being a digital museum tries to use social media as an amplifier for their web-content.
For small museums, as Mrinalini Venkateswaran pointed out, it can be a struggle to balance updating the website, or website strategy as opposed to social media content.
Yvonne from SMB mentioned that we cannot ignore the power of search engines. A lot of times, people might discover your institution because of their interests – and your social media posts might just never make it to the top 10 search results.
While every aspect of your digital presence is important, it is important that museum websites act as the "hub" detailing out all digital resources. It must have a full list of all your social media channels, but must also clarify to audiences what kind of content they can expect on which channel [for e.g, for our Lectures, follow us on YouTube]. On the other hand, social media channels should link back to your website (collect email addresses where appropriate) or enable audiences to follow up on different calls-to-action.
In response to the COVID-19, Ashmolean tasked it's Twitter followers to submit creative responses to collection objects which the museum shared each day. Their website has an entire page dedicated to it!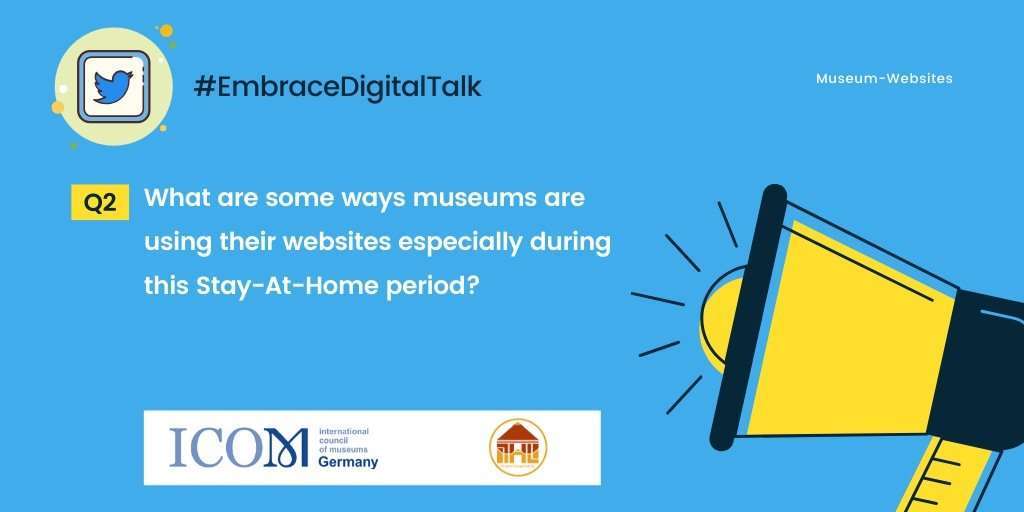 Dedicated landing pages specifying "At-Home" content. The Manchester Museum is a leading example in this case with an entirely new microsite 'MM-In-Quarantine'.
An interesting emerging concept is "Digitorials". Take a look at this example by Schirn Kunsthalle Frankfurt. The Staatliche Museen zu Berlin [SMB] tries to show their collections and exhibitions on their website. It includes Virtual Tours, Audio Content and Downloads.
The Pinakothek has a refreshing way of presenting an overview of all digital offers including online event programming under relevant heads: a schedule for all Insta-Live sessions; a link to the Google Arts platform. A personal favourite is the #KunstMinute in which curators talk about art-masterpieces in one-minute.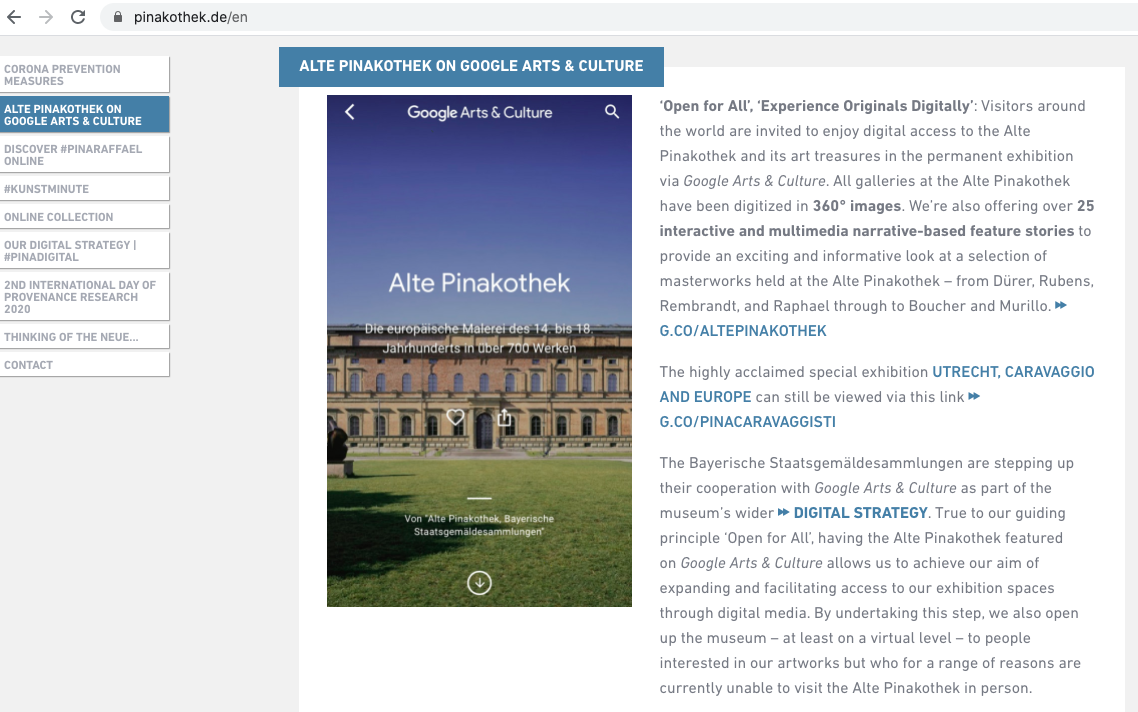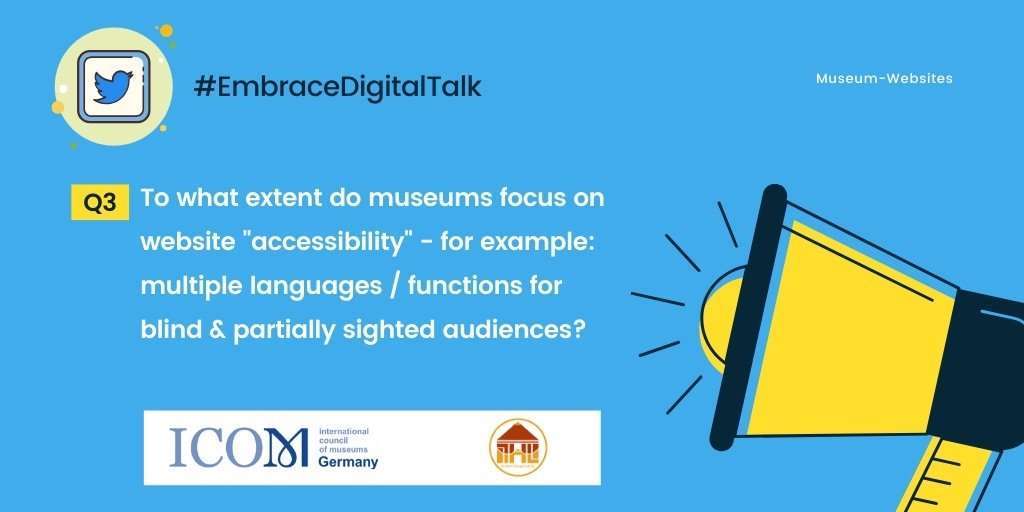 The ongoing dialogue on accessibility in museums must be extended onto digital accessibility as well. Yvonne Geister from the SMB expanded on the need for technical accessibility as well as language accessibility while underlining the need for sign-language interpretation. For the SMB, around 50% of all inquiries are in German + 20% in English. Inquiries from neighbouring European countries + Asia account for around 20% of users. How do you make the decision to give a language priority in translations? Should it be according to the country you get most traffic from?
Subtitling videos are a must.
Budget (if needed) for freelance translators and editorial maintenance to ensure digital accessibility in multiple languages.
User Testing your website? Here are some things to keep in mind:
how familiar is the user with your museum?
what type of information are they looking for?
which tasks do they hope to accomplish? [download images, post a query…]
how will they get in touch if they cannot find the information?
how easy or difficult is it, to customize a returning user's experience?
While most museums have a web-analytic set up through Google Analytics or Matomo, it is clear that analysing or monitoring insights is a specialist role which cannot be added onto a Curator's (side) responsibility. But small museums usually do not have much of an option, so here is decoding basic analytics for ease of understanding (your audience):
Look at

Web Traffic and Referrals

to understand why people are coming to your website and from where? Did they come directly, via Google search or your newsletter / social media channels or any third party sources ? For example, if Facebook is sending most traffic to your website, and Instagram traffic is negligible, then you know the what kind of posts to make on the particular social media platform. It would mean, to promote web-links, use Facebook. If your emailers do not send you much traffic, try to test with adding more call to actions or reducing the frequency of mailers.
Look at the

quality of those visits

by understanding bounce rates, or session-durations: i.e how long did people stay on the website? Did they visit other pages as well?
Look at

Conversions

to understand if they downloaded activity sheets or those colouring sheets; filled that registration form you needed or simply stayed to watch a video.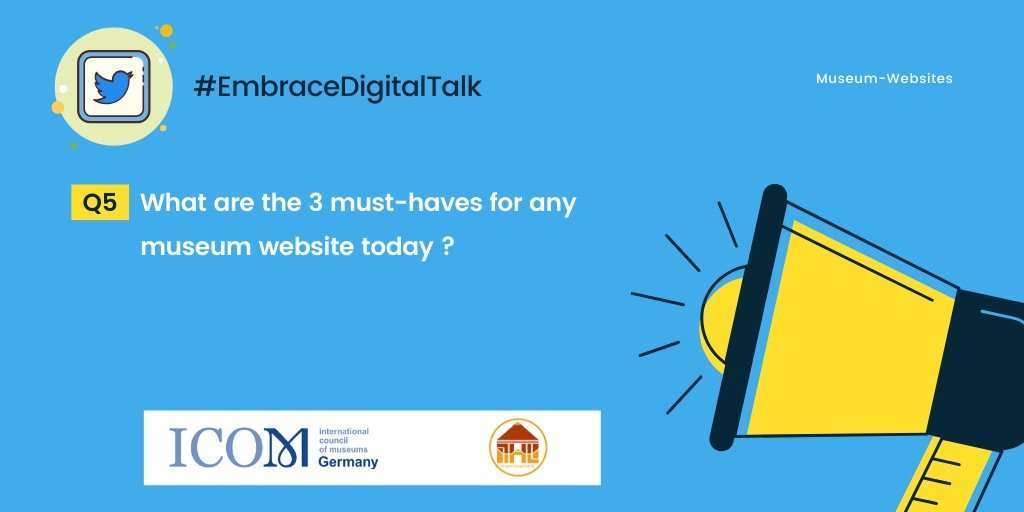 Apart from the basic needs of responsiveness (the website design must adapt to any device size it's accessed from), and easy navigation (search bar is a must!) here are the top 3 features a museum website must have:
Online ticketing
To this, it would be safe to add 'digital payments'. In India, quick-pay mobile payment methods such as PayTM have evolved to be quite popular across age groups (even for making payments as low as 20/- rupees). It can also be worthwhile to explore online donations or crowdfunding through the website.
Open Collections or Creative Commons licensed images
Interactive + Good quality and up-to-date content with seamless social media integration (including built in social media share buttons).
A website is an effective marketing channel, and a good web strategy must take into account:
Web Analytics and Search Engine Optimization
User Experience
A visual guideline
---
ICOM Deutschland and I would like to express our heartfelt gratitude for the participation and insightful opinions / examples shared by participants from India, Germany and UK.
---
Share your reaction!